Personal Robots Market Overview
The global personal robots market reached $21.5 billion in 2019, and it is expected to witness a CAGR of 7.8% during the forecast period (2020–2030), to reach $51.5 billion in 2030. The high adoption of domestic cleaning robots and security robots, increase in the demand for home automation, and growth in the awareness among consumers about the different types of such robots available are some of the important driving factors for the personal robots market.
The coronavirus pandemic is taking a toll on the technology and manufacturing industries. A number of global and regional players operating in the robotics industry are facing acute shortages of components and raw materials, and, in turn, their offerings. The nationwide lockdown in most of the countries has disrupted the global supply chain network, which has resulted in a dip in the sales of products. Due to all these factors, the personal robots market is witnessing negative growth in 2020.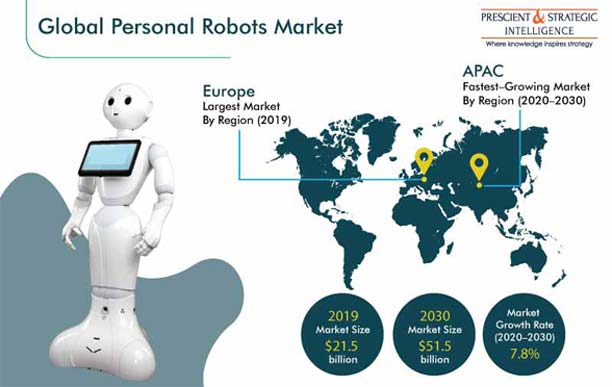 Hardware To Remain Leading Category till 2030
The hardware category held the major share in the market during the historical period (2014–2019), under segmentation by offering, and it is projected to continue the trend during the forecast period. The consistently increasing demand for robotic hardware and growing awareness among consumers regarding the availability of domestic robotics equipment in the market, coupled with the declining prices of robots, are contributing to the adoption of personal robots globally. Further, the demand for high-quality robots, equipped with features such as Wi-Fi and AI, higher-capacity vacuum cleaner bins, and strong battery backup, is consistently rising. All such developments are projected to fuel the growth of the global personal robots market.
Companion Robots Category To Record Highest CAGR throughout Forecast Period
Based on type, the companion robots category is predicted to witness the fastest growth during the forecast period, as they are becoming the missing companion in the increasingly solitary lives of people, especially in developed countries. For example, according to a study published in December 2019, in Japan, around 18.4 million people, about 14% of the total population, live alone. The impact of this can be understood from the fact that one in every five citizens remains a bachelor throughout their life. The key factors responsible for the loneliness of Japanese people are the declining fertility rate, which is itself one of the reasons behind the country's decreasing birthrate.
Europe: Largest Market during Historical Period
The European region held the largest share in the personal robots market during 2014–2019. This is attributed to the fact that Europe has a strong position in the overall robotics market and holds a grip on the industrial and service robotics niches. Further, investments and partnerships are projected to drive the personal robots market growth in future. For instance, in February 2019, Zorabot signed an agreement with temi USA Inc. to sell "temi - The Personal Robot" in Germany, the U.K., France, Belgium, the Netherlands, Italy, and Spain.
APAC To Witness Fastest Growth during Forecast Period
The Asia-Pacific (APAC) region is projected to grow with the highest CAGR during the forecast period. The growing affluence of people in APAC is making them potential buyers of personal robots, as the latter can take up several daily tasks. Countries such as China, Japan, India, and South Korea are projected to drive the market growth in APAC, owing to the decreasing prices of robotic vacuum cleaners and launch of advanced technologies. For instance, in April 2020, Xiaomi Corporation launched the Mi Robot Vacuum Cleaner in India; it is being marketed as a smarter everyday cleaning solution for homes.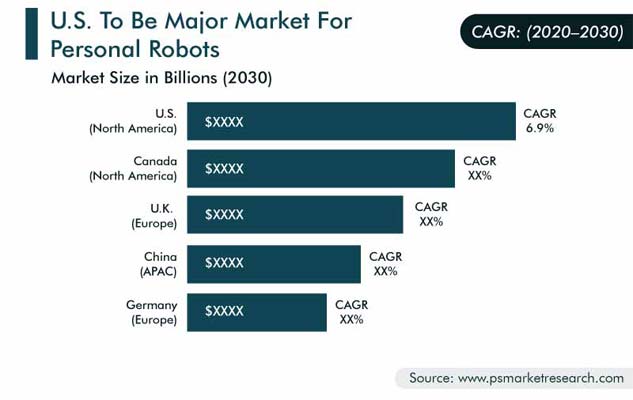 Emergence of Personal Robots with Artificial Intelligence (AI)
The increasing competition in the personal robots market has been encouraging robot manufacturers to invest in newer technologies. The emergence of personal robots with AI is one such development being observed in the industry. AI enables robots to navigate, sense, and calculate their response on the input received accordingly. From these responses, the robots learn to perform their tasks from humans, through machine learning. For instance, Hanson Robotics has created a robot, named Sophia, which combines an AI chatbot with an expressive human-like face. The robot can talk and help humans in healthcare, education, and customer service.
Declining Price of Personal Robots To Drive Market Growth
The prices of personal robots have been constantly declining globally, which is encouraging budget-conscious customers to purchase them. The industry witnesses a yearly decline of 2–9% in price, which is expected to boost the sale of personal robots, both in developed as well as developing countries. As the demand from emerging economies increases, the production of robots will shift to lower-cost regions, which would make them cheaper in the coming years. For example, in November 2019, iRobot Corporation announced that it has commenced the production of robots at its Malaysian factory ahead of schedule.
Increasing Demand for Mobile Robots Boosting Market Growth
The demand for mobile robots has been increasing due to security concerns. These robots are equipped with AI and automation, which make them capable of locomotion. Such robots find application in spying; hence, are also known as spying robots. These robots can detect thieves or unidentified persons entering a house and make a noise to make the owner aware of the intrusion or other criminal activities. Further, due to the increasing adoption of the internet of things (IoT), the robots have become more mobile, thereby leading to a significant rise in the area they can cover and secure.
Personal Robots Market Report Coverage

| | |
| --- | --- |
| Report Attribute | Details |
| Historical Years | 2014-2019 |
| Forecast Years | 2020-2030 |
| Base Year (2019) Market Size | $21.5 Billion |
| Forecast Period CAGR | 7.8% |
| Report Coverage | COVID-19 Impact Analysis, Market Trends, Drivers, Restraints and Opportunities, Value Chain Analysis, Revenue Estimation and Forecast, Segmentation Analysis, Regional and Country Breakdown, Company Market Share Analysis, Major Countries Analysis, Companies' Strategic Developments, Product Benchmarking, Company Profiling |
| Market Size by Segments | Offering, Type, Region |
| Market Size of Geographies | U.S., Canada, France, Germany, Italy, Russia, Spain, U.K., China, India, Australia, Japan, South Korea, Brazil, Mexico, Saudi Arabia, Turkey, U.A.E., South Africa |
| Secondary Sources and References (Partial List) | Arab Robotics Association, Council For Robotics & Automation, International Federation of Robotics, Israeli Robotics Association (IROB), Defense Advanced Research Projects Agency, Japan Robot Association, Personal Robotics Trade Association |
Explore more about this report - Request free sample pages
Partnerships Are Important Strategic Developments in Market
Robot manufacturers are focused on developing more advanced robots, in line with the demand of customers. For example, customers are demanding Wi-Fi-enabled robots, which can connect with other robots around them, in order to establish communication with them. In order to offer customized products and solutions to customers, players operating in the personal robots industry are engaging in partnerships, to come up with technologically advanced and efficient products.
For instance, in November 2019, F&P Robotics Inc. announced the creation of new business models in a two years' project with Fachhochschule Graubünden, FHS St. Gallen, Universität St. Gallen, NTB Hochschule für Technik, and Genossenschaft Wohnen im Alter (Haus Viva). In collaboration with these institutions, the company is working on the deployment of service robots for elderly care.
Similarly, in May 2019, Honda R&D Co. Ltd. (Honda R&D), a subsidiary of Honda Motor Co. Ltd., announced that it has entered into a collaboration with the Center for Information and Neural Networks (CiNet), for neuroscientific research on humans in the areas of mobility and robotics. Honda and CiNet will establish standards for the development of safer and more comfortable mobility and robotics technologies.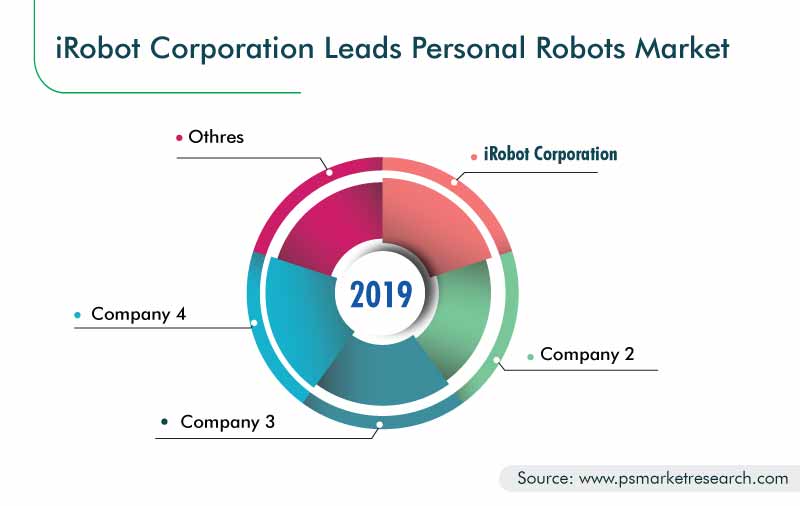 Key players covered in personal robots market report are:
Neato Robotics Inc.

F&P Robotics AG

Segway Inc.

ZMP Inc.

Honda Motor Co. Ltd.
Ecovacs Robotics Inc.

iRobot Corporation

GeckoSystems International Corporation

Sony Corporation

Samsung Electronics Co. Ltd.
Personal Robots Market Size Breakdown by Segment
The personal robots market report offers comprehensive market segmentation analysis along with market estimation for the period 2014–2030.
Based on Offering
Based on Type
Cleaning Robots
Entertainment & Toy Robots
Educational Robots
Handicap Assistance Robots
Companion Robots
Personal Transportation Robots
Security Robots
Geographical Analysis
North America
Europe

Germany
France
U.K.
Italy
Spain

Asia-Pacific (APAC)

Japan
China
India
South Korea

Latin America (LATAM)
Middle East and Africa (MEA)

Saudi Arabia
U.A.E.
Turkey
South Africa