Market Overview
The perforating gun market size stood at USD 1,112 million in 2022, and it is expected to grow at a CAGR of 5.70% during 2022–2030, to reach USD 1,733 million by 2030. The need for perforating guns is primarily driven by the rising oil and gas earnings and profits, increasing E&P activities, surging average well depth over time, rising complexity of reservoir conditions, and growing shale gas exploration. Additionally, the demand for horizontal drilling activities in offshore regions is increasing, boosting the growth of the industry.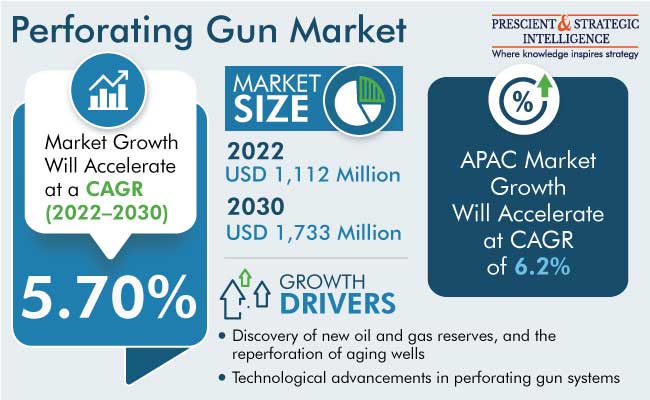 To effectively link the wellbore and the reservoir, perforation is a necessary procedure. Reservoir fluids are able to flow into wells effectively and made a connection between a reservoir and a wellbore. The wellbore is punctured by inserting a perforating gun, lowering it to the desired depth, and then shooting shape charges. The explosion that results from the discharge of shape charges rips holes or tunnels through the casing, allowing the reservoir fluid to ascend in the well.
Additionally, over the course of the projection period, numerous collaboration and product launch activities have expanded the position of industry players. For instance, Schlumberger and China Petroleum Logging Co. Ltd. signed a collaboration agreement in June 2022. The purpose of the agreement is to improve the technical and business cooperation between these two companies. Additionally, this will offer license CNPC logging for the production of wireline technology.
Similarly, an exclusive licensing arrangement for the production of time-delay fuses for Hunting's perforating applications was announced by Hunting Energy Services, in January 2022. In a tubing-conveyed perforating operation, time delay fuses offer a regulated delay that allows operators to position perforating guns after starting the firing sequence.
Rising Unconventional Oil and Gas Resources Drive the Industry
Rapid changes have been observed in methods, modes, and materials utilized for production and distribution in the petroleum industry. Currently, there is an increasing need for alternative resources that can effectively fulfill the rising energy demand due to the maturation of traditional reservoirs. The surging exploration for clean and efficient sources has been made easier by the discovery of unconventional oil and gas deposits. Unconventional oil and gas resources typically consist of oil or natural gas that cannot be extracted or produced using standard methods and must instead be obtained through non-traditional formations.
Despite the fact that the world's remaining conventional resources are still enough to meet current demands, while considering the concern of the future and rising prices, unconventional resources are rapidly becoming more valued and gaining more attention. As a result of decades of production and the widespread utilization of conventional resources, unconventional oil and gas resources are being used more. Shale gas, tight oil, coalbed methane (CBM), tight gas, shale oil, and natural gas hydrates are examples of unconventional deposits.
According to the International Energy Agency, the non-OPEC output will experience a significant increase, rising from 100.0 million barrels per day (b/d) in 2022 to an average of 102.8 million b/d in 2024. Also, there is an expected rise in the average daily consumption of liquid fuels from 99.4 million b/d in 2022 to 102.2 million b/d in 2024. Further, a rise in global oil inventories is expected during the following two years.
While unconventional oil production is projected to represent around 15% of global oil output by 2035. Thus, the expansion of exploration and production due to the rising output of unconventional oil and gas ultimately drives up the demand for perforating guns at exploration sites.
Shale deposits are primarily concentrated in the North American region, with the U.S. leading the local market, as well as in a few regions of Europe and Asia. The U.S. has experienced a shale boom, making it the world's top producer, surpassing Saudi Arabia and Russia, due to expanding shale projects and rising shale oil and gas output from the North Dakota basin, the Permian basin, and Montana's Bakken formations.
Perforating Gun Market Report Coverage

| | |
| --- | --- |
| Report Attribute | Details |
| Historical Years | 2017-2022 |
| Forecast Years | 2023-2030 |
| Market Size in 2022 | USD 1,112 Million |
| Revenue Forecast in 2030 | USD 1,733 Million |
| Growth Rate | 5.70% CAGR |
| Report Scope | Market Trends, Drivers, and Restraints; Revenue Estimation and Forecast; Segmentation Analysis; Impact of COVID-19; Companies' Strategic Developments; Market Share Analysis of Key Players; Company Profiling |
| Segments Covered | By Type; By Gun Type; By Orientation; By Explosives; By Depth; By Pressure; By Well Type; By Application; By Region |
Explore more about this report - Request free sample pages
Rising Demand for Oil and Gas Has Led to a Surge in Drilling Activities in North America
The North American market is expected to grow at a CAGR of around 6% during the forecast period.
This can be ascribed to the presence of a large number of rigs and industry players and the rising demand for oil and gas, which has led to a surge in drilling activities in the region. The biggest change over the past 10 years in the area has been the switch from vertical to horizontal wells, which allows for greater access to formations with only a slight increase in well cost. For instance, in Canada, there are around active 139 rigs, whereas the U.S. has 784 active oil and gas rigs in operation. Therefore, it is expected that the increasing drilling activities will boost the need for perforating guns in the region.
Since 2014, the U.S. has boosted its daily crude oil production by around 10%, largely as a result of the increasing use of shale reserves through hydraulic drilling and horizontal drilling. Because of its low-wellhead breakeven price in comparison to other basins, the Permian is one of the highest investment basins. The majority of the additional oil produced in recent years came from the Permian.
Furthermore, the LATAM region contributed a significant revenue share in 2022, to the global market, due to the high production rate of oil and gas. Also, the region's expanding shale industry is expected to increase the number of oilfield service providers in the perforating gun market. For instance, the Vaca Meurta shale basin in Argentina is one of the world's biggest shale reservoirs. Argentina has reserves of 27 billion barrels of shale oil and 23 trillion cubic meters of shale gas.
Additionally, as new initiatives are being undertaken, the Gulf of Mexico has begun to show signs of recovery. Current oil and gas investments in ultra-deepwater and deepwater drilling projects, including Shell Offshore and Vito drilling projects in the Gulf of Mexico, are projected to open up new demands and opportunities for the nation for perforating guns.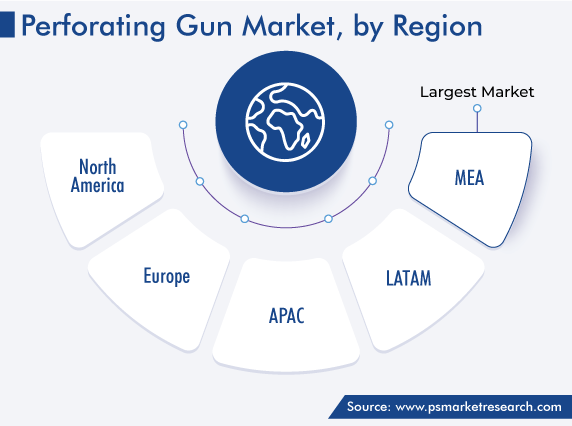 Horizontal Well Type Contributes a Larger Share
In 2022, the horizontal well category held a larger revenue share, of around 63%, due to the increased productivity capabilities of horizontal wells, which have encouraged oilfield operators to explore upstream activities related to these wells. Also, due to their advantages and greater economic viability, and technological improvements, horizontal well development is becoming widely preferred. Moreover, this type of drilling increases contact with the pay zone and promotes advanced production. As a result, during the forecast period, an increasing emphasis on unconventional reserves is projected to play a key driving role in the growth of the perforating gun market in this category.
In addition, the need for horizontal drilling activity is rising in offshore locations, due to a growing trend of multilateral wells, coupled with upcoming horizontal well projects, which is boosting the global demand. A number of nations, including China, Mexico, and Argentina, have begun to investigate the commercial feasibility of their shale reserves. Therefore, the market is expected to have a large demand along with the increasing exploration and production of shale oil and gas through horizontal drilling.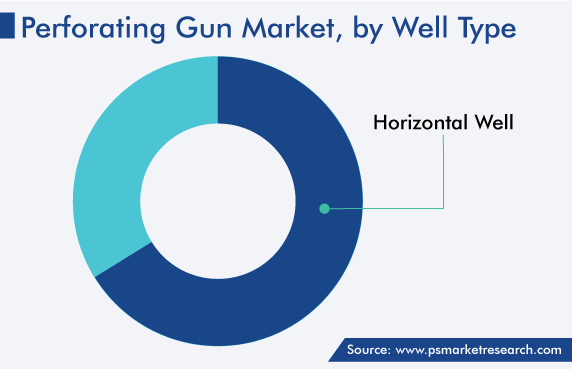 Tubing Conveyed Perforation Systems Dominate the Industry
The market is dominated by tubing conveyed perforation systems, with a share of more than 30% in 2022. This is due to their versatility and high operational efficacy. Moreover, guns for these systems are in high demand as a result of the widespread use of tube-conveyed perforating (TCP) methods for underbalanced wells in vertical and deviated applications.
TCP enables well operators to perforate long or widely spaced intervals on a single trip into the well and allows them a chance to run a flow test right away after perforating. Before making significant investments in gravel packing or stimulation, the extent of the wellbore damage can be determined using impulse-type testing procedures.
Moreover, other advantages of TCP include a long reservoir interval that can be perforated by one run, perforation can be done within the underbalanced condition so formation damage can be minimized, larger explosion charges than through a tubing system, and a significant reduction in rig time. Additionally, industry participants are providing TCP perforation guns with cutting-edge features. Thus, these factors are supporting the expansion of the market in this category.
Top Players in the Perforating Gun Market Are:
Schlumberger Limited
Weatherford International plc
Baker Hughes Company
Halliburton Company
NOV Inc.
Expro Group
Core Laboratories NV
DynaEnergetics GmbH & Co KG
XI'AN ZZ TOP OIL TOOLS CO. LTD.
China Shaanxi FYPE Rigid Machinery Co. Ltd.
LLC PROMPERFORATOR
Market Size Breakdown by Segment
This fully customizable report gives a detailed analysis of the perforating gun industry from 2017 to 2030, based on all the relevant segments and geographies.
Based on Type
Expendable
Semi-expendable
Retrievable
Based on Gun Type
Through Tubing Hollow Carrier Gun System
Wireline Conveyed Casing Gun System
Through Tubing Exposed Gun System
Tubing Conveyed Perforation System
Based on Orientation
Based on Explosives
Cyclotrimethylene Trinitramine (RDX)
Cyclotetramethylene Trinitramine (HMX)
Hexanitrosilbene (HNS)
Based on Depth
Up to 3,000 ft.
3,001 – 8,000 ft.
Above 8,000 ft.
Based on Pressure
High Pressure
Low Pressure
Based on Well Type
Horizontal Well
Vertical Well
Based on Application
Geographical Analysis
North America
Europe

Germany
U.K.
France
Italy
Spain

Asia-Pacific

Japan
China
India
South Korea
Australia

Latin America
Middle East and Africa

Saudi Arabia
South Africa
U.A.E.