Market Overview
The global patient engagement solutions market size stood at USD 17,212.8 million in 2022, and it is expected to grow at a CAGR of 10.1% during 2022–2030, to reach USD 37,267.1 million by 2030.
The growth can be primarily ascribed to the increasing prevalence of chronic diseases and growing requirement for advanced drugs. Moreover, the improving healthcare infrastructure, spurring demand for wearable health technology, snowballing geriatric population, and surging usage of mobile health solutions are driving the market growth.
Patient engagement involves activate patients, meaning they engage in positive behavior, such as managing their own wellbeing and care. This helps improve fitness outcomes and achieve lower care expenses.
Moreover, the high capital requirement to implement conventional ways of enhancing wellbeing often restricts their adoption. To overcome this barrier, market players are introducing automated solutions that consist of interactive voice response systems, which automate phone calls to reach individuals and activate notifications to physicians and personnel providing treatment. A large number of hospitals and fitness clubs have adopted automated solutions to reduce call volumes at call centers, provide better online ratings for physicians, and lower the rate of hospital readmissions. Thus, these advantages are encouraging market players to develop advanced methods, to increase their market share and customer reach.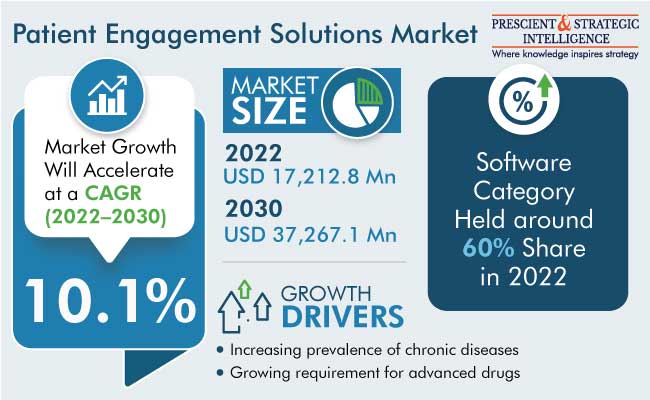 Increasing Demand for Wearable Healthcare Devices Propels Market Growth
Wearable healthcare devices have gained traction in recent years, and they are now commonly being used by consumers to track their wellness and other vital signs, such as the blood pressure, blood sugar, and body mass index. The adoption of the technology among healthcare providers and consumers has not only enabled data collection but also the evaluation of the clinical relevance of the collected data.
The advanced technology allows for the remote monitoring of people's wellbeing, enabling personalized diagnosis, and also provides predictive and preventive measures for disease management. With the use of wearables, it becomes easy to access personalized health data for behavioral change interventions and self-diagnosis and minimize hospital visits, in turn, minimizing the overall expenditure.
Furthermore, technological advancements in patient-centric wearable devices with apps, particularly biosensing wearables, are driving the market growth. Some of the commonly used wearables are smartwatches, sensor-embedded clothing, sociometric badges, and headbands. Thus, the increasing demand for wearable devices is boosting the patient engagement solutions market globally.
Software Component Accounted for Largest Share
In 2022, the software category accounted for the largest share, of around 60%, in the industry due to the fast adoption of such software by healthcare facilities to simplify complex health data and customize it according to requirements.
Moreover, it improves real-time monitoring, data sharing, and appointment scheduling. Furthermore, the benefits offered by integrated software, such as a higher coding accuracy, enhanced interoperability, and improved communication between patients and healthcare providers, have led to its wide adoption in healthcare facilities in recent years.
Similarly, the service category is growing at a significant pace because services help in optimizing and leveraging patient engagement solutions as per customer requirements, to maximize health outcomes. Moreover, players offer training and installation, support and maintenance, and ancillary services, such as access to electronic health records and interoperability.
Cloud-Based Solution Demand Is Expected To Register Fastest Growth
The cloud-based category is expected to register the fastest growth, of more than 12%, in the years to come. This is because the cloud is a more-secure platform than other delivery modes and demonstrates the highest level of compliance with the Health Insurance Portability and Accountability Act (HIPAA). In addition, cloud-based solutions are affordable and flexible, which, in turn, fuels the growth of the market.
Such solutions also assist healthcare professionals in integrating data in the real time from several locations, increasing efficiency, communicating, and simplifying operations.
Home Health Management Is Expected to Witness Highest Growth Rate
The home health management category is projected to grow with the highest rate during the forecast period. This is owing to the rising awareness among people about disease complexity, as well as their willingness to actively participate in their treatment planning, optimization, and tracking. It also ensures that the right medications are taken at the right time and medication can be customized according to the requirements.
The increasing adoption of patient engagement solutions by government organizations to spread awareness with respect to disease prevention among the general population boosts the advance of the market.
Chronic Diseases Accounted for Largest Revenue Share
The chronic diseases category is the highest revenue generator, due to the increasing need to curb the prevalence of chronic diseases on the global level. Moreover, government organizations in both developed and developing countries are adopting different solutions to reduce the growing healthcare burden. The growing geriatric population is also driving the demand for such solutions across the globe.
For instance, about 21% of the elderly population in India reportedly has at least one chronic disease. Moreover, 17% of the elderly population in rural areas and 29% in urban areas suffered from a chronic disease in 2021. In addition, hypertension and diabetes account for about 68% of all chronic disease cases.
The fitness category is predicted to achieve the fastest growth in the coming years, due to the various government initiatives for overall population health management.
Providers Category Is Largest among End Users
Providers account for the largest end user base for these types of solutions. This is attributed to the escalating number of patients globally, which is why many healthcare providers have started using such solutions to offer the best treatment.
Additionally, the implementation of value-based programs has led to the increasing adoption of such solutions by providers to achieve patient satisfaction. The other reasons behind this are the rising utilization of regular care procedures and patient portals for information access and critical health decision-making.
Patient Engagement Solutions Market Report Coverage

| | |
| --- | --- |
| Report Attribute | Details |
| Historical Years | 2017-2022 |
| Forecast Years | 2023-2030 |
| Market Size in 2022 | USD 17,212.8 Million |
| Revenue Forecast in 2030 | USD 37,267.1 Million |
| Growth Rate | 10.1% CAGR |
| Report Scope | Market Trends, Drivers, and Restraints; Revenue Estimation and Forecast; Segmentation Analysis; Impact of COVID-19; Companies' Strategic Developments; Market Share Analysis of Key Players; Company Profiling |
| Segments Covered | By Component; By Delivery mode; By Application; By Therapeutic Area; By End User; By Region |
Explore more about this report - Request free sample pages
North America Is Widely Adopting Patient Engagement Solutions
The North American market holds the largest share, of more than 40%, owing to the presence of well-established hospital infrastructure, growing number of HIT solution providers, and increasing prevalence of chronic diseases.
The market in the region is majorly driven by the improving healthcare infrastructure, increasing healthcare spending, surging geriatric population, and growing prevalence of chronic diseases.
In North America, the U.S. holds the leading position, and it is expected to grow at a CAGR of over 8% in the coming few years. The growth in the country is attributed to the increasing spending on the healthcare sector by the government and rising awareness among people.
As per the U.S. Census Bureau, over 54 million adults aged 65 years or above accounted for 16.5% of the nation's population. The number is expected to rise to 85.7 million by 2050.
The healthcare system in the U.S. is more complex and includes a large set of documentation and a series of steps for device and treatment commercialization. Manually handling all healthcare processes of individual's data is causing discrepancies and delays. Thus, medical care providers in the country are rapidly moving toward these solutions to facilitate efficient hospital and patient data management.
Increasing Healthcare Cost Drives Demand
Globally, the cost is increasing across various healthcare settings and has become a major concern among patients. The use of advanced technologies and drugs and high administrative costs are to blame for this rise in the financial burden of healthcare.
According to CMS.gov, in 2021, hospital expenditure grew by 4.4% from 2020, to USD 1,323.9 billion. Moreover, the spending on prescription drugs has increased in 2021 to USD 378.0 billion, at an annual rate of 7.8%, which was higher than the 3.7% growth rate in 2020.
Primarily, the increasing prevalence of chronic diseases, such as cardiovascular diseases and diabetes, has contributed to the surge in expenditure. Therefore, to curb the rising medical costs, HIT solutions, such as EHRs and e-prescriptions, are increasingly being adopted. These solutions enable patients to take preventive care measures, which, in turn, results in better health outcomes and helps reduce healthcare expenditure.
Top Patient Engagement Solution Providers Are:
McKesson Corporation
Cerner Corporation
Epic Systems Corporation
Orion Health
Oneview Healthcare
Allscripts Healthcare LLC
Greenway Health LLC
GetWellNetwork Inc.
Wolters Kluwer N.V.
Klara Technologies Inc.
Market Size Breakdown by Segment
The study uncovers the biggest trends and opportunities in the market, along with offering segmentation analysis at the granular level for the period 2017 to 2030.
Based on Component
Software
Hardware
Services
Based on Delivery Mode
Web-Based
On-Premises
Cloud-Based
Based on Application
Health Management
Home Health Management
Social and Behavioral Health Management
Financial Health Management
Based on Therapeutic Area
Chronic Diseases

Cardiovascular diseases
Cancer
Diabetes

Women's Health
Fitness
Mental Health
Based on End User
Providers
Payers
Patients
Geographical Analysis
North America
Europe

Germany
U.K.
France
Italy
Spain

Asia-Pacific

Japan
China
India
South Korea
Australia

Latin America
Middle East and Africa

Saudi Arabia
South Africa
U.A.E.