Market Overview
The paraxylene market will grow from USD 44.6 billion (E) in 2023 to USD 68.3 million in 2030, at a CAGR of 6.5% between 2024 and 2030.
The growth of this industry is because of the surging need for polyethylene terephthalate bottles from packaging companies, as well as high-end household & domestic products and customized clothing. The introduction of bio-based paraxylene is also a key factor driving the progress of this industry.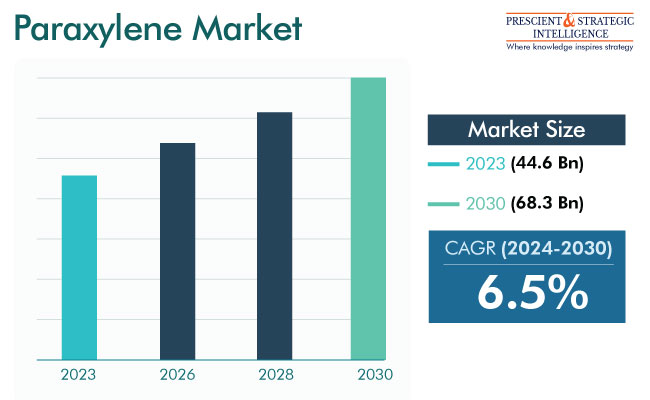 Paraxylene is mainly utilized as a raw material in producing purified terephthalic acid and dimethyl terephthalate. Polytetrafluoroethylene and dimethyl terephthalate are used in the production of polyethylene terephthalate and saturated polyester polymers. In turn, polyester fibers and films have wide-ranging applications in the textiles and packaging industries.
Surging Need for Plastics Is Key Driver
The mounting requirement for plastics all over the world is a key factor boosting the growth of this industry. Paraxylene is mainly used in making polyethylene terephthalate bottles, which are meant to hold soda, water, or various other liquids. Paraxylene is also used in making various home-use products, such as garments, cosmetic containers, and curtains.
Moreover, the plastics industry plays a vital part in the economy of Europe as well as its recovery strategy. As per Plastics Europe, in 2021, polymer raw material converters, producers, machinery manufacturers, and recyclers in Europe together employed over 1.5 million individuals. Further, more than 52,000 businesses, mainly small and medium-sized enterprises, function across European nations. Moreover, these businesses brought in about EUR 405 billion in income.
Apprehension regarding Non-Biodegradable Plastic Is Key Trend
The rising worry regarding non-biodegradable plastic is forcing manufacturers all over the world to produce bio-based plastics, thus resulting in the increasing need for naturally sourced paraxylene. For instance, in August 2023, Mitsubishi Corporation publicized a collaboration with ENEOS Corporation and Suntory Holdings Limited to develop a new, sustainable supply chain for PET bottles made from biomass. Bioplastics produced using natural paraxylene are being adopted in various sectors as an alternative for conventional plastics.
Furthermore, most polymer products are burned or landfilled, leading to the wastage of limited natural resources, and pollution. Only a limited amount of waste is recycled, which makes the idea of a circular economy hard to implement. This drives the requirement for making more bio-paraxylene, which will influence the industry strongly in the years to come.
Paraxylene Market Report Coverage

| | |
| --- | --- |
| Report Attribute | Details |
| Market Size in 2023 | USD 44.6 Billion (E) |
| Revenue Forecast in 2030 | USD 68.3 Million |
| Growth Rate | 6.5% CAGR |
| Historical Years | 2017-2023 |
| Forecast Years | 2024-2030 |
| Report Scope | Market Trends, Drivers, and Restraints; Revenue Estimation and Forecast; Segmentation Analysis; Impact of COVID-19; Companies' Strategic Developments; Market Share Analysis of Key Players; Company Profiling |
Explore more about this report - Request free sample pages
Purified Terephthalic Acid Is Dominating Application Category
The purified terephthalic acid category, based on application, is dominating the industry. This is because it is extensively used as a precursor to polyethylene terephthalate resin, which has various applications in furniture and polyester films. Furthermore, the chemical entails lower capital expenses and greater production economics compared to dimethyl terephthalate.
PET, which is made from PTA, is extensively used in the packaging and bottling of soft drinks. As per Varun Beverages Ltd., which is the main bottler for PepsiCo. in India, the per capita soft drink consumption in the country was expected to be 84 bottles in 2021. The development in the beverage sector, as well as the advancement in bottling and packaging technologies, will boost the need for purified terephthalic acid during the projection period.
Polyester Fibers Account for a Significant Share
The polyester fibers category, based on end use, accounts for a significant share of the industry. The rise in the disposable income and surge in the population have increased the need for apparel, which is forcing the textile sector to augment its production.
Polyester fibers are used for manufacturing home furnishings and apparel, for instance, bedspreads, bed sheets, draperies, and curtains. In addition, they are used with natural fibers, such as cotton, to make clothing with a greater deterioration and wrinkle resistance.
Moreover, the packaging category is expected to observe significant growth till the end of this decade. The demand for polyethylene terephthalate bottles is surging because of the increasing need for juices, carbonated soft drinks, and bottled water. This gain is being majorly witnessed in developing nations, such as India and China, where the middle class continues to grow.
As per an article in Mint, India was the 12th largest consumer of bottled water by value and the 14th largest by volume in 2021. Further, in mineral water consumption, India grew the second fastest from 2018 to 2021. In addition, increasing awareness regarding the benefits of PET bottles, such as durability, recyclability, and low weight, is helping the progress of this category.
Major Companies Producing Paraxylene:
Mitsubishi Gas Chemical Company Inc.
Reliance Industries Limited
LOTTE Chemical Engineering Plastics (Jiaxing) Co. Ltd.
Exxon Mobil Corporation
TEIJIN LIMITED
Toray Industries Inc.
PetroChina Company Limited
Chevron Corporation
Saudi Arabian Oil Co.
China Petrochemical Corporation
BP p.l.c
BASF SE
ENEOS Holdings Inc.
INEOS Group Limited
Braskem
APAC Is Market Leader
APAC is the largest contributor to the paraxylene market. The surging population, as well as the speedy urbanization, has boosted the textile sector in the region. This leads to the surging need for this chemical in China and India because it is the key raw material of polyester fibers, which finding application in the manufacturing clothing. Clothes made of polyester fibers are stain-resistant and breathable, which are two of people's strongest preferences these days.
Furthermore, the growing efforts of governments to recycle crude-based polymers as well as implement bio-based renewables have encouraged manufacturers to produce new products. In addition, the requirement for cosmetic products is increasing at a high rate in India, which is boosting the need for paraxylene for manufacturing containers for such goods.
North America will observe significant growth in the market till the end of this decade. This will mainly be because of the surging need for polyethylene terephthalate containers and bottles for the packaging of beverages, food, and various other customer products. In addition, the increasing need for polyester fibers for producing clothing and textiles is driving the development of the paraxylene industry in the region.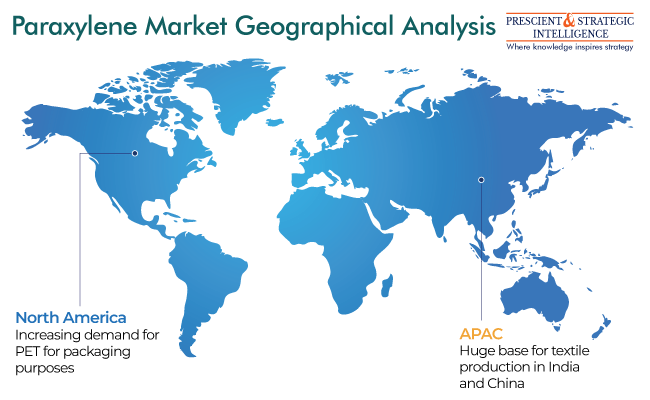 Europe also accounts for a considerable share of the industry, primarily because of a large polymer manufacturing base. Switzerland, Germany, Belgium, and Spain have a developing textile industry. Additionally, processed food consumption in Europe remains rather high, which propels the demand for PET bottles and other kinds of containers. As per a research study, in 2021, European adults consumed 328 grams of ultra-processed food products each day on average.