Market Overview
The global optical sorter market stood at USD 2,542.1 million in 2022, and it is projected to reach USD 5,325.9 million by 2030, propelling at a CAGR of 9.7% during 2022–2030. This is attributed to the surging adoption of sorters in the food, mining, recycling, and pharmaceutical industries, stringent government regulations regarding food safety, and the rising focus on automation in various industries for increasing productivity.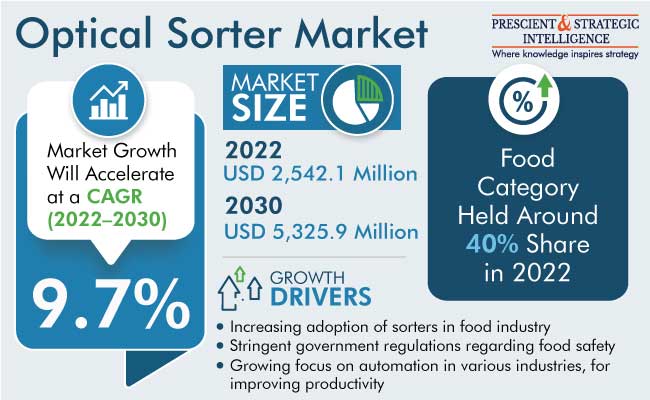 Since technologies are advancing at a greater pace, optical sorters are holding a significant part in the economic gains. These machines can employ food safety, which will raise health standards eventually. They can eradicate different kinds of diseases that can occur because of the hand sorting of waste/recycled materials. Also, several industries have witnessed the benefits of technological advancements in optical sorters, as these are used for the identification and separation of different items.
Color sorters have a wide application in a variety of industries. On production lines in bulk food processing and other industries, color sorters are employed. They use mechanical or pneumatic ejection devices to transport objects whose colors are outside of the permitted range, detect the colors of objects in front of them, and recognize objects by their colors.
In the recycling industry, the color sorter helps in differentiating between colorless and colored PET and colorless and colored HDPE flakes, and before regranulation, separate the flakes with the help of color. In the food industry, color sorters are used in processing nuts, coffee, oil crops, and many more. They are used to detect and separate toxic, discolored husks that still have skins like sunflower seeds.
Widely Used in the Food Industry
The food category held the largest revenue share, of 40%, in 2022. This is because the food industry is the backbone of various economies and plays a vital role in everyday life. As time is passing, the mindset of people is changing a lot regarding the quality of food, and for the purpose of fulfilling those needs, optical sorters have been introduced in the industry.
The demand for quality products, enormous postharvest losses, and careless handling and processing of food items are responsible for the fast, accurate, and quality-determining sorters. A major application area in the food industry is the evaluation of vegetables, fruits, grains, dry fruits, and processed foods. Also, apart from this, modern sorters are capable of assessing toxins and insect infestation in grains, fruits, and vegetables.
Moreover, optical sorters are also increasingly getting used in recycling processes. For instance, in plastic recycling units, these are applied for identifying plastics in general and also separate them into different categories according to color, shape, and composition. Also, equipment containing optical sorting technology can identify and classify various types of waste, both domestic and industrial, including paper, wood, textile, plastics, carton, glass, and metals.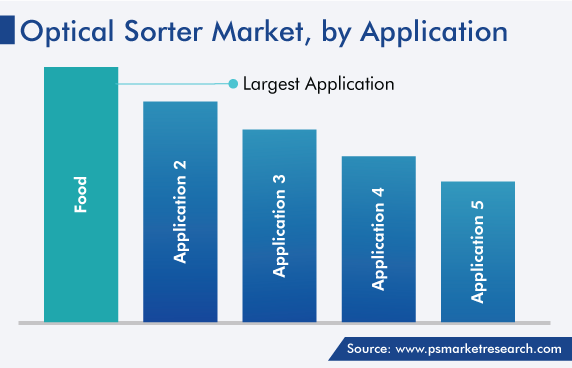 Growing Focus on Automation in Various Industries for Increasing Productivity
Automation is rapidly becoming a standardized tool in all industries. It is a process that uses robotic tools and production management software. These tools are built to perform operations that support organizations with tasks including processing, assembly, inspection, inventory management, production planning, and many more. Thus, as compared to manual processes, automated processes complete tasks faster and more efficiently, and also increase productivity.
Moreover, automation is an effective solution to the growing labor shortage problem. Automation of processes enables productivity growth and other benefits at the level of businesses, individual processes, and entire economies, where there is a need for acceleration, as the working-age population is declining in various countries.
At the microeconomic level, all types of businesses will be having the prospect to take benefits and achieve competitive advantage from automation technologies, with the reduction of labor cost and performance benefits including higher quality, increased throughput, and decreased downtime. Moreover, at the macroeconomic level, globally, it is estimated that productivity through automation can be increased by 0.5–1.5% annually. Thus, automation in sorting is also increasing productivity, as it reduces labor costs for businesses, and at the same time, it speeds up their work and making easier for them to manage the stored goods.
During the working process, the sorting system stores data, and that data is stored in the system. The main purpose of this is to make sure that the goods are sorted correctly and the sorted goods are not lost. While sorting goods manually, there are a lot of lost goods or often sorting errors occur, which leads to a variety of problems in sorting. Such problems are avoided by storage of data in the sorting system.
Cameras Category Is Dominating the Industry
The camera category, based on type, held the largest revenue share, of 45%, in 2022 in the optical sorter market. This is mainly due to the presence of a 360° view of the camera, which provides effective and easy inspection of ongoing processes. In addition, cameras consistently detect and eliminate unwanted rot, greening defects, foreign materials, blemishes, and damages, which guarantee more yields and safer, higher quality final products that are getting delivered to consumers.
Additionally, this type of sorter is applied in diverse optical platforms, which allows processors to precisely target their needs in each step of a process. Also, a camera sorter is helping in identifying faults and ensuring higher resolution and better contrast.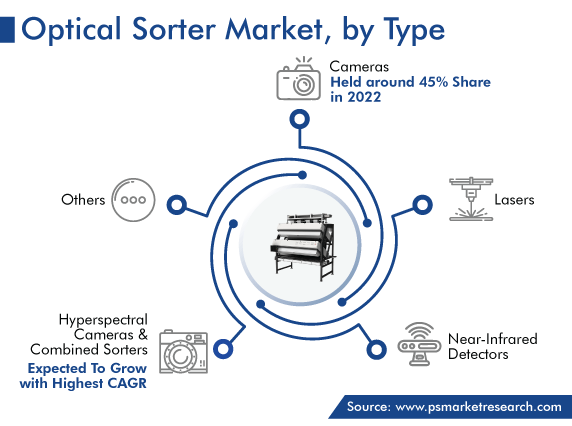 Belt Platform Held the Largest Share
The belt category held the largest revenue share in 2022. This is because belt platforms are mainly preferred for higher-capacity applications, including vegetable products prior to freezing, canning, or drying. Before the inspection, the products are usually stabilized on a conveyor belt. Some of the belt sorters are get inspected from above the belt and other sorters send items off the belt for an in-air inspection. Also, the belt sorters can either be designed to achieve three-way sorting or two-way sorting, if three outfeed streams are equipped with two ejector systems.
Optical Sorter Market Report Coverage

| | |
| --- | --- |
| Report Attribute | Details |
| Historical Years | 2017-2022 |
| Forecast Years | 2023-2030 |
| Market Size in 2022 | USD 2,542.1 Million |
| Revenue Forecast in 2030 | USD 5,325.9 Million |
| Growth Rate | 9.7% CAGR |
| Report Scope | Market Trends, Drivers, and Restraints; Revenue Estimation and Forecast; Segmentation Analysis; Impact of COVID-19; Companies' Strategic Developments; Market Share Analysis of Key Players; Company Profiling |
| Segments Covered | By Type; By Platform; By Application; By Region |
Explore more about this report - Request free sample pages
North America Is the Market Leader
North America held the largest revenue share, of 35%, in 2022. This is due to the increasing number of food processing, recycling, and mining activities. Over the past couple of decades, there is an increase in the consumption of ultra-processed food across the region. The affordability, convenience, and accessibility of ultra-processed products have made them a common staple in stores and pantries.
Moreover, mining activities are also increasing in the region. In 2021, the mines in the U.S. produced more than $0.09 trillion in mineral commodities. The most mined commodity in the country is coal and other commodities that are commonly mined are gold, copper, crushed rock, cement, construction, industrial sand and gravel, iron ore, and lots more. These different mines are located all across the country with different areas specializing in different resources.
In the mining industry, for the identification of exact surfaces, the optical sorters are fitted with color cameras and laser or near-infrared (NIR) with hyperspectral imaging (HIS). The laser helps in detecting the surface structure. So, crystalline rocks including fluorspar or quartz are separated efficiently from talcum, calcium, and other minerals, even if they have the same color. The HSI camera provides higher positional and spectral resolution, which detects minerals more precisely. Therefore, products including fluorspar, feldspar, quartz, phosphate, and limestone can be created of higher quality.
Furthermore, in Canada, the agriculture and meat industries are growing quickly. Meat processing businesses in Canada produce a wide variety of meat products ranging from frozen fresh meat to smokes, canned, processed, and cooked meats, as well as deli and sausage meats.
Optical sorters help in delivering maximum seed germination by detecting defective seeds, such as size and shape, unwanted colors, foreign materials, and subtle discoloration. Sunflower seeds have different varieties including white, striped, or black, and have various defects, and thus require processing. With the help of optical sorters, unwanted parts such as flower heads, xanthium seeds, sclerotia, and sticks are removed. Similarly, sorters can sort varieties of corn including white and yellow field corn, popcorn and sweet corn, and others. It removes diseased corn, insect-damaged corn, and broken corn for maximum germination. Also, they remove foreign seeds as well to prevent cross-pollination.
Top Optical Sorter Companies Are:
TOMRA Systems ASA
Bühler AG
Hefei Meyer Optoelectronic Technology Inc.
Satake Corporation
Allgaier Werke GmbH
Key Technology
STEINERT GmbH
Aweta
Pellenc ST
Techik Group
Market Size Breakdown by Segment
This fully customizable report gives a detailed analysis of the optical sorter industry from 2017 to 2030, based on all the relevant segments and geographies.
Based on Type
Cameras
Lasers
Near-Infrared Detectors
Hyperspectral Cameras & Combined Sorters
Based on Platform
Belt
Freefall
Lane
Hybrid
Based on Application
Food
Recycling
Mining
Pharmaceutical
Geographical Analysis
North America
Europe

Germany
U.K.
France
Italy
Spain

Asia-Pacific

Japan
China
India
South Korea
Australia

Latin America
Middle East and Africa

Saudi Arabia
South Africa