Market Overview
The global operational technology market was valued at USD 159.4 billion in 2022, and the market size is predicted to reach USD 255.9 billion by 2030, advancing at a CAGR of 6.10% during 2022–2030. The market is driven by the increasing emphasis on real-time data analysis and predictive maintenance, strategic initiatives by governments to promote the adoption of operational technologies (OTs), and emergence of connected enterprises.
.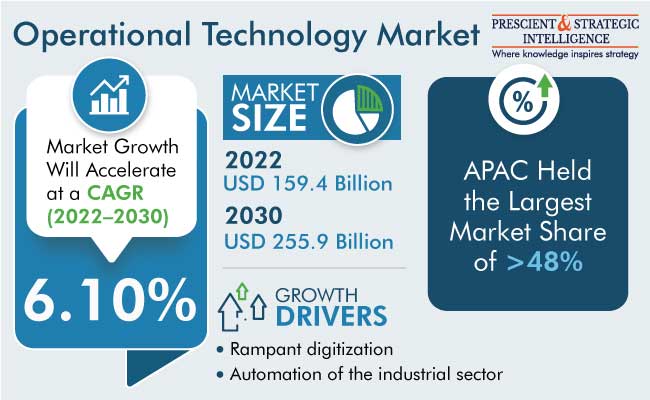 Operational technology is used to regulate physical systems, such as in manufacturing. It encompasses industrial control systems (ICS) and the ICS management framework, as well as supervisory control and data acquisition (SCADA) systems.
In this new era of technology, manufacturing and other associated industries are driven by Industry 4.0. The requirements of the new manufacturing paradigm are profoundly dependent on data. To operate, robotics and other automation technologies rely on data gathering and its advanced analytics. The smart machines that drive the Industry 4.0 revolution are connected to each other and the internet. This connection allows data to be apprehended, shared, analyzed, and used to optimize industrial systems, with the help of OT.
Connected enterprises are also emerging, and they utilize smart processes, which employ data analytics, facilitating a secure and unified connection among individuals, procedures, and equipment. A well-configured connected enterprise displays improved efficiency and decreased operating costs. Although the idea of the connected enterprise is relatively new, it has appeared in every other industry to some level, including logistics, manufacturing, and transportation.
The major players in this space include Cisco Systems, IBM, Rockwell Automation, PTC, Microsoft, Honeywell, GE, and Bosch. They are constantly growing through modernization and engaging in partnerships, collaborations, and M&A. For organizations with larger investment capabilities, the concept of the traditional IT infrastructure is rapidly giving way to the concept of the connected enterprise.
Control Systems Are Dominating Market
Control systems held the largest share, of around 48%, in 2022. This is attributed to the surge in the adoption of SCADA for collecting real-time data from remote locations and controlling different devices. For industrial organizations, SCADA systems are vital as they aid in sustaining efficiency, processing data for smarter decisions, and communicating system issues to help in easing downtimes.
For instance, with this system, operators are informed quickly if a set of products is displaying a high incidence of errors. The operation is then paused, and the operator assesses the SCADA system's data via an HMI, to determine the source of the issue. The operator reviews the data and determines which machine is malfunctioning. This way, the SCADA system's capability to alert the operator of an issue helps resolve it and prevent a further loss of production.
Moreover, due to the rise in the demand for distributed control systems, this category is growing. This is credited to the increase in the adoption of process automation and control solutions in industrial plants. With industrial automation and control, enterprises work smarter and quicker, while reducing wastage and operating costs. If process automation is not efficient, plant operators need to monitor performance values and the quality of the output manually, to find the appropriate operational setting for the production equipment, which is not only tedious but also prone to error.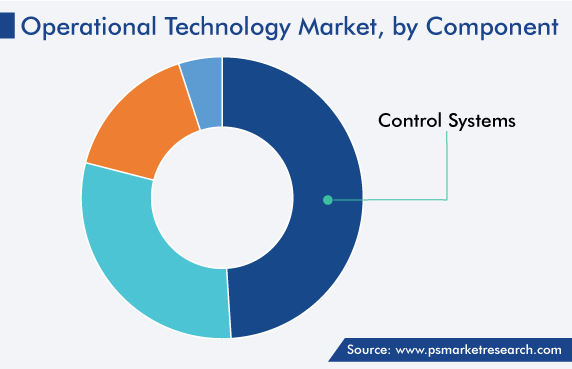 Wireless Connectivity Is Majorly Adopted
The wireless category held the larger share in 2022. This is mainly because wireless connectivity provides wider area coverage and faster communication, via WLAN. Today, most of the networks are operating on the wireless mode, because wireless LANs use high-frequency radio signals, infrared beams, or lasers to connect workstations, file servers, or hubs. Various devices are connected through wireless technologies to form an area network.
Moreover, ISA 100 is a type of wireless connectivity that operates in the 2.4-MHz frequency range and can support up to 15 channels. It is a plant-wide wireless networking technology that is purpose-built for every industry. It simplifies wireless operations, advances wireless performance, and lessens operative expenses.
ZIGBEE is also a type of wireless technology that offers easy network expansion, low power consumption, good coverage area, and network stability. It has a mesh type of network, which provides a greater range and more-stable coverage compared to Wi-Fi. It has a network the transmission range of which can be extended. It also delivers improved stability over a single router. The content is scalable since the individual nodes in this act as repeaters or wireless routers, and since the technology supports numerous nodes, it is easier to expand the network.
Wide Adoption in Process Industry
Process industries held the larger operational technology market share in 2022, because OT is increasingly being adopted in the oil & gas industry. This provides new opportunities to enhance the overall business performance with the help of improved asset reliability. For end users, the incorporation of analytics, IIoT, and other prescriptive and predictive technologies helps in bringing performance to an advanced level. The SCADA system can be designed for quickly and efficiently meeting the requirements of companies operating oil & gas pipelines.
In the same vein, in the pharmaceutical industry, the use of operational technology can lower the chance of human error, through its capability to consistently accomplish repetitive tasks. Pharmaceutical companies are continuously integrating automation into specific processes, such as serialization, anti-counterfeiting, and drug development. For instance, in manufacturing, automation has become important in processes including machine tending, sorting, kit assembly, and packaging.
Additionally, with time, the food & beverage industry is deploying digital solutions to improve the quality of the products and the speed at which it delivers them to consumers. As this industry is adopting Industry 4.0 processes quickly, the integration of OT solutions is growing to screen and control the manufacturing activity.
Operational Technology Market Report Coverage

| | |
| --- | --- |
| Report Attribute | Details |
| Historical Years | 2017-2022 |
| Forecast Years | 2023-2030 |
| Market Size in 2022 | USD 159.4 Billion |
| Revenue Forecast in 2030 | USD 255.9 Billion |
| Growth Rate | 6.10% CAGR |
| Report Scope | Market Trends, Drivers, and Restraints; Revenue Estimation and Forecast; Segmentation Analysis; Impact of COVID-19; Companies' Strategic Developments; Market Share Analysis of Key Players; Company Profiling |
| Segments Covered | By Component; By Technology; By Connectivity; By Industry; By Region |
Explore more about this report - Request free sample pages
APAC Held Largest Share
APAC held the largest share, of around 48%, in 2022, mainly due to the growing adoption of technologies such as IoT and IIoT, to realize the concept of smart factories. The region is extremely diverse, with localized characteristics ranging from low-cost and low-productivity countries to technologically advanced and high-manufacturing-cost countries. Due to these factors, countries such as China, Japan, South Korea, Taiwan, and Singapore can be classified as developed manufacturing countries, while India, Thailand, Vietnam, Malaysia, and Indonesia are still considered developing manufacturing countries.
Moreover, in APAC, one of the key drivers of the economy is manufacturing. With the initiation of the Industry 4.0 revolution, the region's major manufacturers are undergoing a significant evolution, as connectivity becomes the key pillar of next-generation factories, where AI, machine learning, IoT, and cloud computing are being embraced to enable smart manufacturing.
Globally, South Korea was one of the first to launch 5G services. Moreover, being an economy that depends strongly on manufacturing, it has revealed a plan to leverage AI and 5G to roll out smart factory solutions, engaging telecom providers for it, for the country's small and mid-size industrial facilities. By 2025, the country aims to have 30,000 factories.
Similarly, in Japan, the semiconductor & electronics industry is creating growth opportunities for the market. Japan accounts for around 10% of the global semiconductor production. In 2021, Tokyo approved an around USD-6.0-billion package for investment in semiconductor manufacturing, including around USD 3.0 billion for Taiwan Semiconductor Manufacturing Company's (TSMC) new foundry in Kumamoto prefecture.
Further, in China, the market is booming with the increasing count of government initiatives for the development of the automotive industry. China continues to be the largest vehicle market globally, with the Chinese government expecting that automobile yields will reach 35 million by 2025. New-energy vehicles (NEVs) are one of 10 focus areas of the Made in China 2025 program, a government initiative to advance the country's industry from low-cost mass production to higher-value-added advanced manufacturing. Moreover, in 2025, the country is planning to sell 3 million domestically branded NEVs and for them to occupy a minimum of 80% of the country's NEV market share.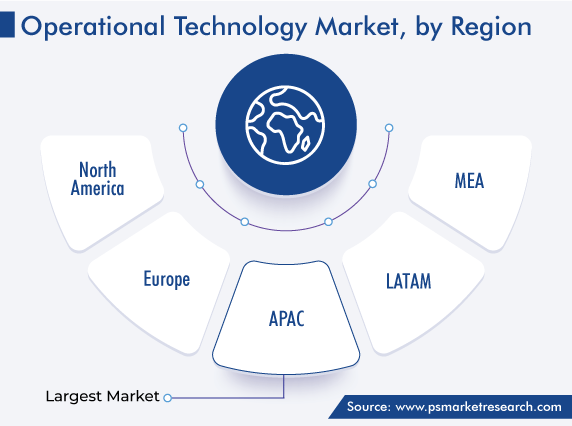 Top Operational Technology Providers Are:
ABB Ltd.
Siemens AG
Honeywell International Inc.
General Electric Company
Schneider Electric SE
Rockwell Automation Inc.
Emerson Electric Co.
Oracle Corporation
IBM Corporation
Yokogawa Electric Corporation
Market Size Breakdown by Segment
This fully customizable report gives a detailed analysis of the operational technology industry from 2017 to 2030, based on all the relevant segments and geographies.
Based on Component
Field Instruments
Control Systems
Services
Based on Connectivity
Based on Industry
Process Industry
Discrete Industry
Based on Technology
Supervisory Control and Data Acquisition (SCADA)
Distributed Control Systems (DCS)
Process Control Domains (PCD)
Programmable Logic Controllers (PLC)
Safety Instrumented Systems (SIS)
Building Management/Automation Systems (BAS)
Geographical Analysis
North America
Europe

Germany
U.K.
France
Italy
Spain

Asia-Pacific

Japan
China
India
South Korea
Australia

Latin America
Middle East and Africa

Saudi Arabia
South Africa