Market Overview
From $9.1 billion in 2019, the global on-demand logistics market value is aet to surpass $75.0 billion by 2030, witnessing a CAGR of 21.1% between 2020 and 2030.
Among all regions, Asia-Pacific (APAC) is estimated to witness fastest growth in the on-demand logistics market during the forecast period. This will be because the region is home to some of the most-populous countries in the world, including China and India, which constitute a massive consumer base for logistics service providers. Moreover, most of the countries in this region are highly developing nations, which leads to growing disposable income.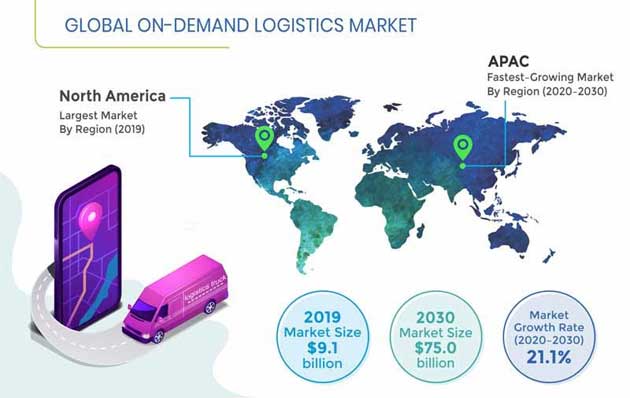 On-Demand Logistics Service Providers Garnering High Investments
The key trend observed in the on-demand logistics market is the inflow of heavy investments. Within a few years, this market has witnessed a substantial increase in the number of startups, who are receiving funding from several venture capitalists. For instance, in 2019, Lalamove, a Hong Kong–based on-demand logistics provider, raised $300 million funding in series D round, as it seeks out for its expansion across the APAC region. The company has raised a total of around $460 million funding till date, of which $100 million was raised in series C funding in late 2017.
On-Demand Logistics Market Report Coverage
| Report Attribute | Details |
| --- | --- |
| Historical Years | 2018-2019 |
| Forecast Years | 2020-2030 |
| Market Size in 2019 | $9.1 Billion |
| Revenue Forecast in 2030 | $75 Billion |
| Growth Rate | 21.1% CAGR |
| Report Scope | Market Trends, Drivers, and Restraints; Revenue Estimation and Forecast; Segmentation Analysis; Country Breakdown; Companies' Strategic Developments; Market Share Analysis of Key Players; Company Profiling |
| Countries Covered | U.S., Canada, Germany, France, U.K. Italy, Spain, China, Japan, India, Brazil, Mexico |
On-Demand Logistics Market Driven by Booming E-Commerce Industry
The rising e-commerce industry is benefiting the growth of the on-demand logistics market. In 2018, the global e-commerce accounted for around 14% of all retail sales, an increase of nearly 15% from 2017. Furthermore, it is estimated that e-commerce sales will reach around 17% of retail sales, worldwide, by 2021. With increasing customer base, the customers' buying behavior and their expectations are also changing. Customers now prefer fast shipping with competitive pricing. This demanding delivery schedule challenges traditional logistics and encourages companies to update their business strategies. Therefore, retailers and shippers are opting for on-demand logistics services in order to deal with inconsistent order volumes, sudden need for bulk supply, and changing preference of customers.
Emerging Economies To Offer Lucrative Opportunity to Service Providers
Growing demand in emerging economies hold lucrative opportunities for the players in the on-demand logistics market. The fast adoption of smartphones and consequent access to the internet have enabled emerging market customers to be a major global force for online activities including on-demand logistics. As urbanization, industrialization, and household income are set to continue to rise across emerging economies, these are expected to coincide with increasing share of online customer spending. It will help to ease the logistical challenges, such as low profitability, lesser number of bookings, and low vehicle-usage rate.
LCVs Are Being Widely Used for Offering On-Demand Logistics Services
The light commercial vehicle (LCV) category held the larger share in the on-demand logistics market in 2019. This is attributed to the rising demands of e-commerce companies for last-mile deliveries, which often do not entail the transportation of heavy or voluminous goods.
On-Demand B2C Delivery Volume To Rise Faster than B2B Deliveries
The on-demand logistics market is expected to witness faster growth in the business to customer (B2C) category during the forecast period. This can be attributed to the fact that the services can be accessed via mobile apps, which are highly convenient to use. These apps ensure greater safety of the goods transferred, as the users can track their items to be delivered at real time. Moreover, individuals majorly shop for specific stuff, the deliveries of which can easily be made via the on-demand logistics model.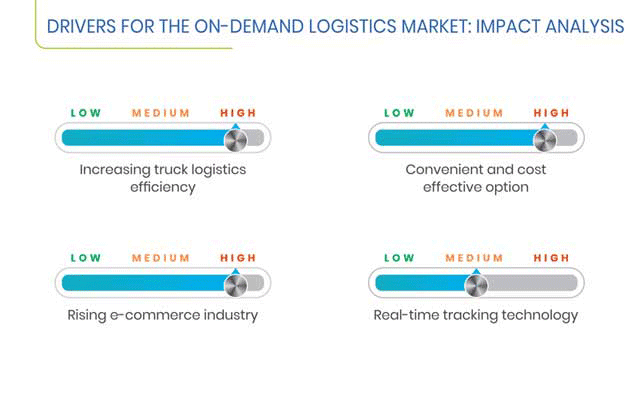 E-Commerce Companies Generate Highest Demand for On-Demand Logistics Services
Among all applications, the e-commerce category generated the highest revenue in the on-demand logistics market in 2019. This is because major e-commerce companies, such as Amazon.com Inc., Walmart Inc., and Flipkart Online Services Pvt. Ltd., are instinctively opting for on-demand logistics, in order to meet the sudden surge in the demand during the period of sales promotions. With the increasing internet penetration, especially in developing countries, the reach of these companies is widening, which is creating a high requirement for logistics services.
North America Is Largest On-Demand Logistics Market
North America generated the highest revenue in the global on-demand logistics market in 2019, led by the U.S. This is attributed to the fact that the transportation and logistics industry generates high profit in the region with over 70% of the overland freight movement being conducted by trucking services in the U.S. Furthermore, with the increasing demand for trucking services in the logistics industry, the region is facing the consequence of freight and driver shortages. This is creating the need to develop a more effective logistics solution in order to cater to the demand–supply gap, thereby easing the penetration of on-demand logistics in this region.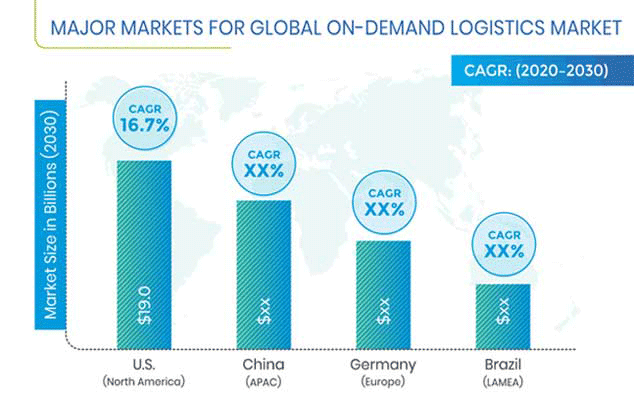 Competitive Landscape of On-Demand Logistics Market
The on-demand logistics market is still in its nascent phase with key players, including Lalamove EasyVan (Thailand) Co. Ltd., Uber Freight LLC, Deliv Inc., MENA 360 DWC-LLC (Fetchr), Shadowfax Technologies Pvt. Ltd., Deliveree (Thailand) Co. Ltd., Bringg Delivery Technologies Ltd., Shippify Inc., Stuart Delivery Ltd. (STUART), and GoGo Tech Ltd. (GoGoVan).
Recent Strategic Developments of Major On-Demand Logistics Market Players
The major players in the on-demand logistics market involved in raising investments, several geographic expansions, and partnerships in order to increase their competitive edge. For instance, in December 2019, Shadowfax announced that the company received a strategic minority investment from Flipkart. The investment is part of a $60 million series D funding from Eight Roads Ventures, NGP Capital, Qualcomm Ventures, Mirae Asset Naver Fund, and World Bank–backed IFC. The funds will be used to enhance the technology capabilities of the on-demand logistics platform, recruit talent, and increase the number of shipments to more than 100 million a month.
In October 2019, Uber Freight, the digital freight brokerage division of Uber Technologies Inc., announced that it has expanded its operations in Canada for domestic and cross-border truckloads. The Canadian market is company's first international expansion in North America. In order to facilitate its Canadian and cross-border marketplace, the company has released a Canadian version of its mobile application in both English and French languages.
Market Size Breakdown by Segment
The on-demand logistics market report offers comprehensive market segmentation analysis along with market estimation for the period 2018–2030.
Based on Vehicle Type
Light Commercial Vehicle (LCV)
Medium/Heavy Commercial Vehicle (M/HCV)
Based on End Use
Business to Business (B2B)
Business to Customer (B2C)
Based on Application
E-Commerce
Industrial
Moving and Shifting
Peer to Peer Delivery
Geographical Analysis
North America
Europe

Germany
France
U.K.
Italy
Spain

Asia-Pacific
LAMEA
Key Questions Addressed/Answered in the Report
What is the current scenario of the on-demand logistics market?
What is the total addressable market of truck brokerage in different region?
What is the historical and the present size of the market segments and their potential in the future?
What are the major factors boosting the market and their impact during the short, medium, and long terms?
What are the evolving opportunities for the market players?
What are the key developments adopted by the major players to expand their market share?
What are the technological trends in the on-demand logistics market?
What are the market trends and technology trends in the global logistics industry?