Market Overview
The nuclear imaging equipment market size stood at $2,651.3 million in 2021, and it is expected to grow at a CAGR of 6.0% during 2021–2030, to reach $4,463.7 million by 2030.
The market size is expected to increase as a result of the aging population, rising healthcare costs, and surging demand for imaging procedures. Moreover, the increasing rate of cancer and heart disease are the main reasons propelling market expansion.
Nuclear imaging is a modern method that makes use of minute amounts of radiotracers, which are molecules related to those employed by the body's cells; they bind to tumor cells. A detector measures the amount of radioactive decay from the tracer within the body, to figure out when and where it concentrates, by measuring the amount of the radioactive material absorbed by the target tissue. This method can enhance clinical research, medical diagnosis, and treatment, while also enhancing illness prevention.
The most-common way to administer radiotracers in nuclear medicine is intravenous. They can be taken orally in some investigations. These tracers have no negative effects and are neither dyes nor medications. Typically, a patient only receives a small quantity of radiation during a typical nuclear medicine scan.
The shift from standalone to hybrid modalities, improvements in radiotracers, growing emphasis on personalized medicine, investments made through public–private partnerships to modernize diagnostic centers, and the rising incidence of cancer and cardiac conditions are the main driving factors for the demand for PET and other similar scanners.
The need for better diagnoses is being addressed by advanced healthcare IT solutions. In terms of the clarity and accuracy of the photographs, technologically improved devices have surpassed traditional techniques. Over the past 10 years, hybrid systems have seen tremendous progress as a result of the advances in imaging technology. The combined PET methods represent significant advancements in this regard.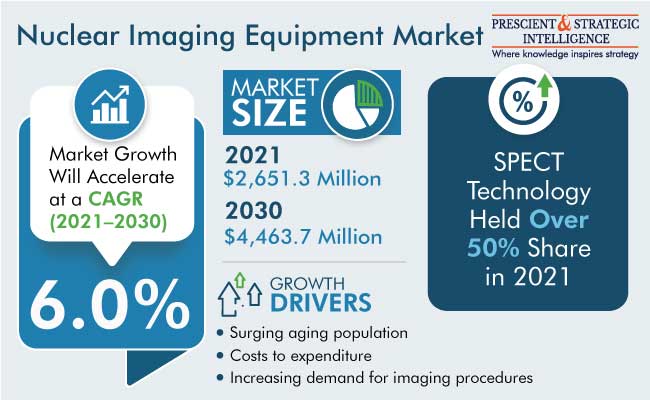 The global availability of healthcare resources has been considerably impacted by the COVID-19 pandemic. The pandemic was controlled, in part, by drastically reducing in-patient and out-patient services for other illnesses and putting in place concrete infection prevention and control measures. Hence, the volume of nuclear imaging tests for diagnostic and therapeutic purposes sharply decreased as the epidemic spread to several nations.
The majority of the heart patients are often older than 60 and thus, at an extremely high risk of conditions such as diabetes, hypertension, chronic renal and lung disorders, and cancer. They are also extremely susceptible to COVID-19 as a result of their low immunity, which has decreased the demand for nuclear imaging treatments. However, a lot of medical professionals think that this drop in treatments is only temporary.
Shift toward Hybrid Modalities Drives System Demand
The popularity of hybrid PET/CT medical techniques has led to a strong interest in hybrid PET/MRI and SPECT/CT systems as well. The SPECT technology had a more than 50% share in 2021. Compared to standalone devices, hybrid equipment delivers more-accurate images, with a higher resolution. In a single examination, such devices can offer both morphological and physiological data.
For instance, the SPECT/CT system enables precise localization and enhanced specificity of the data provided by a CT scan, in the case of skeletal examination. Many hospitals are increasingly switching from standalone to hybrid equipment due to these advantages.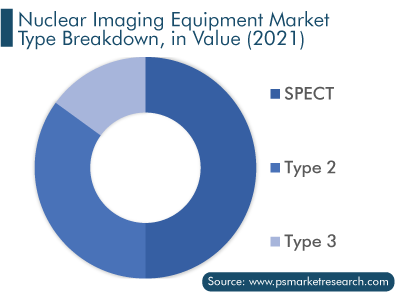 Technological Advancements Make Healthcare Delivery Easier
Some of the recent advancements in imaging technology that are relevant to radionuclide therapy include:
A key advantage of PET/MRI over PET/CT is a better soft tissue contrast, which is necessary for treatment planning, dosimetry, and post-radionuclide therapy evaluation. It is advantageous because it offers the simultaneous co-registration of MR images, which is important for correct dosimetry.
Additionally, MRI can be used to determine the radionuclide dose that will cause the least organ damage. Further, the gathering of anatomical and molecular images offers improved motion correction.
Moreover, venous thrombosis can be investigated using molecular imaging, which involves determining the thrombus acuity and activity, which may be crucial for patient care. The glycoprotein receptor GPIIb-IIIa, which is found on activated platelets' membrane, interacts with 99mTc apcitide, a drug under trial. Through this, acute deep vein thrombosis can be found. Another drug in phase I/II trials, 99mTc-DI-DD3B6/22-80B3, which is a humanized monoclonal Fab fragment, which binds to D-dimer, has demonstrated excellent safety and showed the promise of accuracy. Additionally, among the PET tracers under research is 64Cu-DOTA fibrin-targeted probe, which has already been tested on animal models.
Furthermore, nearly all discussions of precision or personalized medicine revolve around genetics. In the context of precision medicine, nuclear medicine procedures and assays are typically not discussed. But, only nuclear theragnostic can successfully address the target structure and offer non-invasive readouts of target expression.
Therefore, the advancements in nuclear imaging equipment and its rising application in the diagnosis of major diseases will offer growth opportunities to the sector.
Nuclear Imaging Equipment Market Report Coverage

| | |
| --- | --- |
| Report Attribute | Details |
| Historical Years | 2017-2021 |
| Forecast Years | 2022-2030 |
| Market Size in 2021 | $2,651.3 Million |
| Revenue Forecast in 2030 | $4,463.7 Million |
| Growth Rate | 6.0% CAGR |
| Report Scope | Market Trends, Drivers, and Restraints; Revenue Estimation and Forecast; Segmentation Analysis; Impact of COVID-19; Companies' Strategic Developments; Market Share Analysis of Key Players; Company Profiling |
| Segments Covered | By Type; By Application; By End User; By Region |
Explore more about this report - Request free sample pages
Hospital Category Accounts Largest Market Share
Based on end user, hospitals accounted for the largest market share, around 60%, in 2021. This is attributed to the high frequency of chronic diseases, growing public awareness of nuclear therapy, and the transition from solo to hybrid modalities.
Furthermore, several countries, particularly the U.S. and those in Europe, are creating a readiness assessment framework for effective and smart ways of using radio drugs, so as to provide safe and effective treatments. Thus, most hospitals are focusing on the therapy for cancer patients, encouraged by its high efficacy and few side-effects. Nuclear imaging is already making a major contribution in detecting the area of cancer spread in the body.
Further, the hospitals category is predicted to grow at a considerable CAGR, around 7%, during the forecast period, due to the rising investment in nuclear imaging equipment R&D, increasing number of diagnostic institutions, and a high volume of nuclear imaging procedures.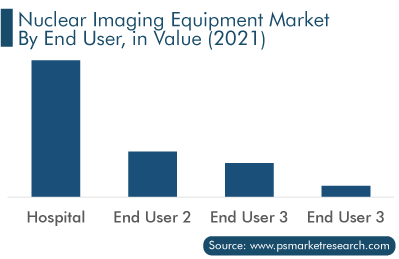 Growing Demand for Data-Integrated Imaging Systems
Data-integrated imaging systems make it possible to process and reconstruct images, identify medical issues with the aid of a computer, create 3D digital representations of the anatomy, and employ proper quality control measures. Physicians can quickly compare scans to accurately track the disease's course, with the use of data integration. Clinicians now desire easy access to comprehensive data on the diagnostic history of patients, to develop a treatment plan that would be successful as well as cost-effective. Moreover, making the data accessible through mobile phones would bring the concept of digital health within the reach of physicians and enable remote consulting. This makes it easier for clinicians to view and examine scans from any location. Hence, companies are concentrating on developing high-tech systems with integrated technologies due to these benefits and their ease of usage, which is driving the demand for them from physicians.
Key Players in Nuclear Imaging Equipment Market Are:
Koninklijke Philips N.V.
General Healthcare
Siemens Healthineers
Digirad Corporation
Neusoft Medical Systems Co. Ltd.
Canon Medical Systems Corporation
SurgicEye GmbH
DDD-Diagnostic A/S
Nuclear Imaging Equipment Market Size Breakdown by Segment
The study offers a comprehensive market segmentation analysis along with market estimation for the period 2017-2030.
Based on Type
SPECT
Hybrid PET
Planar Scintigraphy
Based on Application
Oncology
Cardiology
Neurology
Based on End User
Hospital
Diagnostic Center
Academic & Research Institute
Geographical Analysis
North America
Europe

Germany
U.K.
France
Italy
Spain

Asia-Pacific

Japan
China
India
South Korea
Australia

Latin America
Middle East and Africa

Saudi Arabia
South Africa
U.A.E.