Market Overview
The global next-generation gynecological cancer diagnostics market generated a revenue of USD 2,396 million in 2022, which is expected to reach USD 5,135 million by 2030, advancing at a CAGR of 10% during the forecast period. This is attributed to the rising prevalence of gynecological malignancies, changes in lifestyle and obesity in women, increasing cases of menopause problems, and the growing prevalence of diabetes. Additionally, poor diet and excessive consumption of flaxseeds, soy products, and Vitamin D are responsible for high estrogen level in the body that causes cancer.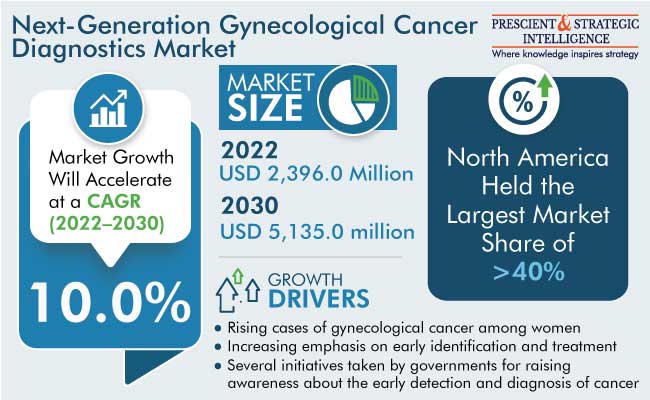 Moreover, advancements in the field of sequencing technologies have supported researchers and clinicians to harness knowledge pertaining to these underlying mutations, which further helped stakeholders to discover biomarkers for guiding targeted therapeutic decisions. Also, these tests allow for the early detection of many cancers or other diseases and an accurate prognosis of the disease's course. Thus, these factors are expected to positively impact the market over the projection period.
In addition, malignancies of the uterus, ovary, and cervical cervix are the most common types of gynecological cancer in females worldwide. Gynecological cancers result from genomic aberrations, epigenetic factors, acquired and inherited mutations, transcriptional aberrations, or a combination of these factors. A thorough understanding of gynecologic cancers, genomic, and molecular substructure is essential to develop safe and effective biomarkers for the detection, prevention, and molecular profiling of the disease, and for personalized treatment strategies.
Significant Prevalence of Cervicovaginal HPV
Cervicovaginal human papillomavirus (HPV) is one of the most commonly affected sexually transmitted diseases in both men and women, which mainly causes cervical and other solid tumors (vaginal, vulvar). Approximately 200 genetic types have been found, and they are categorized into the low-risk genotype and high-risk genotype, based on their carcinogenic nature. Moreover, it has been verified that persistent contamination with the high-risk papillomavirus genotype is a major reason for cervical precancerous abrasions and cervical cancer, even though hyperplastic lesions or condyloma acuminatum is connected with the low-risk genotype.
Furthermore, a study found that almost 99% of cervical cancer were allied with HPV contamination worldwide, and in China, approximately 130,000 females suffer from cervical cancer every year. Thus, the initial detection of HPV and screening are of great importance to decrease the burden of this type of cancer and other diseases caused by HPV. Moreover, the increased case of HPV among women causes related malignancies. Hence, these factors lead to the high adoption of next-generation diagnostic methods for early detection.
Next-Generation Gynecological Cancer Diagnostics Market Report Coverage

| | |
| --- | --- |
| Report Attribute | Details |
| Historical Years | 2017-2022 |
| Forecast Years | 2023-2030 |
| Market Size in 2022 | USD 2,396 Million |
| Revenue Forecast in 2030 | USD 5,135 million |
| Growth Rate | 10.0% CAGR |
| Report Scope | Market Trends, Drivers, and Restraints; Revenue Estimation and Forecast; Segmentation Analysis; Impact of COVID-19; Companies' Strategic Developments; Market Share Analysis of Key Players; Company Profiling |
| Segments Covered | By Technology; By Cancer Type; By Function; By End User; By Region |
Explore more about this report - Request free sample pages
Next-Generation Sequencing (NGS) Dominates the Industry
The next-generation sequencing category accounted for the largest revenue share in 2022, and it is further expected to maintain its dominance during the forecast period. This is due to the potential of NGS to identify genetic alteration that is actionable with targeted therapy. NGS has a chance of 33.4% in identifying gynecologic cancers and a high clinical action rate. With the great clinical utility of NGS, testing also seemed to improve survival for individuals who received targeted treatment. Furthermore, NGS plays a key role in tumor analysis and has allowed unparalleled development of solid tumors' molecular profiling.
Additionally, in massively parallel sequencing, previously unrecognized genomic sequencing has been utilized in many gynecological malignancies; thus, it is expanding its potential for the use of targeted therapies. Also, new-genome sequencing increases the genomic of gynecological cancer-related diseases, has allowed the identification of germline and mutations associated with their development, has helped determine mechanisms of treatment resistance, and has enabled tumor reclassification. Moreover, NGS has aided rational therapy approaches based on correctable molecular abnormalities. Due to these key advancements and benefits of NGS, the category dominates the market size.
On the other hand, the DNA microarrays category displays the highest growth rate during the forecast period. These microarrays are the latest and most powerful approach for reviewing the molecular base of relations on a scale that is impossible by utilizing a conventional method. This technique is used to demonstrate the expression of thousands of genes instantaneously. It also has the potential to lead to enhancements in developing rationale approaches to therapy as well as to the development of gynecological cancer diagnosis and prognosis solutions. Hence, DNA microarrays are widely utilized in hospitals and diagnostic laboratories.
Uterine Cancer Holds the Largest Revenue Share
The uterine cancer category accounted for the largest revenue share, of more than 30%, in 2022, and it is further expected to maintain its dominance during the forecast period. This is attributed to the rising cases of uterine cancer globally, due to the growing elderly women population, surging menopause issues after the age of 55, the increasing incidence of high blood sugar levels and blood pressure, rising conditions of obesity or overweight, and high estrogen levels.
Moreover, according to the American Cancer Society report published in 2023, in the U.S., endometrial cancer is the most prevalent type of cancer in female reproductive organs. The organization estimated that around 66,200 new cases of uterus cancer are diagnosed and about 13,030 women die from malignancies of the uterine body, every year. Hence, the utilization of next-generation diagnostic techniques for the detection of such malignancies leads to the market expansion.
On the other hand, the cervical cancer category is projected to witness the fastest growth over the forecast period. This can be attributed to the rising prevalence of cervical malignancies in women, globally. As per the WHO report, the fourth most common cancer among females across the world is cervical cancer, which caused 342,000 deaths, and 604,000 new cases were reported in 2020. The death rate is higher in developing countries than in developed nations, due to improper detection facilities at the early stages of diseases. With the growing use of cervical cancer diagnostic tests for the early detection of this cancer, the market in this category is expected to rise significantly in the coming years.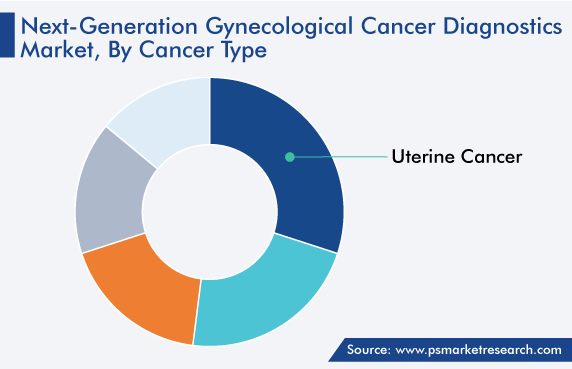 Prognostics Category To Show the Fastest Growth
The prognostics category is projected to register the highest CAGR, of around 10.5%, during the anticipated time frame in the next-generation gynecological cancer diagnostics market. This can be because the prognosis of cancer differs from person to person and the prognostic function plays a vital role in designing therapies for such patients and also setting the protocols for chemotherapy, gene therapy, and radiation-based treatment.
North America Is Prime Revenue Contributor
Geographically, the North American market accounted for the largest revenue share, of more than 40%, in 2022, and it is projected to grow at a robust CAGR during the review period. This is due to the rising cases of cervical and gynecological malignancies in the region. These are very distressing conditions and support the adoption of diagnosis approaches. Moreover, many initiatives have been introduced by the government, out of which early detection and screening strategies have been intensified in North America.
Moreover, the U.S. healthcare system has top-notch medical facilities, a solid governmental framework, and proactive assistance for cancer and diagnostic treatment. Also, the majority of U.S. health insurance companies give protection from cancer diagnosis and treatment. Thus, this scenario is boosting the demand for new approaches and technologies, and also driving the growth of the market in the country.
Furthermore, several strategic measures taken by key players are driving the regional market. For instance, Resolution Bioscience Inc. was acquired by Agilent Technologies Inc., in March 2021, to expand and complement its competencies in NGS-based cancer diagnostics and boost its position in cancer diagnostics.
Canada also holds a significant market share, due to the presence of a well-developed healthcare infrastructure, the rising adoption of next-generation diagnostic methods for the detection of different types of gynecological cancers, the robust support of the government, and technological advancement in the nation.
The European market is showing significant growth, due to the presence of advanced infrastructure for diagnosis and key industry players operating in this region. Moreover, gynecological cancer cases are rising rapidly among the population, the widespread availability of diagnostic systems and consumables, and the rapid expansion in the availability of advanced technology are driving the demand for next-generation gynecological cancer diagnostic solutions in the region.
In Europe, Germany accounts for a significant market share. This is due to the rise in the healthcare budget, high adoption of technology-based solutions, a surge in the number of awareness programs by the government for early diagnosis of cancer and advanced technology, and rapid adoption of diagnostic methods by healthcare professionals for accurate results in the country.
Moreover, the market in France is expected to witness considerable growth during the forthcoming period. This can be attributed to the improving healthcare infrastructure, the presence of key players offering next-generation diagnostic techniques, the increasing prevalence of gynecological cancer, and the surging adoption of technology for early and accurate detection in the nation.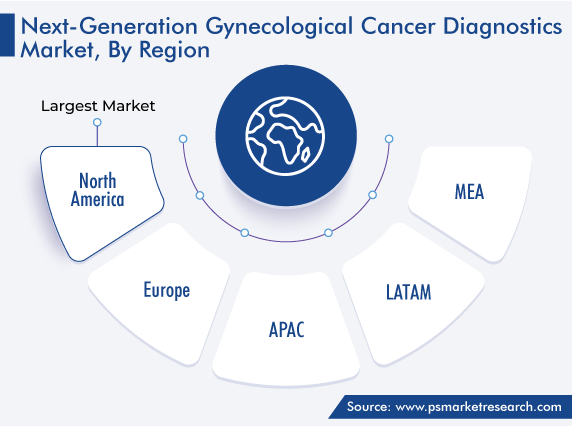 Top Next-Generation Gynecological Cancer Diagnostic Solution Providers Are:
Agilent Technologies Inc.
F. Hoffmann-La Roche Ltd.
QIAGEN N.V.
Quest Diagnostics Incorporated
Thermo Fisher Scientific Inc.
Laboratory Corporation of America Holdings
Myriad Genetics Inc.
Illumina Inc.
OPKO HEALTH Inc.
KONICA MINOLTA Inc.
Market Size Breakdown by Segment
This fully customizable report gives a detailed analysis of the next-generation gynecological cancer diagnostics market from 2017 to 2030, based on all the relevant segments and geographies.
Based on Technology
Polymerase Chain Reaction (PCR)
Next-Generation Sequencing (NGS)
DNA Microarrays
Based on Cancer Type
Cervical Cancer
Ovarian Cancer
Uterine Cancer
Vaginal Cancer
Vulvar Cancer
Based on Function
Therapeutic Monitoring
Companion Diagnostics
Prognostics
Cancer Screening
Risk Analysis
Based on End User
Hospitals and Ambulatory Centers
Diagnostic Laboratories
Academic and Research Institutes
Geographical Analysis
North America
Europe

Germany
U.K.
France
Italy
Spain

Asia-Pacific

Japan
China
India
South Korea
Australia

Latin America
Middle East and Africa

Saudi Arabia
South Africa
U.A.E.