Market Overview
The New Zealand ventilation products market size stood at $113.8 million in 2021, which is projected to advance at a CAGR of 5.4% during 2021–2030. The growth of the industry is primarily attributed to the surging awareness of the health and environmental effects of polluted air, the increasing preference for decentralized ventilation, and the rising number of residential and commercial projects.
Ventilation products assist in the creation of a healthy home environment by eliminating excess moisture and odor. Chemical fumes and other pollutants that can be harmful if inhaled can be reduced with the use of such solutions. Thus, the demand for these products in the residential and commercial sectors is likely to increase in the coming years.
Moreover, the market is fueled by several reasons, including increased construction activities and strong government regulations aimed at promoting energy efficiency across the country. Also, the rising average temperature is aiding growth prospects for ventilation goods in New Zealand.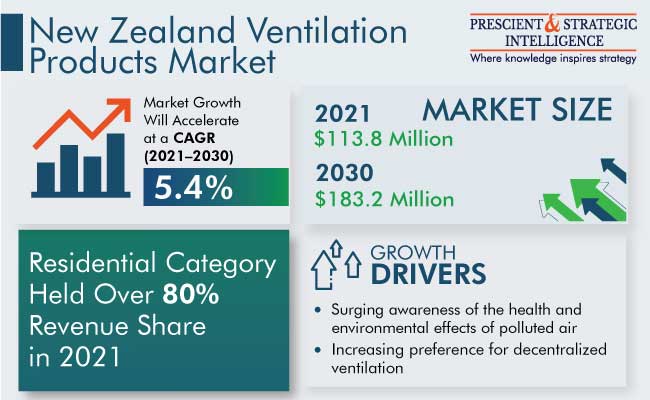 Lockdown and social distancing measures were implemented by the country to curb the spread of the COVID-19 disease, which resulted in the temporary suspension of office activities, shuttering of manufacturing facilities, and closure of retail stores, offices, hotels, and airports, which hampered the market for ventilation products severely. Despite moderating due to the COVID-19's Delta variant, the New Zealand economy continues to recover in 2022. This accelerates the restoration of operations, thus resulting in increased sales of ventilation systems in the country's commercial and industrial sectors.
Technological Advancement Is a Key Market Trend
Technological advancement in ventilation products is a major ventilation products market trend in New Zealand. Manufacturers are improving their ventilation products in the light of COVID-19, to provide optimal protection against viruses and pollutants. Recent improvements include:
Increased filtration ability: Companies are shifting away from traditional minimum-efficiency rating value (MERV) 8 filters to MERV 13 and higher-rating filters to reduce the concentration of germs and contaminants in room air, and capture smaller particles, but this comes with a drawback. The improving efficiency of filters results in a higher pressure drop inside spaces. To counter this, they are rapidly using electronic motors within ventilation systems.
Active neutralization measures: The use of active pathogen neutralizing measures is increasing in order to boost indoor air quality (IAQ) confidence. This can require bipolar ionization technology and ultraviolet (UV) air treatment, which create charged ions to help eliminate microorganisms from the air.
Smart sensing technology: IAQ sensors, including those that measure the levels of CO2, volatile organic compounds (VOCs), and humidity, and temperature sensors are used to continuously monitor ambient conditions at homes and provide real-time feedback to a zone controller, which adjusts the ventilation rate to match the building's specific use and occupancy, while consuming the least amount of energy.
New Zealand Ventilation Products Market Report Coverage

| | |
| --- | --- |
| Report Attribute | Details |
| Historical Years | 2015-2021 |
| Forecast Years | 2022-2030 |
| Market Size in 2021 | $113.8 Million |
| Revenue Forecast in 2030 | $183.2 Million |
| Growth Rate | 5.4% CAGR |
| Report Scope | Market Trends, Drivers, and Restraints; Revenue Estimation and Forecast; Segmentation Analysis; Impact of COVID-19; Market Share Analysis of Key Players; Company Profiling |
| Segments Covered | By End Use |
Explore more about this report - Request free sample pages
Energy-Efficient Ventilation Systems
Due to the high-volume carbon emissions, surge in the need to create a sustainable environment, and rise in pollution levels, the preference for energy-efficient ventilation systems is rising in the country.
As people become conscious of the importance of IAQ, improved ventilation systems are being developed to meet the increasing air tightness requirements for buildings. Energy-efficient ventilation products have a high capacity for ventilation, and they help in lowering the amount of CO2 inside buildings, such as restaurants and other facilities, that are used by a large number of people, thus also lowering the risk of transmittable diseases.
'Waste' heat is continuously vented from buildings, irrespective of the space conditioning needs. Examples include the generation of heat from industrial processes, electrical equipment, computers, and cooking appliances and losses from combustion flues. Minimizing waste heat loss leads to an improvement in the energy efficiency of ventilation systems. This is important because decreasing the amount of energy used to generate heat improves heating efficiency, thus resulting in lower fuel consumption.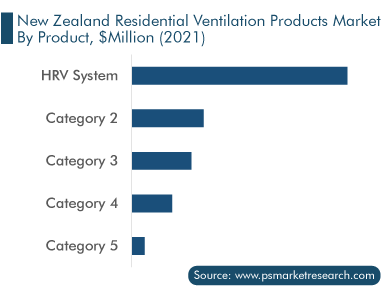 Surging Number of Residential and Commercial Projects
The rising number of residential and commercial projects is a key factor driving the market growth. This is attributed to the growing population and construction industry in New Zealand. Moreover, according to the Ministry of Business, Innovation & Employment, the number of new homes consented in the year ending in February 2021 was 39,725, up 4.9% from 37,882 in the same period in 2020. Thus, the surging infrastructure investments in New Zealand are boosting the growth of the ventilation products market in the country.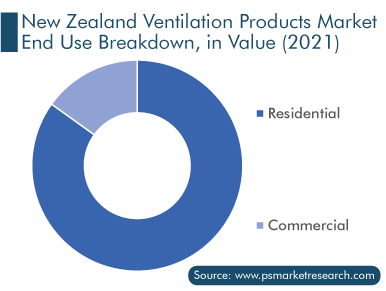 Ventilation Products Mostly Used in Residential Sector
Ventilation products used in the residential sector contributed more than 80% revenue share to the market in 2021. This is attributed to the increasing concern toward health issues related to the coronavirus. As SARS-CoV-2 virus particles spread quicker indoors than outdoors, viral particle concentrations inside a facility are often higher than outsides. Ventilation products can help reduce the concentration of virus particles from inside a facility. Thus, the demand for these products has increased in the residential sector.
Commercial Sector Is Growing at a Higher Rate
The demand for ventilation products in the commercial sector is expected to grow at a higher CAGR, of around 4.0%, in the New Zealand ventilation products market during the forecast period, in terms of volume. This can be mainly due to the rising number of commercial offices and buildings and the growing hospitality sector. Additionally, tourism activities in New Zealand are rising, which leads to high investments in the tourism industry and related infrastructures, such as airports, hotels, and entertainment centers. For instance, in January 2021, travelers' arrival was around 5.0 thousand in New Zealand and it increased to more than 8.4 thousand in January 2022.
Key Players of the Market Are:
Manrose
DVS
SmartVent
Mitsubishi Electric
SAYR Ventilation
Fantech Pty. Ltd.
Ventair Pty. Ltd.
HRV
MoistureMASTER
IXL Home Pty. Ltd.