Market Overview
The near-eye display market size stood at USD 1,709 million in 2022, and it is expected to grow at a compound annual growth rate of 24.40% during 2022–2030, to reach USD 9,799 million by 2030. This is attributed to the rapid developments in display technologies such as OLED, LED, and LCD; the increasing demand for high-quality displays in a wide range of applications; and the surging popularity of VR and AR devices, which require high-quality displays to provide an immersive experience.
The near-eye display (NED) technologies are designed to be viewed in proximity to the user's eyes, typically within a few inches. These displays are often used in wearable devices such as virtual reality (VR)and augmented reality (AR) headsets, smart glasses, and other forms of head-mounted displays (HMDs).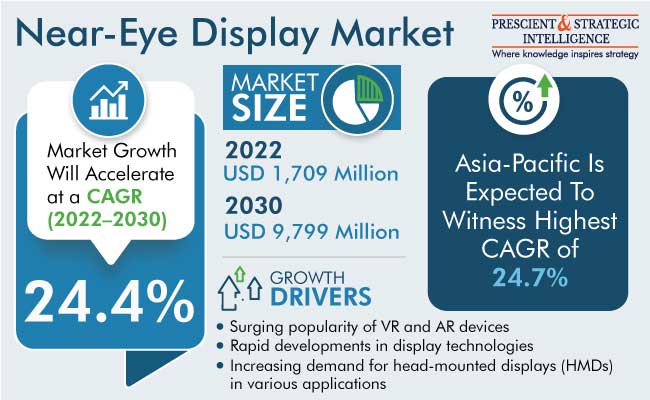 OLEDs Popularity Is Increasing
Thin-film transistor liquid crystal display (TFT LCD) technology accounts for the largest revenue share in 2022. This is because it is commonly used in HMDs and wearable displays such as immersive and see-through glasses, due to its ability to provide high-resolution displays that can exhibit detailed images and videos with excellent color accuracy. Also, the technology makes it possible to create high-quality, immersive visual experiences for a range of applications, from gaming and entertainment to training and education.
However, the use of OLED is becoming a popular choice for HMDs, and the category is expected to grow significantly in the coming years. This is attributed to its advanced benefits such as high contrast ratios, deep blacks, and vibrant colors. Additionally, OLEDs have faster response times than LCDs, which can help reduce blurs and latency in fast-paced games.
Rising Demand for VR Devices
The demand for VR systems has witnessed significant growth over the past few years. This technology has the potential to change lives and the way people socialize their work. VR is a fully immersive computer-generated environment with realistic scenes and objects that makes the users feel they are immersed in their surroundings. For instance, in 2022, there are more than 169 million users of VR technology at the global level.
The budding culture of gaming is gaining popularity among the millennials and Gen Z is consequently creating a demand for VR technology, particularly in gaming products and events. Several gaming events are using NED technology in order to deliver a better experience to the audience and participants. Besides the gaming industry, VR technology is being increasingly used in the entertainment industry for creating different content, which, in turn, will accelerate the growth of the near-eye display market in the coming years.
Augmented Potential of Display Technologies in Medical Applications
HMDs have been increasingly used in medical applications for a variety of purposes, including surgical training orthopedic procedures, preoperative planning, and patient education. Thus, in 2022, the medical category captured a revenue of USD 256 million, and it is expected to grow at a CAGR, of around 24.2%, in the market. The technology has continued to improve, and AR/VR is becoming more prevalent within orthopedic surgical education. As per the research paper published in Sage Journals in 2019, image guidance and AR/VR were the most reported applications of wearable displays. Also, see-through HMDs witnessed higher usage in urology and neurosurgery.
Moreover, HMDs can help surgeons visualize the patient's anatomy in 3D, allowing them to plan surgical procedures more accurately. This technology can also be used to simulate different scenarios and help surgeons decide on the best course of action. Further, HMDs have the potential to educate patients about their medical conditions and the procedures they will undergo. This technology can provide a virtual tour of the patient's body, showing them where the surgery will take place and how it will be performed. This can help reduce patient anxiety and increase their understanding of the procedure. Therefore, the surging use of HMDs for medical applications boosts the demand for near-eye displays.
After healthcare, eye-worn wearable devices have various applications in the education sector such as on-site report preparation, documentation of lectures, evaluation of trainees, recording lectures, telementoring, understanding the listener's experience and nature, and student concentration evaluation.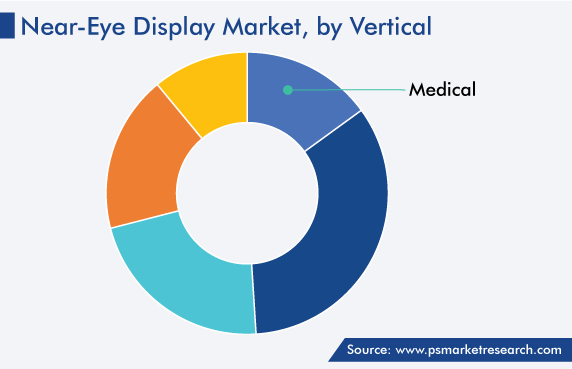 Metaverse Creates Lucrative Investment Opportunities for NEDs
The near-eye display market has the potential of being greatly influenced by the introduction of the metaverse as well as increased investments and advancements from leading technology companies. For instance, OLED on silicon (OLEDoS) tiny displays are becoming increasingly popular as a result of their improved characteristics, which include higher contrast, quicker response times, lower weight, compact size, and minor image blurring characteristics.
In addition, they are outperforming conventional LCDs and liquid crystal on silicon (LCoS) tiny display technologies because they are widely used in EVFs and HMDs. Meta, Decentraland, NVidia, Google, Niantic, Microsoft, Appinventiv, Valve, Roblox, Apple, and various other key companies are making huge investments in the space sector and also developing advanced technologies, which are projected to shape the metaverse's future.
COVID-19 Pandemic Boosted the Use of AR and VR Technologies
The pandemic encouraged the adoption of advanced technologies, as most businesses started working remotely. During the pre-pandemic times, many companies were interested in AR and VR, but a lot of them began to actively utilize VR collaboration platforms post-pandemic.
AR/VR technologies have become popular in the retail sector in this era, as retailers have observed the potential of the technology and started utilizing it to its full extent and at a decent pace. For instance, virtual clothes-fitting creates a 3D model of a buyer and then uses this model to fit simulated clothes. Many retailers have also offered similar applications that customers can use products virtually before buying them, thus enhancing customer experience. So, the high adoption of technology, as a result of the pandemic, has boosted the demand for AR/VR systems and hence supported the near-eye display market.
Near-Eye Display Market Report Coverage

| | |
| --- | --- |
| Report Attribute | Details |
| Historical Years | 2017-2022 |
| Forecast Years | 2023-2030 |
| Market Size in 2022 | USD 1,709 Million |
| Revenue Forecast in 2030 | USD 9,799 Million |
| Growth Rate | 24.40% CAGR |
| Report Scope | Market Trends, Drivers, and Restraints; Revenue Estimation and Forecast; Segmentation Analysis; Impact of COVID-19; Companies' Strategic Developments; Market Share Analysis of Key Players; Company Profiling |
| Segments Covered | By Technology; By Device Type; By Component; By Vertical; By Region |
Explore more about this report - Request free sample pages
China Is a Major Producer of AR and VR Devices in APAC
In 2022, APAC accounted for a significant market share in the global market. This is due to the technological progression, wide adoption of AR and VR in the gaming and entertainment industries, and the presence of several big producers, in the region. Moreover, the growing inclination of a large number of millennials and Gen Z toward the gaming culture is increasing the popularity of this technology in APAC.
Based on country, China is a major producer of AR and VR devices. This is due to the presence of key players in the country and the government initiatives to boost the production of AR/VR devices. The first national-level policy statement for the development of metaverse-related technologies, such as VR, AR, and mixed reality (MR), was published in China. According to this, the country aims to ship 25 million VR devices by 2026.
Moreover, the goal of the Development Action Plan for the Integration of Virtual Reality and Industrial Applications (2022–2026), which was published in November 2022, is to combine VR with industrial applications. Thus, for instance, the VR market in China, which covers software, hardware, and applications, is expected to exceed USD 48.56 billion by 2026.
The government-backed plan's main objectives include producing strong achievements in integrating AR/VR technology with present applications, consistently boosting the industry ecosystem, and considerably strengthening innovation capacity.
Along with government support, Chinese OLED companies and startups are supporting the market. For instance, BOE and Seeya are already shipping panels and offer very high-quality displays. Similarly, SidTek is offering microLED technology and has a microLED microdisplay R&D line. There are several other players in the country that are offering OLED microdisplays, such as OLiGHTEK, Lakeside Optoelectronics, BCDTEK, INT-Tech, and Nanijng Guozhao Optoelectronics.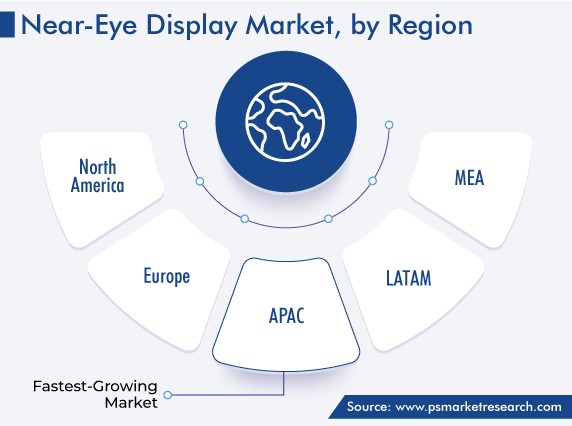 Key NED Manufacturers Are:
Sony Group Corporation
Himax Technologies Inc.
Kopin Corporation
Jade Bird Display (JBD)
TriLite Technologies GmbH
MICROOLED Technologies
BOE Technology Group Co. Ltd.
Syndiant
eMagin Corporation
Texas Instruments Incorporated
Samsung Electronics Co. Ltd.
Market Size Breakdown by Segment
The study uncovers the biggest trends and opportunities in the near-eye display industry, along with offering segmentation analysis at the granular level for the period 2017 to 2030.
Based on Component
Image generators
Optical combiners
Imaging optics
Based on Device type
Based on Technology
TFT LCD
OLEDs
LCOs
Micro-LED
AMOLED
DLP
Laser beam scanning
Based on End user
Consumer
Medical
Aerospace & Defense
Automotive
Geographical Analysis
North America
Europe

Germany
U.K.
France
Italy
Spain

Asia-Pacific

Japan
China
India
South Korea
Australia

Latin America
Middle East and Africa

Saudi Arabia
South Africa
U.A.E.