Market Overview
The global nanochemicals market size stood at $5.67 billion in 2021, which is expected to reach $8.94 billion by 2030, advancing at a CAGR of 5.2% during 2021–2030. This is prominently attributed to the rising demand for nanochemicals, due to their applications in various fields such as cosmetics, semiconductors, electronics, and pharmaceuticals.
These chemicals are highly used to increase the selectivity and potency of biological molecules for eliciting cancer cell death while minimizing collateral toxicity to non-malignant cells, which is driving their demand in the pharmaceutical industry. In addition, these chemicals are also employed in the electronic, rubber, and battery sectors in high volume, on account of their non-resistant nature, lightweight, less flame, and high-power density.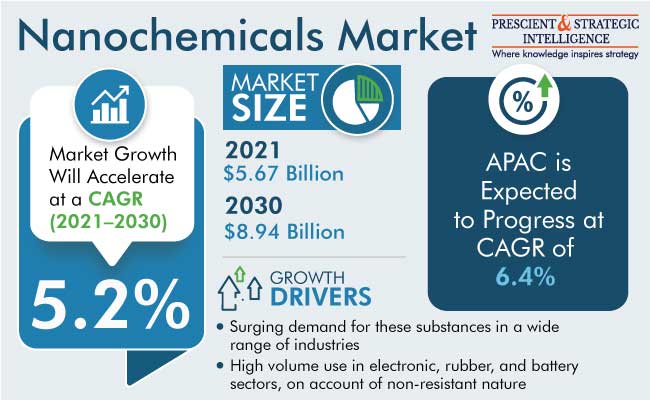 Polymer Nanochemicals Being Used the Most
The demand for polymer nanochemicals is expected to register the highest CAGR, of more than 6.2%, in the forecast period, primarily attributed to their high usage in the pharmaceuticals and semiconductor industries. Due to its size range of 1–1000 nm, this polymer type offers several advantages such as its potential use for controlled drug release in the body, its ability to protect drugs and other molecules against the biological environment, and improved bioavailability and therapeutic index of drug molecules.
The applications of nanopolymers are enormously broad and polymer-based nanotechnologies are emerging at a rapid pace all over the world. Polymer matrix-based nanocomposites have become a protuberant part wherein players have been continuously investing in R&D activities in the field of nanotechnology, thereby intensifying the domain size. The employment of exfoliated clay-based technologies in the domain drives its demand in the biomedical, electrical/electronic/optoelectronic, and fuel cell sectors.
Moreover, nanoparticle drug delivery, polymer-based biomaterials, fuel cell electrode polymer-bound catalysts, mini emulsion particles, layer-by-layer self-assembled polymer films, imprint lithography, and polymer blends are among the other applications. For instance, Toyota's automotive application for a timing belt cover was the most widely publicized use of polymer nanocomposites. The use of exfoliated clay nanocomposites and polymers is a new trend. Similarly, General Motors is using exfoliated clay as an exterior step to assist in many automotive applications, which is increasing the demand for these products globally.
However, metallic nanochemicals held the largest share, in the market in 2021. This is due to their advanced and superior properties like high reactivity, enhanced photothermal and plasmonic characteristics, high stability, and effective physiochemical properties. In addition, owing to their smaller size and more points of contact, these substances act as a catalyst in the fields where increased levels of binding are required, which is intensifying the demand for these products. Furthermore, in the past few years, these substances are being highly adopted in the field of synthetic biology because these materials can be synthesized and modified with appropriate functional groups that would allow them to bind with different drugs, ligands, and antibodies of high interest.
Nanochemicals Market Report Coverage

| | |
| --- | --- |
| Report Attribute | Details |
| Historical Years | 2017-2021 |
| Forecast Years | 2022-2030 |
| Market Size in 2021 | $5.67 Billion |
| Revenue Forecast in 2030 | $8.94 Billion |
| Growth Rate | 5.2% CAGR |
| Report Scope | Market Trends, Drivers, and Restraints; Revenue Estimation and Forecast; Segmentation Analysis; Regulatory Scenario; Impact of COVID-19; Companies' Strategic Developments; Market Share Analysis of Key Players; Company Profiling |
| Segments Covered | By Type, By Application, By Region |
Explore more about this report - Request free sample pages
Pharmaceuticals Account for Highest Market Share
Among various applications, the pharmaceuticals category accounted for the largest nanochemicals market share, in 2021. This is on account of the rising use of these substances in the development of various drugs. Different types of nanomaterials, such as dendrimers, fullerenes, and polymer carriers, are used to carry drug molecules to targeted sites inside the body for effective drug delivery, which is increasing its demand in the sector.
In addition, nanotechnology-enabled drug delivery has created lucrative opportunities in the pharmaceutical sector through the size reduction of various drug molecules, which has resulted in the improvement of bioavailability, solubility, and reduction of drug toxicity. These applications are not only limited to drug delivery but have also spread to the development of controlled-release formulations of essential drugs and medical devices, which is burgeoning its demand in the sector. Nano-enabled drug delivery would also enable drugs to permeate through cell walls, which is significant for the growth in demand for genetic medicines.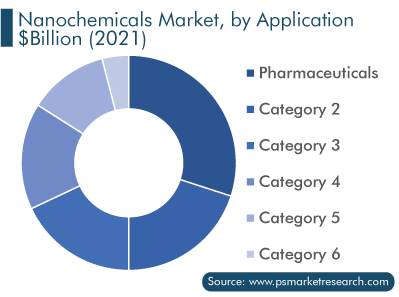 North America Is the Market Leader
North America led the market in 2021. This is primarily ascribed to the high R&D expenditure, technological advancements, and the presence of a large number of pharmaceutical and biotechnology companies in the region. In addition, the surging cancer cases also drive the domain size. For instance, there were around 1.9 million new cancer cases diagnosed and 608.5 thousand cancer deaths in the U.S. in 2021.
The other factors fueling the regional market growth include the rising penetration of these chemicals in electrical and electronic products, cosmetics, and energy storage devices. Being the largest market for nanochemicals, the number of patents in their manufacturing has been increasing year-on-year in North America. Additionally, due to the decline in the prices of nanomaterials such as carbon nanotubes, the domain has witnessed robust growth over the years, which has increased the mass production of these materials in the region.
In addition, Europe accounted for the second-largest market share, in 2021, driven by the rising government initiatives to increase focus on the use of these chemicals in the region. In Europe, the U.K, Norway, and Russia are the major countries that have contributed to the maximum demand for these products. Hundreds of products containing nanochemicals are already in use in these countries, including batteries, coatings, and anti-bacterial clothing.
Moreover, the European market is expected to grow during the forecast period, owing to the rising application of nanoparticles in various industries, including public health, employment, occupational safety and health, information society, cosmetics, innovation, environment, energy, transport, security, and space. These products have the potential to enhance the quality of life and contribute to industrial competitiveness in the region.
In addition, the Commission of the European Communities has adopted an incremental approach that focuses on adapting existing laws to regulate nanomaterials through which nanotechnology is getting integrated across various products in the region. This offers technical and commercial opportunities for the market expansion.
On the other hand, the APAC market is expected to register the highest CAGR, of more than 6.4%, in the forecast period. This can be ascribed to the escalating number of semiconductors & electronics, pharmaceuticals, and cosmetics companies in the region. Additionally, the trending shift of prominent players from the development of conventional chemicals to nano-based chemicals is another factor driving the domain size. Furthermore, among APAC countries, China and India together accounted for the major market share, in 2021, driven by the extended support from government organizations concerning tax benefits and the increased foreign investments in these countries.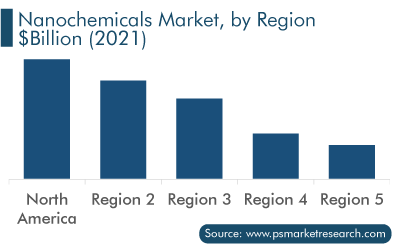 Increasing Electrical and Electronic Applications Offer Several Opportunities
Nanoelectronics examines the electronic and magnetic properties of systems at the nanoscale. Subfields of nanoelectronics include hybrid inorganic-organic electronics, spin electronics, and quantum electronics. Nanochemicals are an important tool that utilizes nanofabrication technologies. Increasing applications of these chemicals in the electrical and electronics industry are expected to achieve innovative materials and devices with new functionality and high performance. Recent developments in nanomaterials include evolving techniques to produce integrated circuits built with nanotube transistors and building transistors from carbon nanotubes to allow the least transistor dimensions of a few nanometers.
Furthermore, in the recent few years, there has been an increased demand for chemical-based products possessing multiple phases to augment the rate of reaction to produce maximum product yield. Moreover, surging applications of these substances in the production of agrichemicals, multifunctional coatings with augmented durability, and self-cleaning characteristics will drive their global demand. The growing use of nanotechnology in the chemical industry and new applications of these substances in catalyst design, combined with technological developments and governmental regulations on their manufacturing, are projected to provide enormous growth opportunities to industry players.
Top Players in the Nanochemicals Market Are:
BASF SE
Delair SAS
Dupont De Nemours Inc.
Evonik Industries AG
Huntsman International LLC
Merck KGaA
Mitsubishi Chemical Holdings Corporation
SABIC
Solvay SA
Thermo Fisher Scientific Inc.
Nanochemicals Market Size Breakdown by Segment
The study offers a comprehensive market segmentation analysis along with market estimation for the period 2017-2030.
Based on Type
Metallic Nanochemicals
Ceramic Nanochemicals
Polymer Nanochemicals
Based on Application
Semiconductors & Electronics
Pharmaceuticals
Food & Agriculture
Energy
Cosmetics
Textiles
Geographical Analysis
North America
Europe

Germany
U.K.
France
Italy
Spain

Asia-Pacific

China
India
Japan
Australia
South Korea

Latin America
Middle East and Africa

Saudi Arabia
South Africa