Consumers can use mobile phone to pay for wide range of services, and digital or hard goods. The growth in smartphone and mobile internet users, and greater convenience and accessibility are the key growth drivers for the global mobile wallet market. The increased use of mobile commerce and different functionalities offered by mobile wallets, as compared to physical wallets are some of the major trends witnessed in the market. In 2014, the money transfers segment accounted for a significant share in the global mobile wallet market, followed by the merchant purchases segment. Globally, Asia-Pacific dominated the global market in 2014. The mobile-commerce market in Asia-Pacific is driven with the evolution of 4G networks. The increasing advancements in next-generation high-speed mobile networks known as Long-Term Evolution (LTE) are expected to change the landscape of Asia-Pacific, as the developing countries of the region are leading the race to implement the 4G technology. The growing population in developing countries, such as China and India is a major driving force, which is influencing the growth of the region. During 2011-2014, China witnessed the fastest growth in the Asia-Pacific mobile wallet market, followed by South Korea.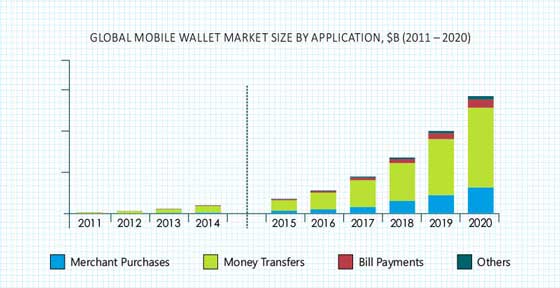 Offering cash back discounts with payments done is a major trend witnessed in the global mobile wallet market. The users are tempted towards attractive cash backs and loyalty coupons offered by different mobile wallet companies.. The mobile wallet market in the report refers to payment services operated under financial regulation and performed through a mobile device instead of paying with cheque, cash, or credit cards. The market of mobile wallet can be segmented on the basis of application, in terms of value, as merchant purchases, money transfers, bill payments, and others.
On the basis of mode of payment, the global market can be divided into SMS, NFC, WAP, and others. On the basis of age groups, the mobile wallet market can be categorized into 18-29 years, 30-44 years, 45-59 years, and 60 years and above. The growing preference for reward and loyalty programs and emergence of cloud-based mobile payment solutions are laying opportunities for the growth of the global market, during the forecast period.
One of the main growth drivers in the Chinese mobile wallet market is the rapid upsurge in the internet penetration rate of the country, which is driven by the growing adoption of smartphones. The market of Latin America is driven by heavy consumer spending in Brazil. Over the previous years, Brazil has become the most profitable credit card market in Latin America. Some of the digital wallets operating in Brazil include PayPal, Pag Seguro, Mercado Pago, b-CashBanco de Brasil's Stelo, and Oi Carterira.
The major companies operating in the global mobile wallet market include AMERICAN EXPRESS COMPANY, PayPal Holdings Inc., Google Inc., Visa Inc., Square Inc. LevelUp Inc., Apple Inc., MasterCard Incorporated, BlackBerry Limited, and Samsung Electronics Co. Ltd.