Market Overview
The MLOps market size stood at USD 1,226 million in 2022, and it is expected to grow at a compound annual growth rate of 39.3% during 2023–2030, to expand more than USD 17,335 million by 2030.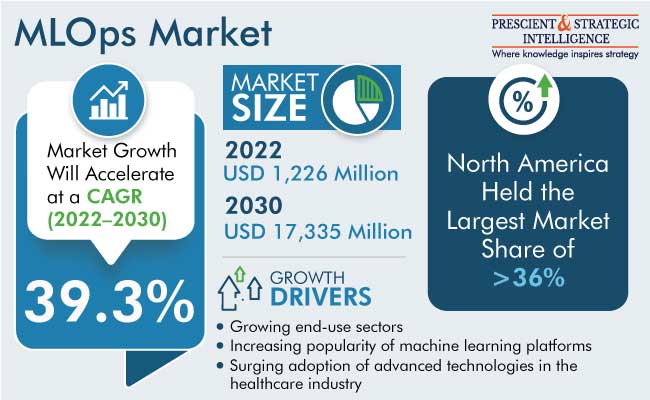 With the growing trend of imbibing the entities with the advanced technology such as AI, the requirement for ML models and operationalization of machine learning has been deploying rapidly to process automation efficiently. It is a process of deploying statistical tools and methods on the available facts and figures and, train the computers to get into a self-instructed manner without explicit programming. The more the information is fed, the more the computers tend to learn, and can develop by themselves based on analyzing the statistics. It generates precise results and analysis by developing data-driven models and efficient algorithms for real-time processing of the numbers.
ML programs have become popular owing to their growing usage in mainstream commercial applications such as financial management, security improvements, enhanced automation user behavior analysis and, cognitive services. With growing adoption of such models, the Machine learning operations are required to successfully utilize AI in different industries.
MLOps comprises of a set of practices for association and communication between the operations professionals and data scientists. With the execution of such practices, the management process is simplified which in turn brings the organizational efficiency. The process of operationalizing ML is a complex process that incorporates a continual loop of number of tasks - statistics collection and categorization, research to improve the performance, model validation and, monitoring of performance and retraining the model in case of any inefficiency. Therefore, the commercial sector is deploying machine learning operations to rationalize their processes and speeding up the delivery to generate the outcome with real-time cooperation. The consistent monitoring of such platforms through automated MLOps produces high-impact business insights and present new chances to enhance customer experience.
The internet penetration and digital expansion worldwide is the fundamental reason of positive growth of the usage of such technological framework. The exponential usage of internet services is generating vast volume of figures that tends to increase every minute. And, to gain insights from the data and best catering the customers' needs, the organizations are adopting AI/ML-based projects to increase their revenue prospects. These projects necessitate the adoption of ML and MLOps across enterprises to enhance their operations & productivity which in turn, reinforces the demand in future. The businesses have also made investments in MLOps infrastructure to ease the growing intricacy of their IT needs during the period. Moreover, these platforms help to reduce costs over the entire machine learning lifecycle, create numerous opportunities for the growth of MLOps market in the upcoming years.
Induced Investments in AI/ML-Based Systems
With the objective of gaining competitive advantage through better customer insights, boosted employee productivity, the businesses across all industries globally are induced towards increasing their investment in AI/ML systems. Such automation systems can quickly and accurately analyze data and use complex algorithms to predict future steps, that eventually enhances the productivity of the enterprises. For instance, OTT platforms can suggest movies based on what its users have already seen.
Moreover, these systems have revolutionized the business management by consolidating workflow management tools and trend forecasting. Further, surge in investment in machine learning remarkably contributes toward the demand expansion. Furthermore, a large number of small start-ups and tech organizations have invested in the embracing of non–proprietary MLOps platforms to enhance efficiency in their value chains, which propels the growth at global level. Moreover, increase in availability of affordable, high-quality automated technology is expected to drive growth expansion in coming years.
Growth of AI in Healthcare
AI is based on technologies requires lots and lots of figures. Therefore, it becomes easier for the healthcare industry to use the advanced technology and track the record of their firm by a properly organized data setup. The medical information is of very high dimensional in character and vast in size and has thousands of attributes. The growing complex procedures led to the advent of machine learning in the healthcare industry that plays a major role in the healthcare industry through its problem-solving feature. The technology can improve the overall cost efficiency of healthcare services by using technology instead of manual processes during any health-related diagnosis and procedures.
ML is highly used in identifying the diseases and diagnosis of diseases and ailments, some of which are considered hard-to-diagnose. This technology in healthcare can be used for better diagnosis using various software and tools to analyze medical reports and images. For example, an ML algorithm can perform better pattern recognition and predict a disease based on training in similar cases. This field of automation can improve the overall cost efficiency of healthcare services by using technology in place of manual processes. The deployment of artificial intelligence tools and processes in the healthcare industry for better and faster outcomes, majorly for disease diagnosis are fostering the demand and growth of operationalization of ML.
MLOps is one facet of machine learning that is improving the way healthcare industry operates and it allows us to create a digitized healthcare system that is faster and more efficient which is further anticipated to render development.
Platform Segment Captures Largest Market Share
The platform component held the largest market value of USD 834 million and expect to grow with the CAGR of around 40% during the forecast period, owing to its attribute of optimizing the operation and management of machine learning models. It provides the organization help in building, training, managing, and deploying the models in a production-ready ML environment. It accelerates the business experiments with purpose-built tools, including classification, data preparation, training and tuning, monitoring, and various other activities. Further, it helps to improve the workflow from stats collection to application deployment in the real world, range from small-scale to enterprise-level cloud and open-source platforms.
Another reason behind the demand of MLOps platforms is the scalability and enhanced collaboration it provides in the organizational processes. Machine learning scalability involves scaling of ML applications that can handle any amount of information and execute many computations in a profitable and efficient way to instantly serve millions of users worldwide. Such platforms can be used by businesses with growing plans, rapid upscaling, or large amounts of figures to help them clean and prepare an insightful data.
SMEs Have Larger Market Share
The small enterprises dominated the enterprise size segment in 2022 due to the large number of startups have invested in the adoption of MLOps platforms to increase productivity in their value chains. As per the US based information technology company, ML Platform startups funded more than USD 3 billion in research of different phases of machine learning operations that includes - Data Governance and monitoring, ML Platforms and monitoring, and Serving Platforms. Among all these, Data Monitoring is the second-most funded area of on these models with an approximate investment of USD 11 million till 2022. Also, the funding is followed by funding in ML Monitoring. Therefore, the adoption initiatives by the small and medium sized firms to bring efficiency makes the largest hold on the market.
MLOps Market Report Coverage

| | |
| --- | --- |
| Report Attribute | Details |
| Historical Years | 2017-2022 |
| Forecast Years | 2023-2030 |
| Market Size in 2022 | USD 1,226 Million |
| Revenue Forecast in 2030 | USD 17,335 Million |
| Growth Rate | 39.3% CAGR |
| Report Scope | Market Trends, Drivers, and Restraints; Revenue Estimation and Forecast; Segmentation Analysis; Impact of COVID-19; Companies' Strategic Developments; Market Share Analysis of Key Players; Company Profiling |
| Segments Covered | By Component; By Application; By Deployment Mode; By End Users; By Organization Size; By Industry Vertical; By Region |
Explore more about this report - Request free sample pages
BFSI Sector Holds Highest Number of Automated Applications
Machine learning and automation, cloud adoption, and data engineering are the broad category of solutions that are included in MLOps umbrella of solutions. The financial institutions can use these solutions to move beyond incremental developments and into the realm of radical innovation. The series of innovation include operationalization of ML is emerging as a crucial component of infrastructure for financial services businesses to take advantage of new opportunities as numbers volumes continue to grow rapidly with new technologies like IoT, AI, robotics, and conversational interfaces.
Machine learning adoption by financial sector has been on rise, majorly for solving specific challenges such as fraud detection, predictive maintenance of legacy systems, and yield management. Banks can automate the process of integrating AI/ML models into applications with the help of MLOps. This can be done without a drawback at any of the digital touchpoints or channels where customers interact with banks to improve their overall experiences.
With the help of these platforms, financial institutions are able to construct an infrastructure that is adaptable, nimble, and capable which can quickly scale up or down to meet spikes in demand. With minimal IT involvement, it enables financial sector to concentrate on tasks that are critical to the business. Therefore, the BFSI sector accounts for the largest market share of more than 18% in MLOps market. Such these platforms reduce implementation costs of integrating such system with self-managed environments with consistent code checks, version control, traceability, and app security requirements independent of continuous integration and continuous delivery pipelines. The execution of MLOps arranges the automated technologies to monitor payment transactions to provide signals that could indicate money laundering or the financing of terrorism.
Further, it allows financial institutions to train the models with their own information and statistics. As a result, they no longer need to outsource their stored facts and figures to third-party vendors, who frequently lack the ability to provide enterprise-grade data on a large scale. Thus, machine learning operation is handling uncertainty that brings an exponential level of efficiency to the business operated on the large-scale level, that can have direct positive consequences if executed correctly.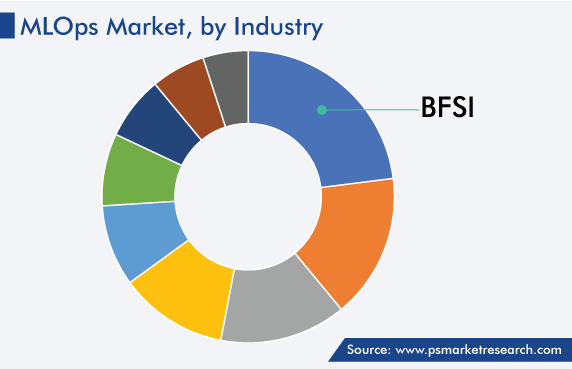 North America Captured Lion's Share in 2022
North America dominated the market share of 36% in 2022. The reason being strong R&D competences in AI in the developed economies and various leading AI companies and research institutes are based in this region. The increasing investment in advanced technologies to enhance the business operations and the customer experience are anticipated to provide lucrative growth opportunities in North America. These countries have strong research and development capabilities in AI over the past few years and invested heavily in AI-related technologies over the past few years. Also, they have implemented policies to support the development of the field.
However, Asia-Pacific is expected to exhibit highest growth during the forecast period. This is attributed to increase in digital penetration in and higher adoption of cloud-based services that propel the growth of the market in this region.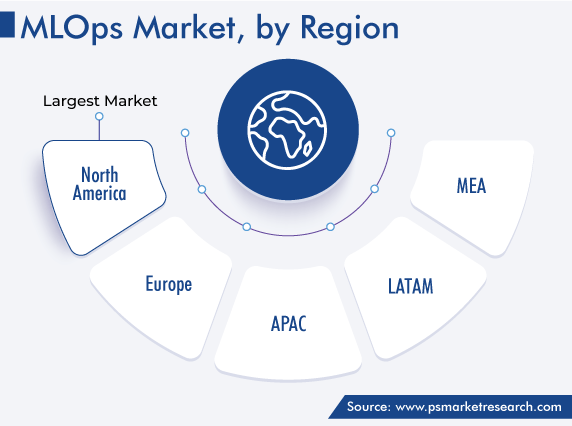 Key MLOps Solution Providers Are:
Akira AI
Alteryx, Inc.
Amazon Web Services, Inc.
Cloudera, Inc.
DataRobot, Inc.
Domino Data Lab, Inc.
Gavs Technologies
Google LLC
H2O.ai, Inc.
Hewlett-Packard Enterprise (HPE)
IBM Corporation
Microsoft Corporation
Market Size Breakdown by Segment
This fully customizable report gives a detailed analysis of the machine learning operations industry from 2017 to 2030, based on all the relevant segments and geographies.
Based on Component
Based on Application
Based on Deployment Mode
Based on End User
Data Scientists
ML Engineers
AI enthusiasts
Data Engineers
Based on Industry
BFSI
Manufacturing
IT and Telecom
Smart Mobility
Retail and E-commerce
Energy and Utility
Healthcare
Media and Entertainment
Geographical Analysis
North America
Europe

Germany
U.K.
France
Italy
Spain

Asia-Pacific

Japan
China
India
South Korea
Australia

Latin America
Middle East and Africa