Market Overview
The milking automation market size stood at USD 1,030 million in 2022, and it is expected to advance at a compound annual growth rate of 7.20% during 2022–2030, to reach USD 1,796 million by 2030.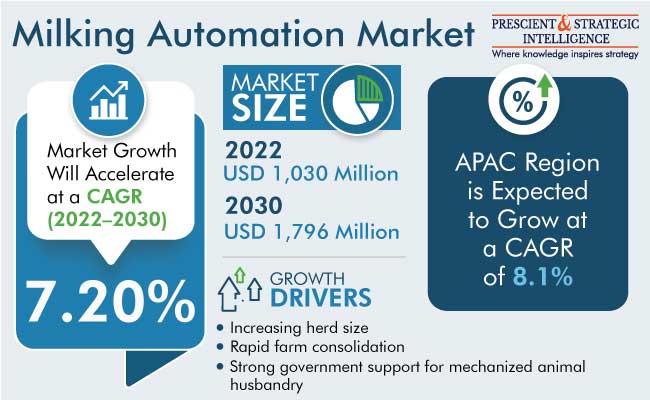 The growth can be primarily ascribed to the labor expense reduction that happens with the usage of automated animal husbandry technology. Moreover, the farm consolidation with the increasing average herd size, government incentive programs in support of livestock farming automation, and growing demand for high-quality and -purity dairy products drive the market.
Dairy Cattle Accounted for Largest Market Share
The dairy cattle category dominated the market in 2022, and it is set to remain on top during the forecast period. The demand for bovines is higher compared to other animals due to the former's numerous benefits, such as milking ease, bigger udder, greater milk storage capacity, and the usability of the milk for a range of products, such as desserts and shakes. Therefore, those engaged in animal husbandry mostly choose to milk dairy cattle over other animals, such as goats, sheep, and camels, which is why most agrotechnology companies design automated milkers for use on bovines.
India, China, U.S., Brazil, and Pakistan are the world's major milk producers, with a huge population of dairy cattle. India and the U.S. are the largest producers of cow milk. Nowadays, in developed countries, cow milk production and the number of dairies are coming down, but the per-cow productivity is increasing.
Furthermore, in under-developed countries, the number of lactating cows and, resultingly, milk production, are on the higher side. But ruminants here lactate over shorter periods, and their milk yields are also low, which is caused by several factors, including high ambient temperature and humidity, poor feed, low genetic milk production potential in animals that are used for both milking and agriculture (plowing and load haulage), inadequate intake of nutritional supplements, as well as a high disease incidence. All these factors and the fact that most of the milking in India and other developing countries takes place in small dairy systems lead to a low yield per herd member.
Hardware Is Holding Largest Market Share
The hardware category generated the highest revenue in 2022, and this trend will remain unchanged over the next few years. Hardware is the major component of automated milking systems. Dairy farms and parlors across the world are deploying automated milking machines and pipeline milking systems. Further, with control components, including milk meters, milk point controllers, pulsators, milking clusters, sensors, and milk analyzers, dairy farm owners' expenses on labor can decrease and the volume of milk produced by each individual in the herd can rise. Moreover, the demand for milk metering solutions will rise with the increasing awareness of milk quality.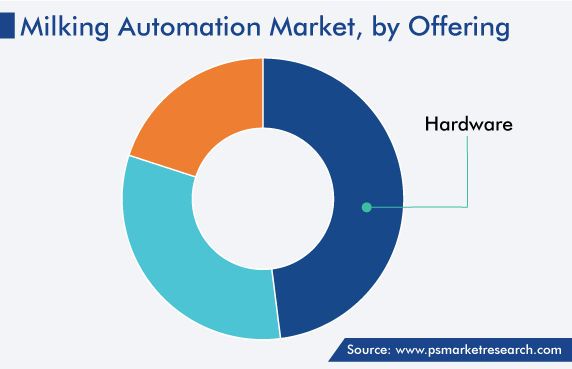 Asia-Pacific To Witness Highest CAGR
Asia-Pacific will advance at the highest CAGR, of 8.1%, over this decade, on account of the rapid economic development and increasing milk demand in India, China, Japan, Singapore, and Malaysia.
In the APAC region, India, China, and Australia hold the largest shares of the market, owing to the rapid population growth here. Moreover, automated milking rotaries lower the cost of labor, which is hugely beneficial for mid-size dairy farmers. Further, consumers are now more conscious of the quality of dairy products. By allowing for simpler and more-effective cleaning, these machines help ensure better product quality.
In India, milk is the most-widely consumed food item. Moreover, it is the largest producer of this commodity in the world, accounting for over 20% of the global production. In 2022, the country produced 210 million tons of milk, almost double the 2011 number. This is because in India, the traditional ways of milking are being replaced with automated machines, thus resulting in higher efficiency and productivity. Some of the major dairy companies in India are Amul, Mother Dairy, and Dudhsagar Dairy. For instance, in October 2022, Amul publicized plans to merge with five different cooperative societies to build a multi-state cooperative society.
However, small farms face funding issues in the installation of milking machines. To deal with it, many community machine milking centers are being set up near small farms. Herders bring their cattle to the center for milking, and the output is stored in a cooler installed adjacent to the milking machines, until being sent to the processing facility. Moreover, the Animal Husbandry Infrastructure Development fund of the Government of India has offered financial support worth INR 15,000 crore to establish new units and expand existing units in areas of dairy processing, animal feed plants, and many more.
Similarly, in New Zealand, more than 400 million liters of milk are consumed every year. It is one of the largest consumers of milk per capita in the world. To cater to the country's milk demand, most dairy farmers are adopting automation machines to increase production, as one miking system can accommodate up to 60 cows at once. They are also using sensors to monitor the quality of the milk stored in tanks.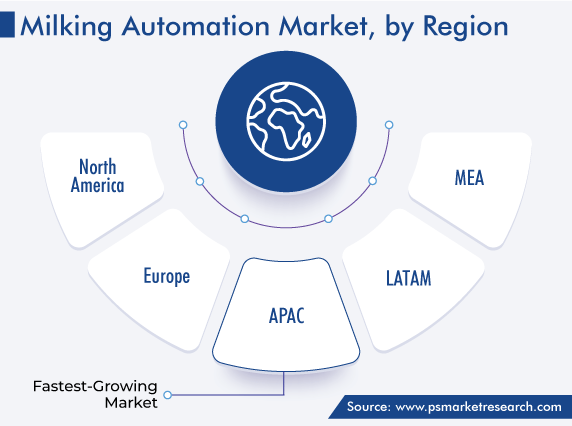 Implementation of Automated Milking Equipment to Meet Growing Demand
The acquisition of smaller establishments and their combination into larger ones by dairy farmers in developing countries are propelling the adoption of milking automation solutions, because sometimes it is not possible for small dairy farms to adopt the technology or retain the staff. Moreover, the rising herd size, mainly in countries such as Australia, India, New Zealand, and the U.S., has driven an increase in the number of milking points and the integration of advanced electronic components, such as sensors, smart pulsators, and milk analyzers, at dairy farms. In most developed dairy-production regions, the growth in the average herd size and the problems with retaining workers have threatened enterprises' long-term viability. By using automated milking parlors and other technologically advanced equipment, these problems can be eliminated.
Over the last few years, the number of dairy farms has decreased significantly, which has led to a rise in the herd size. However, the milk yield per cow has increased due to the adoption of milking automation solutions. The number of dairy farms declined by more than 55% between 2002 and 2021, while the average cattle herd grew by approximately 50%, from 200 heads to 295 heads.
With the rising herd size, manually managing milking operations becomes difficult, due to which dairy farmers are adopting automated systems to reduce the labor demand and enhance the entire process. Automating milking operations can replace repetitive tasks and enhance the measurement accuracy and frequency, thus helping in making better farm decisions. Ultimately, the use of milking automation machines maximizes the herd's productivity, keeps the ruminants healthy and fit, and decreases labor expenses.
Milking Automation Market Report Coverage

| | |
| --- | --- |
| Report Attribute | Details |
| Historical Years | 2017-2022 |
| Forecast Years | 2023-2030 |
| Market Size in 2022 | USD 1,030 Million |
| Revenue Forecast in 2030 | USD 1,796 Million |
| Growth Rate | 7.20% CAGR |
| Report Scope | Market Trends, Drivers, and Restraints; Revenue Estimation and Forecast; Segmentation Analysis; Impact of COVID-19; Companies' Strategic Developments; Market Share Analysis of Key Players; Company Profiling |
| Segments Covered | By Offering; By Farm Size; By Species; By Region |
Explore more about this report - Request free sample pages
Small and Medium-Scale Farms Are Collaborating for High Production
Now, small and medium-scale dairy farms are collaborating to meet the milk demand, by shifting from traditional milking to mechanization. Further, the growing income of farmers in under-developed countries, increasing herd size, and rising focus of governments on dairy agriculture will result in a hike in the demand for advanced milking solutions.
Government bodies in different countries have encouraged the integration of artificial intelligence and the internet of things in dairy farms, via several subsidies and other benefits, to eliminate the usage of traditional milking systems. For instance, NABARD provides subsidies for Dairy farms in Karnataka for upgrading traditional technology, better rearing calves, creating opportunities for self-employment, and ensuring the milk is extracted and processed at the village level itself.
Moreover, the central government provides a subsidy of up to 50% (up to INR 2 crore) of the cost of equipment to dairy farms. Moreover, whole genome sequences and genomic chips for the DNA-based selection of buffalos have been created under Rashtriya Gokul Mission, which has resulted in 2.5% more genetic gain in the buffalo population.
Some of the Top Automated Milking Equipment Providers Are:
DeLaval
GEA Group
Nedap N.V.
Allflex Livestock Intelligence
Afimilk Ltd.
Beco Dairy Automation Inc.
Boumatic
Dairymaster
Waikato Milking Systems
Milkwell Milking Systems
Market Size Breakdown by Segment
The study uncovers the biggest trends and opportunities in the milking automation market, along with offering segmentation analysis at the granular level for the period 2017 to 2030.
Based on Offering
Hardware

Milk meters
Milking clusters
Milk point controllers
Pulsators
Smart feeding robots (TMR/PMR-based feeding robots)
Smart camera-based facial recognition systems (biometric IDs)

Software
Services

Maintenance and Support
Data Management and Analytic
Based on Farm Size
Based on Species
Geographical Analysis
North America
Europe

Germany
U.K.
France
Italy
Spain

Asia-Pacific

Japan
China
India
South Korea
Australia

Latin America
Middle East and Africa

Saudi Arabia
South Africa
U.A.E.