Market Overview
The global micropropagation market size stood at $1,279.4 million in 2022, and it is expected to grow at a CAGR of 9.8% during 2022–2030, to reach $2,711.0 million by 2030. The major factors driving the market include the development of horticulture and advanced crop protection technologies. Micropropagation is primarily utilized for vegetative multiplication of plants under high-intensity light, a specific nutritional medium, and a temperature-controlled environment. The method has been used on a large variety of commercially propagated plant species.
This approach can easily yield large volumes of high-quality plants. Also, this method is used to preserve exceptional, uncommon, and endangered plant species' in-vitro germplasm. It includes the breeding of crops and encapsulated seeds, as well as the study of plant biosynthesis through the cell and root cultures.
The production of such plants using this technique is increasing sharply in the U.S., where tissue culture and orchid micropropagation began at a very early stage. Also, the number of industrial units and factories is rising rapidly, which is contributing to the market growth in the country.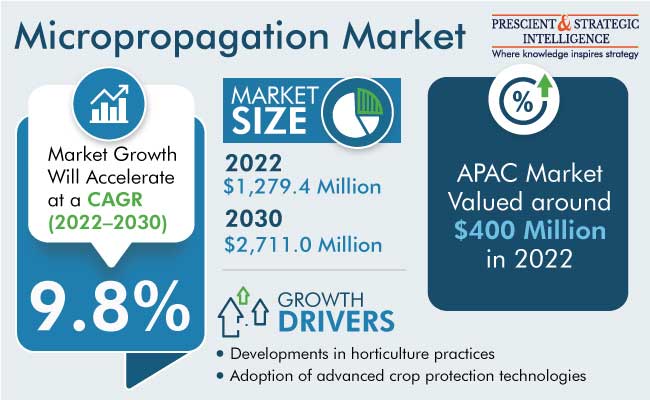 Demand for Orchid and Ornamental Plants To Witness Fastest Growth
The orchid & ornamental category is projected to grow at the highest CAGR, of around 10%, during 2022­–2030, based on crop type. One of the primary reasons driving the need for orchid and ornamental plants is the growing interest of the young population in household plants. Furthermore, customers are increasingly planting orchids and beautiful plants to create an aesthetic and natural environment, influenced by the internet and environmental concerns. Moreover, ornamental plants are widely used for decoration in commercial facilities such as hotels, restaurants, and offices. Also, the trend of interior designing has boosted the demand for these plants.
On the other hand, the banana category held the second-largest revenue share in the market. Micropropagation of banana plants is usually done to increase the yield by five times as compared to traditional farming. Further, this process is becoming popular among farmers in the APAC and MEA regions.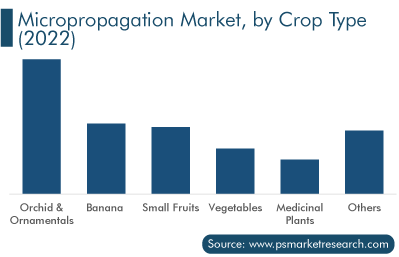 Test Tubes & Petri Dishes Dominate the Market
The test tubes & petri dishes category held the largest market share globally in 2022, and it is expected to witness a CAGR of around 10% during the forecast period. This is because they are commonly used in professional and educational science research labs. These containers protect cultures from the external environment. Moreover, these are available in different shapes, which can be disposed of after one use to avoid culture contamination. However, these containers can be reused after sterilization.
Paradigm Shift Toward Online Sales
The online category is expected to grow at a higher CAGR during the forecast period. This can be because various vendors offer their items through online channels, as these require a low cost of setup as compared to opening physical stores or forming agreements with merchants. The cheap cost of establishing online channels also allows sellers to sell items at a reduced price and obtain a competitive advantage.
Furthermore, internet channels have a greater reach than conventional methods, as they involve digital marketing, which allows sellers to target a large set of potential customers. Also, online sales are projected to alter the industry through additional benefits, which include extended warranty, online customer assistance, lower price, free trials, and on-time and hassle-free delivery. These benefits of online channels are projected to increase the online sales of micropropagation products in the coming years.
Farmers Are Largest End Users in Market
Micropropagation provides numerous advantages to small-scale and large-scale farmers involved in plant multiplication, such as crop improvement, uniform growing, and genetic enhancement. Due to these factors, micropropagation and tissue culture methods are gaining popularity among farmers. Also, they use these methods to reduce variances within the same species, resulting in uniform plants that require the same harvesting and care.
Moreover, it helps farmers in underdeveloped countries improve plant genetics and yields, allowing the chance of enhanced exports. For instance, farmers in Africa grow genetically altered rice that grows better in harsher environments and has larger yields. Tissue culture is a popular technology among banana growers, specifically among those who desire to breed disease-free banana plants. Further, farmers who concentrate on exotic or uncommon plants are known to employ tissue culture techniques to maintain healthy plants and generate consistent income.
Micropropagation Market Report Coverage

| | |
| --- | --- |
| Report Attribute | Details |
| Historical Years | 2017-2022 |
| Forecast Years | 2023-2030 |
| Market Size in 2022 | $1,279.4 Million |
| Revenue Forecast in 2030 | $2,711 Million |
| Growth Rate | 9.8% CAGR |
| Report Scope | Market Trends, Drivers, and Restraints; Revenue Estimation and Forecast; Segmentation Analysis; Impact of COVID-19; Segmentation Analysis of Countries; Companies' Strategic Developments; Market Share Analysis of Key Players; Company Profiling |
| Segments Covered | By Crop Type; By Container Type; By Sales Channel; By End User; By Region |
Explore more about this report - Request free sample pages
APAC Generates Second-Largest Revenue in Market
The micropropagation market revenue in APAC was valued around $400 million in 2022, and it is expected to reach over $800 million by 2030. This is because the regional demand for greenhouse products is increasing, which boosts the greenhouse horticulture output of vegetables, flowers, and fruits. Also, governments in APAC nations provide a variety of efforts to improve greenhouse horticulture goods.
Furthermore, bananas are widely cultivated in APAC, with India being the region's top producer. For instance, India produced roughly 31.5 million tons of bananas in 2020, accounting for approximately 26% of world banana production.
Moreover, significant changes in consumer food taste fuel the expansion of the horticulture industry in China. Farmers in the country rely on horticulture to cultivate fruits and vegetables, which, in turn, boosts the demand for micropropagation.
Additionally, the Japanese government conducts several horticulture programs, such as the World Horticulture Exhibition in Yokohama, to raise horticulture knowledge. Thus, this factor increases the use of micropropagation among farmers and house gardeners in the country.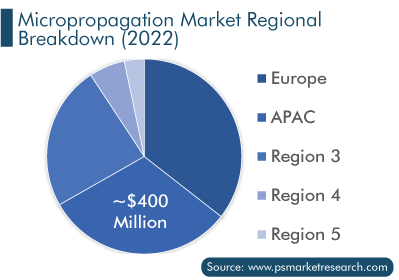 Improving Agricultural Yield Through Micropropagation Is Driving the Market
With the rising demand for agricultural, forestry, plantation, and horticultural crops, both in developing and developed regions, there has been major growth in the need for high-quality, high-yielding, and disease-free planting stock during the last two decades. Micropropagation has evolved as a significant biotechnological and economically feasible method for rapidly multiplying elite kinds of high-quality, disease-free, and high-yielding plants in laboratories, regardless of the season. Micropropagation offers several distinct advantages, which are not possible with conventional propagation techniques. Moreover, the rapid multiplication of genetically uniform plants (clones) that possess desirable traits is driving the market growth.
Top Companies in the Micropropagation Market Are:
3 Rivers Biotech
Caisson Laboratories Inc.
Dark Heart Industries
AgriForest Bio-Technologies
Labland Biotech Private Limited
Phytoclone Inc.
Phytocultures Ltd.
PhytoTech Labs Inc.
Market Size Breakdown by Segment
This report offers deep insights into the market, with size estimation for 2017 to 2030, the major drivers, restraints, trends and opportunities, and competitor analysis.
Based on Crop Type
Banana
Orchid & Ornamentals
Medicinal Plants
Vegetables
Small Fruits
Based on Container Type
Test Tubes & Petri Dishes
Glass Bottles
Plastic Containers
Based on Sales Channel
Based on End User
Geographical Analysis
North America
Europe

U.K.
Germany
France
Spain
Italy

Asia-Pacific
Latin America
Middle East and Africa

Saudi Arabia
South Africa