Valued at $3.0 billion in 2018, the global micromobility market is projected to reach around $9.8 billion by 2025, witnessing a CAGR of 19.9% between 2019 and 2025. Generation Z and millennials, along with advancements in GPS tracking, connectivity, and mobile payments, battery cost reduction and life enhancement, and the increasing reach of smartphones, are quickly driving the change within the transportation landscape. In a short time, micromobility has attracted a strong customer base, emerging as a true potential solution for urban transportation, globally.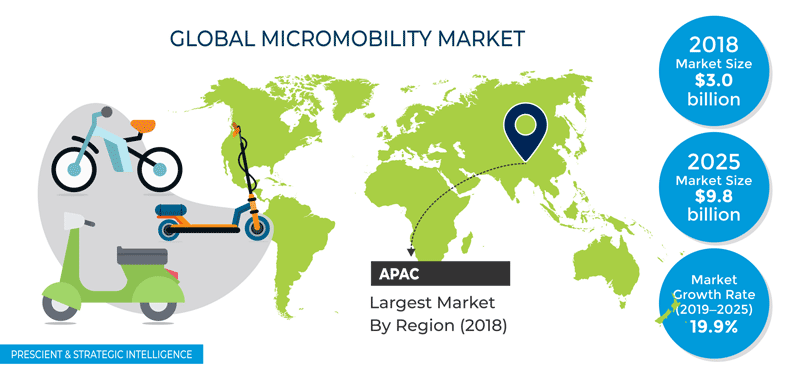 Dynamics of Micromobility Market
The inflow of heavy investment toward the development of micromobility solutions is a major trend being witnessed in the micromobility market. Big players, along with the numerous start-up companies in the market, are receiving hefty investments from several venture capitalists. For instance, VOI Technology AB, a Swedish kick scooter sharing company, received an investment of $50 million from London-based venture capital firm, Balderton Capital, in 2018. Additionally, Tier Mobility, a Berlin-based electric kick scooter sharing company, raised an investment of $29 million in 2018, in order to expand its services across the European countries. Thus, the surging of investments has been a significant trend in the market in the recent years.
The lower commuting cost attached with micromobility sharing services when compared to other mode of transportation (ride sharing, ride hailing, etc.) is one of the major drivers for the growth of the micromobility market. For instance, a typical revenue structure of bike (bicycle) sharing services includes an initial cost of $0.5 and an additional $0.5 per 30 minutes. Similarly, a kick scooter sharing service includes an initial $1 per trip with an additional $0.15 per minute of travel on an average, which is much less than other public sharing options, such as taxi services, ridesharing services, and rental services. Moreover, micromobility services are also an economical business option for service providers, which is further contributing to the growing popularity of these services.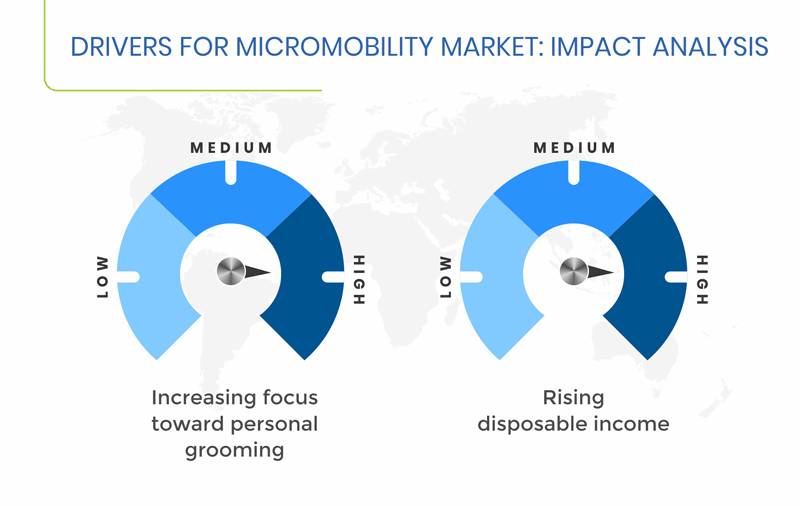 Micromobility Market Segmentation Analysis
The bike sharing landscape is currently witnessing the proliferation of the dockless sharing concept worldwide, especially for electric bikes. The usage of micromobility services via bikes is growing rapidly as it makes short-range commuting more convenient and less costly than other modes of transport. Furthermore, bike sharing schemes and new players in the market are increasing rapidly. Giant players in the micromobility market, such as Uber, Didi Chuxing, and Lyft, are either partnering with major bike sharing companies or acquiring the emerging players to offer integrated services to users.
Kick scooter sharing services are witnessing the highest rate of adoption in the micromobility market, worldwide. The concept of kick scooter sharing was introduced in the late 2017 and early 2018 in the U.S., with the services first provided by start-up companies including Bird, Lime, and Spin. However, in a span of just two years, several micromobility start-ups in the country had valuations that exceed $1 billion. Soon, many established ridesharing companies and automotive giants took notice of the rapid growth and entered the market with their own kick scooter sharing services. For instance, Uber partnered with Lime in July 2018, in a deal that integrated Lime's booking platform into Uber's app. In April 2018, Uber had also acquired a kick scooter sharing company, Jump.
The scooter sharing market is currently in its growing stage. By the end of 2018, there were over 25,000 scooters in sharing fleets, globally; this number was just around 8,000 in 2017. In 2018, there were nearly 62 cities worldwide with scooter sharing activities. By the end of 2018, these services were operated by over 35 firms, with COUP, eCooltra, Cityscoot, Muving, WeMo, emmy and Scoot owning nearly two-thirds of the fleet. Furthermore, the micromobility market for scooter sharing is largely dominated by the dockless (free-floating) category. By 2018, more than 95% of the scooter sharing services were being offered via the free-floating model.
Global Scenario of the Micromobility Market
The micromobility market in North America has witnessed extensive growth in the recent years, owing to the massive adoption of kick scooter sharing services. The largest market for kick scooter sharing resides in this region due to the presence of major players — Lime and Bird — which were the pioneers of these services. Moreover, the region is also witnessing a steady adoption of the other micromobility solutions, such as bike sharing and scooter sharing, making it one of the most lucrative regions in the world for service providers.
In APAC, the bike sharing category dominated the micromobility market. It is due to the presence of giant bike sharing companies, including Mobike, ofo, and Hello-Bike. Additionally, the cost of sharing a bike is quite less when compared to other micromobility services, thereby benefitting the market for bike sharing during the historical period (2017–2018).
In Europe, the scooter sharing category dominated the micromobility market in 2018. In the region, Madrid and Paris are the major centers for scooter sharing activities. In 2018, service providers had a fleet of around 4,600 and 4,300 scooters in Madrid and Paris, respectively. Furthermore, the countries that have significant shares in the market in Europe include Spain, France, and Germany. These countries together held around 75% market share in the European market in 2018.
Competitive Landscape of the Micromobility Market
The global micromobility market is moderately fragmented in nature, with a significant share being held by a considerable number of start-up companies. The market is extensively backed by heavy funding from numerous investors, which is massively impacting its nature. Some of the major players operating in the market are Ofo, Citi Bike, Donkey Republic, HOPR, Mobike, and Nextbike, in bike sharing, Lime, Bird, Spin, Jump, Bolt, and Skip in kick scooter sharing, and Coup, emmy, Cityscoot, WeMo, Felyx, and eCooltra in scooter sharing.
Recent Strategic Developments of Major Micromobility Players
In recent years, the major players in the micromobility market have taken several strategic measures, such as product launches, mergers and acquisitions, and facility expansions, to gain a competitive edge. For instance, in October 2019, Uber entered into a partnership with Cityscoot to integrate the latter's scooter sharing service booking platform in Uber's application. Through this development, users will be able to book a ride through Uber's app; the service is available at around $0.32 (EUR 0.29) per minute. The development would benefit Cityscoot by increasing its users, and it will provide another revenue source to Uber.
Key Questions Addressed/Answered in the Report
What will be the global micromobility market size, including for bike sharing, kick scooter sharing, and scooter sharing, in terms of revenue and rides taken, from 2017 to 2025?
What is the market potential and forecast in various countries and region?
How much funding has been raised by micromobility start-ups in various stages?
What are the key legislations detailing the cap on maximum fleet sizes in various in cities?
What will be the impact of investments by tech giants in the micromobility market?
What are the drivers, restraints, and opportunities for the market?
What are the key developments and strategies of the companies in the market?
What is the market share of regional companies?
What will be the impact of micromobility on the electric two-wheeler manufacturing industry?