Market Overview
The global microdisplay market revenue stood at $1,145.6 million in 2020, and it is expected to grow at a CAGR of 17.1% during 2020–2030. The key factors responsible for the growth of the market include the rising adoption of head-up display (HUD)-integrated advanced driver assistance systems (ADAS) and increasing number of near-to-eye (NTE) applications.
During the COVID-19 pandemic, the production of all kinds of display screens was halted, and even the end products faced a reduced demand due to the closing of academic centers, corporate houses, and hospitality sector. Additionally, shops selling the end products have faced huge losses as they were also shut down for a considerable period. This, in turn, led to slower growth of the market for microdisplay in 2020 compared to earlier.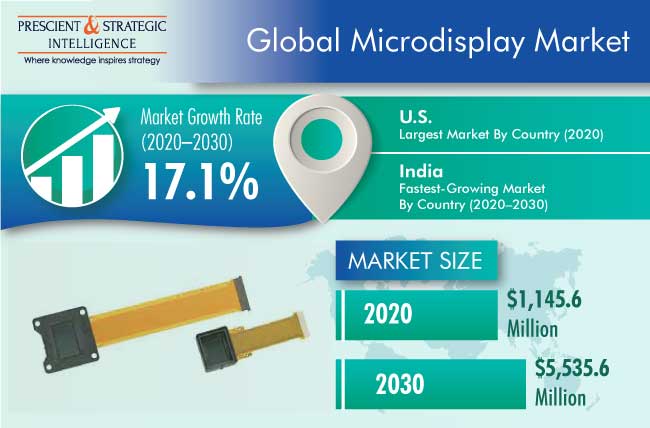 Liquid Crystal Displays (LCDs) and Projectors Accounted for Dominating Shares
The LCD category held the dominating share in the microdisplay market in 2020, based on technology. This is majorly attributed to the fact that these displays account for a lower power consumption, compact size, and low price. As a result, using LCDs, manufacturers have been able to reduce the size of these components over time. LCD displays are currently being used in head-mounted displays (HMDs), HUDs, electronic viewfinders (EVFs), thermal imaging glasses, and wearables.
Projectors held the largest share in the market in 2020, based on product type. This is attributed to the rising adoption of data projectors in the education and business sectors. Moreover, the government initiatives for increasing the adoption of digital technologies are one of the prime reasons for the growing demand for projectors.
Microdisplays with Brightness of <1,000 Nits and Automotive End Users To Witness Fastest Growth
The more than 1,000 nits category is projected to be the fastest-growing category in the microdisplay market during the forecast period (2021–2030), on the basis of brightness. This can be majorly attributed to the growing demand for HMDs owing to the increasing adoption of augmented reality/virtual reality (AR/VR) devices. The screens with high-brightness are used in HMDs in industries such as medical devices, military & defense, and aerospace to obtain a clear view of an image or object. Moreover, these offers a better viewing experience to users, which results in their increasing popularity for high-brightness display devices.
The automotive category is projected to witness the fastest growth in the market for microdisplay, during the forecast period, under segmentation by end user. This is attributed to the growing adoption of ADAS, especially those integrated with HUDs, in automobiles. Further, the sports & entertainment category is expected to register considerable growth during the forecast period owing to the increasing adoption of VR gaming headsets.
Asia-Pacific (APAC) Region Dominated Market
Geographically, the APAC region held the largest share in the global microdisplay market in 2020, and it is further expected to lead the market during the forecast period. Moreover, the APAC region is expected to be the fastest-growing market during the forecast period. This can be attributed to the presence of a substantial number of manufacturers in the region, which has led to a decrease in the prices of these products and an increase in the penetration of microdisplay-based devices.
Moreover, the increasing urbanization rate, coupled with the growing automotive and consumer electronics industries, is driving the demand for these screens in the region. China and Japan are among the major hubs for the consumer electronics and automotive industries in the world.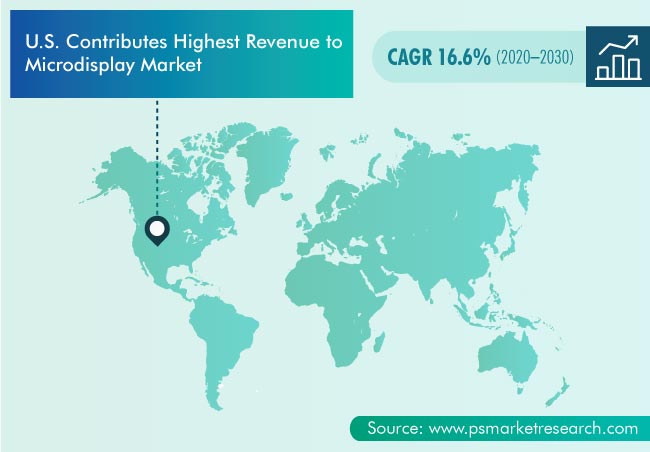 Usage of Organic Light-Emitting Diode (OLED) Microdisplays in Consumer Electronics Is Key Trend
A key trend being observed in the microdisplay market is the use of OLED microdisplays in consumer electronics. These components offer a compact size with a high pixel density and resolution, thus resulting in a better picture quality. These components are being increasingly used in consumer electronic products, especially VR headsets, which are themselves witnessing a rise in adoption. Youngsters are swiftly adopting VR headsets compatible with smartphones and other devices for an improved gaming experience. Smartphone manufacturers, such as Samsung Electronics Co. Ltd. and One Plus Technology Co. Ltd., offer VR headsets with new smartphones.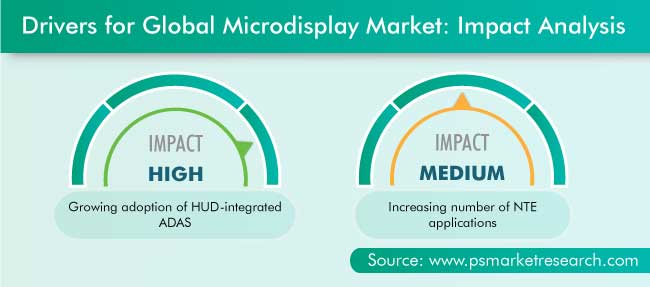 Adoption of HUD-integrated ADAs and NTE Devices Is Driving Market Growth
The growing adoption of advanced ADAS, coupled with the surging demand for HUDs, is a key factor driving the microdisplay market. The demand for ADAS is increasing at a rapid pace, especially in the U.S., Japan, and China. As per the Federal Motor Carrier Safety Administration (FMCSA), in 2019, the U.S. started a project on the adoption of ADAS in the trucking industry because of ADAS' demonstrated potential in reducing fatalities, injuries, and crashes. The project received a total funding of $0.65 million from the government, and it is expected to be completed by the end of 2021.
The rising demand for microdisplays in NTE applications is another major factor driving the market for microdisplay. These screens are increasingly finding usage in NTE devices, such as AR/VR headsets, HMDs, personal electronics, such as mobile phones and cameras; as well as full-color projection devices. Among these, AR/VR devices and HMDs are its major applications. The increasing demand for AR and VR devices from the media & entertainment and gaming industries strengthens the prospects for these products.
Microdisplay Market Report Coverage

| | |
| --- | --- |
| Report Attribute | Details |
| Historical Years | 2015-2020 |
| Forecast Years | 2021-2030 |
| Base Year (2020) Market Size | $1,145.6 Million |
| Market Size Forecast in 2030 | $5,535.6 Million |
| Forecast Period CAGR | 17.1% |
| Report Coverage | Market Trends, Drivers, and Restraints; Revenue Estimation and Forecast; Segmentation Analysis; Country Breakdown; Impact of COVID-19; Companies' Strategic Developments; Company Profiling |
| Market Size by Segments | By Technology; By Product Type; By Brightness; By End User; By Region |
| Market Size of Geographies | U.S.; Canada; Germany; France; U.K.; Italy; Spain; China; Japan; India; South Korea; Brazil; Mexico; Turkey; Saudi Arabia; South Africa |
| Secondary Sources and References (Partial List) | American Automobile Association; China Shopping Center Development Association; Digital Signage Federation; International Council of Shopping Centers; International Sign Association; National Automobile Dealers Association; National Retail Federation; Shop and Display Equipment Association; State Retail Associations; Society of Information Display; Video Electronics Standards Association; World Bank |
Explore more about this report - Request free sample pages
Market Players Involved in Product Launches to Gain Significant Position
The global microdisplay industry is highly competitive in nature with the presence of numerous global players. In recent years, players in the industry have been involved in product launches in order to attain a significant position. For instance:
In January 2021, LG Display Co. Ltd. unveiled its next-generation OLED TV display. The new 77-inch OLED display shows significant progress in the picture quality through the addition of a layer to the display, thereby improving its efficiency by around 20%. A higher efficiency means improved brightness to show more-vivid images.
In January 2020, Himax Imaging Inc., a subsidiary of Himax Technologies Inc., announced the commercial availability of HM0360, an ultra-low-power and low-latency back-illuminated complementary metal-oxide semiconductor (CMOS) image sensor with autonomous modes of operations for 'always on' and intelligent visual sensing features, such as human presence detection and tracking, gaze detection, behavioral analysis, and pose estimation, for growing markets, such as smart homes & buildings, healthcare, smartphones, and AR/VR.
Key Players in Global Microdisplay Market Are:
eMagin Corporation
Himax Technologies Inc.
Jasper Display Corp.
Yunnan OLiGHTEK Opto-Electronic Technology Co. Ltd.
WiseChip Semiconductor Inc.
Micron Technology Inc.
Seiko Epson Corporation
Kopin Corporation
Microtips Technology Inc.
LG Display Co. Ltd.
Universal Display Corporation
Sony Corporation
Market Size Breakdown by Segments
The global microdisplay market report offers comprehensive market segmentation analysis along with market estimation for the period 2015-2030.
Based on Technology
Liquid Crystal Display (LCD)
Liquid Crystal on Silicon (LCOS)
Organic Light-Emitting Diode (OLED)
Digital Light Processing (DLP)
Based on Product Type
Near-To-Eye (NTE) Device

Electronic viewfinder (EVF)
Head-mounted display (HMD)

Augmented reality (AR)
Virtual reality (VR)

Heads-Up Display (HUD)
Projector

Pico projector
Data projector
Based on Brightness
<500 Nits
500–1,000 Nits
>1,000 Nits
Based on End-User
Consumer Electronics
Industrial
Automotive
Military & Defense
Sports & Entertainment
Retail & Hospitality
Medical Devices
Geographical Outlook
North America
Europe

Germany
France
U.K.
Italy
Spain

Asia-Pacific (APAC)

China
India
Japan
South Korea

Latin America (LATAM)
Middle East and Africa (MEA)

Turkey
Saudi Arabia
South Africa