Market Overview
The metallocene polyethylene market is projected to grow from USD 7,829.6 million in 2023 to reach USD 11,832.5 million by 2030, advancing at a CAGR of 6.2% during 2024–2030. This is ascribed to the increase in demand for this material from the packaging, automotive, and food & beverages industries and the rise in a number of R&D activities to improve metallocene polyethylene properties, lower production costs, and develop new applications.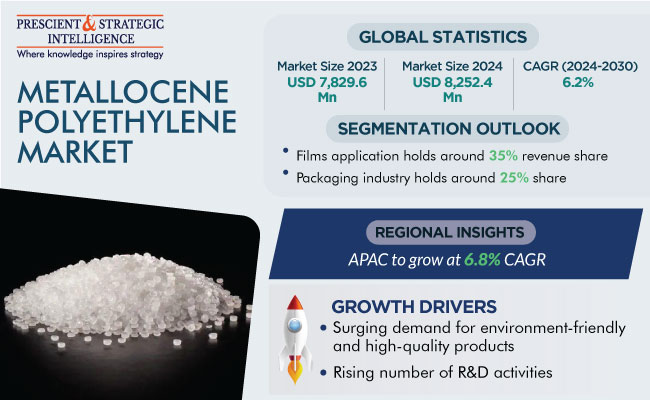 Moreover, the surging demand for environment-friendly and high-quality products leads manufacturers to opt for materials like metallocene polyethylene. Further, it is a sustainable option compared to traditional polyethylene, as the energy consumption is less and produces less waste during production. Thus, it is a suitable substitute for polyvinyl chloride and ethylene-vinyl acetate.
mLLDPE Holds the Largest Market Share
Based on product type, the market is divided into three categories, namely, metallocene high-density polyethylene (mHDPE), metallocene linear low-density polyethylene (mLLDPE), and others. Among these, the mLLDPE category accounts for the largest share. This is because it is a high-performance polyethylene formulated by using metallocene catalysts with copolymers. Also, it exhibits properties like uniform comonomer content, narrow molecular weight distribution, higher resistance to puncture & damage, high toughness, tensile strength, and stiffness.
In addition, innovations in catalyst technology and polymerization techniques have a positive impact on the market growth, as they are required for the production of metallocene polyethylene. Also, mLLDPE gives high transparency and high gloss, when it is transformed into a film. Further, it is excellent for packaging purposes, due to its tear and puncture resistance properties compared to conventional polyethylene, and it is also a popular choice for packing perishable substances, due to its capability to offer a defensive shield against exterior factors such as gases and moisture.
Whereas, the mHDPE category is expected to witness the fastest growth in the coming years. This can be because it exhibits tremendous stiffness, environmental stress crack resistance, and impact strength. It is, therefore, used in injection molding, blow molding, pipe extrusion, and lightweight and durable products, whose demands are rising in the automotive, construction, packaging, and other sectors.
Film Application Dominates the Industry
Based on application, the market is categorized into films, injection molding, sheets, extrusion coating, and others. Among these, the films category leads the market and it is expected to grow at a rate of 6.0% during the forecast period. This is due to the surging need for lightweight packaging materials in industries to lower transportation costs and environmental effects.
Moreover, these films are suitable for packaging applications because they provide an excellent balance of strength and weight. As disposable income increases, the need for disposable goods, packaged goods, and consumer goods rises, in turn, the requirement for these films for packaging is surging. In addition, infrastructure developments, like transportation, utilities, and construction, can also boost their demand. For example, metallocene polyethylene (mPE) films are used in barriers, wraps, and protective covers in the construction sector.
Furthermore, the injection molding category holds a significant share in the market. This is because injection-molded automotive components often demand materials that can withstand temperature differences, impact, and chemical exposure. Metallocene polyethylene's excellent toughness and resistance to automotive fluids make it suitable for manufacturing interior and exterior components like door panels, bumpers, and trim. Also, injection molding by using mPE has many advantages like improved processability, dimensional stability, reduced warpage, shorter cycle times, and aesthetic appeal, leading to increased productivity and cost savings.
Metallocene Polyethylene Market Report Coverage

| | |
| --- | --- |
| Report Attribute | Details |
| Market Size in 2023 | USD 7,829.6 Million |
| Market Size in 2024 | USD 8,252.4 Million |
| Revenue Forecast in 2030 | USD 11,832.5 Million |
| Growth Rate | 6.2% CAGR |
| Historical Years | 2017-2023 |
| Forecast Years | 2024-2030 |
| Report Scope | Market Trends, Drivers, and Restraints; Revenue Estimation and Forecast; Segmentation Analysis; Impact of COVID-19; Companies' Strategic Developments; Market Share Analysis of Key Players; Company Profiling |
| Segments Covered | By Product Type; By Application; By End User; By Region |
Explore more about this report - Request free sample pages
Packaging Industry Is the Largest End User
Based on the end user segment, the metallocene polyethylene market is categorized into packaging, automotive, agriculture, healthcare, construction, and others. Among these, the packaging category leads the market and it is expected to grow at a rate of 6.4% for the mentioned forecast period. This is because this sector is experiencing a transformational change, as a result of evolving consumer preferences, environmental concerns, and technological advancements.
Applications of mPE in the packaging sector include trays, crates, bottles, juice bottles, caps for food packaging, industrial bulks, drums, etc. Also, for industrial, consumer, and institutional packaging, a variety of films are used. Almost 143 million metric tons of plastics were used globally in the production of packaging products in 2019, which is projected to almost triple by 2060, surpassing 380 million tons.
This material is further appropriate for the compression molding process used to create closures and caps for non-carbonated beverages. The use of metallocene catalysts allows manufacturers to introduce desirable properties in products according to specific applications. Also, mPE-based packaging products exhibit properties including chemical resistance, superior toughness, excellent flexibility, and outstanding optical properties.
Additionally, high-performance films are used in several packaging applications, including food and medical packaging, as they significantly reduce the film thickness compared with HDPE, LDPE, LLDPE, and other products. These polymers are mainly used for packaging agricultural goods before, during, and after collecting, wraps to cover bulk items of cargo, food packaging, thin-walled containers, and others. Another packaging benefit is that it maintains the shelf-life and hygiene quotient of food and other goods, which, in turn, provides considerable growth in the usage of mPE-based packaging products.
Moreover, with the surging economy and the growing middle-class population, the packaging sector has experienced rapid growth in recent years. Food packaging is a significant participant in this sector. Flexibility and convenience are two reasons why the packaging industry has experienced significant growth. Thus, all these factors drive the demand for mPE in this industry.
Whereas, the healthcare category is expected to witness a significant growth rate in the coming years. This can be due to the superior performance parameters of metallocene polyethylene, which include high purity, biocompatibility, and chemical resistance. Thus, it is used in this industry for medical packaging, drug delivery systems, and medical devices. Also, with the increased care on hygiene and safety, and the growing healthcare infrastructure worldwide, the demand for this material in this sector is rising.
Additionally, the construction industry has observed a surge in the demand for metallocene polyethylene, as several players have introduced advanced products for construction applications. For instance, in February 2023, SABIC announced the launch of a new line of metallocene polyethylene products for construction applications. A range of polyethylene was introduced, including metallocene LLDPE, plastomers, and elastomers, for flexible and rigid applications. A few of the metallocene polyethylene products are COHERE Plastomer, FORTIFY Elastomer, and SUPEER mLLDPE.
Further, its characteristics such as high tensile strength, flexibility, and resistance to environmental factors make it suitable for several construction applications, which include fittings, pipes, insulation materials, and geomembranes. Also, the growing urbanization, surging number of infrastructure projects, and increasing investments in this sector particularly in emerging economies have significantly fueled the market growth.
As part of the investments of the Government of India, Larsen & Toubro secured a contract for its power transmission & distribution and buildings & factories businesses to establish a 112.5 MW solar power plant in West Bengal and to construct a 600-bed super specialty hospital in Mumbai.
Major Metallocene Polythene Companies:
Saudi Basic Industries Corporation (SABIC)
The Dow Chemical Company
Exxon Mobil Corporation
LyondellBasell Industries Holdings B.V.
Reliance Industries Ltd.
Sasol Ltd.
INEOS AG
Mitsui Chemicals Inc.
Chevron Phillips Chemical Company LLC
Westlake Corporation
Daelim Co. Ltd.
Asia-Pacific Is the Fastest-Growing Market
The APAC metallocene polyethylene market is expected to witness the fastest growth, advancing at a CAGR of 6.8%, in the coming years. This can be primarily due to the increasing use of mPE in packaging, automotive, building and construction, healthcare, and other industries. Moreover, the growing population, rapid urbanization, surging spending power, and development in the retail sector in countries, such as China, India, and South Korea, are factors favoring the growth in demand for mPE for packaging applications.​
Furthermore, the food and beverage business generates millions in revenue annually, making it one of the continent's largest manufacturing sectors. With the expanding regional food and beverage industry, the need for food packaging also grows, which, in turn, raises the demand for metallocene polyethylene. Additionally, the demand is significantly influenced by the automobile sector. For instance, in 2022, an increase of 7% from 2021, the OICA estimated that 50,020,793 motor vehicles were produced in the region overall.
In APAC, the Indian packaging sector has made a spot with its exports that encompass flattened cans, packaging machinery, crown cork, printed sheets and components, lug caps, craft paper, paper board, and plastic film laminates, while imports comprise coating and lining compounds, tinplate, and others. Thus, with the increasing popularity of metallocene-catalyzed plastics and the development of the plastics business in the country, the growth of the market is rising.
For instance, Reliance Industries Limited planned a new capacity for its polyethylene plant in July 2019 by using Univation Technologies' UNIPOL PE process. A wide range of products are manufactured in the plant including MDPE, unimodal & bimodal HDPE, and metallocene & LLDPE.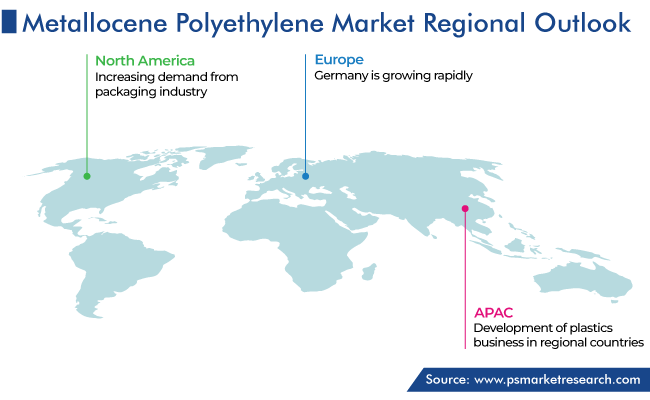 Market Size Breakdown by Segment
This report offers deep insights into the metallocene polyethylene market, with size estimation for 2017 to 2030, the major drivers, restraints, trends and opportunities, and competitor analysis.
Based on Product Type
Metallocene Linear Low-density Polyethylene (mLLDPE)
Metallocene High-density Polyethylene (mHDPE)
Based on Application
Films
Sheets
Injection Molding
Extrusion Coating
Based on End User
Packaging
Healthcare
Automotive
Agriculture
Construction
Geographical Analysis
North America
Europe

Germany
U.K.
France
Italy
Spain

Asia-Pacific

Japan
China
India
South Korea
Australia

Latin America
Middle East and Africa

Saudi Arabia
South Africa
U.A.E.