Metal Finishing Equipment Market Overview
The size of the global metal finishing equipment market was $13,845.6 million in 2019, which is set to witness a CAGR of 4.2% during the forecast period (2020–2030). This growth is majorly attributed to the expanding automotive and aerospace industries. In addition, the manufacturing industry is using the metal finishing process to protect industrial equipment from the corrosion and wear & tear caused due to temperature changes and regular usage.
The COVID-19 pandemic has affected every industry, including the metal finishing equipment sector. Owing to the lockdown in various countries, industrial operations were temporarily halted or reduced in scale, in order to curtail the spread of the disease. Furthermore, this spread has directly affected the end-user demand from automotive, construction, and electronics & electrical industries, which has experienced downward pressure on production and revenue, which, in turn, has severely impacted the metal finishing equipment market globally.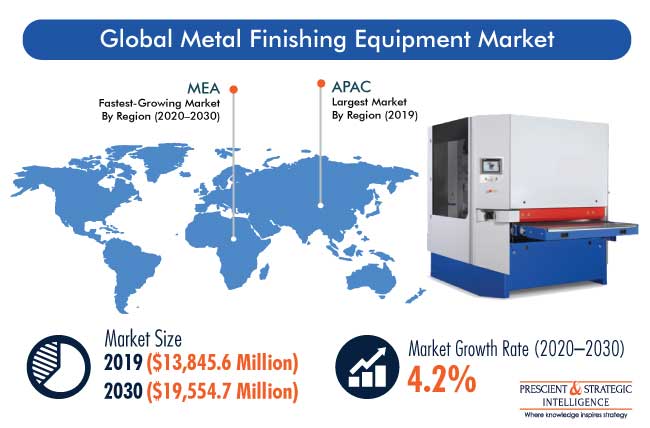 Galvanizing Is Expected To Be Fastest-Growing Process Category owing to Its Various Benefits for Industrial Applications
The galvanizing category, based on process, is projected to witness the fastest growth in the metal finishing equipment market during the forecast period. This can be attributed to the growing usage of this process in various industries due to its lower costs, reliability, tougher coating, ease of inspection, faster equipment installation, and the extremely long life and protection from the external environment it offers to the metallic substrate. In addition, the rising demand for galvanized steel is expected to play a pivotal role in the growth of the galvanizing process category in the metal finishing equipment market.
Construction Is Largest End User Category owing to High Adoption of Metal Finishing Equipment in Manufacturing of Construction Machines
In 2019, the construction end user category accounted for the largest market size in the metal finishing equipment market. This was due to the rising need for metal finishing equipment for producing the machinery used for the construction of buildings and roads. The rapid development in infrastructure, driven by government initiatives, in the Asia-Pacific (APAC) and Middle East and Africa (MEA) regions is the key factor contributing to the largest share of this industry in the metal finishing equipment market.
APAC — Largest Regional Market due to Increasing Investments in End-Use Industries
During the historical period (2014–2019), APAC held the largest metal finishing equipment market share due to the high demand for these products in China. This fact is corroborated by the country's high-volume manufacturing of electrical and electronic components, automobiles, and products used in the construction sector. The increasing manufacturing of components for the aforementioned industries continues to provide traction to the demand for metal finishing equipment in the country.
In the same way, the Japanese metal finishing equipment market is driven by the usage of such products in the aerospace sector, which increased significantly in the last few years due to the advancements in technology and research and development (R&D) support by the government, which, in turn, paves the way for the metal finishing equipment market advance in this region.
MEA – Most Expeditious Regional Market due to Increasing Requirement for Durable, Wear- Resistant, and Long-Lasting Metallic Products
One of the major factors responsible for driving the market growth in the MEA region is the growing need to provide a protective layer on metallic automotive components, which involves applying one or more thin coats of a metal, such as gold, copper, silver, chromium or nickel, to a substrate. Manufacturers of aerospace and automobile components are looking for better technologies to shield the products from the relentless forces of corrosion. Aircraft and automobiles are continuously exposed to the moisture from rain and snow, which can cause the erosion of metallic parts. Furthermore, metal finishing has the ability to protect the parts from getting rusted or degraded; without metal finishing, products made from metals would last only a fraction of their present lifespan.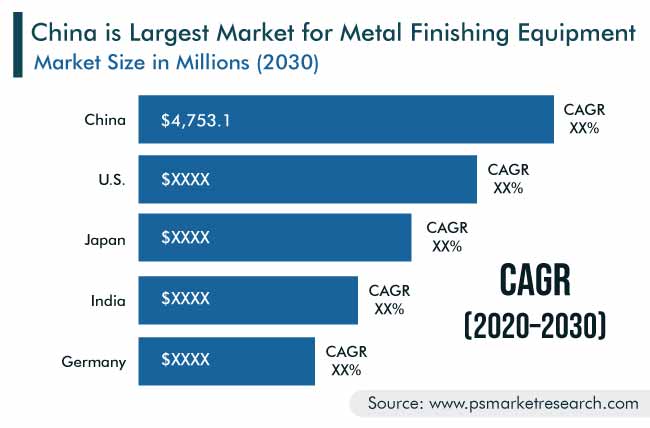 Technological Advancements Are Key Market Trend owing to Rising Adoption of Advanced Metal Finishing Equipment in Industries
The most prominent trend in the metal finishing equipment market is the rapid technological advancements that are aimed at enhancing the quality of metal finishing, reducing operational costs, and making the finishing process more environment-friendly. This has driven many end-use industries to opt for technologically advanced solutions such as laser cladding techniques, in which a metal coating is applied over a substrate using a laser as the source of heat, owing to the low exposure time and deep penetration of the laser. Moreover, these layers are more resistant than thermal spray coatings, and the short laser cladding process also results in energy efficiency. Thus, with the advent of new technologies, metal finishing equipment manufacturers are being driven to develop advanced equipment for enhancing the process in various industries.
Another Trend Is Shift toward Electroless Nickel Plating owing to Its Cost-Effectiveness and Less-Polluting Nature
Owing to certain disadvantages associated with electroplating, such as non-uniform plating, high process cost, low production rate, and environmental risks associated with the disposal of electroplating solutions, there has been a shift from electroplating to electroless nickel plating in the engineering, aerospace, oil & gas, construction, and electronics industries. Electroless nickel plating is an autocatalytic chemical reduction process that involves the deposition of nickel onto a metal substrate.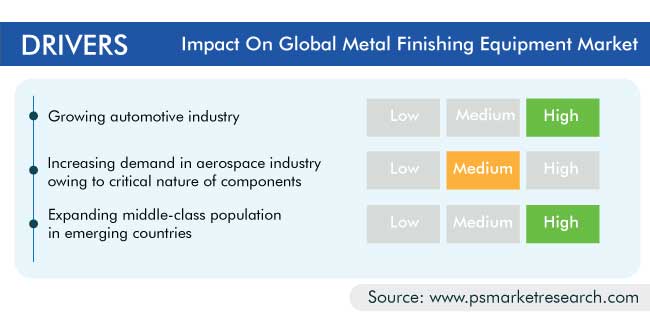 Growing Automotive Industry and Increasing Product Demand in Aerospace Industry owing to Critical Nature of Components
The automotive industry is witnessing significant growth globally owing to the rising sales of vehicles in developing countries, such as China, India, Indonesia, and Mexico. The rising sales of automobiles are, in turn, enhancing the demand prospects for metal finishing solutions in the automotive industry. Automotive components and systems, including under-the-hood components, power steering systems, air conditioning components, brake parts, chassis hardware, and fuel systems, are vulnerable to corrosion due to rain and snow, which, in turn, may lead to their premature failure. Thus, the need for metal finishing to improve the life of automotive components is expected to continue boosting the demand for metal finishing equipment across the world.
Similarly, the production of an aircraft and its components is governed by several critical parameters, among which quality is of utmost importance. These components are needed to be highly reliable in nature, as their failure can result in extensive loss of capital and human life. Hence, international aviation safety organizations have made metal finishing imperative for aerospace components. One of the most widely used metal finishing processes for aerospace components involves the use of titanium and titanium alloy-based plating. Additionally, electroplating and electroless plating are also preferred metal finishing processes in the aerospace industry.
Expanding Middle-Class Population in Emerging Countries Leading to Rising Consumer Spending
Over the decades, countries such as China and India have witnessed rapid economic growth. These fast-growing economies are characterized by the rising income levels and surging middle-class population. This is resulting in a significant increase in the demand for products such as consumer electronics and jewelry, which undergo metal finishing during different stages of their production. Thus, the rising population of the middle class in developing countries, complemented by the growing income levels and subsequently rising consumer spending, is resulting in the increasing demand for equipment required for the finishing of the different metals used in consumer products.
Metal Finishing Equipment Market Report Coverage

| | |
| --- | --- |
| Report Attribute | Details |
| Historical Years | 2014-2019 |
| Forecast Years | 2020-2030 |
| Base Year (2019) Market Size | $13,845.6 Million |
| Forecast Period CAGR | 4.2% |
| Report Coverage | Market Trends, Revenue Estimation and Forecast, Segmentation Analysis, Regional and Country Breakdown, Companies' Strategic Developments, Key offerings of Key Players, Company Profiling |
| Market Size by Segments | By Process, By End-User, By Region |
| Market Size of Geographies | U.S., Canada, Germany, France, Italy, U.K., Spain, Japan, China, India, South Korea, Brazil, Mexico, Saudi Arabia, South Africa |
| Secondary Sources and References (Partial List) | Association of Global Automakers, Australasian Institute of Surface Finishing, Automotive World report, Environmental Protection Agency, General Aviation Manufacturers Association, National Association of Metal Finishers, Surface Finishing Industry Association, United Nations Statistics Division, Metal Finishing Association of California, National Association for Surface Finishing |
Explore more about this report - Request free sample pages
Mergers & Acquisitions Is Key Market Strategy
The metal finishing equipment market is fragmented in nature, with the presence of market players such Atotech Deutschland GmbH, Mass Finishing Inc., Rosler Oberflachentechnik GmbH, ClassOne Technology Inc., Nordson Corporation, Jason Group Inc., and TITAN Metal Fabricators Inc.
In recent years, players in the industry have acquired and merged with other players in order to stay ahead of their competitors. For instance:
In September 2020, AOTCO Metal Finishing LLC acquired Plating for Electronics LLC. Located in Waltham, Massachusetts, the latter offers specialty anodizing, electroplating, and laser marking services for the semiconductor, medical, electronics, and aerospace industries. With this acquisition, customers will be able to take advantage of both companies' capabilities and tap into their combined capacity and know-how.
In January 2020, Pioneer Metal Finishing LLC acquired Pilkington Metal Finishing LLC to strengthen its business in North America. Pilkington Metal Finishing LLC, located in Salt Lake City, Utah, provides metal finishing services, such as anodizing, powder coating, wet coating, non-destructive testing, and heat treating. The acquisition provides the former company additional funds, staffs, processes, and technology and further catapults the acquirer into the aerospace & defense and medical device markets.

Key Players in Global Metal Finishing Equipment Market include:
Atotech Deutschland GmbH

Mass Finishing Inc.

Rosler Oberflachentechnik GmbH

ClassOne Technology Inc.

OTEC Prazisionsfinish GmbH
Nordson Corporation

Jason Group Inc.

TITAN Metal Fabricators Inc.

Finishing Systems Inc.

Techno-Commerz - Hau-Klenner GmbH
Metal Finishing Equipment Market Size Breakdown by Segment
The global Metal Finishing Equipment Market report offers comprehensive market segmentation analysis along with market estimation for the period 2014–2030.
Based on Process
Galvanizing
Anodizing
Electropolishing
Conversion Coating
Electroplating
Electroless Plating
Vibratory/Mass Finishing
Cladding
Based on End User
Automotive
Construction
Industrial Equipment
Electrical and Electronics
Aerospace
Geographical Analysis
North America
Europe

U.K.
Germany
France
Italy
Spain

Asia-Pacific (APAC)

China
Japan
India
South Korea

Latin America (LATAM)
Middle East and Africa (MEA)

Saudi Arabia
South Africa