Metal Fabrication Market Size & Share
The metal fabrication market estimated revenue is USD 21.8 billion in 2023, and it is expected to witness a compound annual growth rate of 3.4% during 2024–2030, to reach USD 27.4 billion by 2030.
The adoption of automated fabrication procedures as well as the rapid pace of infrastructure development activities are some of the major factors enabling the market expansion.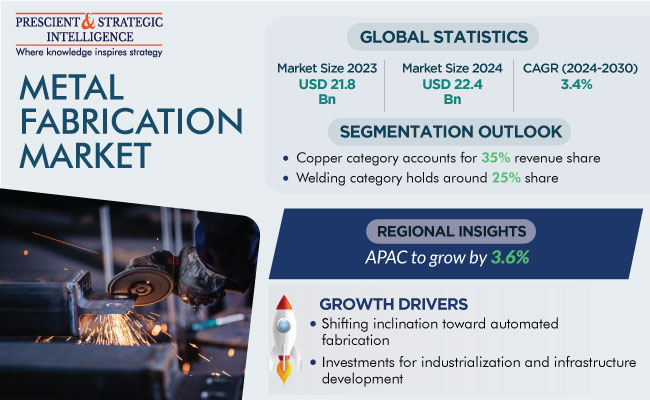 Metals are fabricated to create or form the required structure by putting them through one or more processes, including casting, cutting, forging, welding, and machining. This way, a customized object can be created that is strong, durable, and would usually last a long time. It would not get damaged easily, as metallic elements are mostly able to maintain high temperature resistance and are cost-effective as well.
The final products are utilized in various ways depending on the specific metal, process used, and their structure. The most-common applications for them are bolts, screws, cutlery, and pipes & fittings.
Shifting Inclination toward Automated Fabrication Would Drive Market
Metal fabrication using automation would be somewhat cost-effective and also aid in simplifying the process. Additionally, the handling of both huge and heavy as well as small parts becomes convenient. Automation involves the utilization of digital technologies and platforms and aids in optimizing the workflow and maintaining the required precision, efficiency, quality standards, and safety of workers. Hence, huge volumes of workflow become manageable due to the advantage of accuracy and speed.
Low production cost is another benefit that is drawing the inclination toward automated fabrication. Procedures such as the stacking, cutting, and welding of metallic sheets require skilled labor and time, whereas with automation, all these tasks can be performed with precision in less time. This is done by using the right inputs, sensors, and commands, thereby saving time and the cost of labor.
Moreover, automation in manufacturing procedures would bring a certain level of sophistication in the value chain, as technologies namely AI and IoT are used to design process and solutions that work closely with human laborers. More tasks in less time, a reduction in the fatigue of workers, and higher consistency are some of the major benefits that automated fabrication can offer.
Investments for Industrialization and Infrastructure Development Projects
Investments in the construction industry are on the rise to support the growing residential and industrial needs, thus propelling infrastructure development activities across various regions.
China has major infrastructure projects in line related to water conservation, renewable energy, transportation, and other key aspects of the economy. Moreover, railway and highway lengths are constantly being increased, and airports are being upgraded with better facilities, to ensure better and smoother connectivity. China's Belt and Road Initiative, or the New Silk Road project, is one of the major infrastructure development projects that aims to build connectivity and cooperation across Eurasian countries, including Mongolia, Russia, and Pakistan.
Furthermore, in the coming years, rapid population growth and a major shift toward urban areas will be witnessed; thus, the need for various residential complexes, factories, malls, flyovers, roads, and other industrial setups would rise. To fulfill these necessary infrastructure needs, construction and industrialization would be in full swing. Hence, the accelerating rate of infrastructure development and the rising investments for the same are likely to significantly propel the metal fabrication market growth in this decade.
Metal Fabrication Market Report Coverage

| | |
| --- | --- |
| Report Attribute | Details |
| Market Size in 2023 | USD 21.8 Billion |
| Market Size in 2024 | USD 22.4 Billion |
| Revenue Forecast in 2030 | USD 27.4 Billion |
| Growth Rate | 3.4% CAGR |
| Historical Years | 2017-2023 |
| Forecast Years | 2024-2030 |
| Report Scope | Market Trends, Drivers, and Restraints; Revenue Estimation and Forecast; Segmentation Analysis; Impact of COVID-19; Companies' Strategic Developments; Market Share Analysis of Key Players; Company Profiling |
| Segments Covered | By Metal Type; By Service Type; By End User; By Region |
Explore more about this report - Request free sample pages
Copper Category Is Likely To Dominate Market
The copper metal type category holds the largest market share in 2023, and it is expected to grow at a CAGR of 3.2% during the projection period. This is owing to the numerous applications of copper products in different industries.
Copper has great electrical conductivity, thermal conductivity, and ductility, and it does not corrode easily. Hence, it is suitable for various uses, such as electrical wiring, heating systems (such as radiators), circuit boards, and water pipes & fittings. Apart from electrical wiring, where it is used as a conductor, it is also used as a roofing material, on door handles, railings, faucets, and cookware. It is also used in oil coolers, sculptures, musical instruments, and jewelry. Additionally, due to its antimicrobial properties, it is well-suited for the equipment used in the food processing industry.
Aluminum is also a commonly fabricated metal. Apart from its application in the aerospace industry, it is now commonly used in high-rise apartments and buildings and in the production of electronic devices and other equipment. This is because it offers advantages in terms of weight, cost, and durability. It weighs less than iron and steel, can be molded with much ease, tends to corrode less, has appreciable electrical as well as thermal conductivity, and can withstand different types of finishes, such as paints and powder coatings.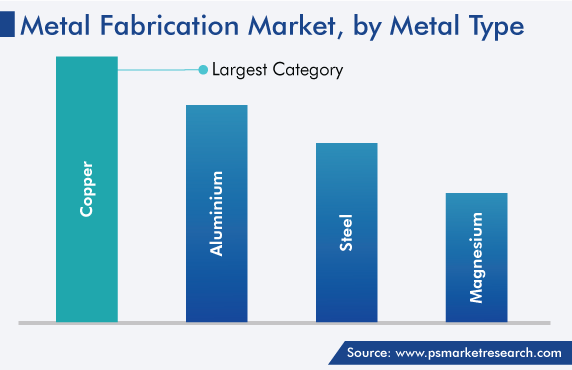 Welding Category Is Likely To Hold Significant Market Share
The welding service type category holds a significant market share. This can be attributed to the various applications of welding in the manufacturing of light as well as heavy equipment, machinery, and automotive parts and at construction sites.
Welding is a process that involves the precise joining of two or more pieces of metal together. The process aids in making a useful product, part, component, or equipment with a good finish that is strong and can hold its shape or form. There are various types of welding, such as arc welding, friction-stir welding, forge welding, and oxy-fuel welding. Although, it is a simple process, all necessary safety guidelines must be followed, and it must be carried out by skilled laborers to ensure the safety of the worksite and the quality of the finished object.
Furthermore, since it is widely used in the aerospace, manufacturing, and related industrial applications, along with the construction industry, the rapid pace of both industrialization and urbanization would escalate its usage.
Asia-Pacific Region Holds Major Share of Market
The Asia-Pacific region dominates the market, and it is expected to grow at a CAGR of 3.6% during the projection period, to maintain its dominance. The growth and dominance can be attributed to the rapid pace of infrastructure development in the region and the government initiatives to promote manufacturing in the respective countries.
China and India are the two countries that are likely to lead the overall growth in the region. According to data from a government organization, the Indian government has taken several initiatives to boost manufacturing, including a reduction in corporate tax, FDI policy reforms, and introduction of the Goods and Services Tax. Additionally, the Phased Manufacturing Programme was implemented in 2022 for promoting the manufacturing of electric vehicles and their different parts. Apart from these, the Make in India, National Industrial Corridor Development Programme, and Production Linked Incentive scheme drive the demand for fabricated metal products in India.
In the same way, China is undertaking large-scale projects to propel industrialization. According to reports, currently, it is able to produce approximately 1 billion tons of crude steel yearly. Additionally, it is one of the largest producers of aluminum, the production of which reached about 6.7 million tons in the initial months of 2023. All these factors, i.e., the easy availability of metals for fabrication, along with the rising rate of industrialization, are indicative of its current and potential contribution to the market growth.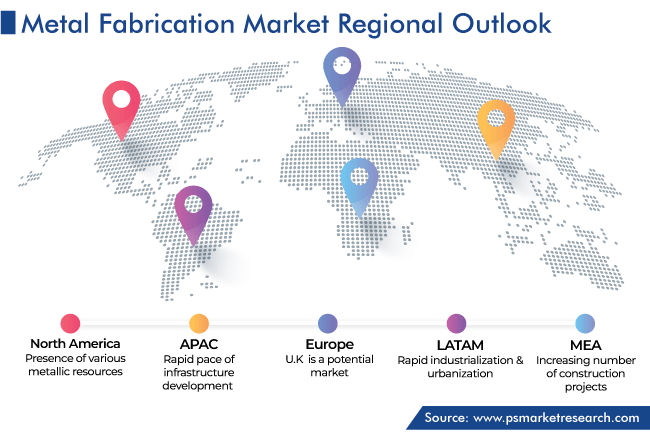 Moreover, an increase in both exports as well as domestic consumption is leading to economic growth in the countries in the APAC region. Consumption is rising due to a vast population, generation of employment opportunities, and increase in wages. Thus, overall, the demand of people for more facilities, goods and services, and infrastructure is rising in the region, thereby promoting industrialization and urbanization at a fast pace.
The presence of various manufacturing units and metallic elements, in addition to the growing number of construction projects, will drive the metal fabrication market in the coming years.
Some Top Companies Operating in Metal Fabrication Market Are:
AMETEK Inc.
ArcelorMittal S.A.
Ball Corporation
Generac Power Systems Inc.
Howmet Aerospace Inc.
Nucor Corporation
Parker-Hannifin Corporation
Toyota Tsusho Corporation
Alusite Precision Co. Ltd.
Levstal Group
Market Size Breakdown by Segment
This fully customizable report gives a detailed analysis of the metal fabrication market from 2017 to 2030, based on all the relevant segments and geographies.
Based on Metal Type
Aluminum
Steel
Copper
Magnesium
Based on Service Type
Cutting
Casting
Forging
Machining
Welding
Based on End User
Aerospace
Automotive
Construction
Electronics
Manufacturing
Power & Utilities
Geographical Analysis
North America
Europe

U.K.
Germany
France
Italy
Spain

Asia-Pacific

China
Japan
Australia
India
South Korea

Latin America
Middle East & Africa

Saudi Arabia
South Africa
U.A.E