Navigation Application To Be Most Beneficial for Memory Market for Autonomous and Connected Vehicles
Valuing $4,310.8 million in 2019, the global memory market for autonomous and connected vehicles size is expected to display a CAGR of 23.9% during 2020–2030. The key factors aiding in the advance of the industry are the rising requirement for an enhanced driving experience, increasing security and safety concerns among people, rapid adoption of internet of things (IoT) in automobiles, and surging popularity of electric vehicles (EVs).
Segmentation Analysis of Memory Market for Autonomous and Connected Vehicles
The navigation category, under segmentation by application, held the largest share in 2019. This is ascribed to the increasing adoption of navigation features in vehicles, which generate huge amounts of data, related to the traffic or chokepoints on the road, shortest route, and alternative routes, which needs an efficient storage mechanism.
During the forecast period, the level 3 classification, on the basis of the level of autonomy, would experience the fastest growth, due to the increasing driving autonomy in vehicles, rising purchase of such automobiles by the masses, deployment of level 3 autonomous vehicles in shared mobility fleets, and surging demand for automobiles with higher driving autonomy in developing countries.
The dynamic random-access memory (DRAM) division, based on memory, has dominated the market up till now. The high preference for this type of component has been due to their efficient storage of data and lower costs than other variants.
Till 2030, the passenger car bifurcation is predicted to continue generating higher revenue, under the vehicle segment, as most of the automobiles produced around the world are passenger cars, specifically over 70% of the total manufactured in 2019. Additionally, passenger vehicles are the first to be integrated with any technology developed and tested in the automotive sector.
North America was the largest revenue contributor to the memory market for autonomous and connected vehicles till 2019, and it will continue on this path throughout the forecast period. This is attributed to the high number of automotive technology companies and rising sale of autonomous and connected vehicles in the continent. Moreover, the disposable income is also surging fast here, which is enabling people to purchase more-expensive vehicles with advanced safety, connectivity, and autonomous features.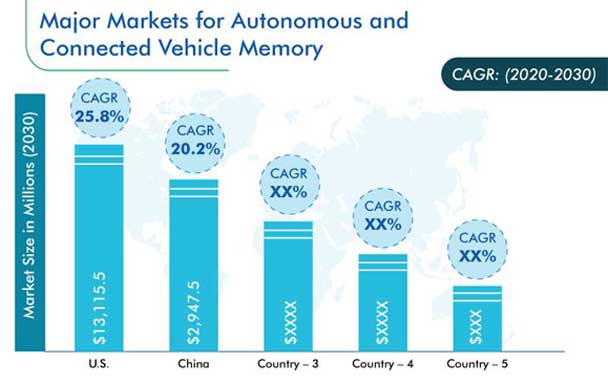 Integration of Artificial Intelligence (AI) Is Trending in Market
The most significant trend being witnessed in the memory market for autonomous and connected vehicles is the integration of artificial intelligence (AI) in automobiles. AI is being used in infotainment systems, which have now begun serving as virtual personal assistants, responding to voice commands and helping the driver by providing efficient navigational support. To cater to the increasing demand for an enhanced and safe driver experience, automakers are partnering with technology vendors, to arm automobiles with AI. For instance, several major automotive original equipment manufacturers (OEMs), including Audi AG, Daimler AG, and Volvo AB, began collaborating with Alibaba AI Labs in April 2018, to offer AI-powered home-to-vehicle connectivity in China. AI, which is being adopted to make the vehicles self-driven, thereby eliminating human errors as much as possible, will require ample data storage capacity.
Increasing Demand for Better Driving Experience Is Driving Market
The key factor behind the growth of the memory market for autonomous and connected vehicles is the rising preference for a better driving experience. With a surge in the number of passenger and commercial vehicles, problems such as traffic jams, accidents, and limited availability of parking space have become graver, especially in emerging economies, including India, China, and Indonesia. For instance, of the 1.35 million people who die in road accidents each year, 93% die in low- and middle-income countries, which only account for 60% of the global automobile fleet, as per the World Health Organization (WHO). Vehicle-to-infrastructure (V2I) and vehicle-to-vehicle (V2V) connectivity features are proving useful in tackling these problems and improving the driving experience, which is why OEMs are swiftly integrating them in automobiles. Thus, with the growing adoption of such data-intensive features, the demand for automotive memory chips and devices will also rise.
Developing Countries Are Offering Vast Growth Potential
In developing countries, there is lucrative opportunity for the players in the memory market for autonomous and connected vehicles. With the increase in the disposable income, people in China, India, and Japan are witnessing augmentation in their standards of living. This is being reflected in the surging preference for technologically advanced products, including connected and autonomous automobiles. As the connected and autonomous vehicle domain is largely unexplored in these nations, opportunities for the market are plenty here. In China, presently 14 million automobiles have in-vehicle internet access, and by 2023, 45 million people are expected to have such automobiles, thereby driving the demand for automotive memory. Thus, with more such automobiles in operation in developing countries, companies offering memory can hope to make a fortune here in the years to come.
Memory Market for Autonomous and Connected Vehicles Report Coverage

| | |
| --- | --- |
| Report Attribute | Details |
| Historical Years | 2014-2019 |
| Forecast Years | 2020-2030 |
| Market Size by Segments | Application, Autonomy, Memory, Vehicle |
| Market Size of Geographies | U.S., Canada, Germany, France, U.K., Italy, Spain, Netherland, China, Japan, Brazil, Mexico |
Explore more about this report - Request free sample pages
Product Launches by Automotive Technology Vendors Propelling the Demand for Data Storage
Product launches are shaping the competition in the memory market for autonomous and connected vehicles, as the companies providing such solutions are increasing their efforts to gain a larger customer pool and revenue share.
For instance, HARMAN International introduced the HARMAN ExP Integrated Solution Suite in January 2020. This suit incorporates numerous connected audio, car, and service technologies that enhance the experience of the driver as well as the passengers.
Similarly, in June 2018, a 5G-compatible connected car platform was jointly introduced by NXM Labs Inc. and Sprint.com. This platform integrates high-speed, on-demand Wi-Fi, offered via the Sprint LTE network, with advanced vehicle monitoring and safety features as well as blockchain security. Via this platform, broadband connection can be rented on a daily, weekly, or monthly basis, completely independent of passengers' smartphone plans.
The key players in the global memory market for autonomous and connected vehicles are Cypress Semiconductor Corporation, Integrated Silicon Solution Inc., Renesas Electronics Corporation, Macronix International Co. Ltd., ATP Electronics Inc., Everspin Technologies Inc., Swissbit AG, Microchip Technology Inc., Micron Technology Inc., Western Digital Corporation, Nanya Technology Corporation, SK Hynix Inc., Winbond Electronics Corporation, Toshiba Corporation, and Samsung Electronics Co. Ltd.
Market Size Breakdown by Segment
The memory market for autonomous and connected vehicles report offers comprehensive market segmentation analysis along with market estimation for the period 2014–2030.
Based on Application
Navigation
Infotainment
Telematics
Based on Autonomy
Level 0
Level 1
Level 2
Level 3
Level 4
Level 5
Based on Memory
Dynamic Random-Access Memory (DRAM)
Static Random-Access Memory (SRAM)
NOT-AND (NAND) Flash
Based on Vehicle
Geographical Analysis
North America
Europe

Germany
France
U.K.
Italy
Spain
Netherland

Asia-Pacific (APAC)
Latin America, Middle East, and Africa (LAMEA)