Microfiltration Membrane Market Overview
The global microfiltration membrane market stood at $2,885.57 million in 2019. The market is expected to demonstrate a CAGR of 9.0% during 2020–2030. Some of the key growth factors of the microfiltration membrane industry include increasing demand for microfiltration technologies for industrial wastewater treatment, growth in the pharmaceutical industry, and rising technology usage in the food & beverage industry.
The COVID-19 pandemic has put the world on a standstill, affecting major operations and resulting in an industrial catastrophe. The pandemic has affected every industry, including the microfiltration membrane market. Shifts in demand patterns, disruptions in the supply chain, and various emergency measures implemented by governments worldwide to cope with the pandemic have indeed impacted the market.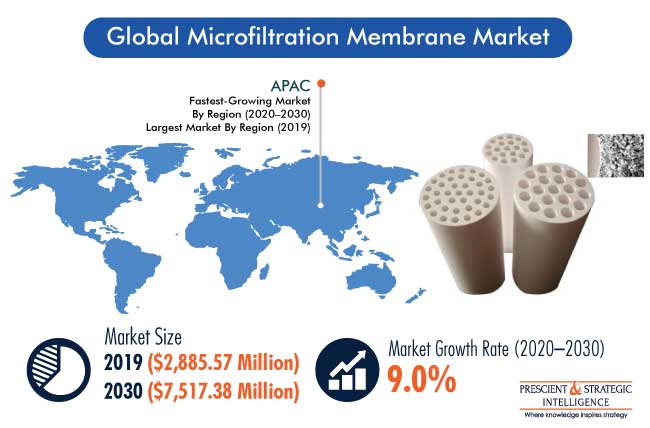 Polyvinylidene Fluoride (PVDF) Accounted for the Largest Share in the Industry
In 2019, the PVDF category accounted for the largest size in the microfiltration membrane industry, on the basis of material type. This is attributed to the advantages of PVDF membranes, including ability to provide high-flow rates for solvent-based as well as mobile phase applications, such as sample preparation and multiplexed bead-based assays; thereby serving the requirement of major pharmaceutical applications, such as protein separation.
Cross-Flow Filtration Category to Demonstrate Faster Growth
The cross-flow filtration category, based on filtration technology, is projected to witness faster growth in the microfiltration membrane market, during the forecast period. This can be attributed to fast-paced adoption of this technology in several industries, such as pharmaceutical, food, water treatment, and medical. Cross-flow filtration is garnering a higher preference in these industries, owing to its ability to remove built-up materials on filter surface, which helps in preventing fouling of the filter.
Industrial Wastewater Treatment Application to Account for the Highest Demand
In 2019, the industrial wastewater treatment category held the largest share in the microfiltration membrane market, on the basis of application. This is attributed to the growing scarcity of usable water and the increasing demand for safe water for residential, commercial, and industrial applications, across the world. Additionally, rise in concerns for limited availability of water is expected to drive governments, worldwide, to adopt stringent measures for wastewater treatment. Therefore, such factors are expected to drive the demand for microfiltration membranes for industrial wastewater treatment application in coming times.
Membrane Bioreaction (MBR) Category to Showcase Faster Growth
The MBR category is projected to demonstrate faster growth during the forecast period, on the basis of process, in the microfiltration membrane market. This can be ascribed to the fact that MBR is a highly effective process in comparison to other processes, such as activated sludge process and hybrid filtration process. Additionally, MBR is highly suitable for the treatment of wastewater and also has the ability to withstand fluctuations in organic loading rates.
Tubular Category to Account for the Largest Share in the Market
The tubular category held the largest share in 2019, on the basis of configuration, and the trend is likely to continue during the forecast period, in the microfiltration membrane market. This can be ascribed to the high resistance offered by tubular configuration, along with the easy cleaning of membranes. During the filtration process, a microporous membrane separates suspended solids from liquid, thereby cleaning the liquid easily.
Asia-Pacific (APAC) to Account for the Highest Consumption and Demonstrate the Fastest Growth
Geographically, APAC held the largest share in 2019 in the microfiltration membrane market, on account of increasing regulatory standards, rising need for wastewater treatment, and desalination to meet the water shortage in developing countries, such as China, India, Thailand, and the Philippines. Additionally, a large number of pharmaceutical and biotechnology companies are establishing their manufacturing plants and research centers in the region, which is further augmenting the regional market growth.
The APAC microfiltration membrane market is expected to demonstrate the fastest growth, primarily on account of continuous rise in demand for fresh water in countries, such as India and China. Additionally, investment in water and wastewater improvement has opened avenue for ample opportunities for water treatment equipment technology providers in the region. Moreover, with rising demand for potable water, the rate of using reclaimed water is gaining pace in the APAC market, especially in India.
Recycling of industrial wastewater involves a combination of technologies, such as cross-flow and dead-end filtration, to treat the water and make it reusable or attain a safe standard for disposal. This is driving the microfiltration membrane market in the region.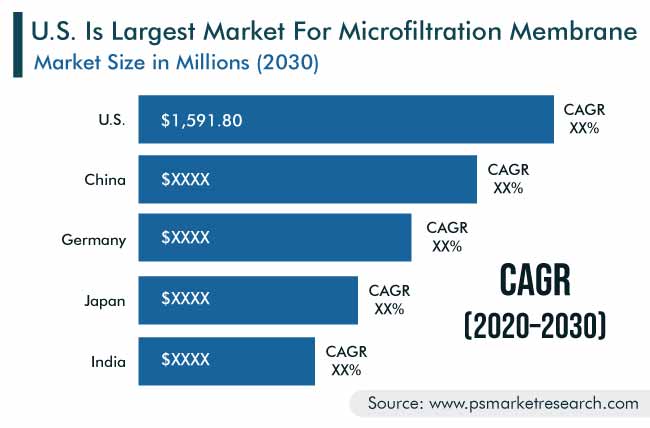 Shift in Preference from Conventional Separation Technologies to Microfiltration Technologies
Traditionally, separation technologies, such as sand filtration, coagulation and sedimentation, and dissolved air floatation, were widely used for filtration applications in industries, such as food & beverage, industrial wastewater treatment, and pharmaceutical. However, these technologies proved inefficient in treating solutions containing excessive dissolved organic compounds. To overcome this, new filtration techniques got introduced in the market. Microfiltration is one such technology introduced for the treatment of contaminated liquids.
For instance, GKD Gebr. Kufferath AG introduced ODW6 for the microfiltration sector at the IFAT fair held in May 2018. The product facilitates microfiltration for large-scale water processing. Its weave with slot-shaped pores on mesh surface offers reliable filtration of all particles greater than 6 µm. Therefore, such factors are expected to propel the microfiltration membrane market in the coming times.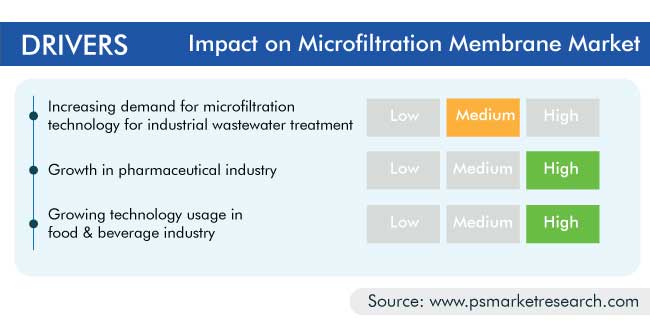 Increasing Demand for Microfiltration Technologies for Industrial Wastewater Treatment
The discharge of industrial and agricultural waste into water bodies negatively impacts the water quality. According to the fourth World Water Development Report, about 70% of the wastewater treated in 2017 was by high-income countries. Environmental degradation arising from inadequate or no wastewater management pose a significant threat to human health and economic activity. With respect to this, the U.S. government has taken several initiatives to create awareness regarding the far-reaching effects of water contamination and water scarcity. This has also pushed other countries to acknowledge global challenge and adopt wastewater treatment and microfiltration technologies to meet the rising demand for clean water. This, in turn, is expected to drive the demand for microfiltration membrane, thereby benefitting the microfiltration membrane market during the forecast period.
Growth in Pharmaceutical Industry (what is the impact of this on PES, PP, and PVDF?)
Pharmaceutical is one of the largest application areas of microfiltration membrane, and this industry is expected to continue witnessing significant growth in coming years. Witnessing the industry's potential, leading pharmaceutical companies are investing heavily on R&D to yield better returns. Microfiltration membranes, such as PES, PP, and PVDF, are extensively used in the pharmaceutical industry because of their excellent retention characteristics, low-protein binding, and high-flow rate, which make them suitable for the filtration of products, such as preservatives and proteins. Besides, rising investments on R&D in the fields of biotechnology and medicine are leading to the growth of the pharmaceutical industry, and in the process, drives the growth of the market for microfiltration membrane.
Microfiltration Membrane Market Report Coverage

| | |
| --- | --- |
| Report Attribute | Details |
| Historical Years | 2014-2019 |
| Forecast Years | 2020-2030 |
| Base Year (2019) Market Size | $2,885.57 million |
| Forecast Period CAGR | 9.0% |
| Report Coverage | Market trends, revenue estimation and forecast, segmentation analysis, regional and country breakdown, company share analysis, companies' strategic developments, competitive benchmarking, company profiling |
| Market Size by Segments | Material type, filtration technology, application, process, configuration, geography |
| Market Size of Geographies | U.S., Canada, Germany, France, U.K., China, India, Japan, Vietnam, Brazil, Mexico, Saudi Arabia, South Africa |
| Secondary Sources and References (Partial List) | Alaska Pharmacists Association, American Dairy Science Association, American Membrane Technology Association, American Public Health Association, American Water Works Association, Association of Dissolved Air Flotation, Association of Water Technologies, Atlantic, Canada Water & Wastewater Association, Australian Water Association, Canadian Water Quality Association, Environmental Protection Agency, European Commission |
Explore more about this report - Request free sample pages
Rising Technology Usage in Food & Beverage Industry to Boost Microfiltration Membrane Consumption
Increasing health issues arising from the consumption of toxic food and beverages are fueling the demand for microfiltration technologies, as these help filter out contaminants present in such edible products. Several food & beverage companies are, therefore, adopting microfiltration technologies, to cater to the increasing demand for uncontaminated, unadulterated food and drinks. According to the New Zealand Institute for Plant and Food Research Limited, the global food & beverage industry is witnessing an annual growth of nearly 5.0% and the global expenditure on food products is expected to reach $20 trillion by 2030. Such factors are expected to further propel the growth of the global microfiltration membrane market.
Strategic Entry of Market Players into Mergers and Acquisitions
The global market is consolidated in nature, with the presence of few major players, such as Toray Industries Inc., Merck KGaA, Alfa Laval AB, and Danaher Corporation. In recent years, players in the industry are entering into strategic mergers and acquisitions, in order to gain a competitive edge. For instance:
In October 2019, DuPont De Nemours Inc. announced the acquisition of membrane business unit "Memcor" from Evoqua Water Technologies LLC, to strengthen its position in the membrane filtration market. Memcor offers ultrafiltration and membrane biofiltration technologies to customers, globally.
In September 2019, DuPont De Nemours Inc. announced the acquisition of ultrafiltration membrane business of BASF SE. The company signed an agreement with BASF SE to acquire workforce, headquarters, and manufacturing facility at Greifenberg, Germany. This acquisition helps DuPont De Nemours Inc. to strengthen its water solutions business, providing drinking water and treatment of industrial wastewater, worldwide.

Some of the Key Market Players in Microfiltration Membrane Market Include:
Koch Membrane Systems Inc.

Culligan International Company

Markel Corporation

Toray Industries Inc.

Applied Membranes Inc.

Graver Technologies LLC
3M Company

Merck KGaA

Asahi Kasei Corporation

SUEZ

Alfa Laval AB
Market Size Breakdown by Segment
The report offers comprehensive market segmentation analysis along with market estimation for the period 2014–2030.
Based on Material Type
Polyethersulfone (PES)
Polypropylene (PP)
Polyvinylidene Fluoride (PVDF)
Polytetrafluoroethylene (PTFE)
Polyether Ether Ketone (PEEK)
Polyimide
Cellulose
Based on Filtration Technology
Dead-End Filtration
Cross-Flow Filtration
Based on Application
Semiconductor & Electronic
Oil & Gas
Dairy
Food & beverage
Pharmaceutical
Biotechnology
Industrial Wastewater Treatment
Based on Process
Membrane Bioreaction (MBR)
Based on Configuration
Tubular
Hollow Fiber
Flat Sheet
Geographical Analysis
North America
Europe
Asia-Pacific (APAC)

China
India
Japan
South Korea
Vietnam

Latin America (LATAM)
Middle East and Africa (MEA)

Saudi Arabia
South Africa