Market Overview
The global medium voltage protection relay market size stood at USD 1,337.0 million in 2022, and it is expected to advance at a compound annual growth rate of 7.5% during 2022–2033, to reach USD 2,971.4 million by 2033. The growth is mainly driven by the rise in the demand for power supply, rapid urbanization and industrialization, the development of smart grids, and the electrification of railway infrastructure.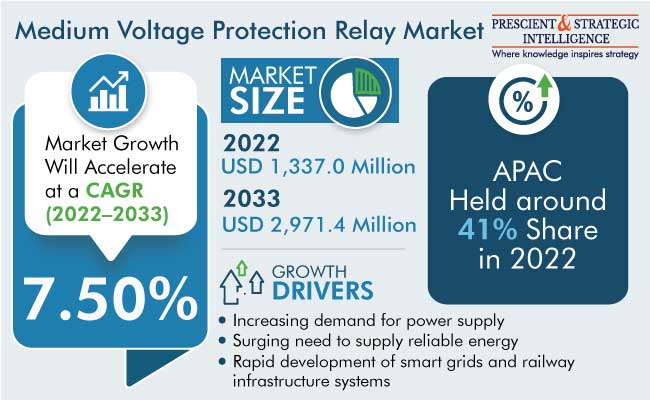 In 2022, the global electricity demand was expected to increase by approximately 2.4%, and a similar growth path is expected in 2023 as well. Moreover, to manage the growing complexities, due to the deployment of renewable energy sources as well as the adoption of EVs across the globe, the investment in smart grids is being augmented. For instance, in the January–September 2022 period, corporate funding for energy storage and smart grids reached about $25 billion, which grew by 66% from the previous year. Furthermore, according to the IEA, the investment in electricity grids in 2021 was approximately $300 billion.
Moreover, the demand for electrical safety has been rising with the growing electrical infrastructure. Also, equipment failures or damage to transmission lines, substations, and other parts of the electrical setup can lead to unplanned outages. The deployment of relays aids in preventing damage to equipment, as well as reducing the risk and duration of sudden outages. Further, they ensure that the power systems can be operated with utmost safety and damage to the entire system can be prevented.
Growing Awareness and Usage of Renewable Energy Sources
The dependence of both developed and developing nations on fossil fuels for energy needs has been consistently high throughout. However, the burning of fossil fuels leads to the emission of a tremendous amount of greenhouse gases into the atmosphere. According to the U.S. Environmental Protection Agency (EPA), there has been a more than 90% rise in CO2 emission levels as compared to the 1970s. Moreover, owing to the abundant and eco-friendly nature of renewable energy sources, such as wind and sun, awareness regarding their utilization has been on the rise. Moreover, as per a report by the International Energy Agency (IEA), renewables are expected to account for almost 90% of the global electricity capacity expansion over the next five years.
Therefore, electrical product companies are introducing various solutions that are compatible with renewable energy sources. For instance, for the seamless integration of renewables in the power system and its management, companies, such as ABB Ltd., offer protection relays that comply with the grid codes and maintain stability during power disturbances. Similarly, Schweitzer Engineering Laboratories Inc. has a range of protection relays for renewable energy with varied tripping features.
Swift Electrification of Railway Networks
China and European countries run massive freight across their electrified rail. In Europe, 60% of the rail network is electrified, and approximately 80% of traffic runs on those lines. Similarly, in China, more than 70% of the rail system has been electrified. Moreover, in India, the government is aiming for 100% electrification of the railway network, to reduce their dependence on fuel imports. As of February 2023, approximately 85% of India's routes have been electrified. Electrification will lead to an increase in the demand for various electrical systems, such as transformers, conductors, insulators, and, subsequently, protection relays to prevent damage to the transmission and distribution setups.
To meet the surging demand, companies have been involved in introducing new products and technologies in the market. For instance, ABB Ltd. launched a relay retrofit program for replacing selected relays in January 2023. Similarly, in February 2023, Schneider Electric SE introduced new production lines in India. Likewise, in March 2021, Schweitzer Engineering Laboratories Inc. unveiled the SEL-487E transformer protection relay with enhanced Time-Domain Link technology.
Medium Voltage Protection Relay Market Report Coverage

| | |
| --- | --- |
| Report Attribute | Details |
| Historical Years | 2017-2022 |
| Forecast Years | 2023-2033 |
| Market Size in 2022 | USD 1,337.0 Million |
| Revenue Forecast in 2033 | USD 2,971.4 Million |
| Growth Rate | 7.5% CAGR |
| Report Scope | Market Trends, Drivers, and Restraints; Revenue Estimation and Forecast; Segmentation Analysis; Impact of COVID-19; Companies' Strategic Developments; Market Share Analysis of Key Players; Company Profiling |
| Segments Covered | By Use Location; By End User; By Application; By Region |
Explore more about this report - Request free sample pages
Rising Demand for Power Supply
The ever-increasing population, especially in emerging economies, is generating a high demand for power supply. The accelerating rate at which commercialization and industrialization are progressing is subsequently generating a voluminous demand for electricity.
In 2021, as per the U.S. Energy Information Administration (EIA), the generation of electricity from utility-scale gensets in the country was about 4,116 billion kWh. In addition, it was estimated that another 49.03 billion kilowatt-hours (kWh) were produced by small-scale solar photovoltaic (PV) systems. Further, cities such as Shanghai reported a growing electricity consumption in the initial weeks of May 2022 as compared to May 2021. China and the U.S. are the two largest consumers of electricity, accounting for approximately 30% and 16% of the global total, respectively.
The protection relay detects abnormalities in the power system and aids in cutting off the faulty section, to prevent an adverse impact on the system. Thus, the high demand for power supply is indicative of a significant expected rise in the demand for electrical safety equipment, including medium voltage protection relays.
Energy & Utilities Holds the Largest Share in the Industry
The energy & utilities category generated the highest revenue, of USD 777.0 million, in 2022, and it is also expected to witness the same trend over the next few years. The utilization of protection relays in various energy & utility applications, such as feeders, transformers, transmission lines, and substations, is quite substantial because the cost of these pieces of electrical equipment is quite high, and to ensure their longevity, companies are investing in safety equipment. Furthermore, the development of smart grids, owing to the rising demand for power for residential as well as commercial needs, is expected to propel the demand for protection relays in the energy & utilities sector.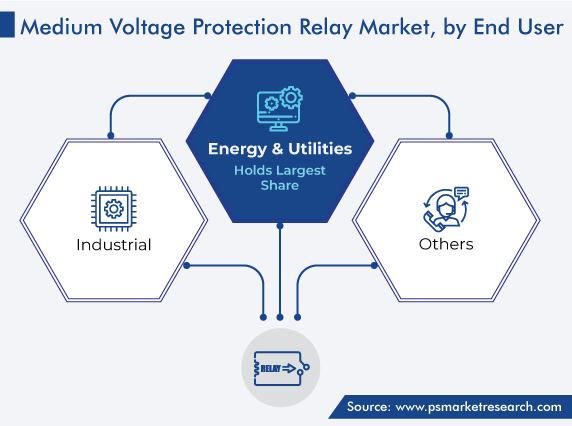 Secondary Substation Category To Record Faster Growth
The secondary substation category is expected to grow at a higher growth rate during the forecast period. This can be because secondary substations are meant for handling the interconnections between medium- and low-voltage transmission equipment, which is why they require a large number of medium voltage protection relays.
Asia-Pacific Region Is the Market Leader
APAC accounted for the largest market share, of 41.3%, in 2022, and it is expected to hold the same position in the coming years as well. This is due to the rising demand for power supply in the region, especially in developing countries, such as China and India. The demand for power supply has constantly been increasing over the years. For instance, in 2022, electricity demand in the region increased by approximately 3.4%.
In addition, the development of grids and transmission systems compatible with renewable sources of energy is being done at a rapid pace, to improve energy access across the region. Smart grids are being deployed to achieve various objectives, such as easier access to electricity, management of peak load, conservation of electricity, and tracking as well as management of energy usage. Thus, these factors drive the regional market growth.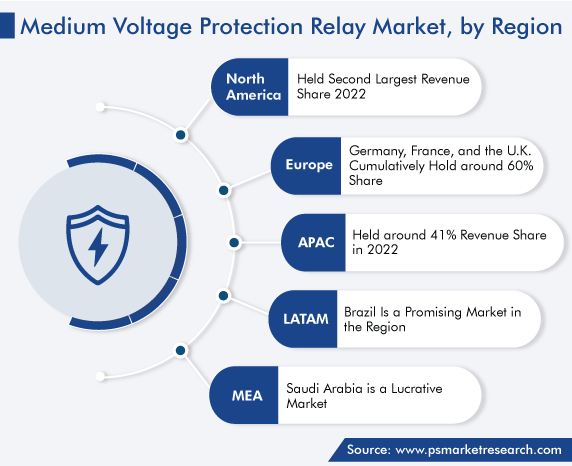 Europe Holds a Significant Market Share
Europe is expected to hold a significant market share during the forecast period. This can be driven by a continuous transition toward renewable energy sources, various smart grid projects underway, increasing demand for power supply, and aging power infrastructure in the region. For instance, according to Eurelectric, about one-third of the EU's grids are over 40 years old. Further, approximately 20% of the energy consumed in the EU was from renewable sources of energy in 2021.
Additionally, since the Russia–Ukraine war began, it has become important for Europe to reduce its dependence on Russia for its energy needs and focus on renewable sources to fulfill them. According to a report by the Sandbag Climate Campaign CIC (now known as Ember), the energy transition has accelerated, and in 2022, wind and solar generated a record fifth of the European Union (EU)'s electricity (22%), overtaking fossil gas (20%) for the first time and remaining above coal (16%).
The transition toward sustainable practices is also reflected in the growing popularity of EVs in the region. In Nordic countries, EVs accounted for more than half of all the cars sold in 2021. Hence, the surging demand for power supply and the rising usage of electrical equipment would propel the demand for medium voltage protection relays in Europe.
Some Top Medium Voltage Protection Relay Manufacturers Are:
Schneider Electric SE
ABB Ltd.
Siemens AG
General Electric Company
Toshiba Energy Systems & Solutions Corporation
Eaton Industries GmbH
TE Connectivity
Schweitzer Engineering Laboratories Inc.
Mitsubishi Electric Corporation
CHINT Group Corporation
Market Size Breakdown by Segment
This fully customizable report gives a detailed analysis of the medium voltage protection relay industry from 2017 to 2033, based on all the relevant segments and geographies.
Based on Use Location
Primary Substations
Secondary Substations
Based on End User
Energy & Utilities
Industrial

Automotive
Oil & gas
Chemical
Marine
Food & beverages
Based on Application
Transformers
Motors
Busbars
Generators
Feeders
Transmission Lines
Ring Main Units
Geographical Analysis
North America
Europe

Germany
U.K.
France
Italy
Spain

Asia-Pacific

Japan
China
India
South Korea
Australia

Latin America
Middle East and Africa

Saudi Arabia
South Africa
U.A.E.