Market Overview
The Malaysian micromobility market was valued at $2.4 million in 2020, and it is expected to grow at a robust CAGR, of 99.9%, during the forecast period (2021–2030). The major factors driving the market growth include the elevating demand for micromobility services for first- and last-mile connectivity, cost-effective and convenient mobility options, and surging need for reducing urban traffic congestion.
The COVID-19 pandemic has been impacting a large portion of the people around the world, bankrupting corporations and plunging the global economy into a turmoil. Further, the pandemic had a significant effect on the market in 2020. However, with proper control measures pertaining to the monitoring of the COVID-19 impact, contingency planning, tightening of financial steering, and diligent staff engagement, along with consumer demand creation, the situation is projected to normalize soon. Therefore, the market has started witnessing upward growth trend since the end of 2020 and it is expected to stabilize in the upcoming years. As the world gets back to normalcy, it is projected that COVID-19 will become a key catalyst for digital and other technological advancements in the industry.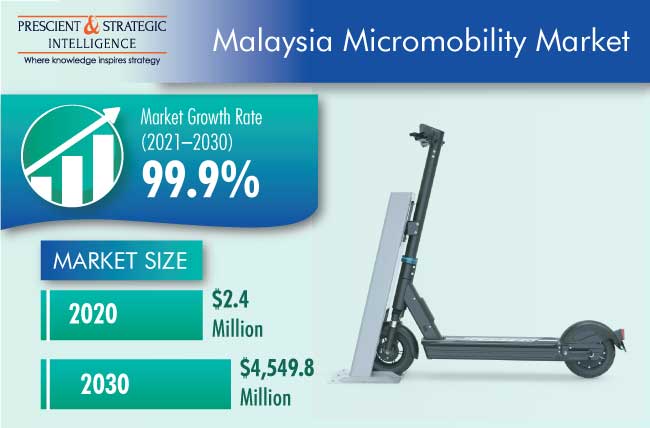 E-Mopeds Category To Witness Fastest Growth, Due To their Massive Usage in Malaysia
The e-mopeds category is expected to showcase the fastest growth during the forecast period, based on vehicle type, in the Malaysian micromobility market. This can be majorly attributed to the massive usage of e-mopeds in the country, owing to their economical nature. Further, these are a convenient transport mode, therefore, commuters are rapidly integrating these in their daily commute.
First- and Last-Mile Model Held Larger Share, Owing To the Surging Demand for Micromobility Services for Short Distances
The first- and last-mile category accounted for larger share in 2020 in the market, on the basis of model. This is attributed to the rising demand for micromobility services for the first- and last-mile traveling. Users of the other prevalent mobility services, like ride hailing, carsharing, and ride sharing, do not use them for shorter distances, as they are a costlier affair for short-distance traveling. Thus, the micromobility services can be used as a perfect and cost-effective alternative for such users.
Market Is Witnessing a Trend of Technological Advancement
Technological progression acts as a key trend in the micromobility market in Malaysia. The micromobility services are based on mobile applications, where providers and users connect with each other for the purpose of booking rides and making related payments. Persistent innovations in technologies have led to the introduction of several platforms that have allowed for simplified access to services. One such innovation is cloud sharing that delivers computing services related to network, software, storage, database, and analytics to the users at a minimal cost. Additionally, internet of things (IoT) helps optimize the process by enabling efficient methods of tracking and monitoring vehicles, handling routes, and analyzing potential problems from a remote location.
Increasing Demand for Micromobility Services for First- and Last-Mile Connectivity Is a Key Market Driver
The rapid growth of the Malaysian micromobility market is mainly attributed to the rapidly increasing demand for micromobility services for first- and last-mile connectivity in the country. These services are often utilized to travel shorter distances, less than 5 km (3.1 miles). Furthermore, these services are typically provided using a dockless or station-less model, which allows customers to drop off the vehicles at any time and location that is convenient for them. Bike sharing, for example, has arisen in urban areas as a low-cost and more convenient form of transportation for short distances. Thus, this has a positive influence on the demand for micromobility services.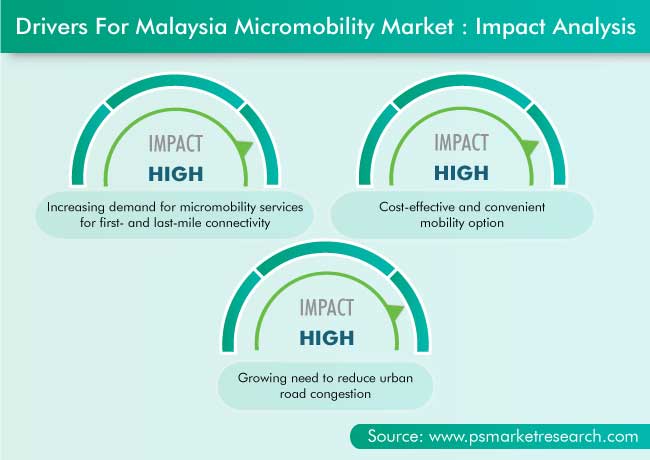 Cost-Effective and Convenient Mobility Option Driving the Demand for Micromobility Services
Owning a private vehicle requires a high investment, which mainly comprises vehicle cost, fuel cost, parking expense, maintenance charge, and insurance cost. In this regard, micromobility service providers allow users to enjoy the facilities of owning a personal vehicle, without having the need to actually own it. The users can make the payments on the basis of their usage only. Besides, additional expenses, such as costs related to fuel, maintenance, insurance, and parking, are taken care by the mobility service providers. Thus, the convenience and cost effectiveness of shared micromobility services act as a driving factor for the growth of the Malaysian micromobility market.
Malaysia Micromobility Market Report Coverage

| | |
| --- | --- |
| Report Attribute | Details |
| Historical Years | 2019-2020 |
| Forecast Years | 2021-2030 |
| Base Year (2020) Market Size | $2.4 Million |
| Market Size Forecast in 2030 | $4,549.8 Million |
| Forecast Period CAGR | 99.9% |
| Report Coverage | Market Trends, Drivers, and Restraints; Revenue Estimation and Forecast; Segmentation Analysis; Country Analysis; Impact of COVID-19; Companies' Strategic Developments; Company Profiling |
| Market Size by Segments | By Vehicle Type; By Model; By Sharing System |
| Secondary Sources and References (Partial List) | Alternative Fuels Data Center (AFDC); Electric Drive Transportation Association (EDTA); Electric Vehicle Association of Asia Pacific (EVAAP); International Energy Agency (IEA); International Kicksled and Scooter Association (IKSA); International Scooter Association (ISA); Light Electric Vehicle Association (LEVA); Mobility as a Service Alliance (MaaS Alliance) |
Explore more about this report - Request free sample pages
Market Players Involved in Expansions to Gain Significant Position
In recent years, the players in the Malaysian micromobility industry have been involved in expansions in order to attain a significant market position. For instance:
In July 2019, Beam Mobility Holdings Pte Ltd., an e-scooter sharing service company, announced that it established its operations in Malaysia (Kuala Lumpur) and other countries, such as Australia (Adelaide, Brisbane, Canberra, Melbourne, Sydney, and Townsville), South Korea (Seoul, Incheon, Gyeonggido, and Daegu), New Zealand (Auckland, Christchurch, and Wellington), and Singapore.
In January 2019, Tryke Transportation Sdn Bhd (Tryke) started its e-scooter sharing service in Cyberjaya, Malaysia, with a fleet of 70 e-scooters. In November 2019, it expanded its services in the city, owing to the robust infrastructure, lower road traffic, strong support from stakeholders and local authority, and presence of a vibrant community of students, young professionals, and tourists.
Key Players in Malaysia Micromobility Market Include:
Anywheel Pte Ltd.
Neuron Mobility Pte Ltd.
Grab Holdings Inc.
Beam Mobility Holdings Pte Ltd.
Falcon Ride WLL
Yadea Technology Group Co. Ltd.
Ecocana Sdn Bhd
Giant Co. Ltd.
Merida & Centurion Germany GmbH
Tryke Transportation Sdn Bhd
Market Size Breakdown by Segments
The Malaysia micromobility market report offers comprehensive market segmentation analysis along with market estimation for the period 2019-2030.
Based on Type
E-scooters
E-bikes
E-mopeds
E-pods
Bikes
Scooters
Based on Model
First- and Last-Mile
Multimodal
Based on Sharing System