Market overview
The magnetoencephalography market size stood at USD 275 million in 2022, and it is expected to advance at a compound annual growth rate of 5.60% during 2022–2030, to reach USD 426 million by 2030. The growth can be primarily ascribed to the rising technological advancements, the surging prevalence of neurological disorders, the increasing focus on the use of non-invasive techniques, and the growing geriatric population.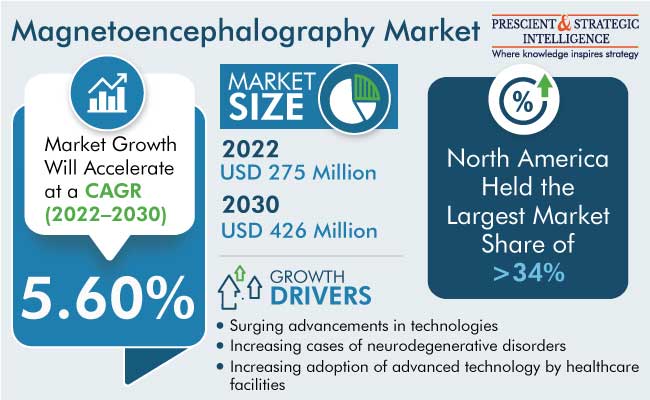 These scanners show their effectiveness in the detection of epilepsy, brain tumors, dementia, pain perception, sclerosis, and many more neurological problems. Also, without distortion, it is possible that neuromagnetic impulses can pass through the skull and scalp. Moreover, advancements in computer hardware and technologies have increased interest in such devices.
It is evaluated that signals are perceived directly from the neuronal electrical activity and are able to show absolute neuronal activity. This test is more sensitive than others in the detection of interictal spikes, majorly in some parts of the human brain including the lateral temporal neocortex and the superficial frontal cortex. Due to its higher sensitivity, the test is widely used.
The increasing work pressure and stress in life are affecting mental health, which, in turn, is boosting the demand for magnetoencephalography. The increasing job pressure, unhealthy lifestyle, and lack of time are the major reasons leading to stressful lifestyles. According to government articles, the global average percentage of stressed people out of 143 countries is 35%, and in the Americas, it is around 55%.
Stress causes a large number of respondents to feel paralyzed, and due to a stressful lifestyle, people are suffering from various issues including insomnia, frequent changes in mood, heart disease, and obesity. Thus, this drives the market for this test, as it aids in the identification of these types of issues, which makes the treatment easy.
SQUIDs Hold a Larger Share in the Industry
Superconducting quantum interference devices (SQUIDs) hold a larger revenue share, owing to their high spatial resolution, the possibility of examining non-conducting materials, and deeper penetration depths. Moreover, these devices do not require considerable magnetic fields, enable greater scanning distances, and identify weak magnetic fields. Thus, these factors are driving the need for SQUIDs.
Whereas, the demand for optically pumped magnetometers (OPMs) is expected to witness faster growth during the forecast period, owing to their enhanced sensitivity, lower operating cost, and not requiring supercooling. Moreover, these devices also have various other advantages such as higher uniformity of coverage, enhanced spatial resolution, participants can move during scanning, minimized system complexity, and lifespan compliance. Also, it can adapt according to the shape of the head because it is stretchable and the flexibility of its cap ensures the positioning of sensors.
In addition, the cap is lightweight and comfortable to wear, which further fuels the demand for OPMs. Furthermore, the proximity of sensors to the scalp surface is increased so that the devices can detect a magnetic signal with higher amplitude, have improved spatial localization, and do not require reliance on cryogenic sensing in order to make their instrumentation simpler, which, in turn, drives the market growth in this category.
Magnetoencephalography Market Report Coverage

| | |
| --- | --- |
| Report Attribute | Details |
| Historical Years | 2017-2022 |
| Forecast Years | 2023-2030 |
| Market Size in 2022 | USD 275 Million |
| Revenue Forecast in 2030 | USD 426 Million |
| Growth Rate | 5.60% CAGR |
| Report Scope | Market Trends, Drivers, and Restraints; Revenue Estimation and Forecast; Segmentation Analysis; Impact of COVID-19; Companies' Strategic Developments; Market Share Analysis of Key Players; Company Profiling |
| Segments Covered | By Type; By Application; By End User; By Region |
Explore more about this report - Request free sample pages
Clinical Application Dominates the Industry
Based on application, the clinical category accounted for a larger revenue share, of around 58%, in 2022. This is ascribed to the rising prevalence of brain problems, such as dementia and epilepsy; and magnetoencephalography provides precise results with an extremely high temporal and spatial resolution, which is required to be superior in clinical settings. Among clinical categories, epilepsy application holds the largest share, due to accurate results and easy identification of locations of seizures of magnetoencephalography. Moreover, it enhances the surgical outcomes of patients suffering from epilepsy and enables the real-time study of the brain.
Furthermore, with the availability of magnetoencephalography, it became feasible to examine the anatomy and functions of the growing brain, which is boosting its demand in research applications. It is also used in understanding the mechanism of neuropsychic disorders and differentiating them from healthy individuals.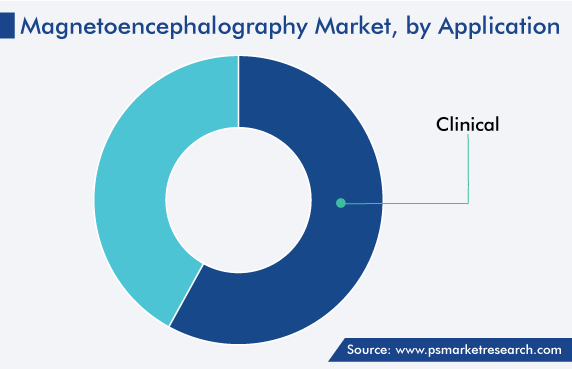 Hospitals Generate the Highest Revenue
The hospitals category holds the largest revenue share, owing to the rising adoption of technologically advanced sensors in hospitals, the presence of a large number of patients, and the increasing number of procedures performed in these healthcare facilities. Additionally, the existence of a large number of hospitals, well-established infrastructure, and the rise in the adoption of non-invasive procedures are boosting the requirement for magnetoencephalography in hospitals.
In addition, the imaging centers category is expected to show significant growth in the coming years. This can be attributed to the lower wait times and low scan costs in imaging centers, the growing reimbursement structure, and the involvement of diagnostic accreditation boards.
North America Is Leading the Market
North America has the leading position in the magnetoencephalography market, and it will hold the same position in the coming years, with a value of USD 149 million in 2030. This is attributed to the high adoption of new and advanced technologies and high disposable income in the region. In addition, the next-generation sequencing technology offers quicker and more accurate results, due to which it is used widely in the U.S. and Canada.
According to government websites, there are more than 1,000 neurodegenerative and neurological disorders exist, which are affecting the lives of approximately 100 million Americans. The Americans are spending almost 800 billion every year on their treatment. Thus, the current existence of various problems related to the brain and high spending on such issues are contributing to revenue generation in the regional market.
Moreover, it is predicted that the regional governments have initiated focusing on the reimbursement policy for magnetoencephalography, which leads individuals to adopt such testing methods widely. In addition, because of new technological advancements, doctors and consumers are shifting from invasive methods to non-invasive testing methods.
In North America, the U.S. market holds the leading position, and it will grow with a CAGR of 5.7% during the forecast period. This is attributed to the robust healthcare infrastructure, the existence of a large number of key players, an increase in the number of product launches, high spending on healthcare projects, and high investments in R&D activities in the field of mental health, in the country. For instance, in June 2021, Field Line Inc. launched a novel next-generation device, HEDscan, for non-invasive functional brain imaging. The device is available to researchers who are interested in 3D imaging of brain activity.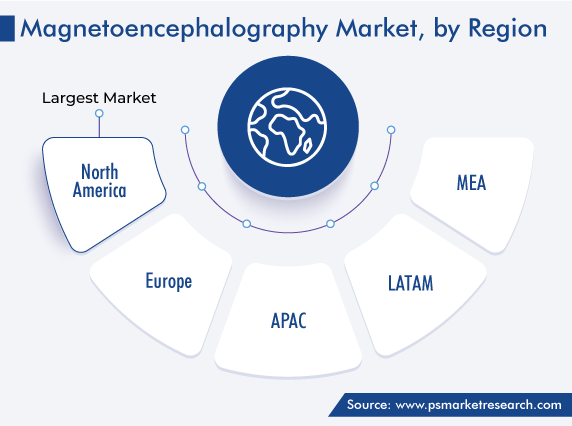 Rising Prevalence of Neurological Disorders Boosts the Demand
The prevalence of neurological disorders, such as epilepsy, dementia, and multiple sclerosis, is increasing. Among these, dementia is most common followed by epilepsy. For instance, according to government websites, in 2022, more than 55 million people were living with dementia across the world. As the number of older people is increasing across the globe, this is projected to increase to 78 million by 2030 and 139 million by 2050. Alzheimer's disease is the most common form of dementia and may contribute to 60–70% of cases. Also, there is a rapid increase in the number of people living with Alzheimer's disease and only around one in four people get diagnosed.
Moreover, it is estimated that around one in four U.S. adults suffers from a diagnosable mental health disease. Many individuals, at a given time, suffer from more than one mental issue. In particular, depressive sicknesses are inclined to co-occur with anxiety issues and substance abuse. Approximately 1% of people are affected by schizophrenia in the Americas. In most cases, in women, schizophrenia often first appears during their 20s or early 30s, and it first appears in men during their late teens or early 20s. Thus, the increasing prevalence of mental health disorders drives the demand for magnetoencephalography.
Key Players in the Magnetoencephalography Market Are:
Compumedics Limited
MEGIN
Croton Healthcare
FieldLine Inc.
Ricoh USA Inc.
CTF MEG NEURO INNOVATIONS INC.
Cerca Magnetics Limited
Market Size Breakdown by Segment
This fully customizable report gives a detailed analysis of the magnetoencephalography market from 2017 to 2030, based on all the relevant segments and geographies.
Based on Type
Optically Pumped Magnetometers (OPM)
Superconducting Quantum Interference Devices (SQUIDs)
Based on Application
Clinical

Dementia
Autism
Schizophrenia
Multiple Sclerosis
Stroke
Epilepsy

Research
Based on End User
Hospitals
Imaging Centers
Academic and Research Institutes
Geographical Analysis
North America
Europe

Germany
U.K.
France
Italy
Spain

Asia-Pacific

Japan
China
India
South Korea
Australia

Latin America
Middle East and Africa

Saudi Arabia
South Africa
U.A.E.