Market Overview
The MRI-compatible patient monitoring system market is estimated to generate USD 3,929.6 million in 2023 and, further, grow at a CAGR of 4.9% during 2024–2030 and reach USD 5,418.5 million by 2030. This can be ascribed to the increasing incidence of chronic and lifestyle-associated diseases (such as cancer and heart problems), rising expenditure on R&D & technological advancements, booming elderly population, and surging awareness of MRI-compatible patient monitoring techniques.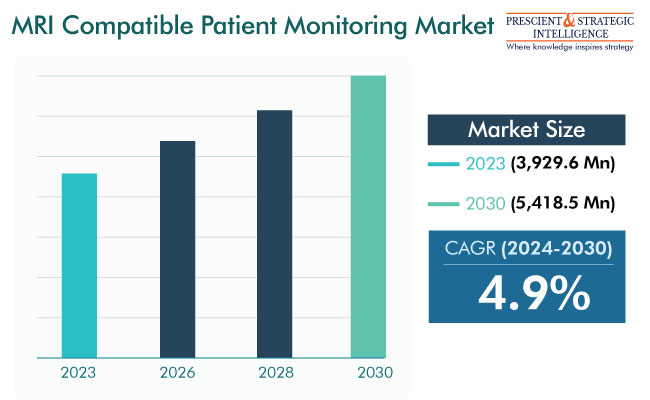 The MRI is one of the most high-tech procedures for creating detailed images of the internal anatomy. This technology has proved to be a game-changer in the diagnosis of fatal diseases, especially cardiovascular diseases and cancer. As per the WHO, in 2019, almost 18 million and 10 million deaths were caused by cardiovascular diseases and cancer, respectively.
However, MRI uses strong magnetic fields, which interfere with the workings of conventional patient monitoring equipment, such as EEG, ECG, EMG, multiparameter monitors, fetal monitors, capnographs, and pulse oximeters. MRI-compatible patient monitoring systems help in tracking the patient's body parameters even while they are inside the MRI scanner, thus enabling early detection, accurate treatment, and quality care.
Portable MRI Devices Are Trending Worldwide
According to a study led by Yale and Harvard researchers, portable MRI devices are trending as they make medical imaging accessible even in remote settings. In a trial, they detected ischemic strokes, or strokes caused by clotting, in 90% of the patients screened.
Previous research had demonstrated that portable MRI scanners can effectively distinguish between strokes brought on by brain clots and those brought on by brain hemorrhage. According to the authors, the capacity of portable MRI scanners to distinguish between the two types of strokes will aid clinicians in making hasty, life-saving decisions for patients who lack easy access to large hospitals with the pricey stationary MRI machines.
Rising Cases of Multiple Sclerosis Driving Demand for MRIs
Multiple sclerosis, an incurable disease, damages the nerve fibers, hence affecting the central nervous system and leading to brain and spinal cord damage. Its key symptoms are vertigo, lack of coordination, inability to walk, slurred speech, and cognitive issues. As per NCBI reports, MS cases have increased significantly since 2013, and till 2020, there were 2.8 million people worldwide living with MS, with twice as many women as men.
MRI plays a vital role in the assessment of MS. Beyond diagnosis, it helps in predicting long-term disability via the regular monitoring of the disease and measuring progression. Changes in the pharmacological approach to preventing progression require advanced images to monitor the disease activity, which will also drive the focus on monitoring techniques that are compatible with this modality.
MRI Compatible Patient Monitoring System Market Report Coverage

| | |
| --- | --- |
| Report Attribute | Details |
| Market Size in 2023 | USD 3,929.6 Million |
| Revenue Forecast in 2030 | USD 5,418.5 Million |
| Growth Rate | 4.9% CAGR |
| Historical Years | 2017-2023 |
| Forecast Years | 2024-2030 |
| Report Scope | Market Trends, Drivers, and Restraints; Revenue Estimation and Forecast; Segmentation Analysis; Impact of COVID-19; Companies' Strategic Developments; Market Share Analysis of Key Players; Company Profiling |
Explore more about this report - Request free sample pages
Advancements in MRI Techniques
The quality of the images created by the MRI depends on the magnetic field strength. To obtain a standard quality, it should be 1.5 T, and for better images, >1.5 T. Siemens and Ohio State University have developed the 0.55-T MAGNETOM MRI technology, which offers clearer images even with a weak magnetic field.
It has a wider opening, which makes it comfortable for claustrophobic patients. It also enables the screening of patients with implants. Moreover, the conventional MRI technology finds lung imaging difficult due to the regular flow of air, but MAGNETOM makes it possible.
Additionally, gradient echo imaging is multiple times more efficient than normal MRI, as it produces 3D images. Similarly, magnetic resonance angiography (MRA) helps in the imaging of arteries and veins. It is recommended if a blockage, weakness, or narrowing in blood vessels is suspected. Moreover, technologically advanced patient monitoring systems can function under highly magnetic environments, to support quality bedside monitoring of patients. They are also equipped with additional safety features.
Further, the integration of artificial intelligence and machine learning algorithms is one of the main developments in the MRI field. Medical image analysis algorithms can be trained to recognize patterns and features in images that human radiologists might find challenging to spot. This can lead to better patient outcomes, by assisting in the early diagnosis of diseases, while allowing for continuous monitoring.
Hospitals Are Leading End User Category
Based on end user, the hospitals category holds the largest share in the market. This is because hospitals have the highest number of MRI machines as they treat several patients with heart, brain, spinal cord, neck, and other diseases. They are the first choice of people as they offer comprehensive medical care from a highly educated and experienced staff.
North America Has Been Largest Market
North America is the largest market for MRI-compatible patient monitoring systems because of the large aged population and the rising cases of chronic diseases. As per reports, in the U.S., more than 2.8 million people suffer from a traumatic brain injury each year. MRIs are being used instead of CT scans for better neurological findings and accurate detection of TBIs, which also necessitate uninterrupted monitoring of the patient.
Further, the per capita healthcare spending in the U.S. is around USD 12,555, and it also has the second-highest number of MRI machines per 1 million population. Further, the strong R&D focus on developing minimal-invasion MRI systems, AI-enabled systems, and advanced software would drive the market. Additionally, the country has many hospitals that rank at the top for the treatment of serious diseases, including cancer and CVDs. They have been using MRI machines for diagnostic and interventional purposes and continuously upgrading them.
APAC is the fastest-growing market for MRI-compatible patient monitoring systems as Japan has the world's highest number of MRI machines per 1 million population. South Korea too ranks in the top five in this regard. In addition, the healthcare sector is expanding exponentially in India, driven by government efforts and private funding; thus, cancer treatments have significantly improved in recent years. Additionally, Asia has a large population suffering from cardiovascular diseases due to unhealthy food consumption and obesity.
Europe is another significant contributor to the market on account of its established healthcare sector and quick adoption of next-generation technologies. Further, as per reports, in 2020, many regional countries saw an MRI scan rate of beyond 8,000 per 100,000 inhabitants. In Germany, it was more than 15,000 per 100,000 inhabitants, because a large number of people are suffering from CVDs.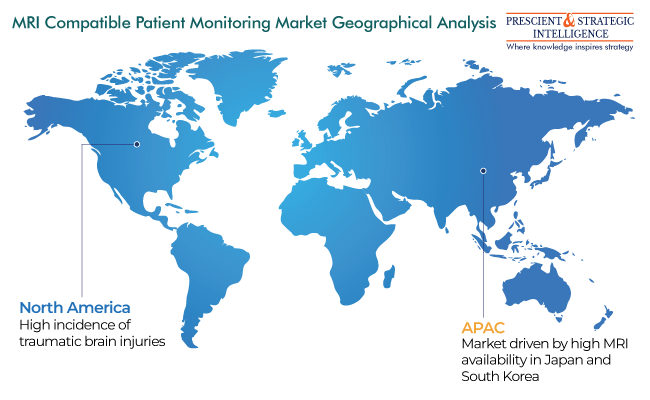 Moreover, people are now more aware of them as they have caused the highest number of deaths in Europe in recent years. Thus, since the count of people with CVDs, cancer, and other chronic diseases is rising, the demand for patient monitoring systems compatible with MRI will keep growing. The market is also driven by the continuous improvements in the healthcare sector.
Key Players Offering MRI-Compatible Patient Monitoring Solutions
Arcomed AG
LiDCO Group
Seimens
Schwarzer Cardiotek
GE Healthcare
Deltex Medical Group PLC
Philips Medical Systems
GE Healthcare
B. Braun Holding
Baxter
Getinge
Draeger Medical Inc.
Tensys Medical Inc.