Market Overview
The global magnetic beads market valued $2,835.1 million in 2021, and it will witness a CAGR of 12.2% during 2021–2030, to reach $8,012.0 million by 2030. In the European market, France contributed the highest revenue in 2021. This was due to the growing usage of magnetic beads in in-vitro diagnostics, wherein lies a need for cell separation, removal of tumor cells, and genetic analysis of specific nuclei acid sequences (DNA or RNA).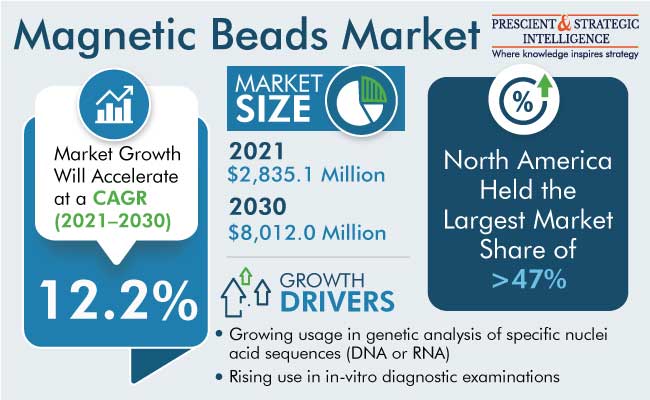 In-Vitro Diagnostics Will Gain Momentum in Coming Years
In-vitro diagnostics holds the largest share, and this category will advance with a CAGR of 12.6% during the forecast period. This will majorly be due to the rising volume of in-vitro diagnostic examinations to detect diseases and monitor patients' responses to drugs.
This approach is also used in precision medicine to identify patients who will be benefitted by the specific treatments or therapies. A key in-vitro diagnostic technique that utilizes these beads is next-generation sequencing, which is used to study a person's DNA to detect genomic variations.
A wide variety of in-vitro diagnostic tests offer useful medical data to improve healthcare delivery. These diagnostic tools are utilized throughout the spectrum of medical care, including risk assessment, illness diagnosis and prognosis, and tracking the effect of therapy.
Many businesses establish themselves in the market by providing a broad selection of products with a variety of technical features. In the healthcare industry, to meet client expectations from bioresearch, in-vitro diagnostics, and medication delivery systems, businesses are constantly working to optimize their production technologies.
Biomedical research will be the second-fastest-growing category, with a CAGR of 12%, during the forecast period. Due to their dependability, simplicity of usage, and low processing requirements, magnetic beads are being widely used in molecular biology applications. Magnetic beads are useful for extracting RNA from cells, to analyze cell functions and detect diseases, including cancer. It is also used in tissue engineering, for the creation of blood vessels, cartilage, bones, heart muscles, nerves, and other body parts.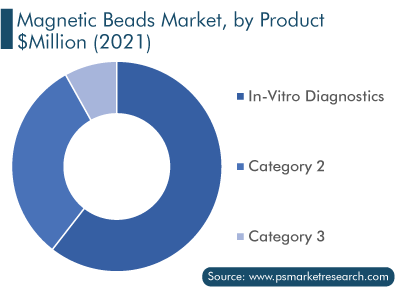 Asia-Pacific Is Expected To Witness Fastest Growth
Asia-Pacific is set to witness the fastest growth, with a 12.5% CAGR, during the forecast period, due to the surging prevalence of chronic diseases in the region, which is propelling the adoption of cutting-edge diagnostic and therapeutic technologies. Moreover, due to the region's booming healthcare industry, the demand for magnetic beads is predicted to grow significantly in the next few years.
Given that Asia-Pacific accounts for more than half the world's population, it has a huge burden of chronic diseases, such as diabetes and cancer, which need to treated or managed timely. The usage of magnetic beads in RNA extraction helps in the detection of tumors. In addition, isolating RNA is a fundamental procedure for cloning, stem cell research, and the investigation of evolutionary processes.
Magnetic beads are also used in a wide variety of biomedical applications, including drug targeting, nucleic acid purification, cell isolation, and detection. Additionally, the use of solid-phase magnetic beads for the separation and identification of biomolecules is a current industry trend that supports the market's expansion in the Asia-pacific region.
When it comes to healthcare, Japan, Australia, and New Zealand rank at the top, with health spending accounting for sizeable portions of their GDPs. Because people are living longer, there is an increasing need for better healthcare. This is a key driver for the market across the region since effective and quick diagnosis and understanding of genomic variations among different ethnicities are now key focus areas for public health agencies.
In the coming years, the need for advanced diagnostic technologies is expected to increase due to the regional countries' aging population and rising prevalence of chronic diseases. For instance, in China, four million people are given a cancer diagnosis each year, which fuels the demand for in-vitro diagnostic technologies in an effort to increase the precision of cancer detection and the efficacy of the treatment.
North America is the largest magnetic beads market, with a of more than 47% share. The demand for these agents is rising due to the research initiatives by multinational players for effective chronic disease detection and treatment. Moreover, the U.S. is the larger user of these products in North America because of their growing application in drug delivery, magnetic resonance imaging, tumor targeting, and many other critical clinical applications.
Additionally, due to the rising medical industry spending, Canada's market growth is set to pick up speed in the future. As per data, health expenditure accounted for 12.7% of Canada's GDP in 2021. The medical sector's expansion and demand for magnetic beads will be fueled by the rising pace of technical innovations, aided by the government policies for R&D and surging health spending.
Europe is the second-largest shareholder in the market due to the high R&D investments by the European Union for the development of nanomaterials. Magnetic nanoparticles are extensively used in the separation and purification of cells and other biomolecules. This involves magnetic separation using antibodies conjugated with beads, to provide highly accurate antibodies that can specifically bind to the matching antigens on the surface of the targeted sites.
By using blood and tissue samples to identify diseases and analyze the results for subsequent treatment, bioresearch and in-vitro diagnostics are playing a significant part in enhancing people's health. The usage of magnetic beads speeds up report processing and allows for the rapid analysis of more blood samples.
Opportunities in the Market
With regard to clinical facilities, cutting-edge testing methodologies for better and faster results, digitization, and various IT implementations, including computer-controlled analytical systems, the enormous investments are set to fuel the evolution of in-vitro diagnostics applications. Additionally, major life sciences businesses, such as Miltenyi Biotec and Merck KGaA, are promoting the usage of magnetic beads in bioresearch and in-vitro diagnostics as a key catalyst, for the analysis of samples.
In the coming years, it is also projected that favorable government norms and policies will accelerate the market expansion. For instance, the Federal Food, Drug, and Cosmetic Act Section 201(h) and the Public Health Service Act Section 351 both classify in-vitro devices as biological products. Due to this, they can be used to perform tests on human blood and tissue, to help in monitoring overall health and curing and preventing diseases.
The global disease burden has increased as a result of the rising incidence of chronic and infectious diseases, such as influenza, Zika, and HIV, and the development of new coronaviruses. The testing of blood samples for the aforementioned disorders has led to breakthroughs and a massive growth in the adoption of the IVD technology. Additionally, new methods for cell separation and isolation utilizing magnetic beads are being developed to make transplantation easier and treat diseases.
Magnetic Beads Market Report Coverage

| | |
| --- | --- |
| Report Attribute | Details |
| Historical Years | 2017-2021 |
| Forecast Years | 2022-2030 |
| Market Size in 2021 | $2,835.1 Million |
| Revenue Forecast in 2030 | $8,012 Million |
| Growth Rate | 12.2% CAGR |
| Report Scope | Market Trends, Drivers, and Restraints; Revenue Estimation and Forecast; Segmentation Analysis; Impact of COVID-19; Companies' Strategic Developments; Market Share Analysis of Key Players; Company Profiling |
| Segments Covered | By Application; By Region |
Explore more about this report - Request free sample pages
Key Players in Magnetic Beads Market Are:
Bangs Laboratories Inc.
Spherotech Inc.
GenScript
MagQu Co. Ltd.
Rockland Immunochemicals Inc.
Eurofins Technologies
New England Biolabs
Miltenyi Biotec
Market Size Breakdown by Segment
The study offers a comprehensive market segmentation analysis along with market estimation for the period 2017-2030.
Based on pplication
Bioresearch
In-Vitro Diagnostics
Geographical Analysis
North America
Europe

Germany
France
U.K.
Spain
Italy

Asia-Pacific

China
Japan
India
Australia
South Korea

Latin America
Middle East and Africa

South Africa
Saudi Arabia