Market Overview
The machine translation market size stood at $169.11 million in 2021, and it is expected to advance at a compound annual growth rate of 7.1% during 2021–2030, to reach $319.44 million by 2030.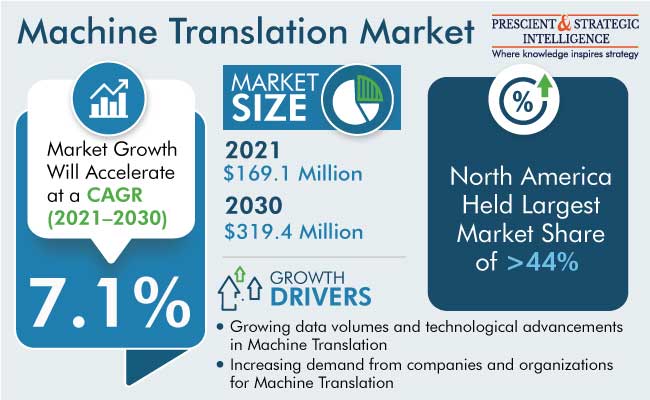 North America Leads in Market Revenue Generation
North America held the largest revenue share, of more than 44%, in 2021. This was because the military & homeland security authorities in the region are increasingly choosing this technology for interpretation and translation, usually in combination with post-editing techniques. Machine translation equipment makes it easier for soldiers to decode the conversations of terrorists who speak a different language, as well as allowing the militaries of different countries to communicate during joint operations and exercises. Hence, armies are being provided with machine foreign language translation systems (MFLTS) to understand text and speech originating in different languages. MFLTS provides real-time text-to-text translation, which gives soldiers a better understanding of their targets and each other.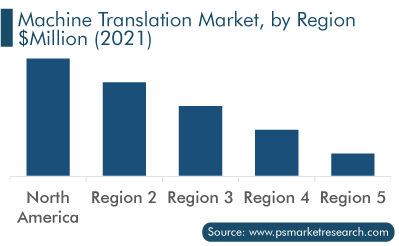 Asia-Pacific Region To Grow Fattest over Next Few years
APAC is expected to register the highest CAGR, of more than 7.5%, over the next few years. The growth can be primarily ascribed to the expansion of overseas businesses, a lucrative customer base, growing number of high-net-worth individuals (HNWIs), rising income levels, the existence of several languages, and the rising focus of SMEs and large enterprises to improve their digital initiatives.
Usage of Neural Technology Is Driving Market Growth
The neural category is expected to witness the highest CAGR during the forecast period. This will be due to the growing data volumes, technological advancements, and increasing demand from companies and organizations for this technology. Moreover, in April 2022, AppTek LLC unveiled its NMT system, which uses metadata as the input to customize the MT output. It helps localization professionals with more-reliable user-influenced machine translations.
Increasing Adoption of Cloud-Based Solutions
Cloud-based solution demand is expected to significantly grow around the world in the immediate future. This is ascribed to the burgeoning usage of the machine translation technology in small and medium-sized enterprises (SMEs) and large enterprises. Various enterprises are migrating their data to cloud-based systems for more-effective communication, ease of access, cost-efficiency, scalability, and data control.
Some of the key approaches being used by both academic and commercial domains to deliver software are software as a service (SaaS), platform as a service (PaaS), and on-demand computing. The integration of cloud computing with MT technology is a major trend as cloud-based MT solutions have the capacity to reduce operational costs. Such solutions also improve responsiveness and unification, thus contributing to the seamless use of machine translation tools and techniques. Therefore, a significant number of organizations, especially in developed regions, are shifting their legacy translation apps to the cloud.
Machine Translation Market Report Coverage

| | |
| --- | --- |
| Report Attribute | Details |
| Historical Years | 2017-2021 |
| Forecast Years | 2022-2030 |
| Market Size in 2021 | $169.11 Million |
| Revenue Forecast in 2030 | $319.44 Million |
| Growth Rate | 7.1% CAGR |
| Report Scope | Market Trends, Drivers, and Restraints; Revenue Estimation and Forecast; Segmentation Analysis; Impact of COVID-19; Companies' Strategic Developments; Market Share Analysis of Key Players; Company Profiling |
| Segments Covered | By Technology; By Deployment Type; By Application; By Region |
Explore more about this report - Request free sample pages
Rising Demand for Enhancements in Customer Experience
Solution adoption is expected to rise due to the increasing focus on enhancing the customer experience, with major companies across all sectors emphasizing this aspect of business.
For instance, in October 2022, Facebook's parent company, Meta, has unveiled its speech-to-speech translation system, which is powered by artificial intelligence (AI), for Hokkien, a major language in Taiwan.
Similarly, in May 2022, Google added 24 new languages to Translate, which can translate every word, phrase, and entire website into 133 different tongues. The newly added languages include Assamese, Guarani, Sepedi, and Oromo.
Military & Defense Agencies Generate Highest MT Solution Demand
Among the various applications, military & defense generated the highest demand, holding a market share of more than 10%, in 2021. As thousands of languages are spoken around the world, military & defense forces require the rapid translation of high-volume content, to communicate with multilingual populations in the real time. Communication is critical for most professions, but it could be the difference between life and death for defense & military personnel. This is because language acts as a major barrier for military operations and defense research agencies.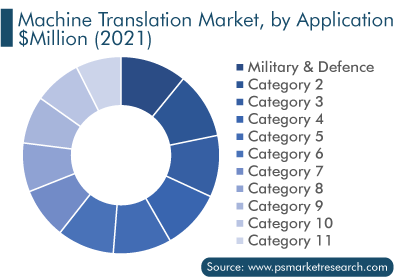 Revenue Contribution from E-Commerce Applications Rapidly Growing
The e-commerce sector is expected to witness the fastest growth during the forecast period. The COVID-19 pandemic resulted in the closure of retail stores, which forced consumers to rely on online shopping sites to buy groceries, electronics, apparel, and others items.
E-commerce platforms widely use MT tools to expand their presence in the international market. This technique helps customers translate the online shopping page into their desired language. Furthermore, since the lockdowns, the usage of OTT and other online entertainment platforms has significantly increased, which has been encouraging content providers to concentrate on translation services, in order to expand their client reach.
Growing Number of International Travelers
The travel and hospitality industry is rapidly adopting machine translation services for managing the vast amount of web content, trip brochures, room specifications, and customer support documents generated every second. The majority of the people have been known to make a purchase or booking if the information is available in their local language. Here, machine translation services enable travel companies to unlock new markets and cater to customers on a global scale. Airlines, car rental companies, hotel chains, and even government tourism portals are, thus, using this software to expand their business horizons globally.
Growing Demand for Content Localization
The industry is also witnessing expansion as a result of the rising demand for content localization. Companies are finding more reasons to localize their products, applications, and websites every day. As enterprises worldwide recognize their attractiveness for the global market, they are looking forward to venturing outside their local markets. Localization aids establishments in communicating with the target market in its tongue and integrating industry-specific aspects with a particular culture, in order to develop a local appeal. A localization strategy is significant not only to create demand for a company's product in the target country, but also to ascertain all the benefits and risks before making any decision.
In addition, it enables organizations in developing effective marketing campaigns, as even the best marketing campaigns could become useless without good localization. Some organizations are not able to reach their full potential simply due to the lack of localization, as their target audience does not understand what they want to convey.
Moreover, the major roadblocks in the implementation of localization strategies include the cost, speed, and quality of the localization projects. Machine translation helps reduce the cost associated with converting content from one language to another and, ultimately, the time to market. These solutions are best relegated to huge volumes of content that does not require exact translations, such as user-generated content and webchats. Though, due to the inconsistent quality of MT, many establishments are using it as a first-line tool, followed by human post-editing, to maintain accuracy, while keeping expenses relatively low.
Rising Demand for Post-Editing Machine Translation (PEMT)
The soaring demand for PEMT services has been observed as one of the major opportunities for software vendors. With the recent developments in technology, several approaches, such as SMT, RBMT, EBMT, and HMT, have been invented in order to create machine translation engines. The quality of the output of traditional techniques has been considered poor, where the definition of 'poor' varies based on the intended use of the output. Poor output acts as a restraint in the acceptance of MT to a certain extent, while PEMT strategies help overcome this restraint and improve the output.
PEMT strategies involve three major processes: the identification and categorization of the output errors, application of post-editing techniques to the output, and analysis of the resulting effect on the accuracy of machine translation, to raise the user acceptance level. PEMT includes machine post-edits and human post-edits. Moreover, only certain projects require full, high-quality standard human translation, which is quite expensive. PEMT is considered a cost-efficient alternative to human post-edits, as the former improves the MT output at half the cost of a standard human translation. Thus, PEMT increases the acceptance of MT and supports the growth of the global machine translation market.
Key Players in Machine Translation Market Are:
AppTek Partners LLC
Google LLC
Cloudwords Inc.
Lionbridge Technologies Inc.
Omniscien Technologies Inc.
Lingotek Inc.
RWS Holdings PLC
IBM Corporation
Microsoft Corporation
SDL PLC
Smart Communications Inc.
Systran International Co. Ltd.
PROMT Ltd.
Market Size Breakdown by Segment
The report analyzes the impact of the major driers and restraints on the market, to offer accurate market estimations for 2017-2030.
Based on Technology
Statistical Machine Translation (SMT)
Rule-based Machine Translation (RMT)
Neural Machine Translation (NMT)
Based on Deployment Type
Based on Application
Automotive
Military and Defense
Healthcare
IT
E-Commerce
Travel and hospitality
Geographical Analysis
North America
Europe

Germany
France
U.K.
Italy
Spain

Asia-Pacific

China
India
Japan
South Korea
Australia

Latin America
Middle East and Africa

Saudi Arabia
South Africa