Machine Translation Market Overview
The machine translation market was valued at $122.3 million in 2016, and it is forecasted to witness a CAGR of 6.7% during the period 2017–2023. North America is expected to lead the machine translation market, witnessing a CAGR of 6.0% during the forecast period. Military and defense authorities in North America are increasingly incorporating machine translation tools for interpretation and translation services, usually followed by post-editing techniques, because of the increasing volume of data and scarcity of human translators. During the forecast period, the revenue share of the region is likely to fall, with a simultaneous increase in the revenue share of other regions.
GLOBAL MACHINE TRANSLATION MARKET, BY TECHNOLOGY, '000$ (2013 – 2023)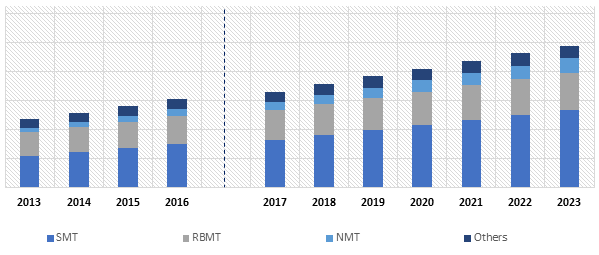 Asia-Pacific (APAC) is likely to emerge as the fastest growing machine translation market, registering a CAGR of 7.5% during the forecast period. The growth of this market in the APAC region can mainly be attributed to the rapid growth of overseas businesses, lucrative customer base, growing number of high-net-worth individuals (HNWIs), rising income levels, and prevalence of several languages.
MT finds its application in military & defense, healthcare & life sciences, automotive, travel & hospitality, legal & law firms, banking & finance, electronics, IT & telecom services, retail & manufacturing, media & entertainment, and other industries. The top four applications—military & defense, healthcare & life sciences, automotive, and travel & hospitality—contributed nearly 40% to the machine translation market in 2016.
In 2016, military & defense generated the highest demand, with a market share of 10.1%, closely followed by healthcare & life sciences in the machine translation market. As thousands of languages are spoken across the world, the military & defense segment necessitates rapid translation of high-volume content to communicate with multilingual populations on a real-time basis.
On the basis of deployment type, the machine translation market can be categorized into cloud and on-premises. On-premises deployment contributed larger revenue as compared to cloud deployment to the machine translation market in 2016. However, SaaS deployment of MT, which is based on cloud architecture, has started gaining traction in the market in recent years. This has created a great opportunity for the adoption of MT among enterprises looking for managed cloud-based services. While SaaS deployment embodies a small portion of the machine translation market at present, the market is projected to swiftly shift toward cloud-based services over the next few years.
Machine Translation Market Dynamics
Drivers
Some of the key factors driving the growth of the machine translation market are emerging demand for content localization, growing volumes of big data, and growing need for cost-effective and high-speed translation.
It has been observed that the volume of data has been increasing across various industries. The switch from analog to digital technologies and increase in the number of mobile devices and applications are some of the major factors contributing significantly to the volume of data generated and consumed globally. Big data is generating the demand for cost-efficient, high-speed translation. According to a research, human translators across the globe can address less than one-millionth part of the content generated every day. Since MT can cope with high volumes of data, perform at a high speed, and reduce the cost associated with translation, many language service providers (LSPs) are increasingly incorporating MT tools with human translation to provide better customer experience.
Also, with the growing demand, the machine translation industry has been incorporating developments such as custom machine translation (CMT). The digital universe is expected to reach zettabytes of data by 2020, further necessitating MT in the years to come. At present, about 36% of the global data comes from emerging markets, which is projected to increase and reach 62% by 2020, marking the importance of MT tools in emerging countries.
Trends
Some of the major trends observed in the machine translation industry are technological advancements, combination of TM and MT systems leading to fully integrated workflows, and migration of MT to cloud services. Translation Memory (TM) refers to the database that accumulates translated paragraphs and sentences. TM tools have proved beneficial for accelerating translation projects and reducing costs. Many organizations operating in the machine translation market, such as TransPerfect and SDL Plc., have started optimizing MT and TMs to offer high quality translations. User-generated content (UGC), such as community content, web forums, blogs, customer reviews, and wiki pages, are considered powerful tools for improving multilingual customer experience. Historically, it was difficult to translate UGC with the help of MT because of the dynamic nature of such content. However, customized MT can be seen gaining momentum to improve the user experience and develop multilingual engagement across these content types.
Opportunities
The soaring demand for post-editing machine translation services can be viewed as a great opportunity in the machine translation market. With recent developments in machine translation, technologies such as SMT, RBMT, EBMT, and HMT have been developed in order to create machine translation engines. The quality of MT output from traditional techniques has been considered poor, where the meaning of 'poor' varies based on the intended use of the MT output. Poor output quality of machine translation acts as a restraint to its acceptance to a certain extent. PEMT technique helps to overcome this restraint and improve the quality of machine translation. This technique is expected to become one of the important machine translation tools in the years to come.
Machine Translation Market Competitive Landscape
Large companies in the machine translation market offer free translation tools, whereas small companies usually have paid translation tools in their offering. Key players in the machine translation market are International Business Machines Corporation (IBM), Lionbridge Technologies Inc., SDL Plc., Google Inc., SYSTRAN, TransPerfect Translations International Inc., PROMT Ltd, Microsoft Corporation, Honyaku Center Inc., and Venga Global.
Scope for Customization
P&S Intelligence offers customization as per specific business requirements of clients. Illustrative customization within the scope of this report includes the following:
Period of Analysis - Increase in the study period, including historic and forecast years
Segment Analysis - More granular coverage related to the following:

Technology - "Others" can further be broken down into different categories.
Application - "Others" can further be broken down into different categories.

Company Profiles - Wider company coverage in terms of detailed analysis or additional company profiles
New custom report - A complete customized report can be provided on the market, specific to a region, a country, or a segment.