Machine Condition Monitoring Equipment Market Overview
The machine condition monitoring equipment market was valued at $2.2 billion in 2017 and is forecasted to witness a CAGR of 6.8% during 2018–2023. Machine condition monitoring is majorly driven by rising demand for smart factories and growth in HVAC industry. Besides this, the market is propelled by the use of wireless technology in machine condition monitoring.
NORTH AMERICA MACHINE CONDITION MONITORING EQUIPMENT MARKET, BY MONITORING SYSTEM, $M (2013-2023)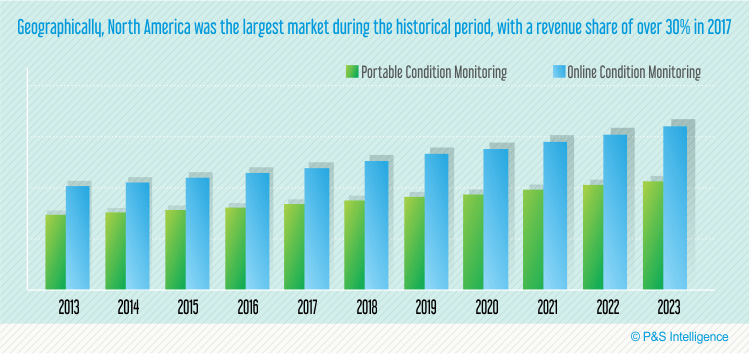 Based on monitoring type, the market has been segmented into vibration monitoring, ultrasound emission, thermography, lubricating oil analysis, corrosion monitoring and motor current signature analysis, of which, motor current signature analysis category is expected to provide lucrative opportunities during the forecast period, as it is proving to be an increasingly valuable predictive maintenance tool. Mechanical faults related to belts, couplers, and alignment are easily detected through this, thereby increasing its acceptance rapidly across industries.
On the basis of monitoring system, the machine condition monitoring equipment market has been segmented into portable monitoring system and fixed monitoring system. Fixed condition monitoring systems are expected to record higher growth rate during the forecast period, owing to more detailed monitoring and analysis provided by it as compared to portable systems.
On the basis of end user, the machine condition monitoring equipment market is categorized into aerospace and defense, automotive, chemicals, marine, metals and mining, oil and gas, energy and power and others, wherein 'others' include cement, paper & pulp, and semiconductor & electronics. Of these, automotive generated the highest revenue in 2017. The worldwide passenger car production rose from 47.7 million in 2009 to 65.4 million in 2013 and further to 73.4 million by the end of 2017.
APAC MACHINE CONDITION MONITORING EQUIPMENT MARKET, BY-END USER, $M (2013-2023)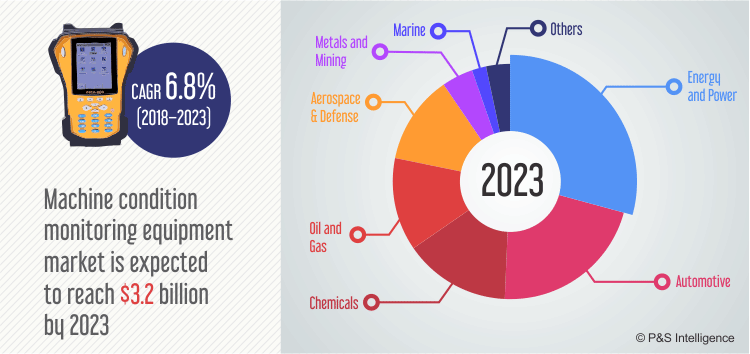 The automotive industry, being one of the world's most competitive industries, is under continuous pressure to improve performance in a competitive and cost-sensitive environment. Preventing machine downtime in production lines is a top priority for the automotive industry. Machine condition monitoring in automotive is increasingly being used to predict when the machine needs attention and repair before the damage occurs.
Geographically, North America was the largest market during the historical period, with a revenue share of over 30% in 2017, globally. The rapid growth in the energy sector as well as technological advancements in manufacturing sector in the region spurred the demand for machine condition monitoring. Also, the rising need for effective scheduling of machine maintenance as well as speculation of equipment failure across major industries, namely manufacturing, oil & gas and construction, are the major factors behind North America's largest market share.
Machine Condition Monitoring Equipment Market Dynamics
Trends
The increasing advancements in efficiency and accuracy of machine condition monitoring equipment is resulting in growing demand for this equipment in several industries, as it maximizes machine productivity. Through effective vibration condition monitoring, it is possible to virtually eliminate plant downtime owing to unexpected machine failure. Vibration condition monitoring facilitates planning of repairs during non-peak production hours. As an outcome of machine maintenance planning, the actual repair/maintenance work is more cost effective than the traditional way. Often, the overall effect of improved maintenance improves product quality. For instance, in paper industry, vibration has a direct effect on the quality of the paper product.
Driver
Now-a-days smart factories hold huge potential for innovation. Some of the biggest challenges that the firms face today are resource & energy inefficiency, high labor cost, increasing capital, operational cost and demographic change. For chemical factories, regulatory bodies are imposing stringent regulations to minimize chemical contamination and ensure safety of workers, with legislations such as OHSAS 18001 and OHSAS 29 CFR 1910.107 imposing heavy penalties for violating the prescribed norms. Hence, more companies are implementing plant automation solutions to ensure regular monitoring of plant operations and processes, and thereby propelling the growth of the market.
Machine condition monitoring equipment offers the flexibility required to accommodate a wide range of production processes and interfaces for smooth information exchange between the plant control system, process visualization unit and operator. The need for technology advancements and demand for effective & efficient operation in the smart factories increase the use of machine condition monitoring equipment.
Restraints
High capital expenditure and maintenance requirement is one of the key restraints impacting the machine condition monitoring equipment market. The procurement, installation, operation, and maintenance cost of few condition monitoring equipment, such as the Bently Nevada system, and other expensive monitoring systems affects the overall spending on machine condition monitoring equipment. High capital requirement for such equipment would further hamper market growth. Also, there would be minor errors, such as errors with alignment, mounting conditions and balancing of components, that may cause the installation to fail within its expected "maintenance free" period.
Opportunity
Large untapped markets in Asia-Pacific and Middle East could offer growth opportunities to market players. The machine condition monitoring equipment market in Asia-Pacific is displaying strong growth due to continuous infrastructure development and business expansions, especially in emerging countries, mainly China and India. The deregulation policy and a substantial increase in foreign direct investments (FDIs) in Asian countries also triggered the establishment of new businesses across many industries in Asia-Pacific region. Moreover, the countries in the Middle East, primarily Saudi Arabia and Qatar, are also increasing the use of machine condition monitoring equipment in the oil and gas sector.
Machine Condition Monitoring Equipment Market Competitive Landscape
The machine condition monitoring equipment market is highly competitive due to increased need for reduced maintenance cost along with unexpected failure of machines. To curb this, companies are focusing on launching various products and services to fulfil customers' requirements. For instance, in 2017, AB SKF developed a wireless condition monitoring system which enables Condition based Maintenance Practices (CBM) to help rail operators to spend maintenance budget more efficiently. Moreover, the company is focusing on R&D activities, with its investments reaching $272.5 million in 2017, up from $246.3 million in 2016.
Some of the other key players operating in the market include General Electric Company, Corrpro Companies Inc., Emerson Electric Co., Grupo Álava Ingenieros, Honeywell International Inc., Sivers Rockwell Automation Inc., Parker Hannifin Corporation, National Instruments Corporation, and Azima DLI Corporation.