Market Overview
The machine condition monitoring equipment market size stood at USD 2,773 million in 2022, and it will grow at a CAGR of 7.50% during 2022–2030, to reach USD 4,946 million by 2030.
Of late, condition surveillance has been more popular as businesses pay attention to asset use and production. The ultimate objective of such equipment is to plan maintenance and other tasks, in order to prevent malfunctions and lead to the best possible use of resources.
The use of wireless technology, growth in the heating ventilation and air conditioning (HVAC) sector, increasing usage of remote maintenance solutions, and increasing demand for smart factories are likely to drive the growth of the market.
Also, the growing need for monitoring & controlling the various parameters of machines and rising usage of such equipment in several industrial sectors is the fundamental forces propelling the growth. The U.S. is the largest market worldwide. The growth of the country will be spearhead by the economic development and growing productivity of industries with increased use of such technologies.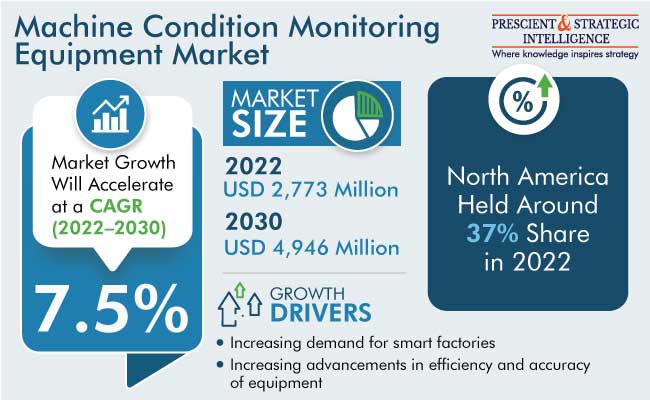 Use Of Wireless Technology in Machine Condition Monitoring Equipment
One of the major growth drivers is the technological advancements in wireless communication. The features of wireless devices, such as low cost, high efficiency is incomparable with wired devices. This has enabled remote monitoring of machines and save the cost of transportation to and from offshore facilities. The use of advanced wireless vibration equipment and techniques makes it possible to integrate two or more technologies together to achieve e-maintenance by the help of offshore to onshore real time visual observations.
Technologies such as the Beacon, Artificial Neural Networks (ANN), statistical or numerical techniques and other prognostic and diagnostic technologies are most suitable due to their autonomous capabilities and are mostly developed as models or software. Devices such as CCTV camera is also suitable for remote surveillance and e-collaboration and can also record events and activate alarms in the process.
The UltraTev detector acts as a perfect substitute for partial discharge activity for medium voltage (MV) assets, where human senses were used initially to detect any visible, audible change in the deteriorating assets that was initially detected with a collection of devices, such as thermographic camera, and ultrasonic. It is also observable that a major proportion of these technologies is particularly used for smaller or auxiliary equipment, such as pipes, motors, boilers, gearboxes, gun tubes and others.
Rising Penetration of Monitoring Vibration Has Played a Pivotal Role In Detecting Faults at an Early Stage
The vibration monitoring category held the largest share of 29% in 2022. This is attributed to increasing requirement for such equipment in critical applications, such as manufacturing and chemical industries that are prone to defects.
The large share is a result of the growing need to identify imbalances, wear and tear, and misalignments. The increasing use of vibration monitoring is crucial in providing information about spotting flaws at an early stage. The reduction of operational, integration, and maintenance complexity has increased for such solutions.
Players in the industry have increased their investments in equipment, constantly being monitored, including gearboxes for cooling towers, steam turbines, boiler feed pumps and gas. In order to improve reliability and safeguard data, users are likely will make use of such systems more frequently.
The technology will be in great demand because of diagnosing new problems and effective troubleshooting. In the years ahead, the corrosion monitoring technique category will expand significantly. Due to the growing necessity to monitor and evaluate structures of the equipment, components, facilities, and process units to identify corrosion, this technique has become extremely popular. Industries have been urged to engage in it because of the requirement to extend the lifespan and serviceability of assets while reducing cost. End users will probably concentrate on the surfaces to find corrosion's early indications.
Moreover, chemical industry is one of the major users of this type of equipment. The industry exhibited a healthy growth during the past decade. However, motor current signature analysis category is expected to register highest CAGR of 6.6% during the forecast period. Motor current signature analysis is proving to be an increasingly valuable predictive maintenance tool. Mechanical faults associated with belts, couplers, and alignment are easily diagnosed through its use, thereby increasing its rapid acceptance in the industries.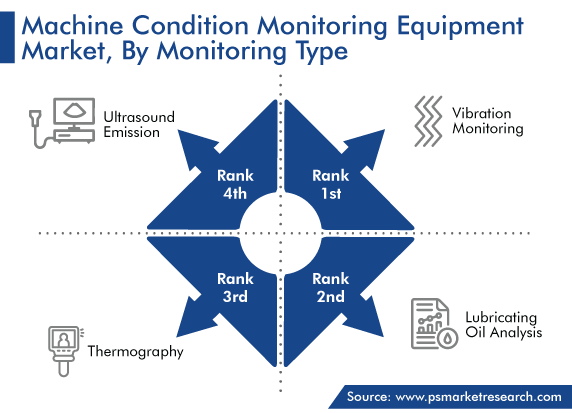 Growth In Heating, Ventilation and Air Conditioning Market
To protect cooling and refrigeration systems from contamination and failure, lubrication properties within compressors needs to be done. The presence of miniscule contaminants can lead to system failure. So, refrigeration and HVAC fluid analysis programs and oil condition monitoring (OCM) enables the operator to understand the condition of the equipment or service requirement, safe operating ranges, lubrication and allows to schedule cost-effective maintenance.
Nonintrusive information about the condition of the HVAC systems, vacuum systems, chill water system, electrical systems and process equipment is critical for the optimum performance of the plant. Although a strong condition observation system does not promise zero downtime or machinery failures, but it drastically reduces unforeseen problems and offers improved reliability. Hence, the increasing requirement of HVAC equipment is enhancing the demand for such devices globally.
Outsourcing of machine maintenance services and advancements in devices in terms of efficiency and accuracy are the key trends.
The machine condition monitoring equipment market has gained momentum due to the increasing focus of end users on improving productivity and asset utilization. Nowadays, such technology is extensively used in the manufacturing industry for fault detection and troubleshooting purposes. Moreover, lack of skilled labor is surging the adoption of outsourcing services.
Machine Condition Monitoring Equipment Market Report Coverage

| | |
| --- | --- |
| Report Attribute | Details |
| Historical Years | 2017-2022 |
| Forecast Years | 2023-2030 |
| Market Size in 2022 | USD 2,773 Million |
| Revenue Forecast in 2030 | USD 4,946 Million |
| Growth Rate | 7.50% CAGR |
| Report Scope | Market Trends, Drivers, and Restraints; Revenue Estimation and Forecast; Segmentation Analysis; Impact of COVID-19; Companies' Strategic Developments; Market Share Analysis of Key Players; Company Profiling |
| Segments Covered | By Type; By Monitoring Type; By Monitoring System; By End User; By Region |
Explore more about this report - Request free sample pages
APAC Will Grow at Highest Growth Rate
The APAC market is expected to grow at a higher CAGR of 6.9% in the forecast period due to increasing industrialization, rising adoption of predictive maintenance technology, and growing competitive pressure to offer operational efficiency in the region.
Manufacturing facilities are being established in Asian economies as a result of the growing emigration of production bases, particularly China, India, and Japan, simply because low-cost labor is more readily available there. Due to the rapid expansion of industrial operations, machine condition monitoring systems will be in high demand during the projected period.
Additionally, China had the largest contribution in the regional revenue in 2022. It has the world's largest population and is a center for several industries, which encourages fundings in the infrastructure and electricity industries. The government of China announced assets worth USD 78 billion to setup 110 nuclear power stations, intended to commence by 2030. It is projected that these improvements would increase the applications for contemporary technology, such as vibration monitoring tools to support condition-based monitoring.
Despite the decline in the prices of hydrocarbon energy, NOCs like China's CNPC is still concentrating on oil and gas exploration efforts to become energy independent. For monitoring and facilitating the repair of oil and gas equipment and infrastructure, it is projected that these activities would generate a significant demand in the region.
Additionally, the expansion of the market in India is supported by the use of industrial control systems, which are distinguished by new advances and are offered by a variety of firms. For instance, Delta Electronics offers a variety of automation products and solutions, such as sensors, robot solutions, and human-machine interfaces. The 5-gigawatt milestone for PLC-based solar plant automation in India was recently reported by ABB India.
Additionally, rising government initiatives like "Made in China 2025" and increasing consciousness of predictive maintenance and vibration observation technologies in the power, oil and gas, chemical and petrochemical, cement, and automotive industries is expected to sustain the demand for the examined market in the Asia-Pacific.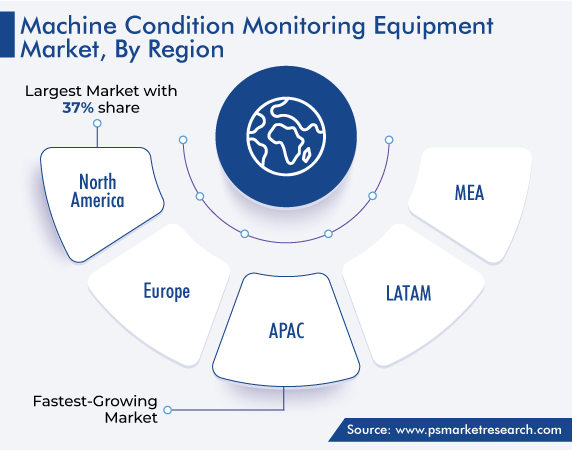 North America Has Major Share in Global Revenue
The region with the largest share of 37% in 2022 was North America. Due to reasons, such as growing emphasis on optimal asset utilization, stringent government rules for personal and workplace and employee safety, and strict control in the oil and gas and chemicals industries, such systems and solutions are in high demand. Due to the region's emphasis on plant asset management and the presence of major companies, including General Electric and Honeywell International, machine condition monitoring is in high demand in the U.S.
In June 2021, Schneider Electric made its smart factory debut in the US, showcasing the quantifiable, immediate benefits of cutting-edge technology. This plant principally showcases Industrial IoT integration approaches that have reduced the need to repair machines by 20%. Additionally, with the use of automation, the manufacturing, transportation, and other industries will support the expansion of the market in the years to come.
Growing Demand for Smart Factories
Nowadays smart factories have huge potential for innovation. Some of the biggest challenges firms face today are resource & energy inefficiency, high labor cost, increasing capital, operational cost and demographic change.
For chemical factories, the regulatory bodies are imposing stringent regulations to minimize chemical contamination and ensure the safety of workers, with legislations, such as OHSAS 18001 and OHSAS 29 CFR 1910.107 imposing heavy penalties on flouting the prescribed norms. Hence, more companies are implementing plant automation solutions to ensure regular surveillance of plant operations and processes, and thereby propelling the growth of the market.
Such devices offer the flexibility required to accommodate a wide range of production processes and interfaces a smooth information exchange between the plant control system, process visualization unit and operator. The need for technology advancements and demand for effective & efficient operation in the smart factories increase the use of machine condition monitoring equipment.
Top Machine Condition Monitoring Equipment Manufacturers Are:
General Electric Company
Corrpro Companies Inc
Emerson Electric Co.
Grupo Álava Ingenieros
AB SKF
Honeywell International Inc.
Rockwell Automation Inc.
Parker Hannifin Corporation
National Instruments Corporation
AZIMA DLI CORPORATION
Market Size Breakdown by Segment
This fully customizable report gives a detailed analysis of the machine condition monitoring equipment market from 2017 to 2030, based on all the relevant segments and geographies.
Based on Type
Software
Hardware

Ultrasound Detector
Spectrum Analyzer
Corrosion Probes
Spectrometer
Infrared Sensor
Vibration Sensor
Based on Deployment Type
Based on Monitoring Type
Vibration Monitoring
Lubricating Oil Analysis
Thermography
Ultrasound Emission
Corrosion Monitoring
Motor Current Signature Analysis
Based on Monitoring System
Portable Monitoring System
Fixed Monitoring System
Based on End User
Automotive
Energy and Power
Aerospace and Defense
Chemicals
Oil and Gas
Metals and Mining
Marine
Geographical Analysis
North America
Europe

U.K.
Germany
France
Italy
Russia

Asia-Pacific
Latin America
Middle East & Africa

Saudi Arabia
South Africa
U.A.E.