Market Overview
The global location-based services market is expected to reach USD 83.9 billion by 2030 from USD 26.7 billion (E) in 2023, witnessing 17.8% CAGR during 2023–2030.
The key drivers for the market are the increasing penetration of smartphones with GPS and the rising focus of marketers to track people's location to offer them the best recommendations for products and services available nearby. Moreover, the easy availability of 4G networks, rapid deployment of 5G infrastructure, and surging disposable income propel the market.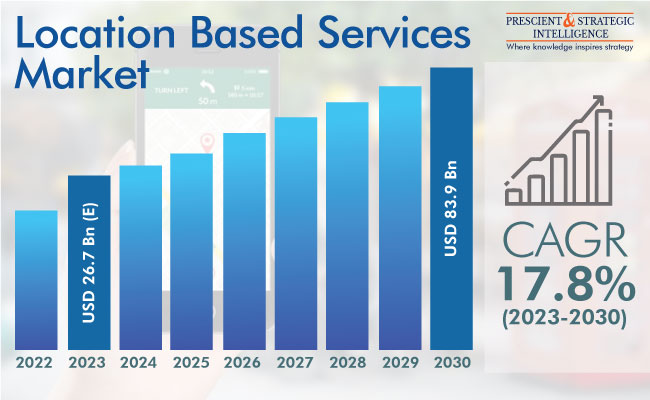 Rising Demand for RTLS and LBS for Industrial Applications
The growth in the adoption of platforms that provide enhanced accuracy is the result of the enhancements in LBS and real-time location systems in the past few years. The enhancements have led to improvements in the efficiency and a decrease in the costs of RTLS solutions, which is why their utilization has augmented across verticals such as industrial manufacturing, healthcare, logistics, defense, and process industries (gas, oil, and mining).
The advantages of monitoring, tracking, and analyzing the accurate position and movement of their assets are now being identified by more industries. These benefits include simpler procedures, enhanced workflows, and more production. Moreover, the burgeoning usage of LBS and RTLS solutions in numerous sectors, such as consumer goods and industrial manufacturing, is expected to encourage players to create a better tracking and locating technology.
Analysis of Consumer Behavior by E-Commerce Firms Is Key Trend
In the past few years, there has been a considerable surge in the count of e-commerce establishments. The growing focus of such companies on marketing and selling via mobile applications can be credited to their enhanced features, easy accessibility, and ability to create direct connections between customers and brands. This, ultimately, leads to augmented customer engagement and allows companies to increase revenue.
Mobile apps allow e-commerce companies to study industry trends, by analyzing customer behavior, thus enabling the formulation of more-productive marketing approaches. Especially, location-based e-commerce services have arisen as a vital part of modern information services. These applications heavily depend on software standards to guarantee a high quality of service, in response to the high expectations and specific needs of users.
E-commerce apps modify their offers on the basis of customers' locations, providing notifications that have been confirmed to be more productive than generic push notifications. The use of AI, which recognizes popular items and customers' locations, enables such apps to recommend the best product, service, or store that is nearest to the customer.
RTLS comprises an extensive variety of location technologies, from passive radiofrequency identification and Bluetooth beacons to large-scale systems that allow assets and back-end processes to communicate continuously. Warehouse and logistics operators generally use a combination of numerous related technologies for the best results.
Rising Usage of LBS in Criminal Investigation
Numerous police agencies use the GPS to monitor criminal activities. As police departments are challenged to deliver excellent services despite financial cutbacks, efficient GPS tracking can prove vital. GPS-based solutions are accepted by numerous law enforcement agencies as they display enhanced efficiency and decreased operational prices via the utilization of real-time data transmission for better crime analysis. With the assistance of this technology, the police can also properly understand communities' problems and respond with precise intelligence.
Additionally, geographic information systems (GIS) aid in studying misconduct patterns, recognizing hot spots, and connecting vehicles, crimes, offenders, and associates. Besides, the growing deployment of navigation and mapping solutions across police services is inspiring the development of the market. For example, in 2021, Toronto Police Service advanced its legacy CAD system with a mobile communication solution offered by Hexagon AB, for faster responses and improved incident handling.
Solutions Category is Gaining Momentum
On the basis of component, the solutions category holds the largest share of the market. This can be credited to the rise in the requirement for location-based platforms to encourage proximity marketing throughout the retail industry. Additional drivers for this category are the growing demand for navigation and surveillance services in the automotive and transportation sector and the increasing usage of LBS for precision farming.
Outdoor Category Holds Larger Market Share
On the basis of location type, the outdoor category holds the larger share in 2023. This can be credited to the rising demands for outdoor mapping and navigation applications and progressive route mapping solutions and the growing obtainability of outdoor GPS navigation applications in smartphones and automobiles.
Transportation & Logistics Industry Is Largest Shareholder
On the basis of industry, the transportation & logistics category dominates the market. The increasing demand for GPS vehicle and personnel tracking systems and GPS fleet tracking software to screen performance and surge fleet utilization and the technological improvements in navigation and mapping systems are the major factors boosting this category. In the future, the growing adoption of connected cars and autonomous commercial vehicles will continue to fuel the demand for this technology in the automotive sector.
The retail & e-commerce sector is also expected to witness rapid industry growth in the forecast period. With the increasing adoption of GPS- and Wi-Fi-integrated smartphones, e-commerce companies are tracking people's locations to recommend nearby stores, services, and products. Similarly, many hypermarkets/supermarkets are using Wi-Fi analytics to track people's location within the store and offer the best product recommendations based on which sections witness a high footfall and which ones do not attract as many customers.
Location Based Services Market Report Coverage

| | |
| --- | --- |
| Report Attribute | Details |
| Market Size in 2023 | USD 26.7 Billion (E) |
| Revenue Forecast in 2030 | USD 83.9 Billion |
| Growth Rate | 17.8% CAGR |
| Historical Years | 2017-2022 |
| Forecast Years | 2023-2030 |
| Report Scope | Market Trends, Drivers, and Restraints; Revenue Estimation and Forecast; Segmentation Analysis; Impact of COVID-19; Companies' Strategic Developments; Market Share Analysis of Key Players; Company Profiling |
Explore more about this report - Request free sample pages
North American Region Is Market Leader
North America is dominating the market, and the region is also projected to be dominant till 2030. This is primarily credited to the growing usage of mobile phones and advancing communication technologies in this continent. Establishments in the continent are utilizing GPS data to monitor the activity of their customers, to obtain insights into their purchasing behavior.
The U.S. has arisen as the larger user of such solutions in North America, primarily because of a substantial count of mobile phone operators and the high rate of infrastructure development.
The Asia-Pacific region is expected to witness the fastest location-based services market growth over this decade. This is ascribed to the growing deployment of high-speed telecommunication networks in regional nations, rising need for LBS in the food & beverage sector to transport perishable items via the cold chain, and supportive government steps that aid the acceptance of these solutions.
Location-Based Services Market Latest Updates
In May 2022, AT&T and Intrados introduced location-based routing for wireless 9-1-1 calls. With this solution, AT&T will be able to rapidly and more precisely recognize where a wireless 9-1-1 call is coming from, utilizing device GPS and hybrid data, and channel it to the right dispatch center.
Moreover, in January 2022, Catalina entered into a partnership with PlaceIQ to offer location-driven attribution, measurement, and planning capabilities to CPG retailers. It will allow promoters to target more-accurate audiences, enhance online and offline engagement across channels, and offer a real-world return on investment on brand campaigns.
Key Companies in Location-Based Services Market Are:
Apple Inc.
Micello Inc.
Shopkick Inc.
HP Enterprise Services LLC
Zebra Technologie
Cisco Systems Inc.
CommScope Holding Company Inc.
Ericsson Inc.
IndoorAtlas Ltd.
Microsoft Corp.
NextNav LLC
Qualcomm Atheros Inc.
Skyhook Wireless Inc.