Market Overview
The global ligases enzyme market size stood at around $367.4 million in 2021, and it will grow at a CAGR of 6.2% during 2021–2030, to reach $631.7 million by 2030. The growing importance of the diagnosis of genetic abnormalities and infectious illnesses, as well as the global increase in cancer prevalence, is driving the market.
North America led the market, with $224.7 million revenue, in 2021, and it is expected to continue doing so in the coming years as well, owing to the increase in research and development (R&D) activities to develop ligases as therapeutic agents for cancer and other disorders. Also, North America is a hub of many biotechnology organizations and an epicenter of scientific developments. Moreover, the use of ligases in protein engineering, polymerase chain reaction, mutation detection, cloning, drug target, and next-generation sequencing (NGS) has increased significantly in the region.
Furthermore, the U.S. accounted for a larger market share in 2021 in North America. With the increased frequency of genetic abnormalities due to high average life expectancy and the rise in the number of patients requiring long-term care, it is projected that molecular diagnostic tools, particularly enzyme-based solutions, will gain recognition in the future. These favorable developments in the U.S. are fueling the market expansion.
The spread of COVID-19 had a positive influence on the market. The sudden pandemic crisis boosted the demand for ligases enzyme. Biotechnology and pharmaceutical businesses have expanded the need for ligases enzyme. Moreover, the U.S. government-funded research institutions conduct studies on the ligase enzyme and its role in diagnostic tests. This decision has a favorable influence on the market growth.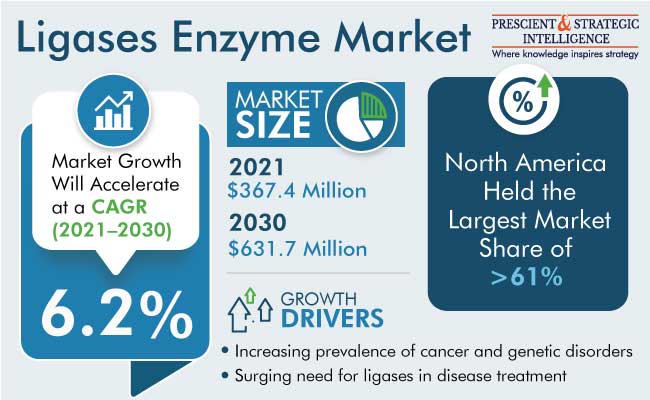 Sales of T4 DNA Ligase Generated Highest Revenue
The T4 DNA ligase category held the largest ligases enzyme market share in 2021, and it is projected to grow at a significant CAGR, of 6.8%, during 2021­–2030, based on product. In molecular biology, T4 DNA ligase is widely used in a variety of settings for quick and effective ligation, as it can ligate both cohesive-ended and blunt double-stranded DNA fragments, along with T/A cloning.
This enzyme is believed to be the most flexible ligase and is recommended for most conventional molecular cloning applications. T4 DNA ligase variations have been designed to survive high salt and high temperatures up to 50 °C. Furthermore, T4 DNA ligase has been employed for fast ligation, in which the process takes five minutes at room temperature, as compared to overnight at 16 °C, utilizing a specially optimized buffer that improves ligation efficiency.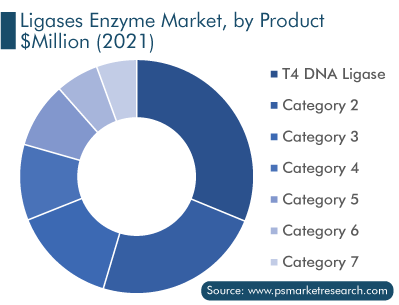 Escherichia Coli Accounted for Largest Market Share
The Escherichia coli category, based on source, held the largest revenue share, of around 35%, in 2021 in the ligases enzyme market, and it is expected to grow at a high pace during the forecast period. DNA ligases from E. coli were among the first to be isolated and biochemically studied. E. coli DNA ligase is a basic molecule made up of several amino acids. Moreover, because E. coli has its own ligase, it can readily ligate the ends of the recombinant DNA in the cell. Also, this ligase is widely employed to unite the recombinant ends of molecules prior to their introduction into the cell.
As a result, the frequency of recombinant DNA transformation is highly influenced by this in-vitro ligation process. Also, E. coli produces T4 RNA ligase, T4 DNA ligase, E. coli DNA ligase, and salt T4 DNA ligase in abundance.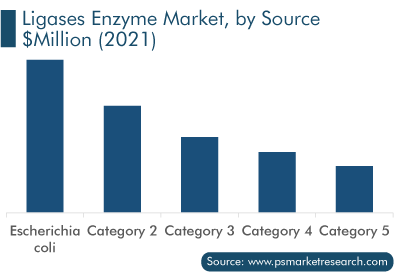 Molecular Cloning Dominates the Market
The molecular cloning category held the largest market share in 2021, and it is projected to generate $134.8 million by 2030, growing at the highest CAGR, of 6.8%, during the forecast period. This cloning is a set of scientific methods in molecular biology, and it is used to gather recombinant DNA molecules and direct their replication inside host organisms. Also, molecular cloning has various applications, including the cloning of stem cells, which help in providing treatment for multiple diseases, a better understanding of genetic diseases, and others.
In addition, the NGS category accounted for a revenue share of around 14% in 2021, and it is expected to exhibit a lucrative CAGR. NGS technologies have progressive advantages in terms of high sequencing speed, cost-effectiveness, and high resolution and accuracy in genomic analyses.
Further, NGS is used to diagnose a variety of illnesses by identifying germline or somatic mutations. The increasing use of NGS in clinical practice is supported by the technique's potency and steadily decreasing price. It is also useful in metagenomic investigations and is utilized in infectious disease diagnoses, monitoring, and management. Furthermore, in 2020, NGS technologies were critical in characterizing the SARS-CoV-2 genome, and these have been regularly contributing to the COVID-19 pandemic surveillance.
Ligases Enzyme Market Report Coverage

| | |
| --- | --- |
| Report Attribute | Details |
| Historical Years | 2017-2021 |
| Forecast Years | 2022-2030 |
| Market Size in 2021 | $367.4 Million |
| Revenue Forecast in 2030 | $631.7 Million |
| Growth Rate | 6.2% CAGR |
| Report Scope | Market Trends, Drivers, and Restraints; Revenue Estimation and Forecast; Segmentation Analysis; Impact of COVID-19; Segmentation Analysis of Countries; Companies' Strategic Developments; Market Share Analysis of Key Players; Company Profiling |
| Segments Covered | By Product; By Source; By Application; By End User |
Explore more about this report - Request free sample pages
Increasing Prevalence of Cancer and Genetic Disorders Is Driving the Market
The increased frequency of chronic illnesses such as cancer among individuals is fueling the demand and interest in innovative treatment strategies that will provide improved patient care. DNA repair abnormalities in inherited human disorders that manifest as cancer propensity include hereditary kinds of colon and breast cancer. In the case of hereditary breast cancers, poly (ADP-ribose) polymerase inhibitors function as a therapy that directly targets the DNA repair deficiency.
These inhibitors of other DNA repair proteins may have anti-cancer properties. Due to the increasing prevalence of genetic illnesses and infectious diseases, researchers and diagnostic professionals have turned to ligases enzyme to analyze and cure a range of contaminations. Bone marrow abnormalities, cancer, radiosensitivity, and genomic instability define these genetic and viral illnesses. Because no trailing strands would be consolidated in the absence of DNA ligase activity, the leading strand amalgamation would be largely affected.
To Increase Market Share, Companies Involved in Various Strategic Developments
Major players operating in the market have been involved in several strategic developments, such as product launches and acquisitions, to remain competitive. For instance:
In May 2022, QIAGEN N.V. acquired a majority stake of 96% in BLIRT S.A, a manufacturer of recombinant enzymes for the life sciences industry, to bring companies capabilities to create additional growth prospects for their enzymes and reagents business.
In August 2021, BLIRT S.A. expanded its laboratory facility at Gdansk Science and Technology Park. The new laboratory is involved in increasing its production scale for key enzymes and optimizing production processes.
Top Players in the Ligases Enzyme Market Are:
Agilent Technologies Inc.
ArcticZymes Technologies ASA
Bio-Rad Laboratories Inc.
BLIRT S.A.
Codexis Inc.
F. Hoffmann-La Roche Ltd.
Inspiralis Limited Inc.
Merck KGaA
New England Biolabs (UK) Ltd.
Promega Corporation
QIAGEN N.V.
Market Size Breakdown by Segment
The study offers a comprehensive market segmentation analysis along with market estimation for the period 2017-2030.
Based on Product
Quick Ligase
T4 DNA Ligase
E. Coli DNA Ligase
Tth DNA Ligase
T4 RNA Ligase
Pfu DNA Ligase
Based on Source
Archaebacterium
Escherichia coli
Thermus thermophilus
Pyrococcus furiosus
Based on Application
Ligase Chain Reaction (LCR)
Ligase Detection Reaction (LDR)
Next-Generation Sequencing (NGS)
Repeat Expansion Detection (RED)
Rolling Circle Amplification (RCA)
Proximity Ligation Assay (PLA)
Molecular Cloning
Ligation Mediated PCR
Mutation Detection
Based on End User
Research Laboratories and Institutions
Pharmaceutical and Biopharmaceutical Companies
Diagnostic Laboratories
Geographical Analysis
North America
Europe

U.K.
Germany
France
Spain
Italy

Asia-Pacific
Latin America
Middle East and Africa

Saudi Arabia
South Africas