Market Overview
The Japan heat stress monitor market was valued at $1.98 million in 2020, and is expected to showcase a CAGR of 7.05% during the forecast period (2021–2030). The Japanese summer is characterized by not only high temperatures but also high humidity. A large number of people in Japan suffer from heat illnesses every year. People exposed to hot and humid environments for long periods, such as in manufacturing facilities, stadiums, and mines, are more susceptible to heat illnesses.
The COVID-19 pandemic affected the livelihood of citizens at an unprecedented level and it has adversely affected the development of the heat stress monitor market in Japan, as it has interrupted the supply network of raw materials and parts. The disturbance in the production has affected original equipment manufacturers (OEMs) in Japan and those exporting such products into the country, which, thusly, has prompted declining worldwide shipments.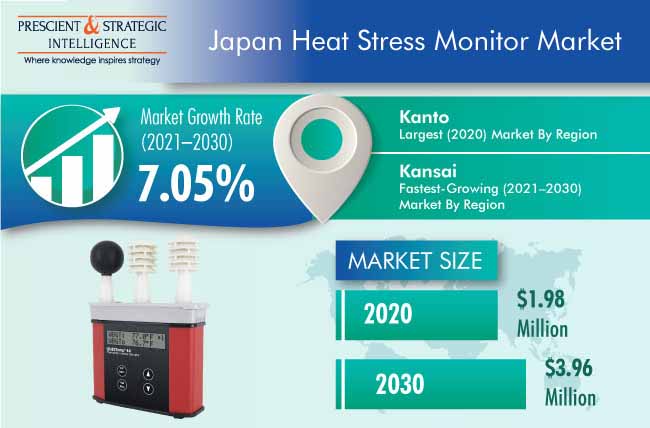 Hardware Category Held Largest Share Due To Systems' Advance Analysis Features
The hardware category held the largest share in 2020, based on offering, for heat stress monitor market in Japan. The type of hardware defines how efficiently the readings and recordings can be monitored and analyzed. Additionally, market players are focusing on innovative products to cater well to end users.
Wet Bulb Technology Held Larger Share due to Its Higher Measuring Efficiency
The wet bulb category held the larger share, in 2020, based on technology in Japanese heat stress monitor market. It is also expected to witness the highest CAGR during the forecast period. The wet bulb technology helps in measuring the amount of water vapor the atmosphere can hold at current weather conditions. A lower wet bulb temperature means the air is drier and can hold more water vapor than it can at a higher wet bulb temperature.
Globe Thermometers Held Largest Share due to Their Better Efficiency
The globe thermometer category held the largest share in 2020, on the basis of sensor type, in heat stress monitor market for Japan. This category is also projected to witness the highest CAGR during the forecast period. This instrument is used for measuring the mean radiant temperature (MRT). Its high usage is attributed to the strong need to assess the radiation factor in human heat loss. It also helps in measuring the combined effect of radiant heat, air temperature, and wind speed.
Wide Utilization of Fixed Variants in Manufacturing Plants Led to Their Higher Sales
In the Japanese heat stress monitor market, the fixed category held the larger share in 2020, based on product type, owing to the wide adoption of these variants in manufacturing facilities. However, an increasing number of workplaces are beginning to utilize handheld heat stress monitors, since they are convenient for specific, minute, and short-term uses. The handheld/portable category is therefore expected to witness the higher CAGR during the forecast period.
Manufacturing Plants Are Largest Application Category as They Witness Heat Production in High Amounts
The manufacturing plants category held the largest share in 2020, based on application, owing to the fact that these plants witness heat production in high amounts, as heat treatment is a common process here in Japanese heat stress monitor market. For example, gear shafts, axles, steel coils, and many other products are heat-treated in continuous pusher or roller hearth furnaces or semicontinuous low-pressure carburizing furnaces, where the products travel through the furnace in product baskets.
Kanto Was Largest Market for Heat Stress Monitors in Japan
In 2020, Kanto held the largest share for heat stress monitor market in Japan. The Kanto region comprises the Tokyo metropolis and six prefectures: Ibaraki Prefecture, Tochigi Prefecture, Gunma Prefecture, Saitama Prefecture, Chiba Prefecture, and Kanagawa Prefecture. Home to Japan's capital city of Tokyo and inhabited by about 40 million people, or a third of the nation's population, the Kanto region is the political and economic center of the country.
Heat Stress Monitor Sales To Witness Sharpest Rise in Kansai Region
During the forecast period, the Kansai region is expected to witness the highest CAGR in Japanese heat stress monitor market. This is mainly attributed to the rampant urban development here and strong focus on making it an environment-friendly and sustainable.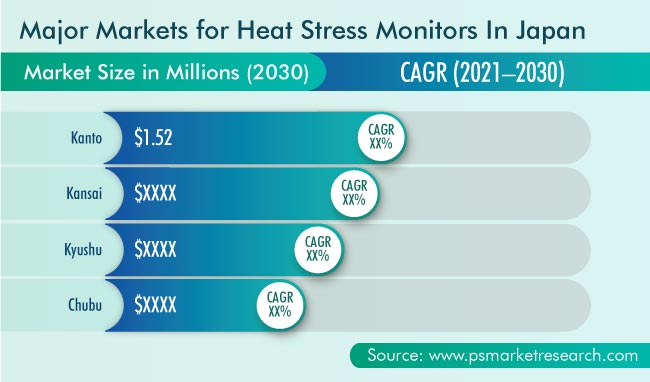 Advancements In Portable and Wearable Heat Stress Monitors Are Key Trends in Japanese Market
Compact, wearable, personal heat stress monitors directly detect an individual's physiological heat response from the body. These devices further allow minute-by-minute data logging, for safety professionals to closely monitor personal heat stress levels. Wearable technology advancements have made it possible to monitor one or more physiological factors of heat strain. In addition, to make the wearable sensing technology more adaptable, miniaturization and a longer battery life of the sensor are required to reduce the device interference with the user's movement, as well as the frequency of battery charging, respectively.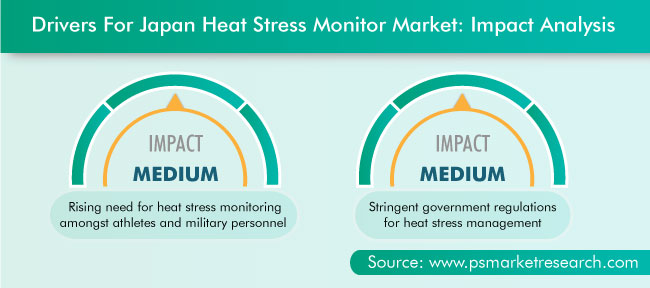 Rising Need for Heat Stress Monitoring amongst Athletes and Military Personnel Major Market Driver
In Japan, the heat stress monitoring devices are being widely adopted in sports and military applications due to the adverse effects of heat on individuals' performance. Exertional heat-related illness (EHRI) refers to a set of heat-related illnesses that occur during sports and exercise activity under high ambient temperatures and humidity. The most-extreme type of EHRI is heat exertion stroke (EHS). It is a critical heat-related disease and a medical emergency caused by the overheating of the body due to physical exertion under prolonged exposure to high temperatures. It can lead to damage to the brain and other organs and, in some cases, death. It is among the primary causes of sudden death on the field in athletes. Heat-stress-driven diseases have made heat stress monitors an essential tool to determine the accurate conditions for players and military personnel.
Stringent Government Regulations for Heat Stress Management Also Helping in Market Growth
The toughening regulations regarding the effects of heat stress on workers and their management are a major driving factor for the heat stress monitor market of the country. Administrative instructions have been issued by the Ministry of Health, Labour and Welfare (MHLW) of Japan to prevent heat strokes. Among them, "Prevention of Heat Stroke in the Workplace" (Notice from the Director of the Labour Standards Bureau, MHLW, document number 0619001) specifies that the wet bulb globe temperature (WBGT) must be measured in the workplace.
Japan Heat Stress Monitor Market Report Coverage

| | |
| --- | --- |
| Report Attribute | Details |
| Historical Years | 2015-2020 |
| Forecast Years | 2021-2030 |
| Base Year (2020) Market Size | $1.98 Million |
| Market Size Forecast in 2030 | $3.96 Million |
| Forecast Period CAGR | 7.05% |
| Report Coverage | Market Trends, Revenue Estimation and Forecast, Segmentation Analysis, Impact of COVID-19, Company Share Analysis, Regional and Country Breakdown, Companies' Strategic Developments, Key Offerings of Major Players, Company Profiling |
| Market Size by Segments | By Offering; By Technology; By Product Type; By Sensor Type; By Application; By Region |
| Market Size of Geographies | Kanto, Kansai, Kyushu, Chubu |
| Secondary Sources and References (Partial List) | American Medical Association, Asian Development Bank, Association of Oil and Gas Operators, Construction Industry Federation, Energy and Resources Institute, European Agency for Safety and Health at Work, European Labour Authority, Global Cement and Concrete Association, Global Lighting Association |
Explore more about this report - Request free sample pages
Product Launches and Acquisitions Are Key Market Strategies
Some of the key players operating in the Japanese heat stress monitor market are Teledyne FLIR LLC, Fujitsu Limited, TSI Incorporated, Kyoto Electronics Manufacturing Co. Ltd., Nielsen-Kellerman Co., Besantek Corporation, Sper Scientific Ltd., Keyance Corporation, Sato Keiryoki Mfg. Co. Ltd., and General Tools & Instruments LLC.
In recent years, players in the industry have launched a number of new products and acquired others, in order to stay ahead of their competitors. For instance:
In February 2018, TSI Incorporated acquired 3M Company's personal safety division's offerings primarily focused on noise, environmental, and heat stress monitoring. Besides, the company acquired 3M's Oconomowoc, Wisconsin facility, where these products are manufactured. The strategic acquisition helped the former widen its heat stress monitoring product portfolio.
In June 2018, TSI Incorporated launched a new line of noise, heat stress, and environmental instrumentation under the brand name Quest.

Some Key Players in Japan Heat Stress Monitor Market Are:
Besantek Corporation

Sper Scientific Ltd

Keyance Corporation

General Tools & Instruments LLC

Sato Keiryoki Mfg. Co. Ltd.
Market Size Breakdown by Segments
The Japan Heat Stress Monitor market report offers comprehensive market segmentation analysis along with market estimation for the period 2015-2030.
Based on Offering
Hardware
Software
Service
Based on Technology
Based on Sensor Type
Globe Thermometer
Humidity
Air Flow
Based on Product Type
Based on Application
Athletics & Sports
Mining and Oil & Gas
Military
Manufacturing Plants
Geographical Analysis
Kanto
Kansai
Chubu
Kyushu