Market Overview
The isostatic pressing market was valued at USD 7,982.1 million in 2022, which is expected to reach USD 13,568.1 million by 2030, growing at a CAGR of 7.0% during 2023–2030.
Industries including aerospace, automotive, medical devices, energy, and manufacturing frequently use isostatic pressing. In this regard, the demand for this technology is significantly influenced by the rising need for modern materials and components with outstanding characteristics, such as high density, homogeneity, and mechanical strength.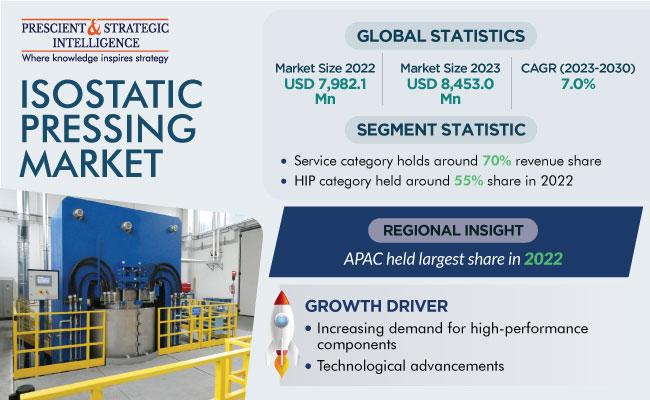 Powder metallurgy procedures, which involve the consolidation of metal powders into solid components, heavily rely on isostatic pressing. Thus, the need for the associated tools and services is fueled by the expansion of powder metallurgy use across numerous sectors.
The market for isostatic pressing has also benefited from technological developments, which have increased the equipment's effectiveness. The performance and dependability of isostatic pressing systems have improved with innovations including automated controls, real-time monitoring, and improved pressure vessels. Moreover, new materials and applications have been developed because of the ongoing research and development in material science and engineering.
IP machines have improved energy efficiency, thus lowering operating expenses and having a smaller negative impact on the environment. Industries seeking environment-friendly manufacturing methods favor energy-efficient systems, which is helping the market expand.
Another factor promoting the market advance is the significant global growth of the defense & aerospace industry. For the production of flawless parts for tanks, military and civilian aircraft, artillery, and spacecraft, this method is frequently used. Pressure-assisted brazing and metal matrix composite fabrication both use hot isostatic pressing techniques.
Additionally, the expanding use of additive manufacturing for fusing ceramics and polymers is fueling the industry progress. Another aspect driving this expansion is the use of 3D CAD modeling solutions. For 3D printing to be more flexible and customizable, while also reducing porosity levels, CAD is frequently utilized in conjunction with metal injection molding, cold isostatic pressing (CIP), and HIP procedures.
Service Category Dominates Market
The service category holds the larger isostatic pressing market share, as services are essential for the operation, maintenance, and optimization of associated machinery.
The installation and commissioning of isostatic presses must be done appropriately, to ensure maximum efficiency. Installation services include setting up, calibrating, and integrating the existing manufacturing infrastructure with the new equipment.
Moreover, maintaining these machines in excellent condition requires frequent servicing. To handle any problem and reduce the frequency and duration of interruptions, service providers offer maintenance contracts and on-demand repair services. By availing of these, industrialists are able to keep the output up and prolong the life of their machinery.
Additionally, for effective operation, isostatic pressing technology needs specialized intelligence. To guarantee that operators are appropriately trained to utilize the equipment correctly, service providers offer training programs and technical assistance. As a result, end users can get the most out of their investment in the IP technology.
Similarly, process optimization and consultancy services are provided to end users. To obtain the desired material properties and component characteristics, service providers analyze the manufacturing needs, make suggestions for improvements, and optimize the pressing parameters. This helps users in improving the performance and quality of their products.
Service providers also offer genuine spare parts for these machines. Additionally, they provide updates and retrofits to improve the functionality of the current equipment, thus enabling firms to respond to the shifting market demands without having to buy new systems.
Systems also Hold Significant Market Share
Various IP devices, such as high-pressure systems, cold isostatic presses, hot isostatic presses, and their supporting parts are included in the systems category. To achieve expansion and consolidation, these machines apply a uniform pressure to materials from all sides.
Depending on the application and material requirements, these systems use a variety of pressure mediums, including fluids (water, oil) and gases (argon, nitrogen). The system is designed and set up specifically for the selected pressure medium.
IP systems frequently integrate with auxiliary equipment, including handling mechanisms, loading and unloading systems, temperature and pressure control systems, and safety features. Due to such a wide variety of equipment utilized, the systems category also holds a significant share in the offering segment.
Isostatic Pressing Market Report Coverage

| | |
| --- | --- |
| Report Attribute | Details |
| Market Size in 2022 | USD 7,982.1 Million |
| Market Size in 2023 | USD 8,453.0 Million |
| Revenue Forecast in 2030 | USD 13,568.1 Million |
| Growth Rate | 7.0% CAGR |
| Historical Years | 2017-2022 |
| Forecast Years | 2024-2030 |
| Report Scope | Market Trends, Drivers, and Restraints; Revenue Estimation and Forecast; Segmentation Analysis; Impact of COVID-19; Companies' Strategic Developments; Market Share Analysis of Key Players; Company Profiling |
| Segments Covered | By Offering; By Type; By Capacity: By End User; By Region |
Explore more about this report - Request free sample pages
HIP Category Holds Larger Market Share
The HIP category has a significant market share as this technology is widely utilized.
Aerospace, automotive, medical devices, energy, and many more industries can benefit from HIP's adaptability and applicability. It is appropriate for a variety of applications since it may be used to consolidate and densify a range of materials, including metals, ceramics, composites, and powders.
High-density components with upgraded material qualities can be produced using HIP. When high temperature and pressure are applied simultaneously, internal flaws and porosity are eliminated, thus improving the material's strength and mechanical qualities, as well as its resistance to corrosion and fatigue.
HIP makes it possible to combine and link various components or materials, such as combining metal–ceramic and metal–powder mixtures. With this skill, it is possible to produce complicated, multi-material parts with customized qualities, which are desired in sectors such as aerospace and healthcare.
Moreover, homogeneous material densification is ensured by the uniform application of pressure in all directions during HIP. This technology's overall density and microstructure uniformity contribute to improved performance and consistency, while meeting the strict quality standards.
HIP is key for the creation of advanced components, such as metal matrix composites, superalloys, and high-performance alloys. The creation of materials that can resist harsh circumstances and are fit for demanding applications is made possible by the ability to create regulated material properties through HIP.
CIP Category To Witness Significant Growth
The CIP category also holds a substantial share of the market. In this process, materials are compressed under a constant pressure at room temperature or below.
The technology is often used in powder metallurgy. Prior to melting or other post-processing operations, it is used to compress metal, ceramic, or composite powders into nearly-net-shaped components.
Using this process, a uniform microstructure with few density changes is produced. The strength, toughness, and tear resistance of the finished parts are improved by the homogeneity of density and microstructure.
Tooling and mold design options are also flexible with CIP. Flexible molds may produce intricate geometries and complex shapes that can be difficult to produce using traditional manufacturing processes.
Large Enterprises Dominate Market
Large-scale businesses frequently invest in larger and more-sophisticated isostatic pressing systems to manage higher production volumes, due to their strong financial resources, infrastructure, and established market presence. This is the prime reason for holding largest share by the large enterprise category.
However, the medium-sized enterprise category is expected to grow fastest in the market. Medium-sized companies are focusing more towards integration of advanced isostatic pressing systems for powder metallurgy forming process.
Asia-Pacific Is Market Leader
For a number of reasons, the Asia-Pacific region dominates the market for isostatic pressing. First, the need for this technology has risen because of the region's expanding industrial sector, particularly in China, Japan, South Korea, and India. Second, the Asia-Pacific region has a significant presence in sectors including automotive, aerospace, electronics, and energy, which heavily rely on IP.
The manufacturing technology, particularly isostatic pressing, has also evolved significantly in APAC of late. The region has become a global leader in technology due to the investments in R&D and partnerships between businesses and researchers. The region now has a greater requirement for IP due to the rising demand for sophisticated materials, such as high-strength alloys, ceramics, and composites.
The need for the associated equipment and services has also expanded here as a result of the relocation of global manufacturing bases to the region, which is being fueled by the lower labor costs and supportive business conditions in regional countries.
Isostatic Pressing Market Major Players:
Kobe Steel Ltd.
Bodycote
Kennametal Inc.
Nikkiso Co. Ltd.
DORST Technologies GmbH & Co. KG
American Isostatic Presses Inc.
EPSI
Pressure Technology Inc.
Shanxi Golden Kaiyuan Co. Ltd.
ARCONIC
Market Size Breakdown by Segment
The report analyzes the impact of the major drivers and restraints on the isostatic pressing market, to offer accurate market estimations for 2017–2030.
Based on Offering
Based on Type
Hot Isostatic Pressing (HIP)
Cold Isostatic Pressing (CIP)
Based on Capacity
Small-Sized
Medium-Sized
Large-Sized
Based on End User
Automotive
Aerospace and Defense
Energy and Power
Medical
Manufacturing
Geographical Analysis
North America
Europe

Germany
U.K.
France
Italy
Spain

Asia-Pacific

Japan
China
India
South Korea
Australia

Latin America
Middle East and Africa

Saudi Arabia
South Africa
U.A.E.