Market Overview
The global IPTV market size stood at USD 30,134 million in 2022, and it is expected to touch USD 107,271 million by 2030, advancing at a CAGR of 17.20% during 2022–2030. The market is driven by the growing interest of telecommunication companies (telcos) and major vendors in IPTV, increasing use of the internet and the advent of mobile content delivery networks (CDNs), and rising demand for HD channels and VoD.
With digitalization and increasing changes in user preferences, interactive TV recording services, such as personal video recorder (PVR), is being widely adopted. Moreover, PVR systems allow the user to record a program and watch it later. Such systems come under the subscriber services, which may or may not demand fees, and enable activities, such as searching desired shows, shopping, banking, and accessing on-demand videos.
Furthermore, IPTV offers customizable and interactive streaming features on smart devices, as it supports app integration, bring-your-own-device (BYOD), PVR, and electronic program guide (EPG). The interactive internet protocol television portal has digital media features that can be used in various application areas, such as hotels, mining camps, student libraries, private accommodations, hospitals, and naval vessels. Also, direct-to-home (DTH) services have gained immense popularity in the industry with the adoption of 4K technology, and the technology has notably enhanced the household content consumption experience with high-quality content. For example, all of Netflix's content has adopted 4K, and the new content of Amazon is also being filmed in 4K quality.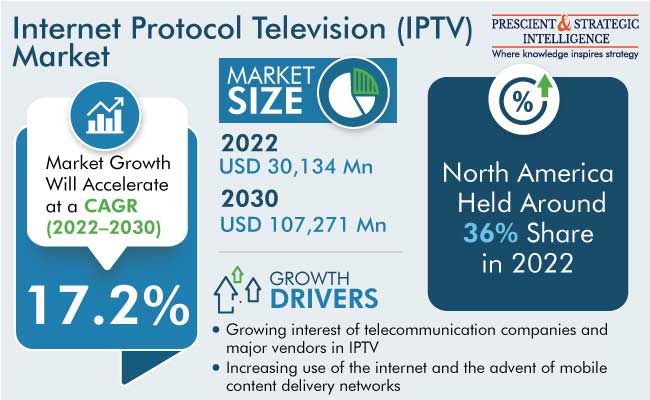 Wireless Is Dominating Industry
The wireless category is expected to grow faster, with a higher CAGR of around 19%, during the forecast period. Moreover, wireless IPTV provides extended access to internet protocol television and associated services to the user. The user may consume the services on any device anytime, anywhere. This requires a wireless network technology to support networks, services, and audio-visual content to meet consumer demand, irrespective of user location. Furthermore, the wireless transmission allows for flexible bandwidth and content transmission at a high speed.
Preferred by Residential Users
The residential category held the larger share, accounting for more than 52%, in 2022. This can be attributed to the fact that users watch programs and shows of interest at home in their leisure time. However, with the rising interest of corporates to communicate with their employees, improve training, meet compliance requirements, and reduce travel costs, the market is predicted to witness the faster growth in the enterprise category during the forecast period. Besides, corporate entities across various industries, including hospitality, education, finance, media, energy, healthcare, and transport, are increasingly using IPTV services to build additional revenue streams, such as targeted advertising.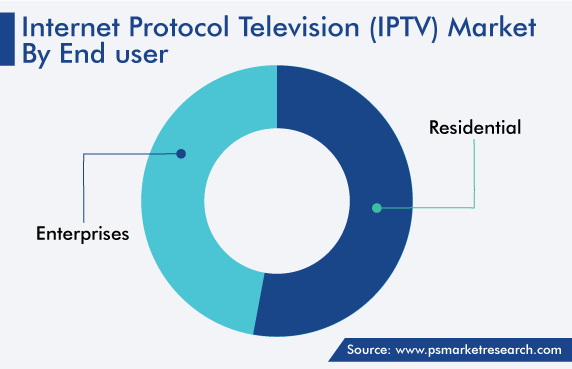 Smart TV Is Growing Faster
The smart TVs category is expected to witness the fastest growth, with the highest CAGR of 18.8%, during the forecast period. This is owing to the growing use of these TVs in households, as such devices offer smart features in addition to internet connectivity to enhance the TV-watching experience. In recent years, smart TVs have become more appealing to consumers due to their increased affordability, higher performance, and enhanced streaming experiences. Moreover, despite the fact that both smart TVs and streaming video devices have gained acceptance and relevance, smart TVs are increasingly becoming the streaming video device that providers and developers are considering frequently in the Internet homes of the U.S.
Moreover, smartphones and tablets provide a large number of functionalities, as compared to other devices, and are, therefore, more in demand. Furthermore, users preferring VoD mostly like to consume content on portable and convenient mediums.
Linear TV is Majorly Adopted
In 2022, the linear TV category generated the higher revenue in the IPTV market. This can be attributed to the fact that aged television viewers or the ones who are technically challenged still prefer using traditional platforms for content consumption and also show little resistance toward understanding and accepting new technologies. Besides, it has been observed that the majority of the people are still engaged in traditional TV watching, with scheduled program broadcasting.
However, the market is expected to witness higher growth for nonlinear TV, owing to the growing preference of the users to pay for the video content, they want to consume and the increasing adoption of digital, on-demand services by millennials. Also, a greater number of people are using the internet for content streaming and subscribing to instant streaming services to watch their desired shows on their devices. Moreover, on-demand TV allows viewers to watch shows from any device, anytime, without restricting their content consumption to the original airtime of the shows.
Growing Interest of Telcos and Major Vendors in IPTV
With telephone revenues declining and broadband growth slowing down, telephone companies are increasingly shifting their focus toward introducing new video systems. These companies are viewing internet protocol television as a growth opportunity owing to its interactive multimedia capabilities. This, in turn, is leading to a stronger base for the market, with all major players competing to maximize their share.
Moreover, with increasing competition among established players and with new players entering the market, the growth of the industry is being positively impacted. The internet protocol television setup includes a wide variety of hardware and software solutions to manage video signal quality, subscribers, and multimedia services; this is resulting in heavy investments by hardware and software vendors in the industry. With the rising interest of manufacturers, telcos, and operators in the industry, the growth of the industry is being positively affected. Besides, IPTV is providing a platform for telecommunication companies to foster their revenue beyond voice and data services.
Furthermore, several telcos have entered the market, including Verizon, Vodafone, and British Telecom. These entrants are expected to escalate the level of competition, which, in turn, is expected to reduce costs, thereby increasing the demand in the global market.
Growth Opportunity
The growing interest in OTT is expected to support the industry growth in the coming years. The enhanced broadband infrastructure and new video compression technology are enabling the market players to broadcast live TV signals to varied smart devices and television sets via private broadband networks. Thus, consumer demand is predicted to increase with the widening of the digital broadcasting ecosystem. Besides, the changing preference of consumers is giving rise to significant competition between cable TV and IPTV providers.
Moreover, with technological advancements and increasing consumer demand for high-quality and reliable online experiences, the growth prospects for the key players have considerably increased. Besides, significant changes in the market are expected as a result of the rapid evolution of the video streaming industry. The exponential growth of VoD services, such as Netflix and Hulu, and changing media consumption patterns are significant opportunities for the market growth.
IPTV Market Report Coverage

| | |
| --- | --- |
| Report Attribute | Details |
| Historical Years | 2017-2022 |
| Forecast Years | 2023-2030 |
| Market Size in 2022 | USD 30,134 Million |
| Revenue Forecast in 2030 | USD 107,271 Million |
| Growth Rate | 17.20% CAGR |
| Report Scope | Market Trends, Drivers, and Restraints; Revenue Estimation and Forecast; Segmentation Analysis; Impact of COVID-19; Companies' Strategic Developments; Market Share Analysis of Key Players; Company Profiling |
| Segments Covered | By Transmission Method; By Offering; By End User; By Device Type; By Application; By Subscription Type; By Streaming Type; By Region |
Explore more about this report - Request free sample pages
Europe Held A Significant Position
Europe held the second largest share, of around 26%, in 2022 owing to the largest number of subscriptions in the region and the early introduction and acceptance of the technology by the populace. The growth in the European region can be mainly attributed to a large number of subscriptions, early introduction and acceptance of the IPTV technology, more demand for VoD and associated package services, and a wide user base. Moreover, attractive IPTV pricing and low cable penetration in the country helped France lead the European market during the historical period.
With the cable industry facing fragmentation and planning restrictions on the placement of satellite dishes, DTH operators in France and other major countries of Europe collaborated with IPTV operators to deliver their premium channel packages via IPTV infrastructure. Besides, heavy discounts in countries, such as Sweden and Norway, adopting triple-bundle packages, and lack of competition from other regions led to the growth of the European region. In France, government regulations and changing choices of services have created awareness of IPTV and its subsequent penetration into the consumer market. The country has been one of the largest revenue generators globally, contributing more than 25% of IPTV subscriptions in Europe alone.
Moreover, APAC is expected to witness the fastest growth during the forecast period. This can be majorly attributed to the growing number of subscribers, increasing use of technologically advanced devices for content consumption, and increasing shift from traditional TV-watching to on-demand or online show-viewing experience. Although the market in the region has low average revenue per user (ARPU), as compared to other regions, countries such as India and China are contributing significant revenue to the industry, to lead its growth. Besides, the countries are offering ample growth opportunities to the key players.
With major IPTV providers in the region, such as Bharti Airtel and China Telecom, in addition to government support and regulations, the prospects for the industry growth in APAC look bright. Moreover, regional providers are increasingly focusing on increasing broadband penetration and improving infrastructure. During the forecast period, the market in the region is expected to grow on account of changing user preferences and surging demand for online content and OTT services.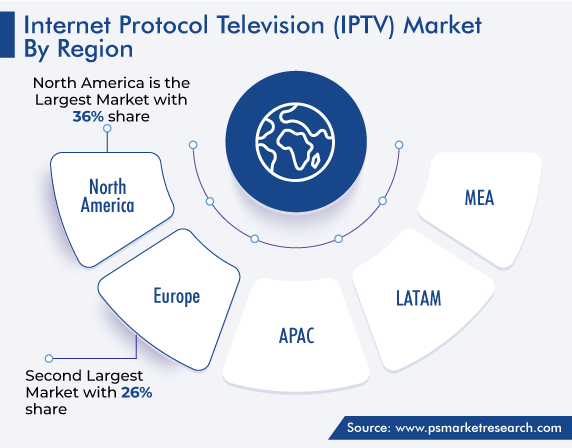 Top Internet Protocol Television Providers Are:
AT&T Inc.
Verizon Communications Inc.
Telefonaktiebolaget LM Ericsson
Akamai Technologies, Inc.
Broadcom Inc.
Bharti Airtel Limited
Deutsche Telekom AG
Matrix Stream Technologies Inc.
Cisco Systems Inc.
Huawei Technologies Co. Ltd.
IPTV Market Size Breakdown by Segment
The report analyzes the impact of the major drivers and restraints on the internet protocol television market, to offer accurate market estimations for 2017-2030.
Based on Transmission Method
Based on Offering
Based on End User
Based on Device Type
Smartphones & Tablets
PCs
Smart TVs
Based on Application
Based on Subscription Type
Subscription Based
Subscription Free
Geographical Analysis
North America
Europe

France
Germany
Italy
Spain
U.K.

Asia-Pacific

China
India
Japan
South Korea
Australia

Latin America
Middle East and Africa

Saudi Arabia
South Africa