Market Overview
The inorganic salts market size has been estimated at USD 188.6 Billion in 2023, and it will touch USD 290.8 Billion by 2030, propelling at 6.5% compound annual growth rate during 2024–2030.
The growth of this industry can be attributed to the surging acceptance of inorganic salts, as well as the increasing need for pharmaceuticals. Moreover, the growing salt consumption by humans and their utilization for the manufacturing of various chemicals propels the market. These chemical compounds are utilized in various industries, such as ceramics, fertilizers, rubber, paints, agrochemicals, paper, and pharmaceuticals. These compounds are also utilized in small portions in animal feeds as sulfur adsorbents, fire retardants, and catalysts.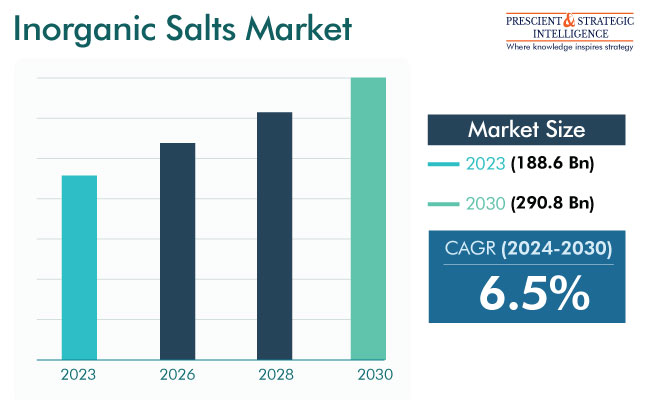 Inorganic salts are compounds with ionic bonds and no carbon–carbon or carbon–hydrogen bonds. Theoretically, any metallic cation and non-metallic anion can create an inorganic salt. On the basis of the anion, these salts can be divided into carbonates, oxides, fluorides, silicates, nitrates, chlorides, phosphates, halides, acetates, and more.
Further, a specific type of these compounds, based on the abovementioned classification, can have similar uses. For example, carbonates are utilized in construction, silicates are utilized in glass production, and phosphates in fertilizers.
Surging Acceptance of Alternative Table Salts Is Key Trend
Various salts can be utilized as an alternative of common salt (NaCl), such as potassium sulfate, potassium chloride, magnesium sulfate, and calcium chloride. The most common among them are potassium salts, owing to their identical taste to sodium chloride. The substantial risk posed by the high consumption of sodium to health, of which people are increasingly becoming aware, will boost the requirement for other inorganic salts.
Moreover, ferrous sulfate is used in treating iron deficiency. This supplement is often suggested to patients suffering from anemia due to iron deficiency. In addition, inorganic salts are frequently used as antacids, thus resulting in their increasing popularity.
Rising Need for Pharmaceuticals Is Major Driver
The augmenting utilization of inorganic compounds as precursors and catalysts in the production of pharmaceuticals is projected to propel the industry growth. Hydrochloride salts are the most widely used in the making of medicinal drugs, as they are important for the metabolism and activities of the body.
In today's time, the increasing prevalence of several autoimmune and oncological diseases is propelling the requirement for drugs. Moreover, the improving living standards of the people and an increasing elderly populace will all have a positive impact on the industry.
Inorganic Salts Market Report Coverage

| | |
| --- | --- |
| Report Attribute | Details |
| Market Size in 2023 | USD 188.6 Billion |
| Revenue Forecast in 2030 | USD 290.8 Billion |
| Growth Rate | 6.5% CAGR |
| Historical Years | 2017-2023 |
| Forecast Years | 2024-2030 |
| Report Scope | Market Trends, Drivers, and Restraints; Revenue Estimation and Forecast; Segmentation Analysis; Impact of COVID-19; Companies' Strategic Developments; Market Share Analysis of Key Players; Company Profiling |
Explore more about this report - Request free sample pages
Mounting Requirement for Fertilizers To Boost Market Advance
Salts containing nitrogen, such as ammonium salts, are extensively used in the production of fertilizers because they act as nitrogen suppliers. Moreover, such salts are used in the production of insecticides for the conditioning and treatment of soil.
Nitrogen is an important nutrient for the growth of plants, and ammonium sulfate fertilizer comprises a high nitrogen concentration. This makes it a perfect option for plants that need high nitrogen levels, including grasses and leafy greens. Essentially, the surge in the requirement for larger crop yields, because of the increasing population, is boosting the requirement for agrochemicals containing inorganic salts.
Sodium Salts Category Is Major Contributor
The sodium salts category, based on product type, is the major contributor to the inorganic salts industry, because of the application of these compounds in different sectors. Common salt, which has the chemical name sodium chloride, is used in almost all savory dishes.
Moreover, huge amounts of common salt are used in the manufacturing of various industrial chemicals. This salt is also directly utilized for the removal of snow or ice, in manufacturing chlorine, and for the conditioning of water. Similarly, sodium hydrogen carbonate (NaHCO3) is widely used as baking powder, while sodium carbonate (Na2CO3) is used as a washing detergent for clothes.
Food Application To Observe Significant Growth
The chemical category, on the basis of application, accounts for a significant revenue share. This is because of the high-volume usage of sodium carbonate, caustic soda, and other inorganic salts for making paper, glass, and other important chemicals. In addition, a number of inorganic salts are needed for anti-icing and de-icing products, thus boosting the market advance.
The food category is likely to propel at a significant rate in the industry during the projection period. Inorganic salts are consumed as food additives, including preservatives, stabilizers, flavor enhancers, and color enhancers. Ammonium salts are commonly used for this purpose.
Furthermore, magnesium salts are used as firming agents, flavor enhancers, anticaking agents, and color enhancers. Moreover, magnesium sulfate is employed as a brewing salt in the production of beer, to enhance enzymatic activity or achieve a specific flavor profile.
APAC Is Market Leader
APAC is leading the industry owing to the surging construction activities, the rising need for agrochemicals, and the constant development in the chemical and agricultural sectors. China and India are two of the largest agrochemical producers in the world, with the latter recording revenue of INR 40,000 crore from their sales.
Furthermore, India is a key manufacturer for generic medicines, catering to almost 25% of the demand in the U.S., as per the IBEF. Inorganic salts are extensively utilized for drug manufacturing, as medications are essentially salts. Hence, the increasing exports and production of pharmaceuticals in China and India, because of the existence of numerous pure-play and CDM pharma firms, will boost this industry. In addition, China makes widespread use of acetate salts to create dress linings, fashion apparel, upholstery, and home furnishings.
North America is likely to observe a considerable growth rate, primarily because of the surging acceptance of salts comprising nitrates. These chemicals are utilized in producing ammunition and explosives, particularly ammonium nitrate. In addition, the rising acceptance of fertilizers to enhance the yield of farms is likely to assist in boosting the industry growth in this region. Furthermore, the existence of large inorganic salt corporations, as well as their robust funding for the launch of new products, is providing a strong growth potential to the regional industry.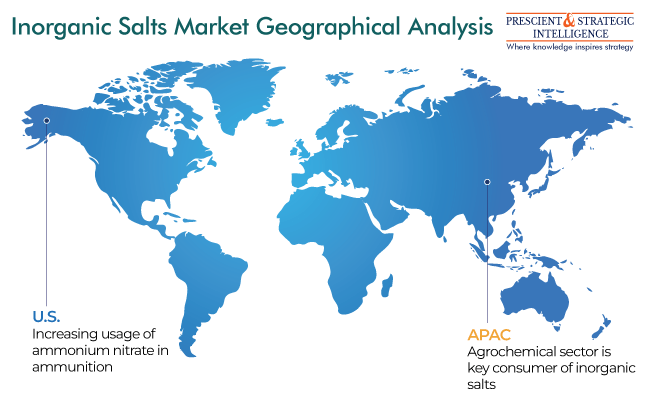 Major Companies in Inorganic Salts Market:
Loba Chemie Private Limited
Behn Meyer Europe GmbH
Eastman Chemical Company
Electrochemistry Co.
Arkema S.A.
Hebei Yatai Electrochemistry Co. Ltd.
Thermo Fisher Scientific Inc.
Otsuka Holdings Co. Ltd.
LANXESS Deutschland GmbH
Texas United Corporation
GFS CHEMICALS INC.
Tata Sons Pvt. Ltd.