Market Overview
The inertial navigation system market generated revenue of USD 10,812.8 million in 2022, which is expected to reach USD 16,111.8 million by 2030, advancing at a CAGR of 5.1% between 2022 and 2030. This is due to the rising demand for exact navigation systems and the increasing adoption of advanced technologies such as sensor technology, miniaturization, machine learning, and artificial intelligence by various industries.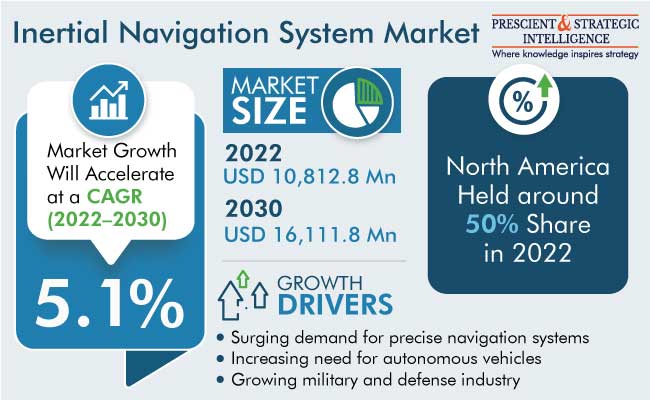 An inertial navigation system (INS) is an independent device consisting of a computational unit and an inertial measurement unit. It is a navigation technology that uses accelerometers, gyroscopes, and sometimes magnetometers to find the attitude, position, and velocity of a system based on its measurement.
Additionally, the surge in the demand for autonomous vehicles, such as self-driving cars, drones, and other vehicles, has driven the need for INS technology. This is because these vehicles require accurate and precise navigation systems, which can navigate and operate safely with the help of self-driving technology and without any involvement of human beings. Moreover, the adoption of inertial navigation systems is driven by their increasing applications in the defense, aerospace, commercial aviation, and marine sectors and technological advancements.
Growing Military and Defense Industry Boosts the Demand
The growing military and defense industry drives the need for inertial navigation systems, owing to the modernization of the military department in its equipment and systems, and defense organizations are investing and upgrading their equipment to increase day-to-day capabilities. Moreover, the military and defense sector is investing highly in research and development (R&D) activities to improve their capabilities and technologies, such as advancements in navigation and positioning solutions.
Additionally, inertial navigation systems play an important role in modern military and defense platforms such as aircraft, missiles, vehicles, and naval vessels, and in supporting the future progress in this industry. For instance, the INS is one major driver that can surge the demand for unmanned systems, such as drones and unmanned ground vehicles, where size and weight are the main factors. In addition, with the help of miniaturizing, inertial navigation systems can be made lighter, smaller, and more portable.
Nowadays, vehicles, such as cars, military vehicles, and aerial platforms, come with GPS-assisted inertial navigation systems, which integrate the data from both types of sensors. When the GPS signal is constant, errors are reduced, and the inertial navigation system can function independently, by using dead reckoning, based on the most recent state. For instance, while driving through a tunnel, the inertial navigation system can calculate the relative motion based on the GPS signal obtained before the car enters the tunnel, even though the GPS receiver's signal will be lost.
Furthermore, such military communication systems play an important role in conducting munitions, such as missiles, rockets, and smart bombs. This system will help such arms target the exact positions. To get more precise and accurate, the INS is used with other technologies such as the global navigation satellite system (GNSS). Thus, the growing military and defense industry is expanding the market growth.
Technology Advancement Is Driving the Market
Technology advancements play a vital role in driving the market for inertial navigation systems. Improvements in more aspects of such systems, including accuracy, reliability, weight, power, size, and cost-effectiveness, will benefit various industries such as military and defense, aerospace, and others. In addition, technological advancements in microelectromechanical systems (MEMS) are aiding in the market's expansion. With the utilization of MEMS, manufacturers have created more affordable, small-size, low-power, and cost-effective solutions.
Furthermore, the addition of different kinds of sensors, such as barometers, magnetometers, and GPS, increases the system's accuracy and dependability and brings out more exact and reliable navigation. Also, the proficiency and performance of inertial navigation systems are getting better using advanced MEMS-based sensors, improved sensor fusion algorithms, fiber optic gyroscopes, GNSS, and hybrid navigation systems.
As a result, the market is expected to expand, as the demand for precise and dependable navigation solutions for various applications is increasing. Moreover, the usage of inertial navigation systems in new and emerging applications, such as autonomous cars, drones, and smart bombs, has also been advanced. These systems are perfect for use in such applications because they are compact, lightweight, small in size, and have low power consumption.
Moreover, with the help of the INS technology, industries can not only track but also localize the capabilities, for the safety of critical vehicles. It can also be found in game controllers and smartphones, where it tracks the movement of the device in the 3D space.
While an inertial navigation system offers relative measurements given a starting point, a GPS can offer absolute readings, utilizing a steady external input. Over time, drift errors may develop in these relative measurements. Before the development of GPS, inertial navigation systems on rockets and missiles were dependent on a human operator to input the starting position.
Inertial Navigation System Market Report Coverage

| | |
| --- | --- |
| Report Attribute | Details |
| Historical Years | 2017-2022 |
| Forecast Years | 2023-2030 |
| Market Size in 2022 | USD 10,812.8 Million |
| Revenue Forecast in 2030 | USD 16,111.8 Million |
| Growth Rate | 5.1% CAGR |
| Report Scope | Market Trends, Drivers, and Restraints; Revenue Estimation and Forecast; Segmentation Analysis; Companies' Strategic Developments; Market Share Analysis of Key Players; Company Profiling |
| Segments Covered | By Application, By Component; By Technology; By End User; By Region |
Explore more about this report - Request free sample pages
Gyroscopes Hold the Largest Share in the Industry
Based on component, the gyroscopes category accounted for the largest revenue share, of 40%, in the inertial navigation system market in 2022, and it will further maintain its dominance in the future. This is attributed to their high accuracy and reliability, advancement in the gyroscope's technology, and reliability in GPS-denied environments.
Moreover, gyroscope technology has advanced remarkably over time, which results in enhanced performance, smaller size, greater durability, and lower cost. For instance, the fiber optic gyroscopes (FOGs) and microelectromechanical systems (MEMS) gyroscopes, which are trustworthy and cost-effective due to the developments of technology, are now more widely used for a variety of applications, such as aerospace, defense, marine, and robotics.
Additionally, gyroscopes are precisely less prone to electromagnetic interference. This is due to the presence of electronic devices, military platforms, radar systems, and others, which operate in more high electromagnetic fields (EMI) and make them more appropriate for integration.
Furthermore, the technical developments in gyroscopes have been a result of the expanding demand for better INS performance. The aviation industry, which is the main user of INS systems, has contributed significantly to the market growth. A key market driver in this regard has been the rapidly expanding use of drones in the defense and commercial sectors. In addition, due to the rising market investment, technical advancements are producing better performances and lower prices.
Additionally, this is stimulating the demand for gyroscope systems across numerous industries and advancing the market growth.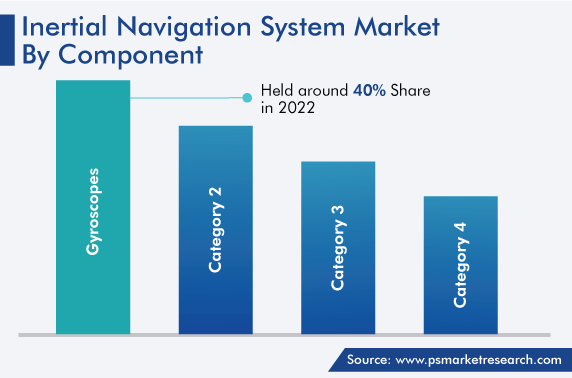 MEMS Category To Grow at the Highest Pace
Based on technology, the microelectromechanical systems (MEMS) category is projected to witness the fastest growth during the forecast period. This can be attributed to the greater integration of MEMS sensors in the inertial navigation system and the fast-paced development of MEMS technology with high effectiveness. The main goals of MEMS are improved accuracy, weight reduction, cost-effectiveness, high performance, and great dependability.
Additionally, MEMS gyroscopes and accelerometers can be used in various applications like military and defense devices; customer electronics, such as smartphones, gaming consoles, and fitness trackers; automotive vehicle navigation and stabilization; robotics; and healthcare with motion tracking and prostheses.
Moreover, to create a more complete inertial navigation system, microelectromechanical system-based gyroscopes and accelerometers can be easily connected with other sensors like magnetometers and GNSS receivers. Also, to meet the changing needs of numerous industries, this integration improves the entire navigation solution and brings accuracy resilience and reliability. Thus, these factors are driving the growth of the market in this category.
Asia-Pacific Market To Witness the Highest Growth
The APAC market is projected to witness the highest growth during the forecast period. This can be ascribed to the growing aviation industry in the region. The rise in the income of middle-class people leads them to travel via air, which has created the demand for aircraft, which, in turn, boosts the need for inertial navigation systems in APAC.
On the other hand, North America accounts for the highest market share. This is because the U.S. is the world-leading producer and supplier of robotic vehicles and aircraft, and the high usage of remotely operated vehicles in various applications, such as commercial, aerospace, and military, in the region.
Europe is expected to witness moderate growth in the market owing to the surge in the demand for unmanned vehicles for reconnaissance operations and the increase in the investment by the defense sector to acquire advanced missiles and other equipment. Moreover, the burgeoning spending on research and development (R&D) activities to manufacture innovative and cost-efficient product lines will facilitate the market growth in the region.
Furthermore, inertial navigation systems are more in demand in the U.S. maritime industry, due to the high focus on oil exploration activities. Gyroscopes and accelerometers, with great performance, are needed for oil rig activities in order to use proper self-contained sensor systems and inertial navigation gyroscopes to provide exact platform stabilization solutions in applications like offshore oil rigs, where stability is important.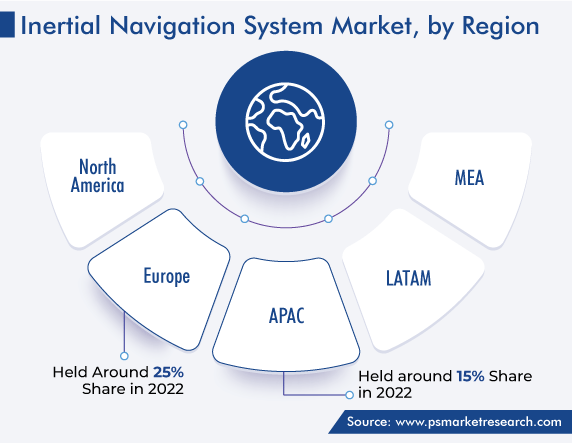 Top Players in the Inertial Navigation System Are:
Honeywell International Inc.
Northrop Grumman Corporation
Safran Electronics & Defense
Thales Group
Collins Aerospace
L3Harris Technologies Inc.
iXblue
KVH Industries Inc.
VectorNav Technologies
Trimble Inc.
Market Size Breakdown by Segment
The report analyzes the impact of the major drivers and restraints on the inertial navigation system market, to offer accurate market estimations for 2017–2030.
Based on Application
Aviation
Marine
Missiles
Space Launch Vehicles
Military and Defense
Based on Technology
Mechanical Gyroscopes
Ring Laser Gyroscopes
Fiber Optic Gyroscopes
MEMS
Based on Component
Accelerometers
Gyroscopes
Magnetometers
Based on End User
Commercial
Military
Space
Geographical Analysis
North America
Europe

Germany
U.K
France
Italy
Spain

Asia-Pacific

Japan
China
India
South Korea
Australia

Latin America
Middle East and Africa

Saudi Arabia
South Africa
U.A.E.