Market Overview
The industrial starches market size was valued at $97,623.6 million in 2021, and it is expected to grow at a CAGR of 6.4% during 2021–2030. Industrial starch is mostly used in the food industry as an additive. It has certain properties, such as stabilizing, thickening, film-forming, and gelling, which make it a worthy product in the industry. Due to these factors, the demand for these starches are increasing across the globe.
The flourishing food and beverage industry influences buyers' decisions, product quality, uniqueness, and cost comparison. Also, high brand identity, low switching cost, and awareness among buyers regarding industrial starches result in the market growth.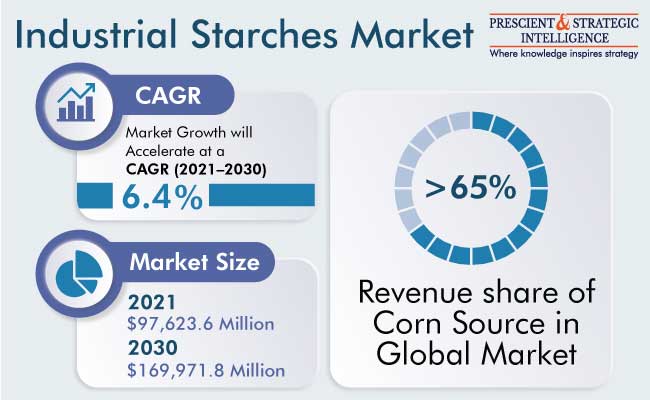 Due to the support provided by governments for the smoothly functioning of the supply chain and further supporting national food security in the face of the crisis, the impact of the pandemic on the agricultural sector was low. Moreover, the pharmaceutical industry impacted the market positively, due to the increased usage of starches in drugs and medicines. Furthermore, other industries, including paper & pulp and textile, were hampered. However, as the lockdown lifted, the market is expected to grow at a moderate pace in the coming years.
Corn Is the Leading Revenue Generator in the Market
Corn is one of the most important raw materials used in the production of starch, generating the highest revenue in the market. The global production of corns is increased by more than 7% in 2022, as compared to 2021, due to the rapidly expanding agriculture and food processing sectors. The expansion provides an opportunity for starch manufacturers to take strategic approaches to use corns for the production of starch.
In the paper industry, corn starch is used as a wet end additive, surface sizing or tub sizing agent, binder, and coating agent. When compared to conventional plastic, corn starch has a variety of environmental advantages, such as biodegradability. Furthermore, maize starch packaging is more than 25% tougher than traditional polythene bags.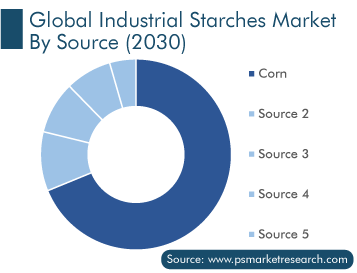 Native Starch Is a Highly Used Product
The native starch held the largest revenue share, of over 30%, in 2021, in the industrial starches market. Natural sources of native starch include corn, wheat, potato, tapioca, and others. It is prevalently used as a thickening agent in the food processing industry, providing texture and stability to the food. Native starch can be also used as a binding agent or gelling agent, which is cryostable.
Furthermore, the demand for food made with natural ingredients is rising. Consumers are becoming increasingly concerned about the long-term viability of food, such as its safety, nutritional content, and environmental impact. To fulfill the need of consumers, companies are incorporating native starches into their products. For instance, in November 2020, Ingredion Incorporated, an ingredient provider, released NOVATION 9460 organic instant functional native starch to penetrate the lucrative organic F&B business in Europe. NOVATION 9460 provides viscosity to sauces, cake mixes, and other semi-liquid products, enabling exact rheological control, and also offers customers organic food containing native starches.
Industrial Starches Market Report Coverage

| | |
| --- | --- |
| Report Attribute | Details |
| Historical Years | 2017-2021 |
| Forecast Years | 2022-2030 |
| Market Size in 2021 | $97,623.6 Million |
| Revenue Forecast in 2030 | $169,971.8 Million |
| Growth Rate | 6.4% CAGR |
| Report Scope | Market Trends, Drivers, and Restraints; Revenue Estimation and Forecast; Segmentation Analysis; Companies' Strategic Developments; Market Share Analysis of Key Players; Company Profiling |
| Segments Covered | By Source; By Type; By Application; By Region |
Explore more about this report - Request free sample pages
APAC Is a Significant Contributor to the Market
The APAC market for industrial starches is projected to expand quickly in the coming years, due to the increasing crop production of starch sources, such as cassava, sweet potato, and maize, in emerging economies such as China, Thailand, Indonesia, and India. The massive raw materials yield leads to an increase in product offerings, which is expected to boost the regional market. Moreover, the industry is progressing in the region, due to the growing end-use industries such as textile and paper.
Furthermore, the rising disposable per capita income and the surging consumer demand for a broader range of food and manufactured products containing starch across the region are propelling the industrial starches market growth. For instance, real household domestic disposable income per capita in Australia increased by a 1.22% CAGR over the past decade.
Also, APAC is an emerging pharmaceutical hotspot as a large number of pharmaceutical companies, such as Sun Pharmaceutical Industries, Dr. Reddy's Laboratories, Cipla Limited, and Serum Institute of India Pvt. Ltd., are establishing their manufacturing facilities in the region, due to approximately 30% lower cost of manufacturing compared to western countries.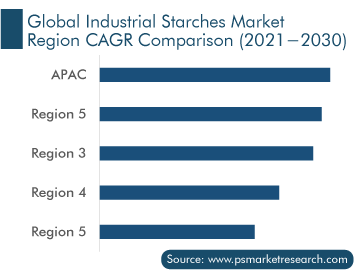 Food Processing Industry Is Dominating the Market
The food industry witnessed rapid growth in 2021, in the market, on account of the changing eating habits of consumers and the increasing number of employed people. For instance, in 2022, the number of employed people in the U.S. is around 160 million. Also, due to the long working hours, easy availability of processed food, and changing consumer lifestyles, the use of industrial starches is massively increasing across the world.
Increasing Investment in Emerging Economies Provides Opportunities to the Market
Food processing is one of the fastest-growing industries, particularly in emerging economies such as India and China, and it aspires to become one of the largest markets in developing countries. With a constantly expanding economy, rising food demand, and increasing income levels, the food sector has seen a significant shift in spending patterns. Among many others, starch has been identified as a potential product in the food processing sector.
In the era of economic liberalization, governments play a key role in the growth of the food processing sector. For instance, in 2020, the Indian government announced 100% foreign direct investments (FDI) in the processed food industry.
Moreover, companies are also serving as a catalyst for attracting more investment into emerging economies. For instance, in September 2020, Cargill Inc., a food corporation, invested $100 million in PT. Sorini Agro Asia Corporindo, a sweetener factory in Pandaan, to construct a maize wet mill and install a starch dryer, in order to better meet surging customer demand for corn-based starches, animal feed components, and sweeteners.
Companies Adopting Several Strategic Developments to Combat Competition
The industrial starches market is booming due to several strategic developments adopted by companies to diversify their product portfolios and gain a competitive edge in the industry. Moreover, the food processing, pharmaceutical, and biobased industrial products sectors are creating a huge demand for these starches. To cater to the surging needs, companies are involved in geographical expansions and product launches.
For instance, in April 2021, Cargill partnered with Starpro, a Thai food-grade tapioca starch manufacturer, to provide specialty tapioca starch solutions for Asian food manufacturers.
Moreover, in January 2021, Tate & Lyle PLC, an F&B ingredients and services company, expanded its product line to include tapioca-based starches. The expansion includes new REZISTA MAX thickening starches and BRIOGEL gelling starches. Soups, dairy, sauces and dressings, and confectionery are only a few of the applications of these starches.
Industrial Starches Market Key Players Are:
Cargill Incorporated
Archer Daniels Midland Company
Ingredion Incorporated
Tate & Lyle PLC
Grain Processing Corporation
Roquette Frères
Tereos Group
Royal Cosun
Market Size Breakdown by Segment
The research offers the market size of the industrial starches for the period 2017–2030.
Based on Source
Corn
Wheat
Cassava
Potato
Based on Type
Native Starch
Starch Derivatives
Sweeteners
Based on Application
Food
Feed
Pharmaceutical
Paper Industry
Geographical Analysis
North America
Europe

Germany
U.K.
France
Italy
Spain

Asia-Pacific

Japan
China
India
Australia

Latin America
Middle East and Africa