Industrial Safety Market Size & Share
The industrial safety market was valued at USD 5,889.3 million in 2023, which is expected to reach USD 8,923.2 million by 2030, growing at a CAGR of 6.3% during 2024–2030.
The key reason for the market growth is the increasing recognition of businesses of the significance of worker safety. Providing a safe workplace not only protects workers but also boosts productivity and lowers operating expenses. Industrial settings are frequently linked to a variety of occupational risks, such as chemical exposure, building collapses, explosions, and equipment mishaps. Hence, a range of security systems and technologies are in high demand as a result of the rising awareness of these risks and the need to reduce them.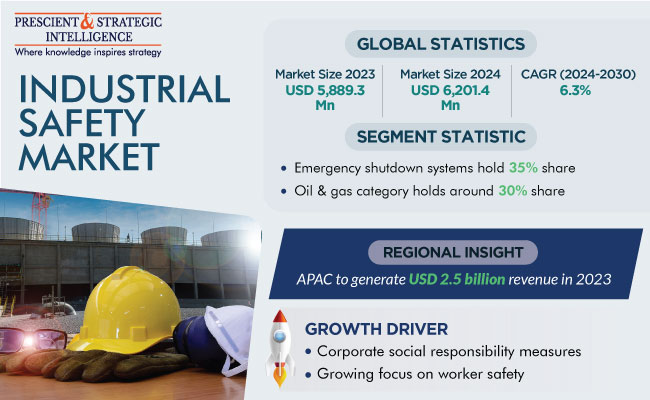 The market has essentially grown as a result of the quick industrialization and building activity in emerging economies. Strong safety precautions are required as new manufacturing plants are built and new construction projects are initiated.
Technological advancement has also had a big impact on the market. Technologies such as the internet of things (IoT), artificial intelligence (AI), wearable electronics, and real-time monitoring systems have enhanced risk assessment abilities, compliance with safety rules, and overall safety.
Organizations are becoming increasingly aware of the value of staff wellness and how it affects employee retention, efficiency, and satisfaction. Investment in workplace safety measures is regarded as critical for guaranteeing employee welfare, which enhances overall organizational success. To guarantee employee safety and prevent workplace mishaps, governments all over the world have put in place strict regulations and safety measures, which drives the market.
Based on particular processes and risks, various industries have specialized safety criteria. Industries with high demands for safety include manufacturing, construction, oil & gas, chemicals, mining, and transportation. This propels the demand for sector-specific safety products and services.
Growing Focus on Worker Safety
The International Labour Organization (ILO) estimates that 2.3 million workers worldwide lose their lives to workplace illnesses and accidents each year. This emphasizes the importance of ensuring worker safety in industrial environments.
Moreover, to achieve this goal, governments all over the world have put in place strict rules and guidelines, which businesses must comply with, or risk fines, legal repercussions, and reputational harm.
Different industries operate with varying degrees of risk and danger. Due to the possibility of mishaps, such as injuries and encounters with dangerous substances, the building, manufacturing, mining, and oil & gas industries are all regarded as risky areas; therefore, worker safety is especially important here.
Keeping workers safe has a favorable effect on output and retention. Employee motivation, engagement, and productivity are all likely to increase when they feel safe and protected. A positive organizational culture, lower turnover rates, and improved employee morale are all benefits of a safe workplace.
Businesses with a significant focus on employee safety typically have a good reputation in the marketplace. On the other hand, incidents of mishaps or poor safety procedures can result in bad press, a tarnished reputation, and a decline in public confidence. Putting worker safety first helps the business maintain a good reputation and build brand value.
The money spent on worker safety precautions may pay off in the long run. Effective safety practices and programs have been linked by studies to lower workers' compensation expenses, reduce absenteeism, lead to higher productivity, and result in better overall financial success.
Machine Safety also Gaining Widespread Significance
The implementation of machine safety measures aids in reducing the likelihood of mishaps and injuries brought on by coming in contact with moving parts, electrical risks, machine breakdowns, or other equipment-related dangers. Interlocks, safety switches, emergency stops, and other safety features are, thus, crucial, along with the appropriate security of machinery.
Specific safety rules apply to different types of machinery and equipment. For instance, in the industrial sector, thorough machine safety precautions are needed to safeguard employees from potential risks, when using heavy equipment, robotic systems, and automated production lines. Safety standards and guidelines that are industry-specific offer comprehensive suggestions for guaranteeing machine safety.
Moreover, advanced machine security precautions and systems have been developed as a result of technological developments. In order to improve machine safety, a variety of sensors, machine vision systems, and advanced control systems allow for real-time monitoring, hazard detection, and automatic response.
Industrial Safety Market Report Coverage

| | |
| --- | --- |
| Report Attribute | Details |
| Market Size in 2023 | USD 5,889.3 Million |
| Market Size in 2024 | USD 6,201.4 Million |
| Revenue Forecast in 2030 | USD 8,923.2 Million |
| Growth Rate | 6.3% CAGR |
| Historical Years | 2017-2023 |
| Forecast Years | 2024-2030 |
| Report Scope | Market Trends, Drivers, and Restraints; Revenue Estimation and Forecast; Segmentation Analysis; Impact of COVID-19; Companies' Strategic Developments; Market Share Analysis of Key Players; Company Profiling |
| Segments Covered | By Type; By Component; By Product; By End User; By Region |
Explore more about this report - Request free sample pages
Safety Sensors Hold Significant Share
Safety sensors held the largest market share, of 25%, in 2023, and this category is expected to witness a CAGR of 6.6% during 2024–2030.
Compliance with safety laws and standards frequently includes safety sensors as a critical component. The use of safety sensors for danger detection and risk mitigation is encouraged by regulatory organizations, such as the Occupational Safety and Health Administration (OSHA) and the International Organization for Standardization (ISO).
For spotting possible risks in industrial settings, a variety of sensors are essential. They can recognize the presence of employees or unauthorized personnel in risky regions or detect unusual circumstances that can result in an accident. These sensors enable immediate safety actions, such as stopping machinery, turning on warning signals, and starting emergency shutdowns, by quickly identifying these threats.
These instruments are, therefore, used in robots, automated manufacturing lines, conveyor systems, material handling apparatus, and other machinery involving human–machine contact. Moreover, their adaptability and versatility have made them appropriate for a range of industries and environments.
Additionally, these components have advanced greatly with the developments in sensing, communication, and data processing technologies. These developments enable quicker responses, more-accurate and reliable detection, and greater application flexibility. Such modern sensors include laser scanners, capacitive sensors, light curtains, and safety mats.
Usually, these instruments are incorporated into complete safety systems, which also contain controllers, relays, and other parts. The overall hazard during industrial activities is reduced by this integration, which enables smooth coordination and communication between the sensors and the overall safety infrastructure.
Safety Interlock Switches Are Important Components
The typical purpose of safety interlock switches is to stop sending power or control signals to a machine or piece of equipment when a certain requirement is not met. A door opening, the removal of a guard, or pressing of an emergency stop button are a few examples of the actions that can set them off. Switches that reduce machine risk, shield personnel from potential dangers, and prohibit unauthorized access are all components of safety interlocks.
Controllers, relays, and a range of other safety components are frequently included in comprehensive safety systems, along with these interlock switches. Within the broader safety infrastructure, such integration makes sure that safety interlock operations are properly coordinated and monitored.
Interlock switches have several uses in the manufacturing, automotive, food & beverage, pharmaceutical, and other industries, such as the enhancement of workers' safety, prevention of unauthorized access, and mitigation of mishaps. When limiting access to dangerous locations and prioritizing worker safety, they are employed in machinery, equipment, and production lines.
Emergency Shutdown (ESD) Systems Dominate Safety System Segment
Emergency shutdown systems are dominating the industrial safety market, based on safety system, and they are expected to showcase significant growth in the forecast period.
ESD systems are intended to initiate a rapid response to dangerous situations. They have logic controllers and sensors for monitoring process conditions and parameters continually. An ESD system initiates a prompt process shutdown when an abnormal or possibly hazardous condition is identified, in order to stop the hazard from worsening.
ESD systems' main goal is to reduce risks, avert accidents, and lessen the possibility of injuries or fatalities, by swiftly stopping a process when dangerous conditions arise. Specific situations can include the release of poisonous substances and unchecked flames.
Oil & gas, chemical & petrochemicals, power generation, and manufacturing are just a few of the areas where these systems are used. These businesses frequently work with risky materials, high-pressure systems, and intricate procedures, which increases the likelihood of mishaps or catastrophes. In these settings, ESDs offer a critical layer of safety.
Fire & Gas Monitoring Systems Category Is Expected To Witness High Growth Rate
Industry associations and governing bodies mandate businesses to implement thorough fire and gas monitoring practices due to the omnipresent risk of burn injuries in many sectors. To safeguard employees, avert accidents, and lessen fire and gas-related risks, it is essential to comply with these requirements.
The global expansion of sectors including oil & gas, petrochemicals & chemicals, and manufacturing has led to a rise in the demand for fire & gas monitoring systems. This is because they frequently handle flammable substances and corrosive chemicals, which makes it crucial to spot potential hazards, launch prompt reactions, and avert accidents.
The functionality and efficacy of these systems have been enhanced by the developments in the sensing technology and data analytics. Greater accuracy, dependability, and sensitivity are provided by modern multi-sensor systems, flame detectors, and gas detectors in identifying fires and gas leaks. Further, IoT connectivity and the integration of data analytical tools, sensors, and other components enable real-time monitoring, data analysis, and remote access to crucial information.
APAC Is Dominant Region
The Asia-Pacific region dominates the industrial safety market, and it is also expected to remain dominant over the forecast period.
In recent years, APAC nations, including India, China, and those in Southeast Asia, have seen significant industrialization and economic expansion. Security solutions and services are in high demand as more manufacturing facilities, industrial buildings, and infrastructure projects come to life.
The manufacturing industry in APAC is well known for being huge and diversified, covering sectors such as automobile, electronic devices, chemicals, and textiles. To guarantee worker safety and regulatory adherence in these businesses, strict safety measures are needed.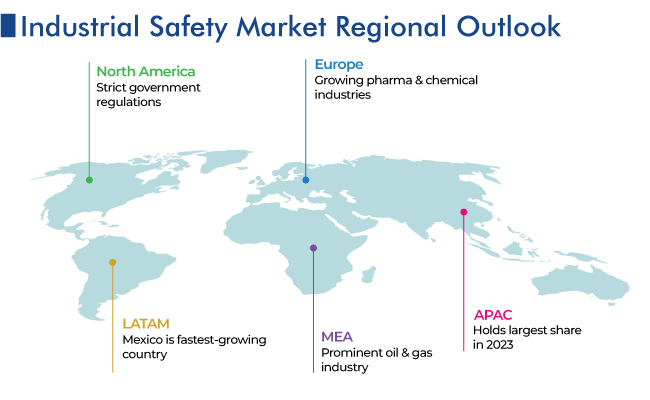 Moreover, to ensure the implementation of such measures, governments in APAC nations have enacted strict safety regulations and standards. China, for instance, has made industrial safety a priority through legislative reforms and stronger enforcement. Thus, the adoption of industrial safety solutions in the region has been sparked, in part, by the need to comply with these standards.
Key Players in Industrial Safety Market Are:
HIMA Paul Hildebrandt GmbH
Johnson Controls International PLC
Siemens AG
Honeywell International Inc.
Emerson Electric Co.
OMRON Corporation
Rockwell Automation Inc.
ABB Ltd.
General Electric
Schneider Electric SE
Market Size Breakdown by Segment
The study uncovers the biggest trends and opportunities in the industrial safety market, along with offering segmentation analysis at the granular level for the period 2017 to 2030.
Based on Type
Machine Safety
Worker Safety
Based on Component
Safety Sensors
Programmable Safety Systems
Safety Controllers/Modules/Relays
Safety Switches
Emergency Stop Devices
Safety Valves
Head, Eye, Face, and Hearing Protection
Supplied Air Respirators
Air Purifying Respirators
Based on Product
Emergency Shutdown Systems
Fire & Gas Monitoring Systems
High-Integrity Pressure Protection Systems
Burner Management Systems
Turbomachinery Control
Based on End User
Oil & Gas
Food & Beverages
Pharmaceuticals
Chemicals
Power Generation
Metals & Mining
Water & Wastewater
Geographical Analysis
North America
Europe

Germany
U.K.
France
Italy
Spain

Asia-Pacific

Japan
China
India
South Korea
Australia

Latin America
Middle East and Africa

Saudi Arabia
South Africa
U.A.E