Industrial Refrigeration Systems Market Overview
The global industrial refrigeration systems market size, which was $26.8 billion in 2019, is expected to witness a CAGR of 5.0% during the forecast period (2020–2030), to reach $41.1 billion in 2030. The market is mainly driven by the growing food processing and cold chain industries, coupled with the increasing use of refrigeration in the chemicals and pharmaceuticals industry.
Due to the COVID-19 pandemic, the global industrial refrigeration systems market is witnessing subdued growth and a dip in its size in 2020. Players operating in the market are facing issues such as the unavailability of raw materials and cancellation of orders, as the manufacturing of the final equipment and supply of components and raw materials, especially from China, have reduced drastically. Moreover, due to restrictions on the import–export of products, the supply of refrigeration systems has further been hit.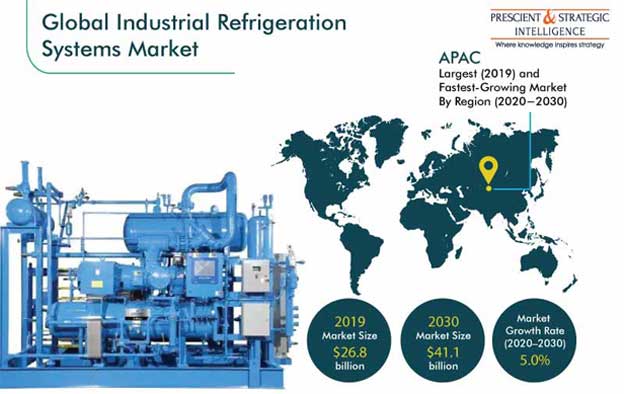 Controls Category To Witness Fastest Growth Till 2030
Based on equipment type, the controls category is projected to register the fastest growth during the forecast period, owing to the increasing demand for control systems for improvements in the efficiency and functionality of industrial refrigeration systems. The incorporation of advanced control and monitoring systems offers savings, as they make the appliances energy-efficient, provide convenience for automated operations, and can also reduce the frequency of failure due to the occurrence of human errors. These pointers are further aiding the growth of the controls category in the industrial refrigeration systems market.
Reciprocating Compressors Held Major Share during Historical Period
Compressor was the largest category, based on equipment type, during the historical period (2014–2019) in industrial refrigeration systems market. It is further categorized into reciprocating, screw, centrifugal, and scroll compressors. Among these, the reciprocating compressor sub-category accounted for the largest revenue share during the historical period, owing to the easy availability, excellent operational performance, and immense popularity of these compressors.
Although reciprocating compressors are comparatively more expensive than others, they compensate for this by resulting in the least energy losses and minimal heat generation. Moreover, reciprocating compressors have a wide range of applications across several verticals, including oil refineries and chemical plants.
CO2-Based Refrigerant Category To Record Fastest Growth during Forecast Period
Based on refrigerant type, CO2-based industrial refrigeration systems are expected to register the highest growth rate during the forecast period, owing to the low toxicity and non-flammable properties of this gas. Industries around the globe are opting for CO2 based refrigerant as it is termed as 'natural refrigerant', which after release into atmosphere from refrigeration systems has a negligible effect in comparison to other refrigerants. Along with this, there are no impending laws regarding the phasing-out of CO2, which is being pitched as a long-term refrigerant alternative, which is further projected to drive the industrial refrigeration systems market growth.
Food and Beverages Category To Dominate Market throughout Forecast Period
In the forecast period, the fastest growth in the industry is set to be witnessed by the food and beverages category, under segmentation by application. This is attributed to the strong demand for industrial refrigerators from food and beverages processing companies, as well as refrigerated warehouses.
Major countries are investing significantly in strengthening their cold chain infrastructure, as refrigeration is an integral part of the food and beverages industry. Such systems are used to preserve edible items, without adversely affecting their quality or nutritional content. All such factors are prognosticated to aid in the continued dominance of the food and beverages category on the industrial refrigeration systems market in the coming years.
Asia-Pacific (APAC) To Remain Largest Revenue Contributor Till 2030
The APAC region is predicted to hold largest market share during the forecast period in the industrial refrigeration systems market. This can be primarily attributed to the fact that the region is home to some of the most populous and industrialized countries in the world. Major regional nations are investing substantially to develop world-class cold-chain infrastructure. For instance, in September 2020, Government of India approved 27 new integrated cold chain projects, with an investment of $67.1 million (INR 743 crore). The projects have been approved under the Pradhan Mantri Kisan Sampada Yojana (PMKSY), scheme for integrated cold chain and value-addition infrastructure development program.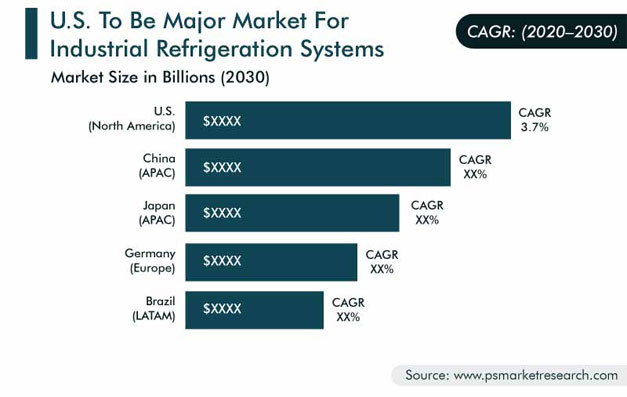 Adoption of Environment-Friendly Refrigerants Is the Key Trend in the Industrial Refrigeration Systems Market
Globally, governments have adopted several stringent regulations regarding the use of halogen-based refrigerants. For instance, in 2015, the F-gas regulation was implemented by the EU, which led to the ban on the use of certain F-gases, based on their global warming potential (GWP). Under the EU F-gas regulation, from January 1, 2020, the use of fluorinated greenhouse gases with a GWP of 2,500 or more, to service or maintain refrigeration equipment with a charge size of 40 tons or more of CO2 equivalent (CO2e), has been prohibited. Such regulations are expected to lure other regions to follow a similar path, and in turn, contribute to the high adoption of environment-friendly refrigerants globally.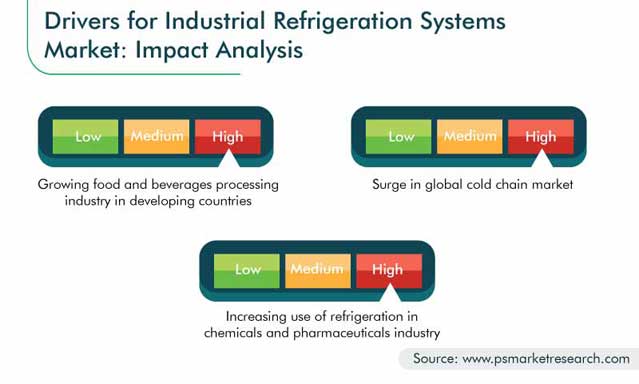 Surge in Global Cold Chain Industry To Be Major Driving Force
The sales of biologic products and biotech drugs exceeded $340 billion in value in 2019. The usage of special logistics solutions for maintaining the quality of such temperature (2–8 °C)-sensitive products, while shipping them from manufacturers to hospitals, clinics, pharmacies, and patients around the world, is consistently increasing. The rising consumption of these products in developed and developing economies is propelling the growth of the cold chain in the pharma sector.
Thus, global logistics spending in the cold chain space is expected to grow from $15.9 billion in 2019 to over $18.6 billion in 2022. The high reliance on cold storage facilities leads to a substantial increase in the cold warehouse capacity, and such developments are fueling the industrial refrigeration systems market advance.
Increasing Use of Refrigeration in Chemical and Pharmaceutical Industry is Driving Market
The chemical, petrochemical, and oil refining industries need refrigeration to condense gases, dehumidify air, and preserve compounds. Refrigeration is used in the pharmaceutical industry for cold sterilization of medical devices, tissue samples, and biologics. Further, in the chemical industry, there is a need for advanced refrigeration for maintaining the temperature of certain raw materials and semi-finished and finished products. Further, many pharmaceuticals, vaccines, bioengineered drugs, and biologics, which are derived from living cells, must remain within stable temperatures to remain viable. Such requirements are expected to drive the industrial refrigeration systems market growth in the coming years.
Industrial Refrigeration Systems Market Report Coverage

| Report Attribute | Details |
| --- | --- |
| Historical Years | 2014-2010 |
| Base Year (2019) Market Size | $26.8 Billion |
| Forecast Years | 2020-2030 |
| Forecast Period (2020-2030) CAGR | 5.0% |
| Report Coverage | COVID-19 Impact Analysis, Market Trends, Drivers, Restraints and Opportunities, Value Chain Analysis, Revenue Estimation and Forecast, Segmentation Analysis, Regional and Country Breakdown, Company Market Share Analysis, Major Country Analysis, Companies' Strategic Developments, Product Benchmarking, Company Profiling |
| Market Size by Segments | Equipment Type, Refrigerant Type, Application, Region |
| Market Size of Geographies | U.S., Canada, France, Germany, Italy, Russia, Spain, U.K., China, India, Australia, Japan, South Korea, Brazil, Mexico, Saudi Arabia, Turkey, U.A.E., South Africa |
| Secondary Sources and References (Partial List) | Heating, Refrigeration and Air Conditioning Institute of Canada (HRAI), Association of European Refrigeration Component Manufacturers (ASERCOM), Brazilian Association of Refrigeration, Air Conditioning and Heating (ABRAVA), China Refrigeration and Air-conditioning Conditioning Industry Association, American Society of Heating, Refrigerating, and Air Conditioning Engineers (ASHRAE), Global Cold Chain Alliance (GCCA), Refrigeration Service Engineers Society (RSES) |
Partnerships and Product Launches Rank High among Strategic Developments in Market Outlook
In order to expand their reach, consolidate their position, and grab a larger share of the global industrial refrigeration systems market revenue, players operating in the industry are focusing on partnerships. As per analysis, product launch is another important strategy followed by the market participants to cater to their customers with advanced product offerings.
In November 2019, Danfoss India launched an incompressible computational fluid dynamics (ICFD) defrost module, a product specially designed to improve defrost performance and reduce energy consumption in industrial refrigeration applications.
Similarly, in July 2019, The Chemours Company and Axima Refrigeration France partnered on the use of the Opteon XL A2L-class refrigerants for commercial refrigeration, before the next European F-Gas hydrofluorocarbon (HFC) cap and phase-out are implemented in 2021.
Key players in industrial refrigeration systems market report are:
Trane Technologies plc

Carrier Global Corporation

Hussmann Corporation

Dover Corporation

Daikin Industries Ltd.

Johnson Controls International PLC

Midea Group Co. Ltd.
Industrial Frigo SRL

GEA Group Aktiengesellschaft

Emerson Electric Co.

BITZER Kühlmaschinenbau GmbH

Danfoss A/S

Star Refrigeration Ltd.

Mayekawa Mfg. Co. Ltd.
Industrial Refrigeration Systems Market Size Breakdown by Segment
The industrial refrigeration systems market report offers comprehensive market segmentation analysis along with market estimation for the period 2014–2030.
Based on Equipment Type
Compressors

Reciprocating
Screw
Centrifugal
Scroll

Condensers

Air-cooled
Evaporative
Water-cooled

Evaporators

Shell and tube
Bare tube
Finned
Plate

Controls
Based on Refrigerant Type
Ammonia
Carbon Dioxide (CO2)
Hydrofluorocarbon (HFC)
Based on Application
Food & Beverages
Chemicals & Pharmaceuticals
Oil & Gas
Geographical Analysis
North America
Europe

Germany
France
U.K.
Italy

Asia-Pacific (APAC)
Latin America (LATAM)
Middle East & Africa (MEA)