Market Overview
The industrial control & factory automation market size stood at USD 148.3 billion in 2022, and it is expected to advance at a compound annual growth rate of 8.60% during 2022–2030, to reach USD 286.8 billion by 2030.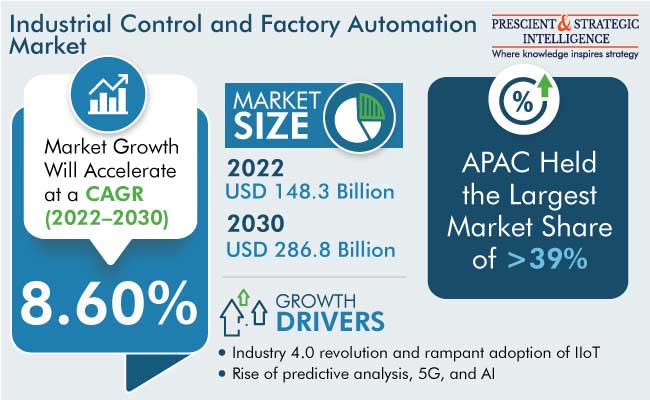 Industrial automation requires an array of control systems, such as robots and data acquisition tools, for handling various kinds of operations and equipment in different sectors. Moreover, these products play a major role in decreasing production costs and improving the quality of products, thus resulting in bigger profits. It is the outcome of digitalization, which has improved the industrial sector exponentially and compelled industrialists to keep marching on this road. It can make operations such as supervision easy, by leveraging robots, computers, and other control systems. Automation benefits industrial organizations in reducing costs, improving productivity, enhancing communication, and better supervising equipment.
The industrial sector is changing rapidly with the continual development of new technologies, such as robotics and artificial intelligence. Intelligently automating the manufacturing infrastructure enables smooth production and material handling operations. To reduce their labor cost and increase productivity, different industries are adopting industrial automation and control systems. Moreover, with the emergence of Industry 4.0, the manufacturing sector has been experiencing the rapid adoption of new systems and networking architectures.
The growth of the global industrial control & factory automation market depends upon different factors, such as the emergence of connected enterprises, government initiatives to promote industrial automation, adoption of IoT and AI in factories, emphasis on the optimum utilization of resources and improved efficiency, and integration of machine vision systems with deep learning.
The outbreak of COVID-19 drastically impacted the growth of the market for industrial control & factory automation solutions in 2020, in turn, resulting in a significant impact on the major players operating along the supply chain. The market advance was hindered by several challenges amid the COVID-19 pandemic, such as a lack of skilled workforce and delays or cancelations of projects due to the partial or complete lockdowns across the globe.
However, the increase in the adoption of the industrial internet of things across manufacturing sectors is one of the major factors that boosted the market growth during the COVID-19 pandemic. Moreover, the rise in the investment and ongoing development in the manufacturing sector are set to propel the growth of the market in the coming years.
Governments' Initiatives to Promote Industrial Automation
To ensure healthy economic development, governments in almost all countries are supporting industries. The structural development of the manufacturing sector depends upon the adoption of advanced communication and automation technologies. For instance, Singapore's government is collaborating with the Singapore Food Manufacturing Association (SFMA) and Food Innovation Resource Centre to incorporate advanced automation solutions, such as DCS, SCADA, PLC, and robots, in the food & beverage industry.
Similarly, the National Manufacturing Policy (NMP) of the Government of India is focused on boosting manufacturing output and quality. The government has also launched the Make in India initiative to encourage companies to set up manufacturing plants here and automate their operations. Moreover, the Indian government's spending on IT in 2022 increased by 12.1% from the previous year, to encourage automation and other technological advancements in different industries.
Adoption of IoT and AI in Industrial Processes
IoT is an approach where many devices, such as home appliances, wearables, and even manufacturing machines, are connected to the internet, sharing data with each other and a control center. These interconnected smart devices enable automation across various industries.
Currently, organizations are investing in IoT and industrial automation for their business expansion powered by technological advancements. According to Oxford Economics, 34% of the manufacturers said investments in AI were their priority, while 27% said they prioritize predictive analytics and 19% were firmly focused on initiatives involving ML.
The need to expand production, increase operating efficiency and system uptime, ensure the safety of workers, and strengthen perimeter access and control is one of the major factors responsible for the rising adoption of IoT and AI for industrial automation.
For instance, it is mandatory for a few industries to comply with certain product quality standards, which are implemented by governments. For instance, in the case of food production, the FDA Food Safety Modernization Act mandates companies to provide food products that are fit for consumption. It also promotes public health through many programs, such as the FDA Retail Food Code and Current Good Manufacturing Practices.
Industrial Robots Category To Witness Fastest Growth
Among all components, the industrial robots category is predicted to expand at the highest rate, of around 10%, over the projection timeframe. The use of robotics has seen a steady rise across industries such as automotive, electronics, pharmaceuticals, and food & beverage in recent years. For instance, to stay competitive in the market and be future-ready for production needs, industrial facilities in India are widely using robotic automation. To achieve the vision of Make in India, it is essential to increase the use of this technology to complement human operations. This will ultimately enable a judicious mix of speed, skill, accuracy, and consistency.
Moreover, robots are widely used by the automotive industry. In 2021, the robot density in the U.S. automotive industry hit a new record of 1,000 installed units per 10,000 employees.
Industrial Control and Factory Automation Market Report Coverage

| | |
| --- | --- |
| Report Attribute | Details |
| Historical Years | 2017-2022 |
| Forecast Years | 2023-2030 |
| Market Size in 2022 | USD 148.3 Billion |
| Revenue Forecast in 2030 | USD 286.8 Billion |
| Growth Rate | 8.60% CAGR |
| Report Scope | Market Trends, Drivers, and Restraints; Revenue Estimation and Forecast; Segmentation Analysis; Impact of COVID-19; Companies' Strategic Developments; Market Share Analysis of Key Players; Company Profiling |
| Segments Covered | By Component; By Solution; By Industry; By Region |
Explore more about this report - Request free sample pages
Sensors Category Will Continue To Hold Significant Share
The sensors component category recorded a significant revenue share, of over 24%, in 2022. Sensors play a vital role in smart manufacturing by collecting data and providing basic data support. Moreover, the exponential rise in the adoption of IoT and other Industry 4.0 technologies is driving the use of sensors. Smart sensors, which collect statistics from the surroundings and various pieces of infrastructure, are rapidly being upgraded, thus driving the intelligent transformation of industrial internet terminals.
The Industrial Sensor 4.0 era encompasses everything from industrial process sensing and factory automation to microcontrollers and wired or wireless connections to cloud servers. The different types of sensors incorporated in factories and machines include temperature sensors, humidity sensors, vibration sensors, and torque sensors. By being integrated into industrial robots, they help in making manufacturing operations efficient.
Automotive Category Held Significant Share
The automotive division held the second-largest revenue share in 2022, after healthcare. The changing customer priorities and technological breakthroughs add up to a fundamental shift in individual mobility behavior. Owing to the rapid globalization and the economic growth of developing economies, such as India and Brazil, the standard of living of consumers has improved in recent years, thus resulting in a growing demand for automobiles. The automotive industry has always been considered a massive end market for industrial robots. In 2020, around one-fifth of the industrial robot installations around the world happened in the automotive industry.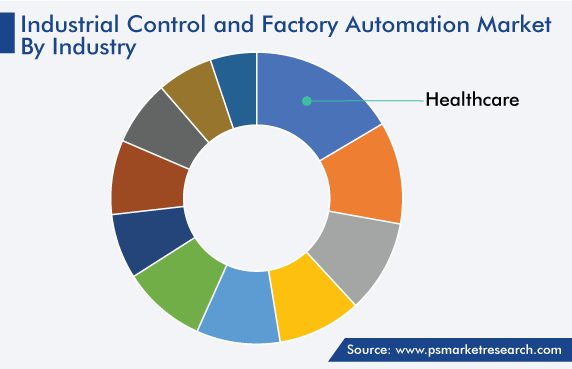 In 2022, Asia-Pacific Was Market Leader
The rising demand for improved solutions to manage industrial plants in India and China is responsible for Asia-Pacific's domination in the market. The region accounted for a revenue share of over 39% in 2022, and it is expected to continue its dominance from 2023 to 2030. The strong growth is also attributed to the presence of key market players and emerging companies in the region.
Essentially, the shift to smart production facilities from conventional facilities supports the acceptance of industrial automation, thus driving the market growth. Moreover, the automotive sector is one of the fastest-growing sectors in India, which has itself become one of the biggest auto component manufacturers across the globe. This is driven, in part, by the burgeoning popularity of electric and autonomous vehicles.
To keep pace with the rising demand, automobile OEMs are making large investments in various aspects of vehicle manufacturing. The industry attracted 5.54% of the total equity FDI in the country between April 2000 and June 2022, which has enabled industry players to automate their factory operations.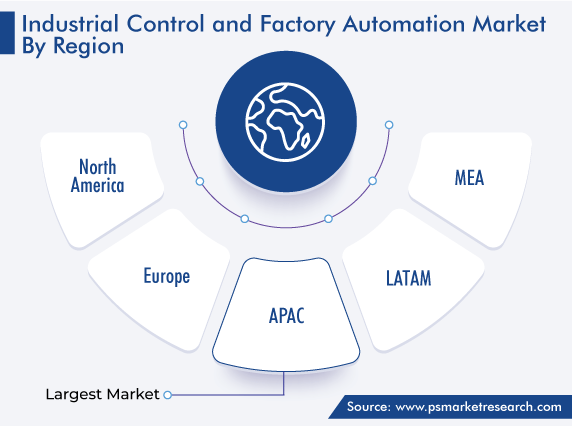 Key Industrial Control & Factory Automation Solution Providers Are:
Schneider Electric SE
Rockwell Automation Inc.
Honeywell International Inc.
Emerson Electric Company
ABB Ltd.
Mitsubishi Electric Corporation
Siemens AG
Omron Corporation
Yokogawa Electric Corporation
General Electric Co.
Texas Instruments Inc.
Robert Bosch GmbH
Market Size Breakdown by Segment
The report analyzes the impact of the major drivers and restraints on the industrial control & factory automation market, to offer accurate market estimations for 2017–2030.
Based on Component
Sensors
Control Valves
Switches and Relays
HMI
Industrial Robots
Based on Solutions
Based on Industry
Aerospace & Defense
Automotive
Chemical
Energy & Utilities
Food & Beverage
Healthcare
Manufacturing
Mining & Metal
Oil & Gas
Transportation
Geographical Analysis
North America
Europe

Germany
U.K.
France
Italy
Spain

Asia-Pacific

Japan
China
India
South Korea
Australia

Latin America
Middle East and Africa

Saudi Arabia
South Africa,
U.A.E.