India Solid and Diode Medical Lasers Market Overview
The Indian solid and diode medical lasers market generated revenue of $12.3 million in 2019, and it is expected to progress with a CAGR of 13.7% during the forecast period (2020–2030). The increasing adoption of aesthetic treatments, supportive government initiatives for the advancement of the healthcare infrastructure, growing aging population, and high number of seminars, exhibitions, and conferences being conducted to increase the awareness among consumers about the new laser devices available are the key factors driving the industry.
The continuing COVID-19 pandemic has imposed an adverse impact on the Indian solid and diode medical lasers industry. This is primarily attributed to the hindrance in the supply chain, financial crisis, as well as operational challenges within and outside national boundaries. However, these products are expected to witness a notable increase in demand in the last quarter of 2020, after the restarting of operations in manufacturing plants, lifting of the lockdown, and streamlining of import and export activities.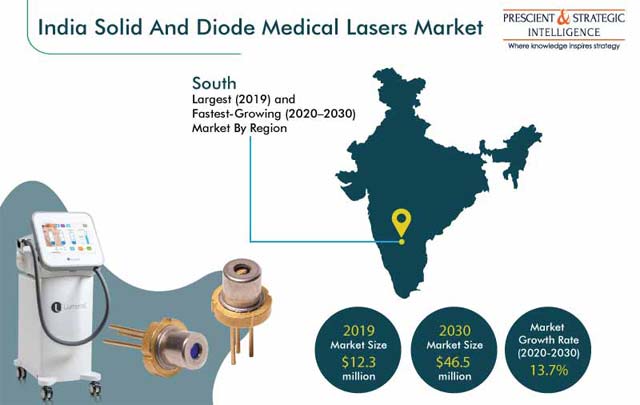 Diode Laser Systems Category Held Larger Share in Historical Period
The diode laser systems category accounted for the larger share in the Indian solid and diode medical lasers market during the historical period (2014–2019), based on product. This was owing to the wide applications of such systems in dermatology, dentistry, and several other procedures. Moreover, end users are adopting these laser systems to provide more effective and convenient treatment. Additionally, the availability of a range of diode laser systems from international and national players is supporting the growth of this category.
South India – Largest and Fastest-Growing Region
In terms of region, the southern region held the dominating share in the Indian solid and diode medical lasers market in 2019, due to the increasing number of hospitals here. Moreover, dermatology professionals' preference for diode and solid laser systems, adoption of technologically advanced dermatological procedures, increasing aging population, and improving healthcare infrastructure are some other major factors that would boost the growth of the market in South India at the highest CAGR during the forecast period.
Growing Awareness about Appearance Is Major Industry Trend
The major trend being observed in the Indian solid and diode medical lasers market is the increasing consciousness about appearance and desire to have glowing skin. Dermal problems, including cellulite, fat storage, scars, fine lines, discoloration, acne, large pores, broken blood vessels, and age spots, have a major impact on the skin's appearance. Due to this, people go for laser treatments to get glowing skin, or for a fresh appearance through hyperpigmentation treatment and hair removal.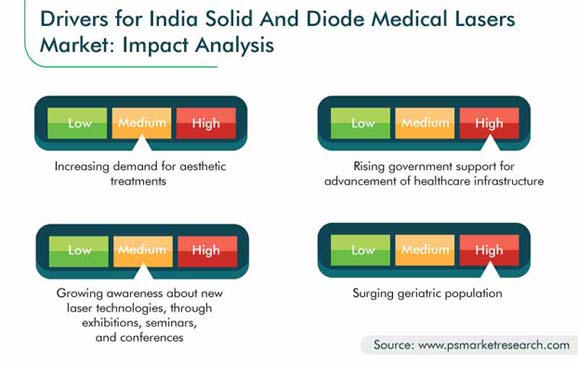 Increasing Demand for Aesthetic Treatments
Laser procedures are quite useful in the removal of body and facial hair, acne scars, and tattoos and for skin treatment and surgeries. According to the International Society of Plastic Surgery (ISAPS)'s 2018 report, 895,896 aesthetic procedures were performed in India that year, among which 505,103 were non-surgical laser procedures. Therefore, the increase in the demand for aesthetic treatments is leading to the growth of the Indian solid and diode medical lasers market.
Supportive Government for Advancement of Healthcare Infrastructure
According to the India Brand Equity Foundation, there were 15,000 hospitals in the country in 2015, which increased to around 20,000 in 2017. Moreover, in 2017, the country's healthcare expenditure was 1.3% of the gross domestic product (GDP), which is targeted to increase to 2.5% by 2025. Further, the government has set a target to increase the healthcare budget from $245.2 million in 2019 to $298.2 million in 2020–21. Hence, the rise in the healthcare expenditure, along with the supportive measurements of the government, is expected to fuel the growth of the Indian solid and diode medical lasers market.
Increasing Number of Seminars, Exhibitions, and Conferences to Raise Awareness
Seminars, exhibitions, and conferences are being organized to create awareness among medical professionals regarding new laser technologies. For instance, the Indian Dental Association (IDA) conducted the 72nd Indian Dental Conference (IDC), regarding the latest dental science technologies, on January 18–20, 2019, in Indore, Madhya Pradesh. Thus, the growing awareness about the advancements in solid and diode medical laser systems would drive the Indian solid and diode medical lasers market.
Surging Aging Population
Aging leads to the loss of muscle tone and thinning skin, which give the face a flabby or droopy appearance. Due to this, the aging population develops wrinkles, dryness, pigmentary alteration, and sagging. India holds a vast population of elderly people. According to the 2019 World Population Ageing report, 87.1 million individuals were aged 65 years or above in the country in 2019, and this number would reach 128.9 million by 2030. Therefore, the rising geriatric population drives the growth of the Indian solid and diode medical lasers market.
| Report Attribute | Details |
| --- | --- |
| Historical Years | 2014-2019 |
| Forecast Years | 2020-2030 |
| Base Year (2019) Market Size | $12.3 Million |
| Forecast Period CAGR | 13.7% |
| Report Coverage | Market Trends, Revenue Estimation and Forecast, Segmentation Analysis, Regional Breakdown, Impact of COVID-19, Companies' Strategic Developments, Product Benchmarking, Company Profiling |
| Market Size by Segments | Product, Application, Region |
| Market Size of Geographies | South, North, West, East, Central, Northeast |
| Secondary Sources and References (Partial List) | World Health Organization (WHO), United Nations Department of Economic and Social Affairs (UNDESA), Accreditation Council of International Society for Quality in Health Care (ISQua), Association of Plastic Surgeons of India, Food and Drug Administration (FDA), Ministry of Statistics and Programme Implementation (India), Indian Academy of Aesthetic & Cosmetic Dentistry, Indian Association of Aesthetic Plastic Surgeons, Indian Association of Dermatologists, Venereologists and Leprologists (IADVL) |
Industry Players Are Introducing New Products to Gain Competitive Edge
The Indian solid and diode medical lasers market is fragmented in nature, with the presence of key players such as Candela Corporation, Hologic Inc., PhotoMedex Inc., EUFOTON S.R.L., BISON Medical, and IPG Photonics Corporation.
In recent years, players in the solid and diode medical lasers industry of India have involved in product launches to stay ahead of their competitors. For instance:
In February 2020, Sisram Medical Ltd. launched ClearSkin PRO, which consists of a non-ablative 1,540 nm Er:Glass laser. It enables the synthesis of the new dermis and helps regenerate the extracellular matrix, while maintaining a high level of safety.
In March 2019, HALO, a distinguished partner program, was launched by Sciton Inc. The HALO treatment delivers both ablative and non-ablative wavelengths to the same microscopic treatment zone, thus addressing epidermal and deeper-dermal pigmentation, as well as skin tone and texture.
In February 2019, Cutera Inc. launched the excel V+ laser platform, which optimizes the delivery system and parameters better, as compared to the existing excel V, for higher precision in treating vascular lesions and pigmentation.
Some of the Key Players in the Indian Solid and Diode Medical Lasers Market Include:
BIOLASE Inc.

Sisram Medical Ltd.

Lumenis Ltd.

Cutera Inc.

Fotona D.o.o.

Candela Corporation

Hologic Inc.

PhotoMedex Inc.
Indian Solid and Diode Medical Lasers Market Size Breakdown by Segment
The Indian solid and diode medical lasers market report offers comprehensive market segmentation analysis along with market estimation for the period 2014–2030.
Based on Product Type
Diode Laser Systems

By application

Dermatology

Skin resurfacing
Pigment treatment
Hair removal

Dentistry

Solid-State Laser Systems

By type

Neodymium: yttrium– aluminum–garnet laser (Nd:YAG)
Erbium: yttrium–aluminum– garnet laser (Er:YAG)
Holmium: yttrium–aluminum– garnet laser (Ho:YAG)
Potassium titanyl phosphate
Ruby
Alexandrite

By application

Dermatology

Skin resurfacing
Pigment treatment
Hair removal

Dentistry
Geographical Analysis
West India

By product type
By application

South India

By product type
By application

North India

By product type
By application

Central India

By product type
By application

East India

By product type
By application

Northeast India

By product type
By application