Market Overview
From an estimated $143.6 million in 2021, the Indian prime power diesel genset market value is projected to demonstrate a CAGR of 10.6% during 2021–2030. The market growth is expected to be driven by the high-volume demand for medium- and high-power diesel gensets from the commercial sector and notable growth in the construction and manufacturing industries. These industries are themselves driven by macroeconomic development, increasing CAPEX by public and private players, and government reforms and incentives to encourage foreign and domestic investments.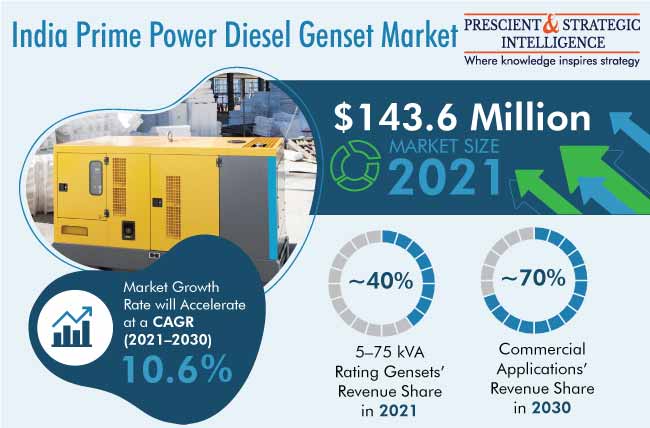 Moreover, the growing telecommunication industry is a key driving force for the prime power diesel generators industry in India. This sector is strongly focusing on tackling one of the biggest obstacles in the country, i.e., unreliable electricity supply from the grid. As a result, Indian telecom tower operators mostly use prime power diesel generators. According to the Telecom Regulatory Authority of India (TRAI), the number of telephone subscribers in India increased from 1,179.49 million in January 2021 to 1,187.90 million by the end of February 2021, at a growth rate of 0.71%. This is putting extra pressure on telecom companies to keep their towers functional even amidst the erratic grid supply.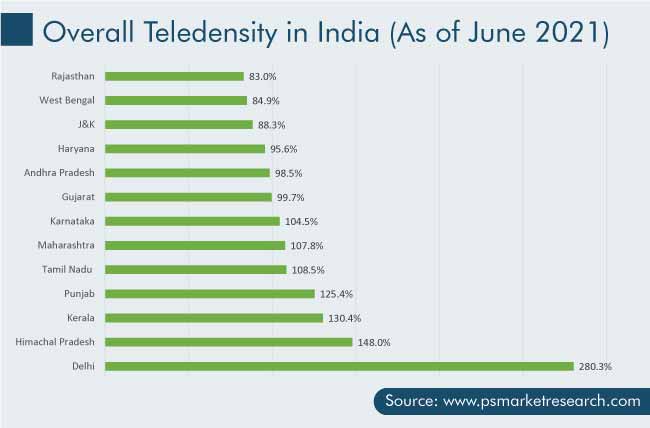 Major Opportunity Areas
The rising infrastructure investment in India is set to drive the uptake of such power production systems in the upcoming period. For instance, as per the India Brand Equity Foundation (IBEF), India is set to become the world's third-largest construction market by 2025.
Additionally, the Indian government allocated INR 13,750 crore in the Union Budget 2021 to support several initiatives, such as 'Smart Cities Mission' and 'Housing for All'. These investments are expected to lead to the high adoption of prime power diesel gensets in commercial, industrial, and residential areas as backup sources of electric power.
Moreover, in March 2021, Mahindra Powerol Ltd. inaugurated a plant to manufacture the Perkins range of diesel generators through Perfect Generators Technology Pvt. Ltd., Ghaziabad. This expansion gives Mahindra Powerol an edge in offering its products in the northern part of India and widening its reach.
India Prime Power Diesel Genset Market Report Coverage
| Report Attribute | Details |
| --- | --- |
| Historical Years | 2017–2021 |
| Forecast Years | 2022-2030 |
| Market Size in 2021 | $143.6 Million (Estimated) |
| Revenue Forecast in 2030 | $356.3 Million |
| Growth Rate | 10.6% CAGR |
| Report Scope | Market Trends, Drivers, and Restraints; Revenue Estimation and Forecast; Segmentation Analysis; Impact of COVID-19; Companies' Strategic Developments; Company Profiling |
| Segments Covered | By Application; By Power Rating; By State |
The expansion of the prime power diesel genset market in India was slowed due to the COVID-19 pandemic. As a result of the lockdown, a number of factories and commercial areas were closed, which reduced the need for this equipment. Furthermore, construction activities came to a halt, thus resulting in a further decrease in the demand for prime power diesel gensets.
The second wave of COVID-19 in India has had severe consequences in the form of spiraling cases causing an increase in the number of infected people, which strained the healthcare ecosystem and resources of the country. Thus, it increased the demand for healthcare facilities and, more critically, medical infrastructure. Gensets have been widely installed to provide electricity and power requirements as a result of the unexpected need of hospital establishments. Moreover, in the coming years, the demand for prime diesel gensets is expected to rise, as economies prepare to reopen and manufacturing and construction activities would expand in the country, in order to gradually enhance revenue generation.
Commercial Sector Buys Most Prime Power Diesel Gensets
In India, prime power diesel gensets are used in the largest numbers in commercial spaces. The commercial application category is expected to generate around 70% shares in the market by 2030. This is because of the strong need for a continuous power supply in commercial buildings, such as hotels, railway stations, telephone exchanges, and shops. Further, in the commercial sector, power outages can be costly. Prime power diesel generators act as a backup power source and serve as a form of insurance, which can save the revenue lost due to the inadequacy of electrical power for operations. As a result, companies offering these systems in the country generated more than 60% of their revenue from sales to the commercial sector in 2021.
Usage of 5kVA–75kVA Gensets To Witness Fastest Growth
The usage of 5kVA–75kVA gensets is expected to rise the fastest due to their wide adoption in the commercial sector to suffice power requirements. The sales value of prime power diesel gensets of this power rating is expected to flourish with a CAGR of over 10% during 2021–2030. These gensets are rather important in the telecom sector; therefore, the increasing installation of telecom towers is driving their sales. Moreover, a large number of companies produce such types of diesel gensets for both the domestic and export markets. Furthermore, these companies have diversified and comprehensive product portfolios, including diesel gensets of various nodes/power ratings.
Driven by Large Consumer Base, Uttar Pradesh Generates Highest Revenue from Prime Power Diesel Genset Sales
Uttar Pradesh generates the highest demand for diesel gensets used for prime power applications, and it is expected to remain their largest user in the future. The state held more than 10% share in the market and generated around $20 million revenue from their sales in the nation in 2021. This was due to the increasing investments in the telecom sector, surging development of commercial infrastructure, and rising prime power requirements in the residential facilities in the state. Further, the recovery in the Indian residential and commercial real estate sectors, commissioning of new construction projects, and resurgence in investments in the manufacturing sector will offer players lucrative opportunities in the coming years.
For Instance, in April 2021, telecom operators, such as Bharti Airtel Limited and Reliance Jio Infocomm Limited, announced plans to augment their telecom infrastructure and install telecom towers in the state, in a bid to enhance connectivity and acquire a larger customer base.
Rising Production of Twin-Power Generators Is Key Trend in Market
The consumption of diesel was the highest amongst all fuels even during the pandemic. According to the Petroleum Planning and Analysis Cell (PPAC), the country's diesel consumption stood at 72.72 metric tons in Fiscal Year 2020–2021, in comparison to petrol consumption, which was around 27.95 metric tons.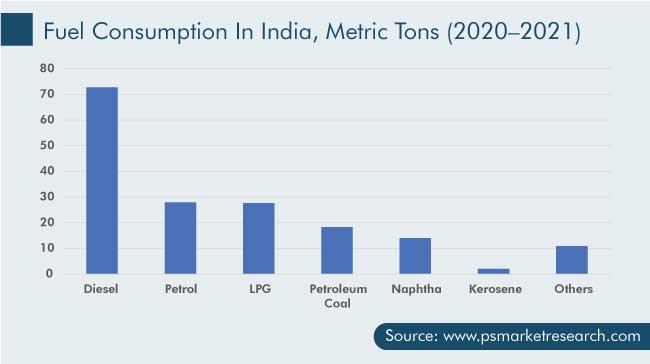 To reduce the consumption of diesel, the production of twin-power generators is increasing in India. For instance, in January 2021, Atlas Copco launched the QAC 1350 twin-power genset for large prime power or backup applications. This genset makes use of two smaller engines housed inside a containerized unit, thus leading to lower fuel consumption. An inbuilt centralized control panel with an integrated power manager system automatically switches on/off the two power racks, which leads to up to 40% lower CO₂ emissions on variable-load applications. Moreover, the twin-power generator is powerful, easy to transport, and quieter in comparison to other generators.
To Widen Their Customer Base, Genset Manufacturers Involving in Product Launches
Indian prime power DG sets market players are launching new systems in order to attain a significant position. For Instance,
In August 2021, Cummins Inc. launched a 2,500kVA commercial diesel generator, the QSK60-G23, in India, to meet the increasing power requirements in industries. The engine is capable of withstanding Indian climatic conditions, to deliver power backup and uptime efficiency.
In June 2021, Cooper Corporation Pvt. Ltd., an engine manufacturer, launched Cooper Bolt Mini, a 5kVA compact diesel generator that addresses the demand for a continuous power supply, offers low fuel consumption, and has lower maintenance requirements.
In November 2020, Kohler Power launched the KD Series diesel-powered generator sets with a power output of 3,500 kW and 4,000 kW at 60 Hz/4,000 kVA and 4,500 kVA at 50 Hz. All of them consist of the KOHLER KD103V20 diesel engine and APM802 or APM603 controller. The APM603 control unit enhances performance, helps in voltage regulation, and increases output.
Key Prime Power Diesel Generator Manufacturers in India Are:
Kirloskar Oil Engines Limited
Ashok Leyland Limited
Greaves Cotton Limited
VE Commercial Vehicles Limited
Mahindra Powerol Ltd.
Cummins India Ltd.
Caterpillar Inc.
Cooper Corporation Pvt. Ltd.
Kohler Power India Ltd.
Tractors and Farm Equipment Limited
Escorts Limited
Market Size Breakdown by Segments
The Indian prime power diesel genset market report offers comprehensive market segmentation analysis along with market estimation for the period 2017–2030.
Based on Power Rating
5 kVA–75 kVA
76 kVA–375 kVA
376 kVA–750 kVA
Above 750 kVA
Based on Application
Commercial
Industrial
Residential
Geographical Analysis
Uttar Pradesh
Andhra Pradesh
Madhya Pradesh
Bihar
Karnataka
Gujarat
Tamil Nadu
Rajasthan
West Bengal
Jharkhand
Chhattisgarh