Market Overview
The Indian electric bus market was valued at $94.3 million in 2020, and it is expected to grow at a CAGR of 48.8% during the forecast period (2021–2025). The market is being driven by government schemes and legislation, increase in domestic manufacturing, rapid urbanization, and rise in environmental awareness. The growing stringency of emission norms and the government guidelines for more energy-efficient vehicles have shifted the focus of the original equipment manufacturers (OEMs) toward alternative fuel vehicles. These major factors driving the demand for electric vehicles in India.
The COVID-19 epidemic has had a huge effect on all most all industries across the world, including automotive and transportation. The industry's growth has been hampered by the shutdown of plant operations, as well as lower use and sales of vehicles during this pandemic. Since the growth of this industry is directly related to the production of electric vehicles, the resumption of manufacturing and industrial use of electric vehicles in many parts of the world is expected to fuel growth of the electric bus industry.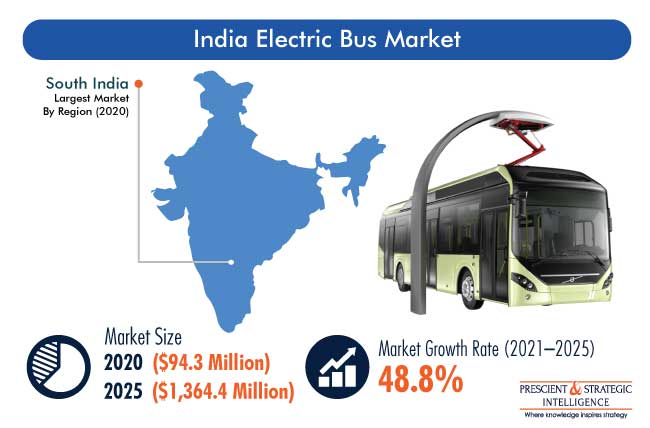 With Continuous Government Support, Battery Electric Bus (BEB) Category Dominated the Market in 2020
On the basis of type, the BEB category accounted for larger share in electric bus market in India in 2020, owing to the increasing government support in the form of incentives, subsidies, and other financial benefits, to promote the adoption of these eco-friendly buses. Besides, major manufacturers are including BEBs in their product portfolio, which is further benefiting the market growth in this category.
Lithium–Iron–Phosphate (LFP) Category to Witness Fastest Growth in Forecast Period, Due to Its High-Speed Charging Capability
Based on battery type, the LFP category is accounted for majority share in 2020. In terms of both volume and value, LFP batteries are expected to continue dominating the market in coming years. These batteries are safer than other types of batteries and are capable of charging at high speed, thus, making them a better option for large-sized electric buses.
With Rapid Urbanization, Intracity Category Dominated the Market
Based on application, the intracity category held larger share in 2020 in the Indian electric bus market. This is mainly due to the increased urbanization and rise in environmental issues. This is also fueled by government initiatives and incentives and regulations that promote domestic manufacturing of electric vehicles.
Due to Lower Cost and Higher Subsidies, Less than 10 m Category to Observe Faster Growth
Based on length, the less than 10 m category is expected to witness faster growth during the forecast period. The low cost of these buses is a key factor that will continue to drive their market growth in coming years. Moreover, the subsidies provided by the central and state governments are based on the localization factor. Since the localization of buses of less than 10 m is more than that of electric buses of more than 10 m, the former category is dominating the Indian market.
South India to Dominate the Market, Due to Early Adoption of Electric Buses in Southern Cities
South India held the largest share in electric bus market in India, in 2020. The market in this region is mainly driven by early adoption of electric buses in cities like Bengaluru and Hyderabad. In 2019, Hyderabad became the first city in India to run electric buses that have been sourced under the Faster Adoption and Manufacturing of (Hybrid &) Electric Vehicles (FAME) scheme. The Telangana State Road Transport Corporation (TSRTC) inaugurated its first fleet of 40 electric buses. Moreover, state government's initiatives and schemes in the region also support the research and development (R&D), manufacturing, and sales of these buses.
Rising Number of Collaborations Between Domestic Players and Foreign Manufacturers Is a Key Market Trend
The major trend observed in the industry is the rising number of collaborations between domestic players and foreign manufacturers. With the Indian government's implementation of stringent regulations regarding the growing environmental pollution, the demand for low-emission public transportation vehicles has been rising in the country. At present, conventional diesel-based buses are being used to meet the majority of public transportation needs; however, these vehicles have high-emission levels, which significantly contribute to air quality deterioration. Hence, the electric buses are being promoted and supported (through financial incentives) by the government to phase out conventional buses in coming years.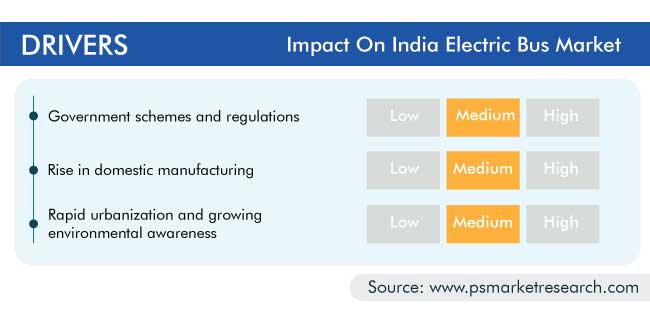 Schemes and Regulations by the Central Government to Support the Market for Electric Busesin India
In recent years, various schemes and regulations have been put forth by the Indian government to support the development of electric buses in the country. In March 2019, the Ministry of Heavy Industry and Public Enterprise laid out the eligibility criteria for electric buses, passenger vehicles, three- and two-wheelers to avail the benefits of the FAME II incentives. In August 2019, the government announced the plan of procurement and deployment of 5,585 electric buses across the country, which is expected to save 1.2 billion liters of fuel. Such government measures are expected to continue benefiting and driving the Indian electric bus market in upcoming years.
Indian Electric Bus Industry to Witness Exponential Growth with Rise in Domestic Manufacturing
The Indian industry is growing rapidly and is led by some established domestic players. The local players are collaborating with foreign established players to meet the rapidly surging demand for electric buses through domestic production. For instance, GreenCell Mobility, in partnership with PMI Electro Mobility Solutions, aims to deploy 350 electric buses in Uttar Pradesh, India, which will also create 1,000 jobs in the country.
India Electric Bus Market Report Coverage

| | |
| --- | --- |
| Report Attribute | Details |
| Historical Years | 2019-2020 |
| Forecast Years | 2021-2025 |
| Base Year (2020) Market Size | $94.3 million |
| Forecast Period CAGR | 48.8% |
| Report Coverage | Market Trends, Revenue Estimation and Forecast, Segmentation Analysis, Government Policies and Regulations, Major States and Cities Analysis, Companies' Strategic Developments, Impact of COVID-19, Company Profiling |
| Market Size by Segments | Battery Type, Propulsion, Application, Length, Region |
| Market Size of Geographies | East, West, North, South (India) |
| Secondary Sources and References (Partial List) | Automotive Component Manufacturers Association of India (ACMA), Bengaluru Metropolitan Transport Corporation (BMTC), Bureau of Energy Efficiency (BEE), Bus Operator Confederation of India (BOCI), Delhi Transport Corporation (DTC), Department of Heavy Industry (DHI), Federation of Automobile Dealers Associations of India (FADA), Ministry of Road Transport & Highways (MoRTH), National Institution for Transforming India (NITI Aayog), Zero Emission Urban Bus System (ZeEUS) |
Explore more about this report - Request free sample pages
Market Players Are Focusing on Product Launches to Gain Competitive Edge
In recent years, majorplayers in the market have been actively involved in the development and introduction of electric buses in India. The key players operating in the Indian e-bus market are Ashok Leyland Limited, JBM Auto Limited, Solaris Bus & Coach S.A., Deccan Auto Limited, Olectra Greentech Limited, Tata Motors Limited, Zhongtong Bus & Holding Company Limited, BYD Company Limited, and Eicher Motors Limited.
In February 2020, Olectra Greentech Limited launched its first lineup of 12-m long C9 electric bus for intercity transportation. The new electric C9 range is a zero emission 45–49-seater, which can cover up to 350 km in a single charge with max power of 360 kW and a speed of over 100 kmph.
In July 2019, Tata Motors Limited showcased seven new public transportation vehicles at Prawaas 2019. The company displayed models like Magna 1623, Starbus 1212, Cityride 1515, Winger 9-seater, Compact Patient Transport Ambulance on Tata Magic, Tata Hexa SUV, as well as Ultra Electric Bus.
In July 2019, Ashok Leyland Limited launched OYSTER. It is the company's next generation AC midi-bus, in the premium category, in India. It is a multi-purpose premium AC bus, designed and manufactured in-house, for staff and tourist commute.
Key Players in Electric Bus MarketIndustryin India Include:
India Electric Bus Market Size Breakdown by Segments
The Indian electric bus market report offers comprehensive market segmentation analysis along with market estimation for the period 2019-2025.
Based on Type
Battery Electric Bus (BEB)
Hybrid Electric Bus (HEB)
Based on Length
Less than 10 m
More than 10 m
Based on Battery
Lithium–Iron–Phosphate (LFP)
Lithium–Nickel–Manganese–Cobalt Oxide (NMC)
Based on Application
Geographical Analysis