Hysteroscope Market Overview
The global hysteroscope market is estimated to generate $295.5 million revenue by 2022, progressing at a CAGR of 4.5% during the period, 2016–2022. Rising number of uterine cancer cases, surge in female geriatric population, increasing burden of abnormal uterine bleeding, growing cases of infertility due to sedentary lifestyle, and increasing demand of minimal to non-invasive treatments are the major factors driving the growth of hysteroscope market.
Based on type, the hysteroscope market has been bifurcated into flexible non-video, rigid non-video, and flexible video hysteroscopes. Among these, the rigid non-video hysteroscopes category held the largest market share, historically, and is expected to hold 71.4% by 2022.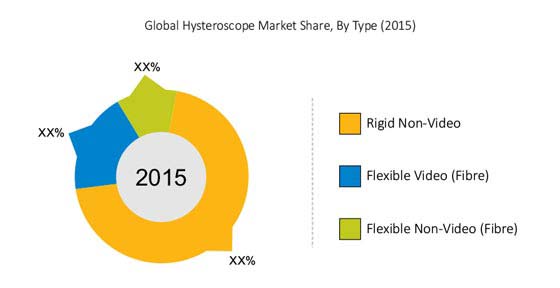 On the basis of application, the hysteroscope market is categorized into hysteroscopic polypectomy, hysteroscopic myomectomy, hysteroscopic endometrial ablation, and other applications. Among these, the myomectomy category dominated the hysteroscope market during the historical period. It is expected to hold over 35% share in the market by 2022. However, the others category is projected to witness the fastest growth during the forecast period.
In terms of geography, North America held the largest share in the hysteroscope market, globally, mainly on account of rise in the prevalence of uterine related disorders, including unexplained miscarriages; irregular bleeding; and structural abnormalities of polyps, uterus, and sub mucosal myomas. Moreover, aging in women leads to a hormonal change which makes them prone to uterine infections. Therefore, increase in female geriatric population in the North American region is likely to lead to a surge in the demand for hysteroscope procedures.
Dynamics of Hysteroscope Market
Drivers
The hysteroscope market is primarily led by minimal invasive nature of these devices and faster recovery time. Minimally invasive procedures performed by hysteroscopes are preferred over traditional procedures as they do not cause any incision. Instead, it is inserted into the vaginal cavity, through cervix and slowly advanced into the uterus for the diagnosis and effective treatment of the disease. On the other hand, traditional surgeries involve large wound incisions, which take longer time to heal and may lead to increased hospitalization days.
Moreover, hysteroscopy is associated with decreased hospitalization days, speedy recovery, and minimal blood loss. In addition, hysteroscopy causes less post operational discomfort, which means, patients can resume their routine life activities in comparatively lesser number of days than traditional surgeries, thus, impacting the growth of the hysteroscopy market positively.
Restraints
The availability of other diagnostic and treatment methods such as complete blood count, ultrasound, and drug therapies are restraining the growth of hysteroscope market. The doctors and physicians prescribe drug therapies as a first choice of treatment of uterine related diseases; whereas, hysteroscopy is only recommended by gynecologists when a particular condition cannot be diagnosed properly by other diagnostic procedures. Moreover, hysteroscopy procedure is associated with few mild-to-moderate adverse events such as diarrhea, cramping, vaginal bleeding, fever and nausea, which is likely to impede the growth of the market.
Hysteroscope Market Competitive Landscape
Olympus Corporation, MedGyn Products Inc., KARL STORZ GmbH & Co. KG, B. Braun Melsungen AG, Richard Wolf GmbH, Hologic Inc., Stryker Corporation, and Xion Medical GmbH are some of key companies operating in the global hysteroscope market.