Market Overview
The revenue for the global hysteroscope market is estimated at USD 311.5 million in 2023, and it is set to advance at a CAGR of 5.1% from 2024 to 2030, to reach USD 437.4 million by 2030. This is attributed to the increasing incidence of gynecological diseases, growing adoption of minimally invasive treatments, and surging adoption of hysteroscopes at standalone clinics.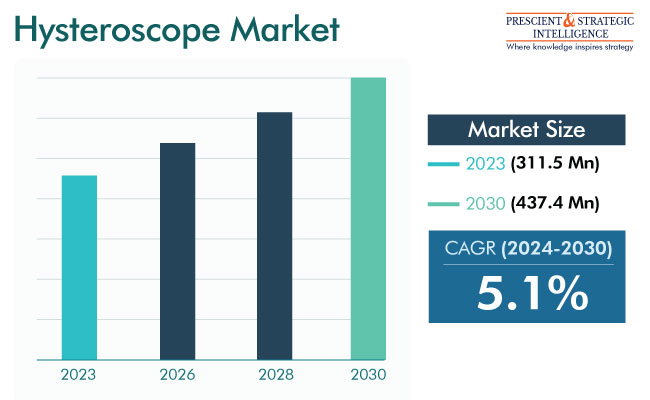 A hysteroscope is an optical instrument equipped with a light source and a camera that allows for the visualization of the uterine cavity. Moreover, resectoscopes are specialized hysteroscopes designed for more complex procedures, such as myomectomies and endometrial resections. Fluid management systems are used to introduce and maintain a continuous flow of fluid, typically saline, into the uterine cavity during hysteroscopy. This fluid helps distend the cavity, thus providing a clear view and facilitating various procedures.
The growing use of hysteroscopes for the detection of abnormal uterine bleeding, fertility examinations, and transcervical sterilization is the key factor driving the market growth. As it is used in fertility assistance, an increase in the number of couples choosing assisted reproduction technology (ART) procedures enhances the hysteroscope market growth potential.
Additionally, government and non-government organizations are continuously striving to raise awareness of uterine cancer and women's health, which is projected to be another key driving factor for the market. For example, in 2020, the World Health Organization (WHO) set the objectives to eradicate cervical cancer as a public health issue by 2030. This objective encompasses screening 70% of the women aged 35 and again, when they reach the age of 45, with high-performance tests. The treatment of 90% of the women with pre-cancer is also included in the agenda. Such initiatives are expected to fuel the number of hysteroscopies during the forecast period.
Further, according to the WHO, nearly 10% of girls and women (190 million) of reproductive age around the globe are affected by endometriosis. Such products can assist in the early diagnosis and treatment of these diseases, thus improving women's overall quality of life.
Rigid Hysteroscopes Are Expected To Generate Higher Revenue
Based on type, rigid has been the larger category in the market, and it will likely sustain its dominance till 2030. Rigid operative hysteroscopes are used for both diagnostic procedures and surgeries, which increases their use. They typically involve assembly before use. They are more durable than flexible hysteroscopes; hence, they are used in various uterine procedures, such as removing polyps and fibroids, as well as in the treatment of uterine cancer.
According to the Office on Women's Health, about 20% to 80% of the women develop fibroids by the time they reach the age of 50. Fibroids are common in 40s and early 50s of age. Due to this significant number of cases, the demand for instruments for diagnosis and treatment will also increase, thus resulting in the growth in the usage of rigid hysteroscopes.
Additionally, they have wide applications in both clinics and hospitals because of their availability in a diverse range of diameters, thus facilitating procedures in both office and operating room environments. Flexible hysteroscopes also offer complete visualization, but they are challenging to use while treating endometrial lesions. In contrast, rigid hysteroscopes have a larger pixel count, thus resulting in superior optical visualization.
Hysteroscope Market Report Coverage

| | |
| --- | --- |
| Report Attribute | Details |
| Market Size in 2023 | USD 311.5 Million |
| Revenue Forecast in 2030 | USD 437.4 Million |
| Growth Rate | 5.1% CAGR |
| Historical Years | 2017-2023 |
| Forecast Years | 2024-2030 |
| Report Scope | Market Trends, Drivers, and Restraints; Revenue Estimation and Forecast; Segmentation Analysis; Impact of COVID-19; Companies' Strategic Developments; Market Share Analysis of Key Players; Company Profiling |
Explore more about this report - Request free sample pages
Growing Volume of Hysteroscopies Is Biggest Driver for Market
The procedure carried out by a hysteroscope is called a hysteroscopy, which is a minimally invasive diagnostic intervention. Hysteroscopic myomectomies, polypectomies, and endometrial ablations are commonly performed procedures that use a hysteroscope. A hysteroscopy is associated with a rapid recovery, reduced length of hospitals stays, and minimal loss of blood. This procedure is also favored for its minimal post-operative discomfort, enabling patients to return to their regular activities in a shorter time compared to traditional invasive surgeries. Additionally, it enables gynecologists to assess endometrial health and prepare a suitable surgical remedy.
For several clinical disorders, especially in prolonged infertility, a hysteroscopy is performed. To diagnose the cause of multiple miscarriages, this procedure is beneficial. It also aids in assessing pelvic pain in women. In some instances, a surgical hysteroscopy is used to remove adhesions, which are uterine scar tissues. This procedure can also be performed during a diagnostic hysteroscopy, thus preventing the need for an additional surgery.
Moreover, a myomectomy is the operative removal of uterine fibroids, which can possibly cause heavy menstrual bleeding and pain. Moreover, a polypectomy is a surgical procedure where uterine polyps are removed, as they have the potential to cause infertility or abnormal bleeding. Endometrial ablation is another operative procedure utilizing hysteroscopes, where the removal of the endometrium (inner lining of the uterus) is performed to treat abnormal uterine bleeding or heavy menstrual bleeding.
Hospitals Generate Highest Revenue in Market
Hospitals are the largest end users in the hysteroscope market, attributed to the higher inflow of patients for gynecological procedures here compared to other healthcare settings. This is because hospitals can control emergencies that may occur during and after surgical procedures. Additionally, these places provide a wide range of treatment options, along with comprehensive post-surgical care. Besides, the primary healthcare centers in most countries are hospitals; therefore, they perform a notably greater number of hysteroscopy procedures compared to other healthcare settings.
Ambulatory Surgery Centers To Experience Fastest Growth
The growing preference for outpatient procedures is expected to drive the utilization of hysteroscopy procedures at ambulatory surgery centers (ASCs) at the highest CAGR. An outpatient (ambulatory) hysteroscopy takes place in a properly furnished and staffed treatment room, away from the official setting of an operating room. This results in higher patient comfort and decreased time for diagnosis. Moreover, it proves to be efficient and cost-effective for both patients and surgeons since it requires only an examination room and eliminates the need for an additional operating suite.
Hysteroscopies performed in an ambulatory setting have shown accuracy and patient acceptability to a scale equal to an inpatient procedure. Therefore, ambulatory hysteroscopy is a rapidly advancing practice within the field of gynecology. Additionally, these centers can be 45–60% less expensive in comparison to hospitals and have better control over the scheduling of surgeries, thus benefiting patients, insurers, and taxpayers equally.
Some Key Hysteroscope Companies:
Olympus Corporation
MedGyn Products Inc.
KARL STORZ GmbH & Co. KG
B. Braun Melsungen AG
Richard Wolf GmbH
Hologic Inc.
Stryker Corporation
Xion Medical GmbH
Medtronic plc
Hologic Inc.
CooperSurgical Inc.
North America Is Expected To Dominate Market
Throughout this decade, North America will continue to hold the largest share in the market. Both the countries in the region boast well-established healthcare systems, resulting in the increasing investments in the research and development for minimally invasive and more-efficient medical equipment. Technological innovations, the increasing count of government initiatives for raising awareness regarding women's health, and the rising incidence of uterine and endometrial cancers are propelling the demand for diagnosis using a hysteroscope.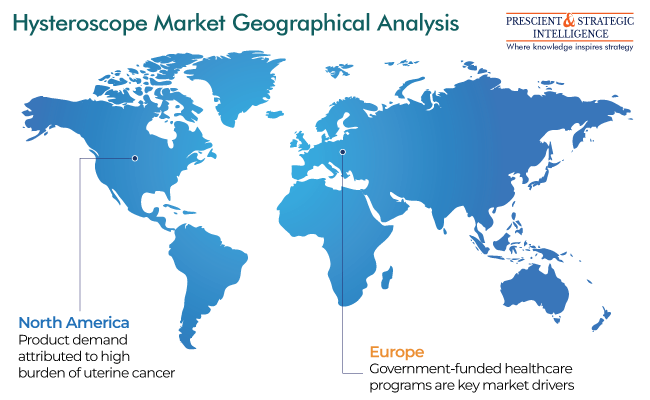 According to the American Cancer Society, 66,200 new cases of uterine cancer will be diagnosed and nearly 13,030 deaths will be caused by it in 2023. Additionally, according to the Cancer of the corpus uteri: 2021 update by the International Journal of Gynecology & Obstetrics, which was released in October 2021, North America has the highest incidence of endometrial cancer. This consequently augments the demand for diagnostic and treatment equipment, in turn, driving the growth of the market.