Market Overview
The global hydrogen energy storage market size is estimated to generate $14,100 million in 2022, and it is expected to reach $304,108 million by 2030, advancing at a growth rate of 46.80% during 2022–2030. Hydrogen energy storage solutions are expected to witness widespread adoption during the forecast period, attributed to factors such as strong government support, increasing focus on alternative energy sources, surging electricity demand, and growing investments in hydrogen and fuel cell technologies.
Moreover, the low ambient temperature of hydrogen that results in a low energy per unit volume makes it a brilliant choice as fuel. This makes it suitable for various applications such as hydrogen production sites, onboard vehicles, hydrogen refueling stations, and stationary power sites.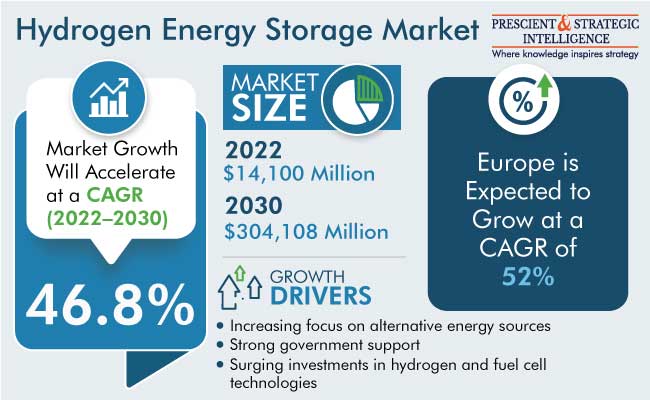 Increasing Focus on R&D for the Development of Hydrogen Storage Technology
In recent years, the U.S., India, the U.K., and other countries have been progressively focusing on R&D activities that would help in technological developments in hydrogen and fuel cell technologies. This has ensured the expansion of adequate hydrogen storage for onboard light-duty vehicles, material-handling equipment, and portable power applications that would help in fulfilling the targets set by governments. Additionally, the National Renewable Energy Laboratory (NREL) in collaboration with the U.S. Department of Energy (DOE) is concentrating on the advancement of cost-effective, high-performance fuel cell and hydrogen technologies for applications including transportation, stationary, and portable power.
In October 2015, the DOE awarded two new research projects to Berkeley National Laboratory (Berkeley Lab) for developing next-generation fuel cell and related energy-conversion technologies, optimizing the performance and durability of fuel cell technologies, and finding new materials for hydrogen storage. Similarly, in October 2016, the Energy Technologies Institute (ETI) awarded a research project worth over $200,000 to Atkins, in the U.K., to examine the potential of hydrogen storage technology in a clean and responsive power system.
Moreover, the Ministry of New and Renewable Energy (MNRE) is also supporting research, development, and demonstration projects on developing the means of harnessing hydrogen energy including storage technologies across India. These initiatives are projected to create significant growth in the hydrogen energy storage market demand in the coming years.
Physical Leads the Form of Storage Segment
The physical category is expected to generate significant revenue by 2030, registering a CAGR of more than 50% from 2022 to 2030. This is ascribed to the surging demand for physical hydrogen storage solutions from refineries due to the poor quality of crude oil and rigorous government regulations on emission control in developing countries across the globe. In this category, hydrogen is stored either in liquid or gaseous form in tanks and could be later used for various end-use applications such as ammonia and glass production, crude oil refining, metalworking, and transportation.
Physical hydrogen storage can be categorized as cold/cryo-compressed, liquid hydrogen, and compressed gas. Compressed hydrogen is stored at a near-ambient temperature, while cold hydrogen is stored at a sub-ambient temperature greater than 150 K, and in cryogenic compressed hydrogen storage systems, hydrogen is stored at temperatures of 150 K and below.
The material-based category is projected to have a modest share in the form of storage in the future. In this, hydrogen is stored as carbon compounds. Material-based technology reduces the required storage pressure and costs. Additionally, it can be used to increase the gravimetric and volumetric capacity. Also, this technology provides high storage performance due to the strong binding of hydrogen and high-storage densities.
Hydrogen Energy Storage Market Report Coverage

| | |
| --- | --- |
| Report Attribute | Details |
| Historical Years | 2017-2022 |
| Forecast Years | 2023-2030 |
| Market Size in 2022 | $14,100 Million |
| Revenue Forecast in 2030 | $304,108 Million |
| Growth Rate | 46.80% CAGR |
| Report Scope | Market Trends, Drivers, and Restraints; Revenue Estimation and Forecast; Segmentation Analysis; Impact of COVID-19; Companies' Strategic Developments; Market Share Analysis of Key Players; Company Profiling |
| Segments Covered | By Form of Storage; By Type of Storage; By Application; By Region |
Explore more about this report - Request free sample pages
Increasing Government Initiatives for Promoting the Use of Hydrogen Storage Technologies
The significant hydrogen energy storage market growth is due to surging investments, on account of advancements in fuel cells and hydrogen technologies, and favorable government initiatives such as new funding opportunities to increase the adoption of hydrogen storage technologies across the globe.
Moreover, Europe and North America are focusing on manufacturing zero-emission hydrogen vehicles for which countries, such as the U.S. and the U.K., have released government funds and launched programs to encourage more businesses/companies to switch toward hydrogen-fueled vehicles. For instance, as of March 2017, the U.K. government announced over $31 million in funding for hydrogen vehicles and infrastructure. This would create growth opportunities in the regional market in the future.
In addition, strict emission regulations in China, South Korea, Japan, and India, and the increasing demand for ammonia and methanol across the world are expected to further create growth opportunities for market players in the coming years.
Surging Demand for Low-Emission Fuels
The increasing shift toward lower-emission fuels is likely to drive the demand for hydrogen storage solutions in the future. The implementation of stricter emission standards in countries such as the U.S. and the U.K. would help in creating awareness among consumers toward the significance of using clean energy and low-emission fuels.
According to the U.S. Department of Energy, as of 2022, the country has over 55,000 fuel stations that provided alternative fuels, and the number of the same is expected to increase during the next few years, which, in turn, further spurs the requirement for hydrogen storage solutions. Additionally, the increasing demand for hydrogen-powered vehicles in North America and Europe is likely to have a positive impact on the industry growth during the forecast period, on account of the easy accessibility of hydrogen-filling infrastructure and strict government guidelines for the use of low-emission-generating vehicles.
Cylinder Category Dominates the Market
In 2022, the cylinder category accounted for the largest market share in the hydrogen energy storage market outlook. Gaseous hydrogen is commonly stored in cylinders at 150–200 bar pressure and under an ambient temperature of 298 K. Also, the market in this category is likely to grow on account of the increasing demand for hydrogen storage solutions from the metalworking, food, and electronics industries.
In addition, the onboard category is expected to witness significant growth during the forecast period, on account of the rising adoption of hydrogen-powered vehicles in developed countries and the growing production of fuel cells for transportation applications such as submarines, ships and boats, and buses.
Growing MLPE Industry Driving the Market
Micro inverters and power optimizers, collectively known as module-level power electronics (MLPEs), are gaining traction worldwide. MLPE technology offers optimal performance and comparatively more power output than conventional photovoltaic PV systems when installed in unevenly shaded regions. Therefore, despite the global dominance of string inverters, countries like the U.S., Germany, the U.K., France, Japan, and Australia are widely adopting micro inverters in both residential and commercial sectors. This is also due to the latest technology, panel-level optimization, and better monitoring functions as compared to conventional PV systems.
Additionally, with the plummeting solar energy prices, the demand for MLPE technologies, such as micro inverter, is expected to grow significantly during the forecast period. As a result, the rising awareness of the benefits of MLPE technologies is expected to fuel the market growth in the coming years.
Stationary Power Dominates the Market
The stationary power category accounted for the largest revenue share in the hydrogen energy storage market in 2022 and is projected to maintain its dominance in the coming years as well. Hydrogen can be stored in stationary fuel cells having very low emissions to generate power through electrochemical reactions and are ideal for cases where grid power is unavailable. These are used as backup power in the form of generators in end-use applications, including airport, utility, retail, healthcare, telecommunication, food processing, and entertainment sectors.
Portable power comprises mobile electricity generators that offer emergency power solutions for individual houses, command centers, office buildings, and remote construction sites. These are ideal in situations such as natural disasters and weather emergencies. Factors attributing to the increase in the adoption of portable power include the rapidly increasing infrastructural development activities and the increasing demand for electricity due to the growing population across the globe.
The transportation category is expected to have significant growth in the forecast period. This is because hydrogen as a fuel is used for transportation in ships and airplanes. For this, high pressure, cryogenics, and chemical compounds, which reversibly release hydrogen upon heating, are used. Additionally, the technology can be used for the development and viability of hydrogen-powered vehicles. According to the U.S. Department of Energy, onboard hydrogen storage requires approximately 5–13 kg capacity for enabling a driving range of greater than 300 miles for the full platform of light-duty automotive vehicles.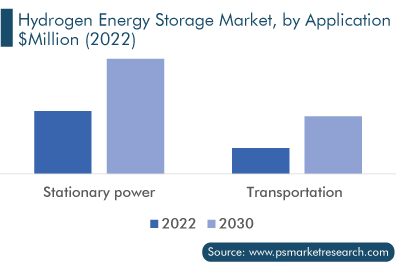 APAC Is Principal Revenue Contributor
In 2022, APAC accounted for second largest revenue in the market, and it is also likely to witness high demand for hydrogen storage solutions in the coming years, with China being a significant contributor. This is attributable to the increasing use of methanol made from hydrogen; the surging need for ammonia in manufacturing facilities in China, India, and other South-Asian countries; stringent government regulations in China, South Korea, and Japan for producing cleaner fuels, and the growing consumption of gasoline and diesel in emerging nations of the region.
North America held a decent share of the market in 2022, and the U.S. is the largest consumer in the region. The need for hydrogen storage solutions is rising, due to the increasing demand for hydrogen-powered cars driven by the availability of hydrogen-filling infrastructure and rigorous government regulations in the U.S. on the use of low-emission-generating vehicles.
Moreover in 2022, continuing this trend, the U.S. DOE announced over $50 million to boost the development of clean hydrogen technologies and decarbonize the grid. With a launch of an additional $20 million university research consortium to further help tribal communities and states successfully achieve decarbonization goals and implement grid resilience programs, the market is expected to grow significantly in the country.
Latin America accounted for a modest share of the market in 2022, and Brazil is expected to be the largest contributor to the regional market. This is ascribed to favorable government initiatives on clean technologies such as the reduction of the import tax rate to zero for hydrogen fuel cell electric vehicles, the rising number of fuel cell bus commercialization support programs, and the increasing R&D activities in the region.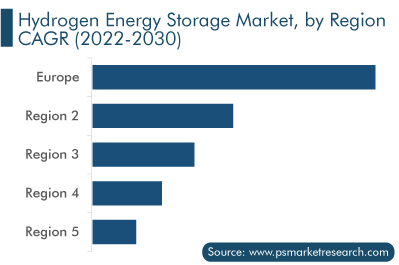 Key Players in the Hydrogen Energy Storage Market Are:
L'AIR LIQUIDE S.A.
Linde plc
Nel ASA
Engie
Air Products and Chemicals Inc.
ITM Power PLC
Chart Industries Inc.
FuelCell Energy Inc.
Hexagon Purus ASA
Siemens Energy
Hydrogen Energy Storage Market Size Breakdown by Segment
This report offers deep insights into the market, with size estimation for 2017 to 2030, the major drivers, restraints, trends and opportunities, and competitor analysis.
By Form of Storage
By Type of Storage
Cylinder
Merchant/Bulk
On-Board
On-Site (SME)
By State
By Technologies
Compression
Liquification
Material based
By Application
Stationary power
Transportation
By End Use
Industrial
Commercial
Electric utilities
Geographical Analysis
North America
Europe

Germany
U.K.
France
Italy
Spain

Asia-Pacific

Japan
China
India
South Korea
Australia

Latin America
Middle East and Africa

Saudi Arabia
South Africa
U.A.E.