Market Overview
The high-tech paints and coatings market size stood at USD 123.0 billion in 2022, and it is expected to grow at a compound annual growth rate of 10.4% during 2022–2030, to reach USD 267.5 billion by 2030.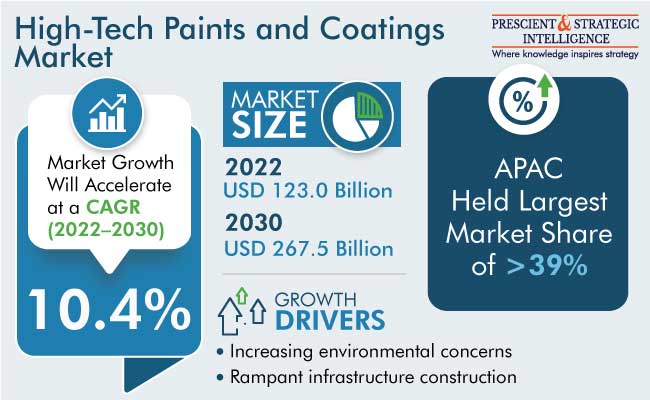 Nanotechnology is being employed to create antimicrobial coatings, which can repel potentially harmful bacteria. Moreover, vinyl wraps, called self-healing wraps, which contain such high-tech coatings, can be used in place of simple paints. Similar to this, the usage of crack detection paints can help carry out visual tests, thus making it easier to find cracks in bridges, foundations of wind turbines, and other civic structures.
The government support for the housing sector and need for a shorter painting cycle have a positive impact on the sector. The growing demand for sustainable development also has a beneficial effect on the market. The industry is responding to the demand for sustainable products by gradually shifting its focus from a single-product approach to the value chain as a whole. Players are transitioning from solvent-borne to water-borne paints, investing in paint lifecycle assessment, and reducing the amount of toxic ingredients in these materials. This positive shift results in the increasing availability of more-sustainable products in the market, thus empowering consumers to make a better product choice.
Due to its reliance on several industries, the high-tech paints and coatings market was badly affected by the COVID-19 pandemic. With the closure of manufacturing facilities during the lockdown period, players as well as end users encountered a liquidity crisis and a drop in the cash flow. However, following the COVID-19 period, transportation and construction activities have all returned to normal, which is expected to boost product demand in the near future.
Water-Borne Technology Category To Witness Fastest Growth
Based on technology, the high-tech paints and coatings market is classified into water-borne, solvent-borne, powder coatings, and others. Among these, the water-borne category is predicted to expand at the significant rate, of around 9.6%, over the projection timeframe. This can be ascribed to the fact that these variants are majorly used in architectural applications in Europe and North America due to the stricter VOC laws in these regions than APAC. However, with the growing environmental and health concerns, the increasing urbanization rate in APAC countries, which has resulted in a massive demand for new houses, is now driving the consumption of water-borne variants in architectural applications.
Environmental Regulations Boosting Demand for VOC-Free Coatings
The implementation of stringent environmental regulations would increase the demand for VOC-free coatings and provide market participants with lucrative prospects. Such regulations include the Eco-Product Certification Scheme of the EU, which guarantees that the product in use is low on the harmful VOCs or completely devoid of them and would contribute to a green environment. These regulations incentivize companies investing in bio-based raw materials to produce more-environment-friendly paints and coatings. The government regulations in Western Europe and the U.S. aimed at the reduction of air pollution will, thus, continue driving the consumption of advanced, low-pollution coatings.
In order to comply with such regulatory policies enforced by various governments, producers of paint and coatings are constantly improving their manufacturing processes. Due to the growing use of solvent-free coatings and increasing awareness of the negative effects that VOC emissions have on the environment, the market for conventional solvent-borne coatings has lost its long-standing dominance. Coatings that are water-borne have, therefore, become a trend, particularly in the decorative and architectural coatings market.
In the same vein, by focusing on making solventless materials more appealing to the environment, a number of players in the powder coatings market are seeing their efforts pay off, in the form of lucrative profits.
Manufacturing technology has undergone and continues to undergo a radical shift, as a result. Low- and no-VOC, water-soluble, latex and natural paints, which were initially reformulated to meet or exceed the varying standards on VOC emissions, now also meet the growing demand for more-eco-friendly alternatives to conventional coatings that are also less harmful to humans.
High-Tech Paints and Coatings Market Report Coverage

| | |
| --- | --- |
| Report Attribute | Details |
| Historical Years | 2017-2022 |
| Forecast Years | 2023-2030 |
| Market Size in 2022 | USD 123.0 Billion |
| Revenue Forecast in 2030 | USD 267.5 Billion |
| Growth Rate | 10.4% CAGR |
| Report Scope | Market Trends, Drivers, and Restraints; Revenue Estimation and Forecast; Segmentation Analysis; Impact of COVID-19; Companies' Strategic Developments; Market Share Analysis of Key Players; Company Profiling |
| Segments Covered | By Product Type; By Technology; By Resin; By End Use; By Region |
Explore more about this report - Request free sample pages
Rising Investment in Automobile Sector Key Driver for Market Growth
The auto industry has received support from the government in a variety of ways, including direct involvement in plans for its restructuring and subsidies for businesses. Investments in technological advancements are leading to improvements in design and manufacturing, increase in the adoption of digital driving systems, and changes in consumer preferences toward EVs. Additionally, in order to lower production costs and increase profits, the world's leading automakers continue to invest in production facilities in emerging markets, especially China, Malaysia, Vietnam, Thailand, and India.
For instance, according to the IBEF, between April 2000 and June 2022, the Indian automobile industry received approximately USD 33.53 billion in equity FDI. By the year 2023, the Indian government anticipates that investments from within India and abroad will be between USD 8 and 10 billion.
In order to encourage foreign investment in the automobile industry, the Indian government has approved 100% FDI through the automatic route. The government has also implemented a policy that allows for the swapping of dead batteries for fully charged ones at designated stations, in order to make EVs more appealing to potential customers.
Acrylic Category To Witness Fastest Growth
Based on resin, the market is classified into acrylic, polyurethane, polyester, epoxy, and others. Among these, the acrylic category is predicted to expand at the significant rate, of around 9.9%, over the projection timeframe. Professionals that paint houses and other spaces will continue to use water-based acrylic binders, which are popular for their durability, adaptability, and affordability.
Hence, the development of residential and commercial infrastructure is a major driver for the growth of the market for acrylic paints. They are being used in construction projects because of their resistance to water, superior finish, and consistent drying time. Moreover, they are the preferred choice for exterior surfaces due to the substantial consumer demand for high-performance exterior paints that are sun-reflective and water-resistant, as well as offer an improved finish.
These products also have better adhesion and thermoplastic properties, and they do not deteriorate in direct sunlight. As a result, real estate companies are choosing acrylic paints to stand out from the competition; hence, construction contractors will continue to purchase decorative products with acrylic resins.
Self-Cleaning Paint Category To Remain on Top in the Industry
Based on product type, the market is categorized into crack detection, self-cleaning, odor-absorbing, waterproofing, thermal insulation, and others. Among these, the self-cleaning category is expected to hold the largest revenue share in the coming years. This would be because self-cleaning paints are available in a wide variety, in terms of functional properties and the industry they are suitable for, such as automotive and construction. They can also be used as an additive to protect various surfaces, such as the exteriors and interiors of buildings and glass panels (to prevent corrosion), make electronic devices waterproof, and offer fabrics germ and water resistance.
Additionally, larger buildings, which are costlier to clean, may see significant savings in upkeep costs with the usage of such paints.
Architectural Category Will Continue To Dominate Industry
Based on end use, the market is divided into marine, automotive, architectural, aerospace, energy, electronics, healthcare, and others. Among these, the architectural category held the largest revenue share, of 56%, in 2022. This category includes the usage of such coatings on the interior and exterior surfaces of residential and commercial buildings. A boom in the housing sector, increase in the demand for interior decorations, easy availability of housing loans, and a shift from semi-permanent to permanent housing structures are the key driving factors for the architectural category. According to the IBEF, the demand for real estate for data centers is expected to increase by 15–18 million square feet by 2025.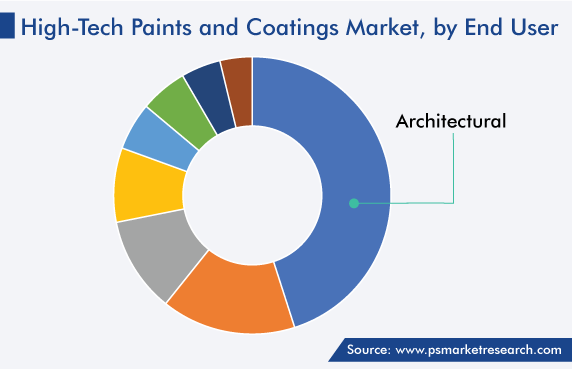 In 2022, APAC Was Market Leader
APAC's revenue contribution to the worldwide market in 2022 was the largest among all the regions. Moreover, the largest market for architectural paints and coatings in Asia-Pacific is China, followed by India and Japan. The demand for architectural coatings in these nations will rise as a result of the increasing living space requirement in urban areas, due to urbanization and the desire of middle-income urban residents to improve their living conditions.
In India, housing construction has been actively encouraged by the government. According to NITI Aayog, in a few decades, half the country will be urban. By 2036, urban expansion is expected to account for 73% of the overall population growth.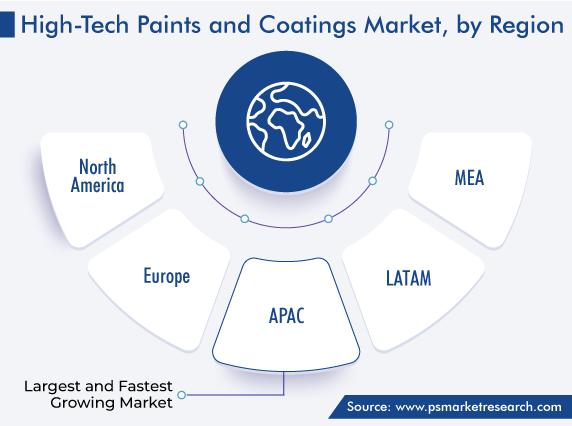 Key High-Tech Paint and Coating Manufacturers Are:
Abrisa Technologies
AccuCoat Inc.
Akzo Nobel N.V.
Axalta Coating Systems LLC
BASF SE
Chase Corp
Ferro Corporation
GXC Coatings
Hentzen Coatings Inc.
Indestructible Paint Limited
Kansai Paint Co. Ltd.
Mankiewicz Gebr. & Co. (GmbH & Co. KG)
Nippon Paints Holdings
PPG Industries Inc.
RPM International Inc.
Shalimar Paints
The Sherwin-Williams Company
Market Size Breakdown by Segment
The report analyzes the impact of the major drivers and restraints on the high-tech paints and coatings market, to offer accurate market estimations for 2017–2030.
Based on Product Type
Crack Detection Paints
Self-Cleaning Paint
Odor-Absorbing Paint
Waterproofing Paint
Thermal Insulation Paints
Based on Resin
Acrylic
Polyurethane
Polyester
Epoxy
Based on Technology
Waterborne
Solvent borne
Powder Coatings
Based on End Use Industry
Marine
Automotive
Architectural
Aerospace
Energy
Electronics
Healthcare
Geographical Analysis
North America
Europe

Germany
U.K.
France
Italy
Spain

Asia-Pacific (APAC)

Japan
China
India
South Korea
Australia

Latin America (LATAM)
Middle East and Africa

Saudi Arabia
South Africa
U.A.E.