Market Overview
The healthcare bioconvergence market size stood at USD 122 billion in 2022, and it is expected to advance at 7.5% CAGR during 2022–2030, to reach USD 216 billion by 2030.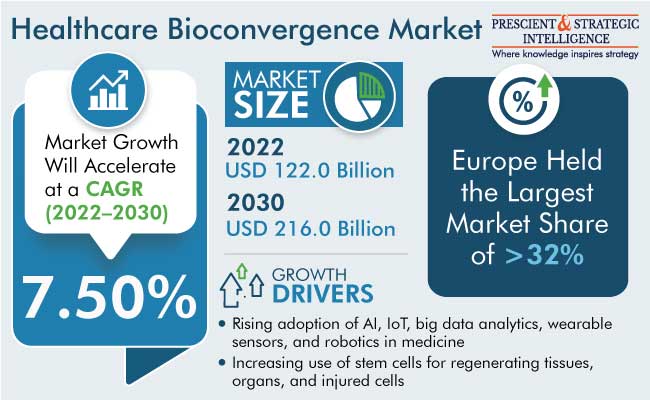 The market is growing because of the rising number of elderly people and the increasing use of stem cells for regenerating tissues, organs, and injured cells. Additionally, the preference of end users for combinations of advanced technologies, including machine learning, robotics, ergonomics, and AI, with cloud computing and biology, will contribute toward the industry development over the forecast period.
Moreover, bioconvergence is used for the delivery of drugs manufactured from material science, as well as for nano-robotics, bio-sensors, and hybrid equipment, so as to improve monitoring and diagnosis. Other examples are the interactions of the brain and computer in order to study the precipitating activities and causes of neurological diseases and the usage of hybrid biochemical components for the production of operational 3D tissue cells for stem cell therapy.
In 2021, the Government of the U.S. announced USD 1.7 billion in investment for improving the methods used to identify, track, and prevent the spread of different strains of COVID-19 and develop infrastructure for the genomic sequencing requirements that arise in the future. Due to the rising funding by governments for the enhancement of their healthcare sector, the usage of the bioconvergence approach is surging.
Essentially, with the increasing number of patients with chronic disorders, the demand for bioconvergence has increased, which is forcing the key players to put in efforts and focus on new discoveries in this area. It has been a major challenge for the medical community to make drug delivery more accurate. Nano-robots created from a combination of bioconvergence and biological systems, to aid in delivering drugs to specific cells and organs, have offered a solution to this conundrum.
The number of clinical trials initiated by both private and government medical organizations is increasing rapidly in developed countries, such as the U.S., France, Canada, Germany, and the U.K., which, in turn, is driving the adoption of advanced bioconvergence techniques. This is especially true of trials with their main focus on providing rapid treatments, enabled by the swift and accurate diagnosis of chronic disorders. Thus, the increasing spending on the bioconvergence technology and its rising usage in research & development for advancements in the healthcare sector are driving the market.
For instance, Israel launched a five-year plan with an investment of approximately USD 127 million to advance the field of bioconvergence in May 2022. The establishment of R&D centers, encouragement to startups, academic institutions, and consortia of companies in the field, and provision of training and placement to biologists are the key focus areas of this program.
Healthcare Bioconvergence Market Report Coverage

| | |
| --- | --- |
| Report Attribute | Details |
| Historical Years | 2017-2022 |
| Forecast Years | 2023-2030 |
| Market Size in 2022 | USD 122 Billion |
| Revenue Forecast in 2030 | USD 216 Billion |
| Growth Rate | 7.5% CAGR |
| Report Scope | Market Trends, Drivers, and Restraints; Revenue Estimation and Forecast; Segmentation Analysis; Impact of COVID-19; Companies' Strategic Developments; Market Share Analysis of Key Players; Company Profiling |
| Segments Covered | By Application; By End User; By Region |
Explore more about this report - Request free sample pages
Drug Discovery Is Largest Application
The drug discovery category held the largest share, of around 22%, in 2022, under the application segment, because of the increasing burden of cardiovascular, cancer, and CNS-related disorders, rising costs of medical treatments, and the patent expiry of various medications. According to several government records, in the U.S., around 1.9 million new cancer cases were recorded and around 609,360 deaths were caused by it in 2022.
Moreover, the rising geriatric population, which is suffering from various diseases, elevates the need for drug discoveries, which, in turn, fuels the growth of the market. Furthermore, cutting-edge engineering solutions are required to streamline and accelerate the development of new and advanced drugs and lower the costs of the entire process, to, ultimately, provide fast and precise care.
The regenerative medicine category is expected to showcase the fastest growth, at a CAGR of around 8%, over the coming years, attributed to the ability of such treatments to heal or replace damaged tissues, cells, as well as organs that have suffered trauma or deformed due to disorders or age.
Moreover, presently, regenerative medicines have gained high traction in a wide range of medical subspecialties, such as hepatology, neurology, diabetes, trauma, and oncology, because of the rapidly increasing population above 60 years of age and the rising demand for the early detection of diseases.
Furthermore, there is wide traction for stem-cell-based therapies because of their effectiveness, safety, and capability of healing and replacing injured or damaged cells, tissues, and organs.
The market is also growing in the bioelectronics category, attributed to the emergence of advanced technological capabilities that combine biomolecules with electronics, thus enabling the development of a wide range of functional devices.
Similarly, the usage of bioconvergence in precision medicine is growing because of the latter's increasing adoption and the surging awareness about its benefits among patients. Researchers engaged in the clinical trials of precision medicine are increasingly using IoT, which is already transforming the healthcare system by providing promising technological, economic, and social prospects. Precision medicine aids in observing and treating patients according to their individual physiological profiles. Thus, due to the usage of advanced technologies and various novel tools, such as AI-powered applications and digital diagnostic platforms, the demand for bioconvergence is increasing. Precision medicine studies help doctors in identifying the underlying cause of diseases, which, in turn, aids in recognizing the drug that is best suited for the patient.
For this, biomarkers are used for the determination of the risk and to check how the patient's body reacts to both the disease and the treatment. IoT can be integrated into connected diagnostic devices, such as those used to measure blood glucose, heart rate, and blood pressure, to gather real-time data on the patient's status. Thus, the increasing utilization of IoT in precision medicine will aid in the growth of the market.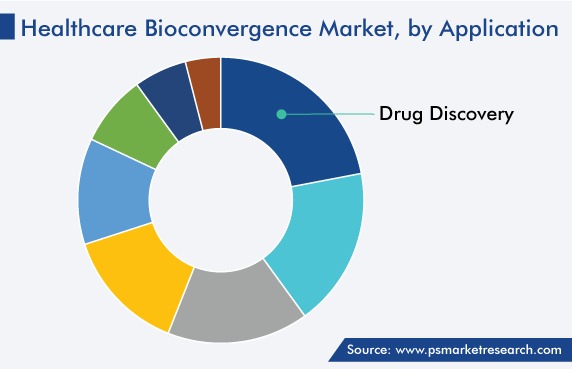 Pharmaceutical & Biotechnology Companies Growing at Considerable Rate
Pharmaceutical and biotechnology companies are growing at a considerable rate, attributed to the rapidly increasing number of clinical trials and the rising adoption of advanced techniques by them for drug development. These companies are aiming to bring medicines faster, more efficiently, and at lower costs, along with focusing on their safety for patients. Moreover, extensive research is being conducted on mRNA's applicability in treating non-communicable diseases, such as cancer.
Industry 4.0 Has Created a New Paradigm for Industrial Sector
The Fourth Industrial Revolution is changing the way diagnosis and treatment are done and accelerating the process of the discovery of new drugs. The adoption of various technologies, including IoT and AI, is driving this revolution. Amidst this, healthcare is becoming a cyber–physical system with wearables, IoT, RFID, intelligent sensors, medical robots, and many other objects and technologies, which are now also armed with big data analysis, cloud computing, and decision support methods.
Europe Dominates Market
Europe has the leading position in the healthcare bioconvergence market, and it will hold the same position till 2030, with a value of USD 73 billion.
The market in the region is growing attributed to the existence of leading research institutes, medical centers, and hospitals. For instance, in February 2021, a U.K.-based medical research firm, LifeArc, supported the work of the Gen OMICC COVID-19 project by announcing funding of USD 5.74 million. The funding was to help the project in sample gathering and processing, patient enrollment, as well as patient bioinformatics analysis. Moreover, the region has a robust medical industry, which propels the demand for new-generation healthcare technologies.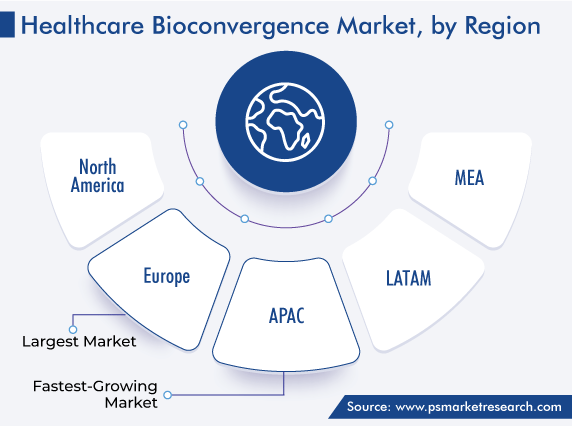 Incorporation of Digital Technologies in Genetics Drives Market
Via early risk assessment and accurate preventive strategies, the onset of chronic diseases can be deferred, and those that have emerged can be better treated or managed. With the incorporation of digital and genetic technologies, the complications of chronic diseases can also be recognized and resolved. These new capabilities are enabling gene therapies to be created faster and more cost-effectively, by offering doctors and researchers richer clinical insights. Moreover, the demand for bioconvergence is increasing because of the shift toward value-based care approaches.
Key Players in Healthcare Bioconvergence Market Are:
Signota Solutions
BICO - The Bio Convergence Company
Merck KGaA
BioConvergent Health
Azapharm
Market Size Breakdown by Segment
This fully customizable report gives a detailed analysis of the healthcare bioconvergence industry from 2017 to 2030, based on all the relevant segments and geographies.
Based on Application
Drug Discovery
Nanorobotics for drug delivery
Regenerative medicine
Diagnostic and biological sensors
Bioelectronics
Engineered Living Materials
Optogenetics
Precision Medicine
Based on End User
Pharmaceutical & Biotechnology Companies
Contract Research Organization (CRO)
Geographical Analysis
North America
Europe

Germany
U.K.
France
Italy
Spain

Asia-Pacific

Japan
China
India
South Korea
Australia

Latin America
Middle East and Africa

Saudi Arabia
South Africa
U.A.E.