Grow Lights Market Overview
The global grow lights market size was valued at $2,653.2 million in 2016, and is forecasted to register 12.5% CAGR during 2017 - 2023. In the global market, a large number of the existing greenhouses are using HPS lights for its farming applications. Greenhouse gardeners are becoming more aware of the fact that by replacing HPS lights in the existing farming systems with LEDs, cultivators can save lot of energy.
GLOBAL GROW LIGHTS MARKET, BY TECHNOLOGY, $M (2013-2023)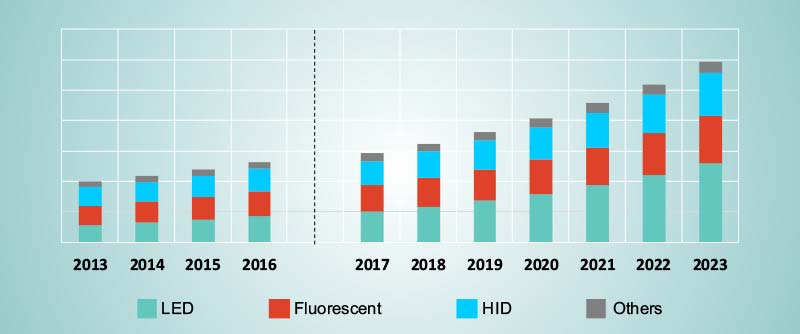 LED was the leading technology, contributing over 33% to the global grow lights market in 2016. The market for retrofit installation of grow lights is likely to register higher growth as compared to new installation, during the forecast period. Also, commercial greenhouse accounted for the largest revenue share in the grow lights market in 2016 and is further estimated to be the leading application area on account of growing demand for consistent food supply, and rising urbanization.
Europe has been the largest grow lights market, with 25.2% share in global revenue in 2016. However, with a strong growth rate, the market in Asia-Pacific is projected to become the second largest surpassing that of North America by the end of 2017.
Grow Lights Market Dynamics
Trends
The use of vertical farming in urban environments is a new trend in the grow lights market. The limited availability of farming areas in urban spaces requires developing new methods for optimum space utilization. Vertical farms use control systems to optimize the cultivation conditions and are designed specifically to maximize the crop capacity on limited surface areas.
Another trend in the grow lights market is the convergence of greenhouse farming and medicinal cultivation. The medicinal plant cultivators have been traditionally growing these crops indoors without natural sunlight due to government restrictions on its outdoor farming. Since more number of countries are legalizing the cultivation of these crops, medicinal plant growers have begun to use greenhouse gases for growing such crops to a greater extent. The surging demand for medicinal crops is consequently expected to increase the growth of the industry.
Growth Drivers
The growth in indoor and vertical farming is a key factor driving the growth of the grow lights market. Indoor farming is generally done in greenhouses where plants are grown in the presence of artificial lights instead of sunlight. In vertical farming, climatic conditions does not matter so much and crops can be grown even in areas where there are extremely harsh climatic conditions. At present, the low energy consumption of LEDs is allowing the farmers to grow crops indoors, at a significantly lower cost as compared to conventional HPS lights.
The need for more economical grow light technologies in cities is a driving factor for the grow lights market. The cost of producing food is high and the demand for cheaper food production is increasing exponentially in urban areas. The availability of cultivable land around cities is also very limited. This leads to increasing demand for new urban farming initiatives that are more economical, durable, and energy-efficient. The cost of grow lights plays a major role while calculating the overall cost of urban farming projects.
Increasing government support for the adoption of LED lights is driving the grow lights market. Governments and authorities around the world, are seeking to reduce energy consumptions and encourage a transition to LED lighting through subsidies and regulations. This is done to support the ongoing researches on photobiology or effects of LEDs on various plant species, and to make investments in profitable grow light technologies in the future. Many countries around the world, including Brazil, Venezuela, Switzerland, Australia, Argentina, Russia, Canada, Mexico, Malaysia, and South Korea have already started the phasing-out of incandescent light bulbs and replacing them with LEDs.
Opportunities
The legalization of growing cannabis in the U.S is an opportunity for the grow lights market. In 2012, Colorado legalized growing recreational marijuana, becoming the first U.S. state to legalize it. Growing cannabis in the U.S. is a lucrative option for growers, since there is a lot of demand for cannabis throughout the world. The indoor growing of cannabis can be done by hydroponics, or by vertical farming.
Advancements in the field of LED for optimizing photosynthesis is another opportunity for grow lights market. Modern grow lights are based on a profound understanding of plant physiology and photosynthesis, coupled with a unique way of putting modern LED technology to optimize photosynthesis. Temperature and light are the most important parameters for photosynthesis and new technology products provide farmers with the ability to control the intensity and wavelength of light to optimize photosynthesis.
The emergence of horticultural lighting calculator and software is another opportunity for the grow lights market. Many grow lighting companies have started making agricultural lighting software by the support of various botanical scientists and PhDs, so that plant cultivators can attain reliable growth and achieve their targets. By reducing the quantity of light wasted in walls or aisles, these lights can be emitted at precise locations with the help of correct measurements given by calculator.
Grow Lights Market Competitive Landscape
The grow lights industry is fragmented with top three companies accounting for over 40% in 2016. The companies in the grow lights market has been focusing on innovation and new design development in grow lights to meet the needs of indoor and commercial growers, worldwide. For instance, General Electric is investing in new product and design innovation to enhance its product portfolio. There exists stiff competition among the players in this industry, including Philips, Osram Licht AG, Heliospectra AB, Dool Industries, and Illumitex Inc., to increase their market share.