Market Outlook
The green technology and sustainability market value was $8.3 billion in 2019, and the market is predicted to progress at a CAGR of 20.0% from 2020 to 2030. Furthermore, the market is predicted to attain a valuation of $57.8 billion by 2030. The main factors driving the market advance are the increasing production of low-carbon and renewable electricity, rising volatility in energy prices, implementation of favorable government legislations, demand for reducing the operational costs, and soaring utilization of building automation systems.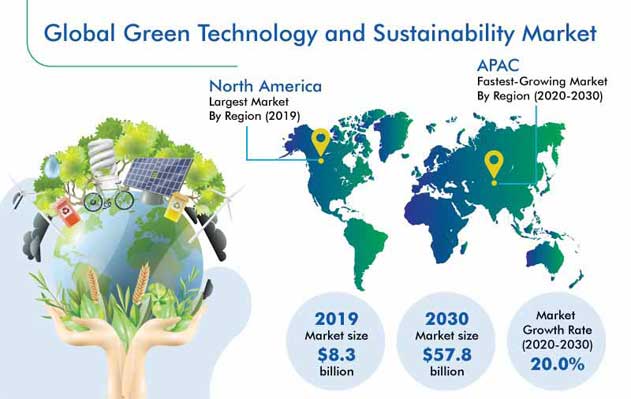 Segmentation Analysis of Green Technology and Sustainability Market
The internet of things (IoT) category is expected to dominate the market for green technology and sustainability in the coming years, under segmentation by technology. This is ascribed to the growing usage of IoT on account of the increasing environmental and health concerns due to the surging carbon emissions. IoT is used in various applications, such as smart energy and grids, smart homes and buildings, smart cities, smart factories and manufacturing, food and water tracking, and smart mobility and transport, for reducing energy wastage and enabling the collection of energy data.
The environment management category is predicted to demonstrate the highest CAGR in the green technology and sustainability market, under the application segment, in the coming years. This will be due to the rapidly degrading soil quality because of pollution and intensive farming. Moreover, with green-technology-based-agricultural instruments, farmers can plant, spray, and harvest at the ideal time, thereby reducing the usage of pesticides and fertilizers. Green technologies are used in several applications in environment management, such as protecting and improving agricultural practices, reforestation, managing oil spills, controlling soil and moisture, managing radiation leaks, and remediation.
North America dominated the market for green technology and sustainability in 2019, primarily because of the huge investments in the development of analytics and blockchain technologies for the residential, commercial, and industrial sectors. Additionally, the governments of the regional countries and states have taken measures for integrating advanced technologies in the utilities sector, for ensuring sustainability.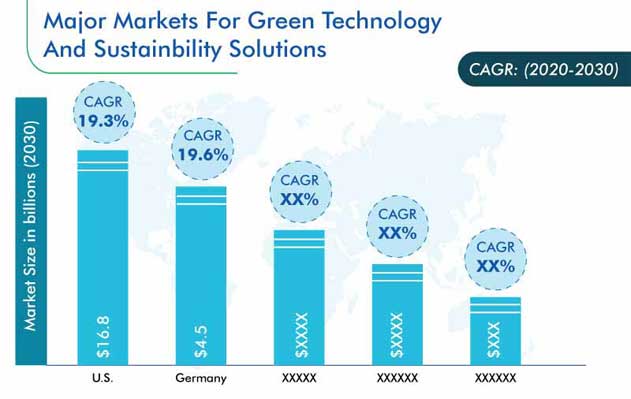 Usage of Smart Grids Major Market Trend
The adoption of smart technologies massively strengthens and improves the communication, automation, metering, and distribution processes. This is the major factor propelling the usage of smart grids across the world, which is why such infrastructure is becoming a major green technology and sustainability market trend. Smart meters allow users to keep a track of their power consumption, assist in reducing energy wastage, and advise users on energy optimization methods. Additionally, these grids help utilities reduce the power supply gap during periods of peak energy demand, by regularly monitoring the power requirements of consumers.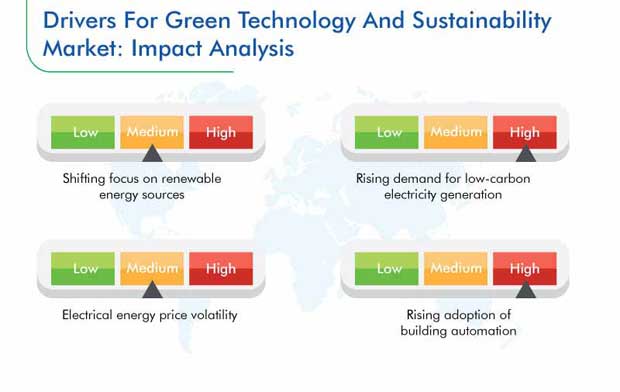 Increasing Popularity of Building Automation Systems Driving Market Expansion
One of the major factors fueling the advance of the green technology and sustainability industry is the surging usage of building automation systems. At a time when electricity prices are skyrocketing, these systems are allowing users to control the power consumption of buildings, which, in turn, allows them to reduce their power expenditure. In many countries, various standards have been released during the last few years for certifying buildings as 'Green'. To be certified as per these standards, the incorporation of green building automation is required, as this technology helps people reduce their power consumption and wastage. Additionally, green technologies are increasingly being used in almost every stage during the construction of these buildings, such as during the selection of electrical appliances and the construction material.
Utilization of AI-Powered Robots for Better Sustainability Management Creating Opportunities for Market Players
The growing usage of artificial intelligence (AI)-powered robots for strengthening sustainability efforts is creating lucrative growth opportunities for the green technology and sustainability market players. This technology massively improves the cost structure and operations of utility organizations and the health of their employees, as AI-powered robots can efficiently repair, maintain, certify, and inspect energy installations. The adoption of green technologies can be hugely beneficial for organizations that value fast operations and low operating costs. For example, these robots are widely used in the oil & gas sector to efficiently study the size and shape of the hole, rock density, formation, fluid resistance, and temperature profile of oil wells.
Green Technology and Sustainability Market Report Coverage

| | |
| --- | --- |
| Report Attribute | Details |
| Historical Years | 2014-2030 |
| Forecast Years | 2020-2030 |
| Market Size by Segments | Technology, Application |
| Market Size of Geographies | U.S., Canada, Germany, U.K., Sweden, France, Italy, Spain, China, Japan, South Korea, India, Singapore, Australia, Brazil, Mexico, Argentina, Colombia, U.A.E., Saudi Arabia, Egypt, Qatar, South Africa |
Explore more about this report - Request free sample pages
Market Players Pursuing Client Wins to Stay on Top of Competition
In the recent past, key green technology and sustainability market players have secured numerous client wins to get an edge over their competitors. For instance, in January 2020, Xylem Inc. successfully secured a contract for its Sensus solution with Tacoma Public Utilities, for an advanced metering infrastructure (AMI) project. Under the agreement, Xylem's Stratus IQ electricity meters and Sensus water meters will be deployed, which will help the utility firm capture the electricity and water consumption data of 190,000 and 110,000 consumers, respectively, to provide them with better services.
Similarly, in April 2018, the Office of Enterprise Sustainability, under the Minnesota government, selected the software platform developed by FigBytes Inc. to launch its state-wide sustainability plan. The software is used by the public entity to link the strategic aspects of its sustainability goals and gather and process data on greenhouse gas emissions and other factors impacting the environment.
The major companies shaping the competition in the green technology and sustainability market are General Electric Company, CropX Inc., MineSense Technologies Ltd., IBM Corporation, hortau, SMAP Energy Limited, ConsenSys Inc., Pycno Industries Inc., Oizom Instruments Pvt. Ltd., Semtech Corporation, WINT, Treevia Forest Technologies, Enviance Inc., Trace Genomics Inc., Sensus Energy, A.A.A Taranis Visual Ltd., Lo3 Energy, PowerScout Inc., Green Running Limited, Verdigris Technologies Inc., Nnergix Energy Management SL, and BuildingIQ Inc.
C3.ai, ENGIE Insight Services Inc., AppFolio Utility Management Inc., Uplight Inc., Accenture PLC, Fabriq, Intelex Technologies, StarTex Software, Curb Inc., Siemens AG, ACCUVIO, Citymapper Limited, Itron Inc., Blue Pillar, Embue, Hydropoint Data Systems Inc., Greenvity Communications Inc., Artveoli Inc., Wexus Technologies Inc., Nest Labs Inc., Measurabl Inc., Planon Group, Thinkstep GmbH, Xylem Inc., Key Green Solutions, Dakota Software Corporation, GREENbimlabs GmbH, FigBytes Inc., and EcoMetric Consulting are some other global green technology and sustainability market players.
Green Technology and Sustainability Market Size Breakdown by Segment
The green technology and sustainability market report offers comprehensive market segmentation analysis along with market estimation for the period 2014–2030.
Based on Technology
Internet of Things (IoT)
Artificial Intelligence (AI) and Analytics
Cloud Computing
Blockchain
Digital Twin
Based on Application
Green Building
Environment Management
Air Quality Management
Water and Wastewater Management
Solid Waste Management
Climate Change Management
Geographical Analysis
North America
Europe

Germany
U.K.
Sweden
France
Italy
Spain

Asia-Pacific (APAC)

China
Japan
South Korea
India
Singapore
Australia

Latin America (LATAM)

Brazil
Mexico
Argentina
Colombia

Middle East and Africa (MEA)

U.A.E.
Saudi Arabia
Egypt
Qatar
South Africa