Internet of Things (IoT) to Be Largest Technology in Green Technology and Sustainability Market till 2030
Valued at $8.3 billion in 2019, the global green technology and sustainability market is expected to display a CAGR of 20.0% during the forecast period (2020–2030) to reach $57.8 billion by 2030. The major factors behind the industry growth are the rise in the generation of renewable and low-carbon electricity, volatility in the prices of energy, favorable government policies, need to decrease operational costs, and surging usage of building automation systems.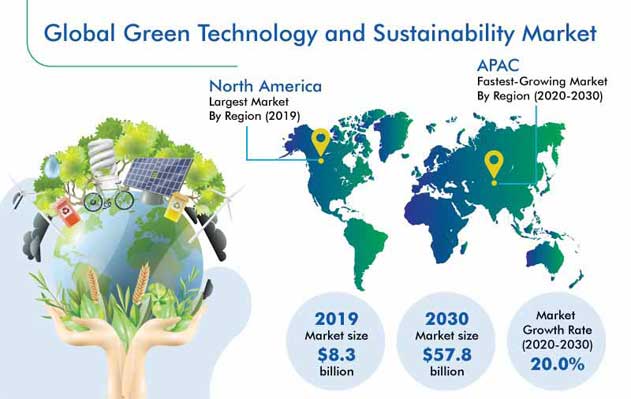 Green Technology and Sustainability Market Segmentation Analysis
Internet of things (IoT) is predicted to continue dominating the green technology and sustainability market till 2030, under the technology segment. Due to carbon emissions, environmental and health hazards are becoming graver, which is why the use of IoT is rising. IoT is used in numerous applications, including smart energy and grids, smart cities, smart homes and buildings, smart mobility and transport, smart health, smart factory and manufacturing, and food and water tracking, to reduce energy waste and allow for the collection of energy data.
During the forecast period, the fastest growth in the green technology and sustainability market would be observed by the environment management category, based on application. This would be because of the rapidly degrading quality of the soil due to intensive farming and pollution. Using green technology, agricultural instruments can advise farmers on the ideal time to plant, spray, and harvest, thereby helping reduce fertilizer and pesticide usage to ultimately protect the soil. Reforestation, protecting and enhancing agricultural practices, oil spill management, remediation, soil and moisture control, and radiation leak management are just few of the many applications of green technologies in environment management.
In 2019, North America held the largest value share in the green technology and sustainability market, as private and public entities are investing heavily in the development of blockchain and analytics technologies for the region's industrial, residential, and commercial sectors. Additionally, governments at various levels in the region are stepping up efforts to integrate advanced technologies in the utilities sector, to ensure sustainability.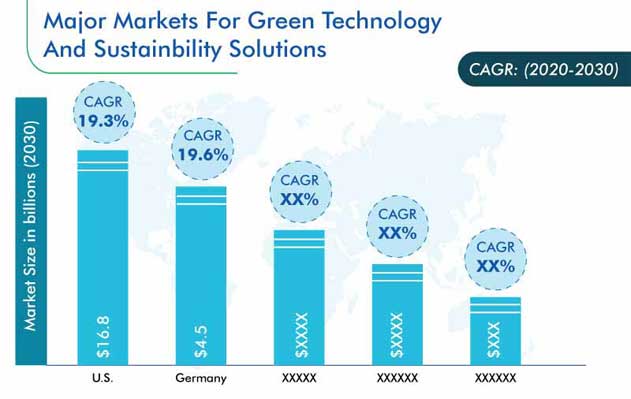 Smart Grids Trending in the Market
Among the most prominent trends being witnessed in the green technology and sustainability market is the usage of smart grids. Distribution, metering, communication, and automation processes are being strengthened with smart technologies, which is driving the smart grid usage. For instance, smart meters help power users in keeping a track of their consumption, aid in minimizing wastage, and advise them on optimization methods. Smart grids help reduce the supply gap during period of peak demand, by monitoring the electricity requirement of consumers.
Adoption of Building Automation Driving Demand for Green Technologies
A key factor driving the growth of the green technology and sustainability market is the rapid adoption of building automation systems. In today's times of high electricity prices, such systems allow users to control the energy consumption of buildings and reduce their energy expenditure. In recent years, several standards, for buildings to be certified as 'Green', have been released around the world. To be certified according to these standards, green building automation is required for a reduction in power usage and wastage. Additionally, even in every stage during the construction of such infrastructure, green technologies are being used, such as during the selection of the construction material and different electrical appliances.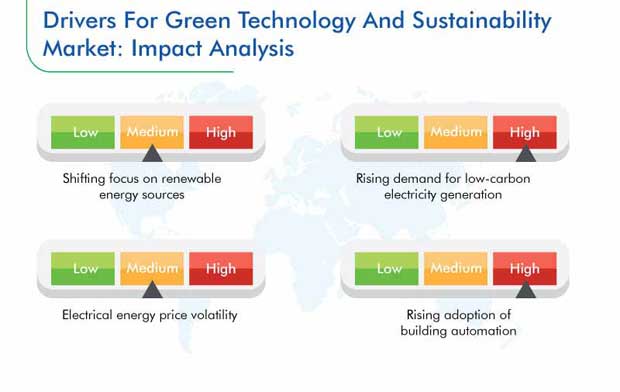 Usage of AI-Enabled Robots for Better Sustainability Management Providing Opportunities to Market Players
Players in the green technology and sustainability market can leverage the opportunities being created by the uptake of artificial intelligence (AI)-enabled robots to strengthen sustainability efforts. With this technology, the operations and cost structure of utility firms and the health of their employees can be enhanced, as AI-enabled robots can efficiently inspect, certify, maintain, and repair energy installation units. The usage of such green technologies can be beneficial for companies which value low operating costs and fast operations. For instance, in the oil & gas sector, such robots can efficiently study the shape and size of the hole, temperature profile, formation, rock density, and fluid resistance of oil wells.
Market Players Pursuing Client Wins to Stay on Top of Competition
In the recent past, key green technology and sustainability market players have secured numerous client wins to get an edge over their competitors. For instance, in January 2020, Xylem Inc. successfully secured a contract for its Sensus solution with Tacoma Public Utilities, for an advanced metering infrastructure (AMI) project. Under the agreement, Xylem's Stratus IQ electricity meters and Sensus water meters will be deployed, which will help the utility firm capture the electricity and water consumption data of 190,000 and 110,000 consumers, respectively, to provide them with better services.
Similarly, in April 2018, the Office of Enterprise Sustainability, under the Minnesota government, selected the software platform developed by FigBytes Inc. to launch its state-wide sustainability plan. The software is used by the public entity to link the strategic aspects of its sustainability goals and gather and process data on greenhouse gas emissions and other factors impacting the environment.
The major companies shaping the competition in the green technology and sustainability market are General Electric Company, CropX Inc., MineSense Technologies Ltd., IBM Corporation, hortau, SMAP Energy Limited, ConsenSys Inc., Pycno Industries Inc., Oizom Instruments Pvt. Ltd., Semtech Corporation, WINT, Treevia Forest Technologies, Enviance Inc., Trace Genomics Inc., Sensus Energy, A.A.A Taranis Visual Ltd., Lo3 Energy, PowerScout Inc., Green Running Limited, Verdigris Technologies Inc., Nnergix Energy Management SL, and BuildingIQ Inc.
C3.ai, ENGIE Insight Services Inc., AppFolio Utility Management Inc., Uplight Inc., Accenture PLC, Fabriq, Intelex Technologies, StarTex Software, Curb Inc., Siemens AG, ACCUVIO, Citymapper Limited, Itron Inc., Blue Pillar, Embue, Hydropoint Data Systems Inc., Greenvity Communications Inc., Artveoli Inc., Wexus Technologies Inc., Nest Labs Inc., Measurabl Inc., Planon Group, Thinkstep GmbH, Xylem Inc., Key Green Solutions, Dakota Software Corporation, GREENbimlabs GmbH, FigBytes Inc., and EcoMetric Consulting are some other global green technology and sustainability market players.
Green Technology and Sustainability Market Size Breakdown by Segment
The green technology and sustainability market report offers comprehensive market segmentation analysis along with market estimation for the period 2014–2030.
Based on Technology
Internet of Things (IoT)
Artificial Intelligence (AI) and Analytics
Cloud Computing
Blockchain
Digital Twin
Based on Application
Green Building
Environment Management
Air Quality Management
Water and Wastewater Management
Solid Waste Management
Climate Change Management
Geographical Analysis
North America
Europe

Germany
U.K.
Sweden
France
Italy
Spain

Asia-Pacific (APAC)

China
Japan
South Korea
India
Singapore
Australia

Latin America (LATAM)

Brazil
Mexico
Argentina
Colombia

Middle East and Africa (MEA)

U.A.E.
Saudi Arabia
Egypt
Qatar
South Africa