Market Overview
The green technology and sustainability market size stood at USD 19,499.6 million in 2022, and it is projected to grow at a compound annual growth rate of 10.7% during 2022–2030, to reach USD 43,453.9 million by 2030.
The key factors propelling the market include the growing energy demand, unstable crude oil prices, formulation and execution of promising government legislations, increasing demand for reducing operational costs of production, and booming utilization of building automation systems . Green technologies are being increasingly acknowledged worldwide owing to their foremost attribute of being helpful for the environment. A variety of technologies and activities that help in decelerating global warming and diminishing the greenhouse effect are labeled 'green'.
The main contributor to the increasing carbon dioxide concentration in the atmosphere is human and industrial activity, specifically the burning of fossil fuels, such as coal, oil, and gas, as well as deforestation.
Further, the expanding manufacturing base in developing countries, particularly China and India, has contributed to the alarming rate at which carbon is being emitted. Due to the resulting environmental concerns, consumers are demanding eco-friendly products, which has given impetus to companies offering green solutions across the globe. Such green-tech solutions include carbon footprint software, crop monitoring software and devices, and air and water quality monitoring devices. These solutions are based on technologies such as AI, big data analytics , IoT, and cloud computing , to monitor the carbon emissions from manufacturing and other activities.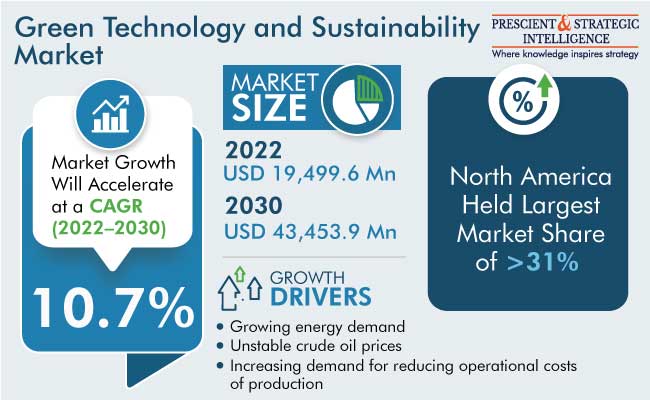 Surge in number of Power Purchase Agreements (PPAs) in ICT sector
The rise in the demand for 5G, IoT, and AR and VR are likely to accelerate the demand for low-latency computing and edge data centers. User devices, such as smartphones, which are increasingly equipped with ML accelerators, are set to increase the use of ML, which would, in turn, lead to greater data center usage in the coming years. Therefore, ICT companies are investing considerable sums in captive renewable power projects, to support a sustainable environment, protect themselves from power price volatility, and improve their brand reputation. There was a substantial increase in the count of PPAs, of 65.13%, in 2021 in the ICT sector which, in turn, demonstrates the high adoption of sustainable power resources by the leading technology and software companies from 2019 onward.
The rapid expansion of data centers across the globe is due to the growing trend of cloud computing and the rising demand for storage space, as a result of the swift increase in the demand for digital services globally. It is becoming more imperative to ensure the use of efficient power sources with the increase in the dependence on data centers. Cloud service providers are switching to green data centers as a result of the high operational costs of data storage facilities that run on conventional technologies.
Internet of Things Is Fastest-Growing Technology
Under segmentation by technology, the IoT category is expected to rule the market and witness the fastest growth between 2022 and 2030. As a result of the increasing concerns over the environmental and health issues brought on by the rising carbon emissions, IoT adoption is expanding at a huge pace. For reducing energy wastage and making it possible to gather energy data, this technology is being used in a variety of applications, including power grids and utility meters, factories, city administrations, hospitals, homes and office buildings, and smart transportation.
To optimize operations for higher sustainability and lower energy costs, various industries leverage this technology. IoT devices are needed to reduce expenses and power consumption. Moreover, as they enable households to track their energy usage in the real time, the need for long-range, low-power IoT-enabled products with indoor and outdoor device operation tracking capabilities has surged.
Developed countries have implemented a stronger focus on digital transformation than the countries of the Asia-Pacific region. However, with the investments rising, APAC is expected to expand quickly in the near future because of IoT adoption at unprecedented rates.
Organizations in China are adopting IoT for more-creative use cases and have the highest rates of implementation, as part of their emerging technology strategies, while organizations in Australia report the highest rate of IoT adoption, at 96%, surpassing both Italy and the U.S. It was also discovered that businesses in Japan are embracing IoT to boost output and streamline processes.
Similarly, organizations in Australian oil and gas industry, utilize IoT more for workplace and employee safety, while energy and power firms use it to support grid automation and maintenance. In comparison to other industries, the power sector is far more likely to incorporate AI into their IoT solutions, to bring improvements in operational effectiveness, generation and transmission capacities, and customer satisfaction.
Apart from IoT, cloud computing is transforming the models of many corporations, and an increasing number of companies are migrating to the cloud. Thus, cloud is the second-fastest-growing technology, as it results in savings on infrastructure investment. Moreover, cloud computing data centers are designed at scale and built for efficient energy usage. Further, the cloud provides unlimited storage, greater flexibility, improved security, efficiency, and competitiveness to companies.
Green Technology and Sustainability Market Report Coverage

| | |
| --- | --- |
| Report Attribute | Details |
| Historical Years | 2017-2022 |
| Forecast Years | 2023-2030 |
| Market Size in 2022 | USD 19,499.6 Million |
| Revenue Forecast in 2030 | USD 43,453.9 Million |
| Growth Rate | 10.7% CAGR |
| Report Scope | Market Trends, Drivers, and Restraints; Revenue Estimation and Forecast; Segmentation Analysis; Impact of COVID-19; Companies' Strategic Developments; Market Share Analysis of Key Players; Company Profiling |
| Segments Covered | By Component, By Technology, By Organization Size, By Deployment Mode, By End User; By Region |
Explore more about this report - Request free sample pages
Green Buildings Hold Lion's Share in Global Market
With augmented commercialization and industrialization at the global level, the construction and building sector has been growing in order to meet the space requirements of businesses and residents. As a consequence of the resulting rise in energy production, carbon emissions are increasing at an alarming rate at the global level. Therefore, to cope with the augmenting energy requirements without harming the environment, the integration of green technologies in buildings sector is growing. Eco-friendly building technologies are primarily aimed at reducing the consumption of electricity and using only the energy produced onsite via rooftop solar, building-integrated PVs, or other similar renewable installations.
Hence, the green buildings category has the largest market share, and it is predicted to demonstrate the highest CAGR as well, under the application segment, in the coming years, owing to the various environmental benefits, such as energy usage optimization and reduction, operating cost savings, indoor air quality improvement, and efficient water management. Green buildings also give companies an environmentally responsible reputation and leave a positive impression on customers, employees, business partners, and shareholders.
The carbon footprint management application will display the second-highest CAGR, due to the rising participation of governments and other stakeholders around the world in addressing the greenhouse gas emissions due to manufacturing, construction, power generation and other industrial activities. To lessen the environmental damage, a large number of companies from different verticals are increasingly adopting carbon footprint management software to reduce their greenhouse gas emissions.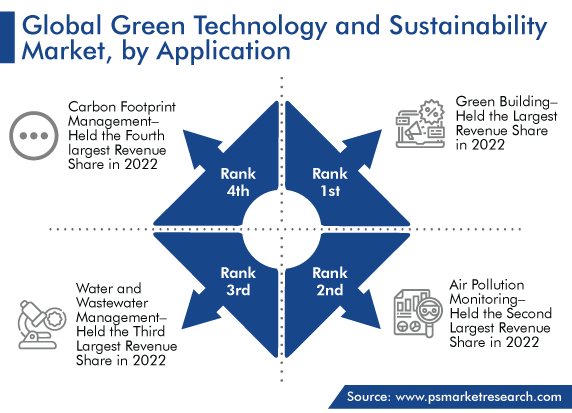 SMEs Category To Witness Higher CAGR
Based on organization size, SMEs are expected to adopt green tech at a higher rate than larger enterprises, as these small enterprises contribute massively to any country's economy. In this regard, the augmenting adoption of the IoT and cloud computing technologies by SMEs will continue to give impetus to solution providers over this decade.
Cloud computing is the best method for them to stay stable in an era of the fast-shifting markets, because it has solved many problems small business face. It provides simple access to software, applications, and databases without adding to the expense of having robust IT infrastructure.
SMEs are better positioned to adopt IoT, which will increase their profitability and sustainability, due to the high accessibility of such technologies. IoT solutions can assist SMEs in better adhering to the green certification requirements and standards, thus giving them the opportunity to take advantage of new market prospects and financial resources through appropriate grants and government support programs.
North America Is Expected To Have Largest Share during Forecast Period
North America dominated the green technology and sustainability market in 2022, and it is expected to continue to do so throughout the forecast period. This will be due to the increase in the government attempts to minimize carbon emissions and the rapid uptake of energy-saving technologies in North America.
For instance, the U.S. has implemented a number of policies to address the climate crisis by reducing emissions, improving resilience, advancing environmental justice, and achieving energy security. In this regard, in 2021, the country inaugurated enough new solar and wind projects to power 10 million homes and took up initiatives to increase the deployment of utility-scale batteries.
Additionally, in 2021, President Biden established the National Climate Task Force, with different cabinet-level leaders from various agencies working together on addressing environmental depletion. The major goals include providing carbon-free electricity by 2035 and reaching net-zero emissions by 2050. Further, the implementation of the Bipartisan Infrastructure Law (2021) and Inflation Reduction Act (2022) are to be the crucial steps toward a clean economy.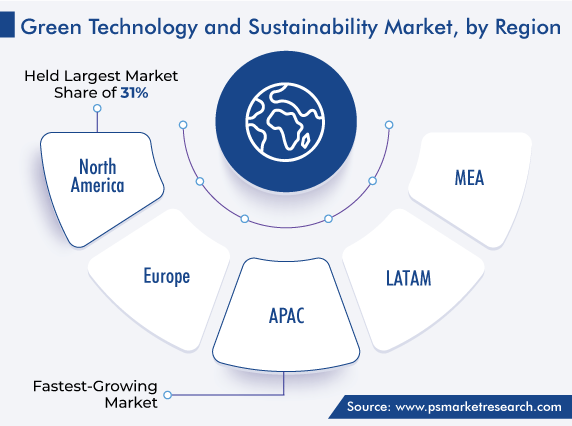 Key Technology Providers Are:
Microsoft Corporation
General Electric Company
International Business Machines Corporation
Salesforce.com inc.
Schneider Electric SE
Wolters Kluwer N.V.
Engie Impact
Industrial Scientific Corporation (INTELEX)
Isometrix
CropX Inc.
Xylem Inc.
Market Size Breakdown by Segment
The study uncovers the biggest trends and opportunities in the green technology and sustainability market, along with offering segmentation analysis at the granular level for the period 2017 to 2030.
Based on Component
Solutions
Services

Consulting
Support and Maintenance
Integration and Deployment
Based on Technology
IoT
AI & Analytics
Digiital Twin
Cloud Computing
Blockchain
Based on Organization Size
Based on Deployment Mode
Based on Application
Green Building
Carbon Footprint Management
Air Pollution Monitoring
Water and Wastewater Management
Weather Monitoring
Soil Condition/Crop monitoring
Fire Detection
Forest monitoring
Geographical Analysis
North America
Europe

U.K.
Germany
France
Italy
Spain

Asia-Pacific

China
Japan
Australia
India
South Korea

Latin America
Middle East & Africa

U.A.E.
Saudi Arabia
South Africa